Upcoming Irish Period Mystery Dead Still
In some cases, we earn commissions from affiliate links in our posts.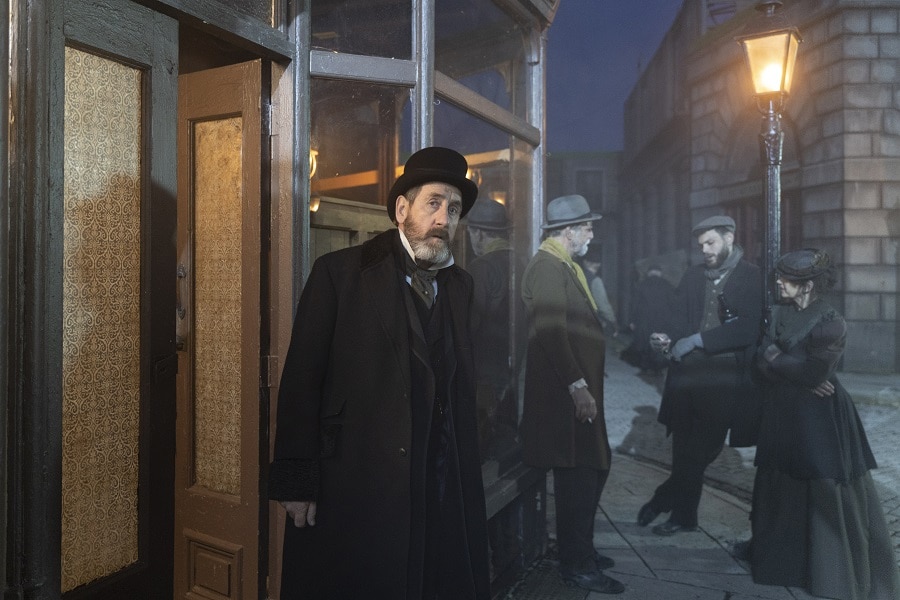 It's going to be a great year for fans of period mysteries, with a number of new titles reaching viewers in 2020. One of the most intriguing of the bunch is the upcoming RTÉ and Acorn Media Enterprises commission, Dead Still.
What's Dead Still About?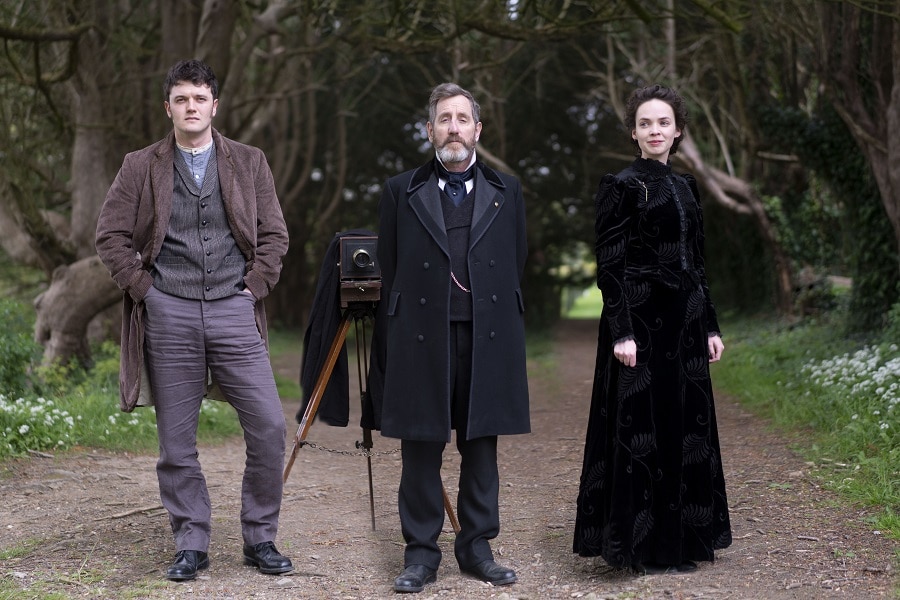 Dead Still is a mix of mystery, period drama, and a little dark humour. It takes place in 1880s Dublin, and it's set within the world of post-mortem photography. Renowned memorial photography Brock Blennerhasset is in the process of expanding his business with the assistance of his niece, aspiring actress Nancy Vickers, and assistant Conall Molloy.
At the same time, someone else is getting into the death photography game – and creating his own customers. A serial killer is capturing photos of people in their death throes, hoping to cash in on the growing demand for snuff photography. When Blennerhasset becomes a possible suspect, he resolves to help track down the killer to protect his family and reputation.
Catherine Mackin, Managing Director of Acorn Media Enterprises said:
Given the popularity of RTÉ's Striking Out, Acceptable Risk and Finding Joy with Acorn TV subscribers, we're thrilled to commission a first-rate period drama with our friends at RTÉ. With its fascinating setting, gallows humour, inventive storylines and stellar cast, Dead Still will offer a fresh take on the genre and is sure to interest fans of international dramas.
Curious about the unique premise? We interviewed writer John Morton in the 2019 British TV Year in Review magazine (an ad-free magazine that celebrates 2019 in British TV while looking ahead to 2020).
When Does Dead Still Premiere, & Where Can You Watch It?
Dead Still filmed in and around Dublin in mid-2019, and in the US, it will be premiering on May 18th on Acorn TV.
In Ireland, Dead Still will premiere on RTÉ. In the US, it will premiere on streaming service Acorn TV. Distribution beyond those territories is currently unknown, but as with the dates, we'll update when we know more.
Who's Starring in Dead Still?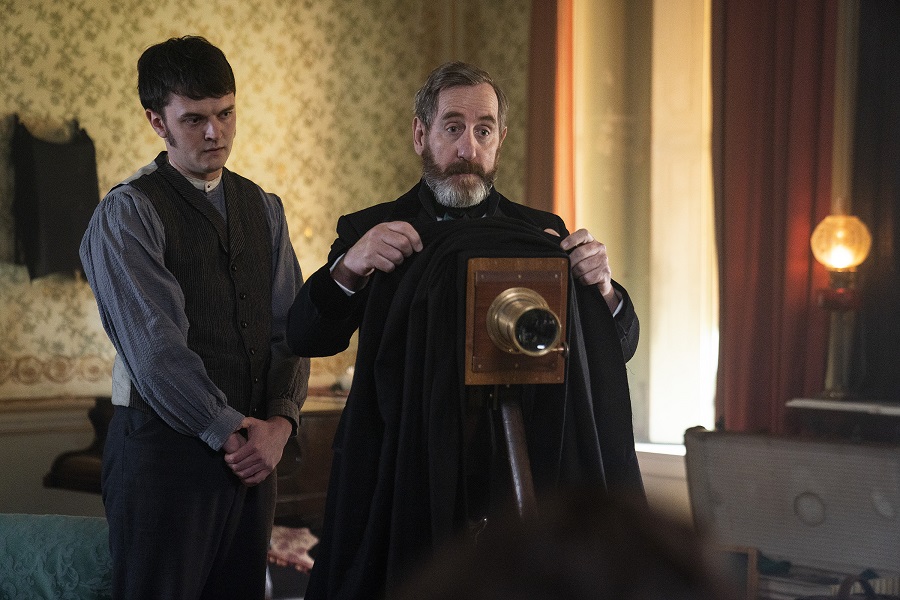 Dead Still stars Michael Smiley (Luther, Wire in the Blood) as Brock Blennerhasset, Kerr Logan (Game of Thrones, Victoria) as Conall Molloy, Eileen O'Higgins (Mary Queen of Scots) as Nancy Vickers, and Aidan O'Hare (Jackie) as Detective Frederick Regan.
The series also stars Jimmy Smallhorne (Taken Down, Clean Break) as Cecil Carruthers, Mark Rendall (Departure, Versailles) as Percy Cummins, Peter Campion (Derry Girls, Kat and Alfie: Redwater) as Henry Vickers, and Martin Donovan (Big Little Lies, Fahrenheit 451).
Dead Still was written by John Morton and directed by Imogen Murphy (Red Rock) and Craig David Wallace (Todd and the Book of Pure Evil, Murdoch Mysteries).
Dead Still is executive produced by Paul Donovan, Ailish McElmeel, Christina Jennings, and Scott Garvie, and produced by Suzanne McAuley. Dead Still is an Ireland/Canada treaty co-production produced by Deadpan Pictures (Ireland) and Shaftesbury (Canada) in association with RTÉ, Acorn TV with Acorn Media Enterprises, ZDF Enterprises, and BAI, and with the participation of the Irish Tax Credit, Canadian Film or Video Production Tax Credit, and the Ontario Film and Television Tax Credit. The series was developed with the support of Screen Ireland and Creative Europe.
What's the Setting for Dead Still?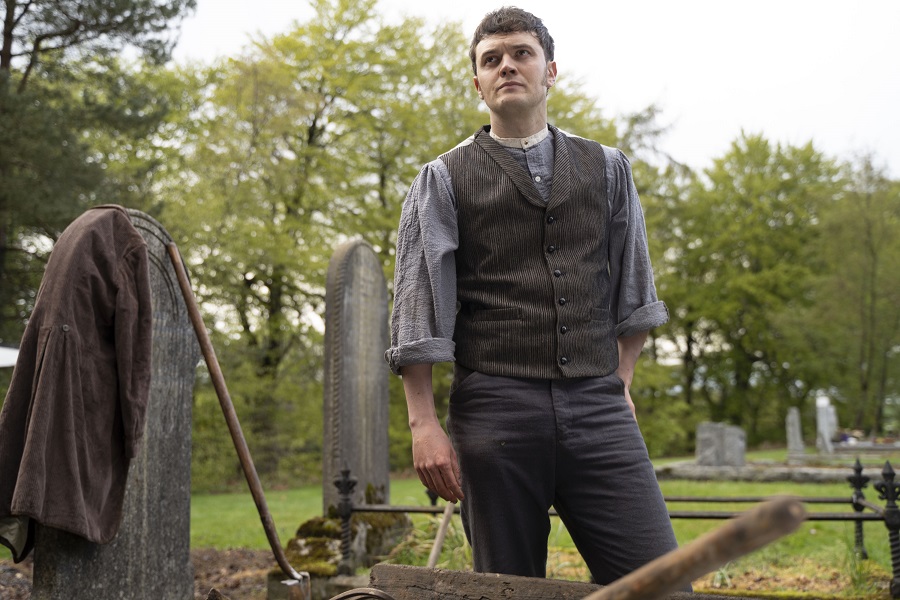 As we mentioned above, Dead Still is set in 1880 Dublin, a time when postmortem photography was a popular practice. The Victorian period was a period of tremendous change, both for Ireland as a whole and the city of Dublin.
As with many cities at the time, Victorian Dublin was a divided one. For the middle class, suburban life was comfortable and largely pleasant. There was a sense of hope and progress, with new inventions coming out rapidly. Consumer goods became more readily available, and the grand stores of Grafton street offered a polished, exciting shopping experience for those who could afford it. The iconic Brown Thomas department store had been around for just over 30 years by 1880.
At the other end of the spectrum, it was a much different picture. There are records of people familiar with the poverty of European cities who were shocked and dismayed at the dirt and decay they saw when visiting Dublin. Many formerly grand townhouses became slums, the upper and middle class residents having moved to the suburbs. Cholera and typhoid were common.
In the congested older districts of the Liberties and the new tenements of the Georgian north city, conditions were terrible. Disease and squalor ruled the day, and many women found themselves headed to Grafton Street and other busy avenues as prostitutes. According to Joseph O'Brien, author of Dear, Dirty Dublin: A City in Distress, 1899-1916, "The period before 1890 saw the heyday of prostitution in Ireland."
The world as a whole was rapidly shrinking, thanks to the railways and steamships. 1876 marked the year Queen Victoria took on the title of "Empress of India", and previously unmapped parts of the globe were being more fully discovered. Literacy was also increasing, and two public libraries would be opened in Dublin in 1884.
Curious to know more about Victorian Dublin ahead of the release? Check out Michael Barry's Victorian Dublin Revealed: The Remarkable Legacy of Nineteenth-Century Dublin. Though it focuses heavily on architecture, there's quite a bit of history woven in around the photos.
Will You Be Watching Dead Still When it Premieres Later in 2020?
We love the original premise and setting of this upcoming mystery, so we'll definitely be tuning in when it comes out later this year. Will you? Let us know what you think in the comments!
Save it to Pinterest!