13 Things You Might Not Know About Jonathan Creek
In some cases, we earn commissions from affiliate links in our posts.
Jonathan Creek is a delightful late-90s/early-2000s comedy-drama-mystery series about a man who designs magic tricks for a living, lives in a windmill, and solves locked room murders on the side. A silly premise for a show, perhaps, but it's a fun, light-hearted mystery I'd recommend to any British TV fan who wants a break from the usual dark and gritty mysteries.
13 Things You Might Not Know About Jonathan Creek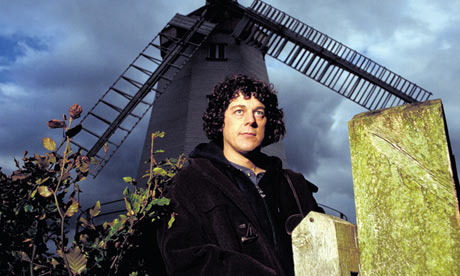 Jonathan Creek lived in the Shipley Windmill in Shipley, West Sussex.
At one time, you could visit and go inside the windmill, but these days, it's closed to tourists. Their page has a little bit of information about its time on the show. If your Jonathan Creek obsession extends to the idea of living in a windmill, there are a number of them for sale around the UK.
Jonathan Creek was produced by Verity Lambert – the same Verity Lambert who served as the first producer of Doctor Who.
In her later years, she worked as an independent producer, and partnered with writer David Renwick on both Jonathan Creek and Love Soup, a 2005 comedy-drama starring Tamsin Greig (of Friday Night Dinner fame). Love Soup is another one of those hard-to-find shows that's only available to those with a region-free DVD player (Series 1-2 on US Amazon | Series 1-2 on UK Amazon).
Alan Davies was so emotional after Verity Lambert's funeral that he bit off part of a homeless man's ear.
No really, he did. He'd been to the funeral, had a number of drinks, and then someone chose the wrong moment to give him a hard time (reportedly calling him Jonathan Creek). According to the Mirror, he said the following after the attack:
I was very upset and emotional. I had a lot to drink over many hours. Far too much really and a lot more than normal but it was an upsetting day. I remember this guy coming up and wanting to talk. After a while he started getting aggressive. He began calling me the 'C' word and other names." Alan, 41, admitted: "I lost it a bit and we had something of a tussle. My friends pulled us apart. I didn't realise he was homeless.
In spite of that one-time hunger for flesh, Jonathan Creek star Alan Davies (who we will NOT call Jonathan Creek) is a vegetarian.
In this Independent interview, he talks about a previous vacation where he didn't eat for 3 days because everything had been cooked in pig fat.
Alan Davies also stars in a program called The Dog Rescuers on Channel 5 (UK).
You can watch it HERE on Amazon. So yes, he chomped an ear in a dark moment, but it sounds like he's also done quite a lot of good in the world.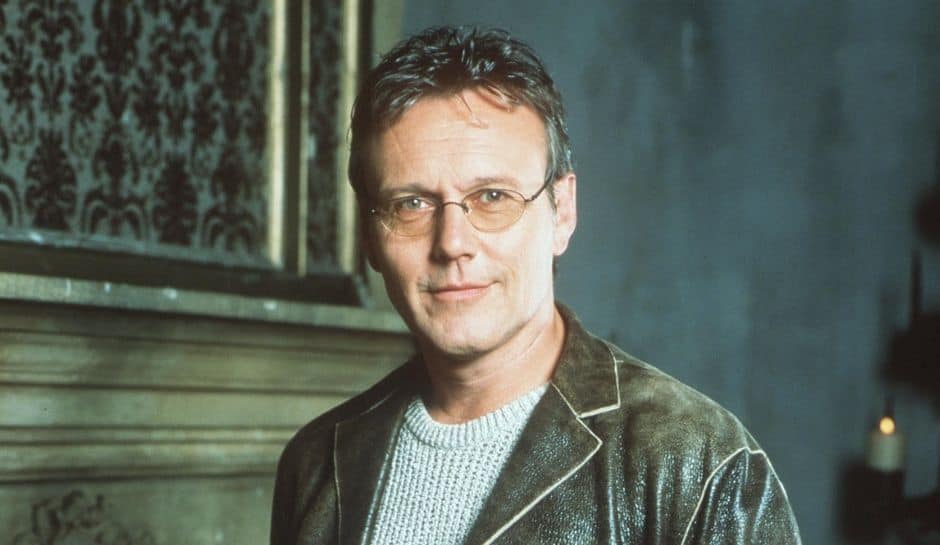 Buffy the Vampire Slayer stole the original Adam Klaus.
Those who have seen Series 1 probably noticed that Anthony Head starred as Adam Klaus in episode 1, but the character was played by Stuart Milligan in all subsequent episodes. Head was busy with Buffy and unable to continue in the role.
Hugh Laurie and Nicholas Lyndhurst both turned down the role of Jonathan Creek.
Davies claims he was the 38th person to be interviewed (though it's hard to say if that's a serious number or exaggeration).
Jonathan Creek is a real place in Kentucky.
Writer David Renwick drove through it once on a trip with his wife.
The character of Maddy was originally written as Jonathan Creek's stepmother.
Given the occasional sexual tension between the two, I think I can speak for most everyone when I say, "Ewww."
Caroline Quentin met her second husband on the set of Jonathan Creek.
He's 12 years her junior, and she once referred to him as a "toyboy househusband" in a Daily Mail interview. Oddly, the Daily Mail article says they met on Men Behaving Badly, but this Independent piece says it was Jonathan Creek. Who knows.
Both Alan Davies and Caroline Quentin have spoken up about their willingness to continue the series.
Though Quentin left in 2000 to have children, she's stated since then that she would happily return. They might have to do something about his wife Polly, though…
Writer David Renwick has appeared on the show.
In The Clue of the Savant's Thumb, look for the bow-tie wearing guy interviewing Franklin Tartikoff.
Alan Davies is a great fan of magic.
In fact, he did a special called "The Magic of Houdini", which you can watch HERE on Amazon.