The Best Jane Austen Movies & TV Adaptations
In some cases, we earn commissions from affiliate links in our posts.
Last Updated on October 17, 2018 by Stefanie Hutson
Jane Austen has been charming us with her stories for over two-hundred years and we still can't get enough of her. We've been adapting her stories to film since 1938 and we've made countless TV and movie adaptations since.
For a bit of history, Jane Austen completed six full books. Her first book was Sense & Sensibility, and then Pride & Prejudice, Mansfield Park, Emma, Persuasion, and Northanger Abbey. (The last two being published after her death). It's almost as if we're addicted to the charming Mr. Darcy, Mr. Knightly, and her plucky, strong leading ladies. We can't list every adaptation; our fingers would fall off trying to type that. Besides, you can find that list here. We've also included a few honorable mentions inspired by Jane Austen and her stories at the end.
Jane Austen Movie & Television Adaptations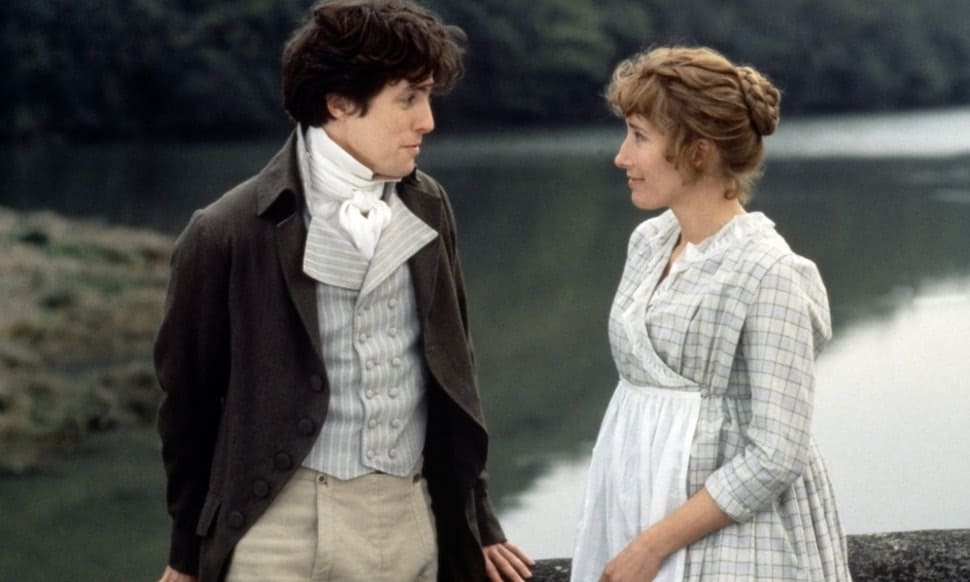 Sense & Sensibility (1995) – The second wife of Mr. Dashwood and her daughters are now poor due to an unfair inheritance. This film is full of quirky, contrasting characters. This adaptation's apt tagline reads, "Lose your heart and come to your senses." We couldn't go without mentioning this Ang Lee adaptation, not only because it's excellent, but because of the star-studded cast: You might recognize the slightly younger faces of Emma Thompson, Kate Winslet, Harriet Walter, Gemma Jones, Hugh Grant, Alan Rickman, and Hugh Laurie. If you're looking for a heartening story about sisterhood, family, love, and grief, this should be your first stop. It is streaming on Starz or available for purchase.
A 2008 adaptation is available on Hulu and Amazon Prime with Dominic Cooper, Dan Stevens, Mark Gatiss, and David Morrissey. Charity Wakefield, Hattie Morahan, and Lucy Boynton star as the Dashwood sisters.
Pride & Prejudice (1995) – Of course, we must mention the version with Colin Firth and Jennifer Ehle. It's a miniseries (rather than a movie) which we think suits the book well because it allows more time to tell the full story. Austen's story of the class system creating prejudice and keeping love from flourishing revolves around Elizabeth Bennet and the brooding, mysterious Mr. Darcy. You can find this adaptation streaming on Hulu, and Amazon Prime.
You shouldn't miss the 2005 movie adaptation with Keira Knightley and Matthew Mcfadyen, though. The cast has many familiar faces: Rosmund Pike, Talulah Riley, Carey Mulligan, Tom Hollander, and Judi Dench. It is available on Hulu and digital and DVD.
Mansfield Park (1999) – Fanny Price, despite being poor, has a decent upbringing and good education thanks to her uncle, but she's always made to seem like the poor, pitiable cousin. A neighbor, Henry Crawford, asks for her hand in marriage, but is he Mr. Right? In typical Austen fashion, this story juxtaposes love and social status. Frances O'Connor, Jonny Lee Miller, and Hugh Bonneville star. It is available on digital or DVD.
The 1983 adaptation of Mansfield Park is streaming on Amazon, and it stars Sylvestra Le Touzel, Nicholas Farrell, and Robert Burbage. (Fun fact: Jonny Lee Miller played little Charlie Price in this adaptation when he was about nine-years-old!) There is another adaptation from 2007 with Billie Piper, Blake Ritson, Hayley Atwell, James D'Arcy, and Rory Kinnear, but it is not as well-reviewed as the previous two.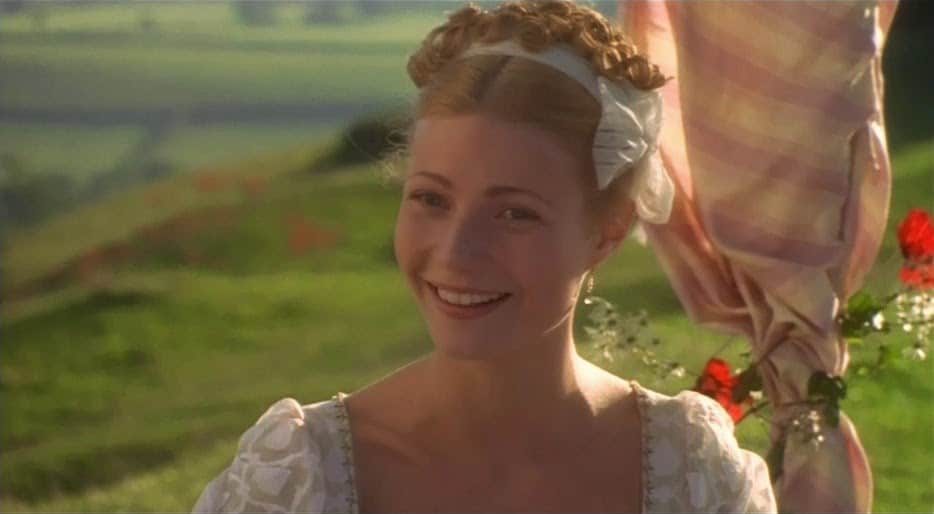 Emma (2009) – Emma is witty, strong willed, and not at all poor. She was raised by her father, governess, and older sister. She is an extroverted matchmaker who enjoys guiding people into happy unions, but she has never been in love nor has she ever wanted to marry. Although prospective male suitors dance around her, the farthest person from Emma's mind may just be her ideal match. This television adaptation stars Romola Garai, Jonny Lee Miller, Michael Gambon, Tamsin Greig, Rupert Evans, Blake Ritson, and Jodhi May. It is streaming on Amazon and Hulu
1996 gave us two adaptations of Emma, one with Gwyneth Paltrow and the other with Kate Beckinsale. Beckinsale's adaptation is reviewed better than Paltrow's, but they are both outdone by Romola Garai's.
Persuasion (2007) – This is a story of love lost due to persuasion and the influences of social class. There aren't as many adaptations of this tale, but Sally Hawkins, Rupert Penry-Jones, Anthony Head, and Tobias Menzies make this adaptation shine. It is available for purchase on DVD and Blu-Ray.
Other adaptations include releases in 1995, 1971, and 1960, along with "A Modern Persuasion" due out in 2019 but it won't have the charm of the Regency period.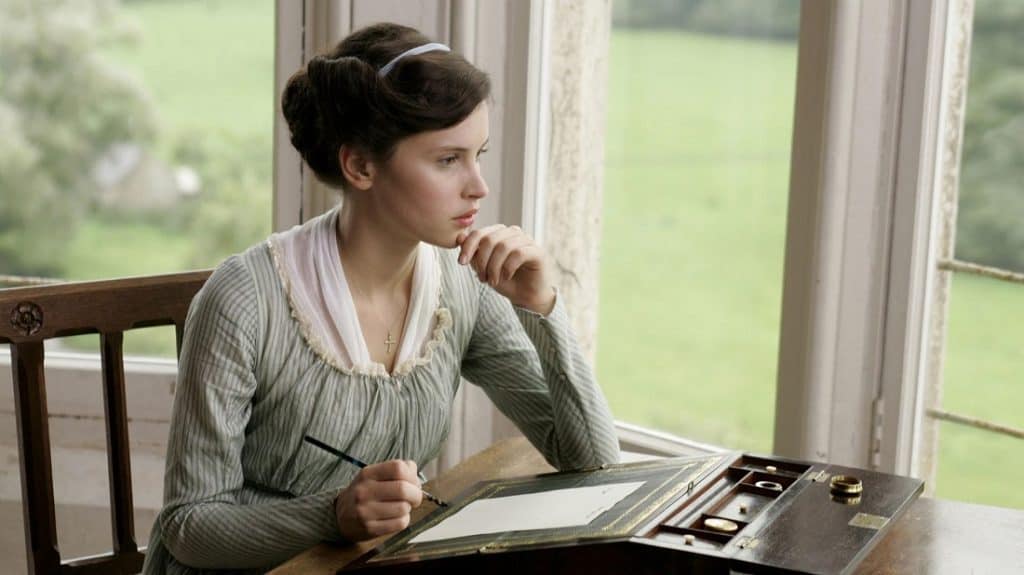 Northanger Abbey (2007) – This story has even fewer adaptations than Persuasion, but the lovely Felicity Jones does a great job as Catherine Moreland, a young woman addicted to sensationalist and romance stories. This is Austen's "gentle parody" of Gothic fiction. Friends invite Catherine to stay at a medieval country estate, which inspires her sense of adventure. There are misunderstandings in matters of the heart and once again, social status and money play an important role. Along with Jones, this Jane Austen movie adaptation also stars Carey Mulligan, J.J. Field, and Gerry O'Brien. It is streaming on PBS Masterpiece and is available on digital and DVD.
An earlier movie version of Northanger Abbey from 1987 starring Katharine Schlesinger, Peter Firth, Robert Hardy is streaming on Amazon.
Jane Austen-Inspired Movies & TV Series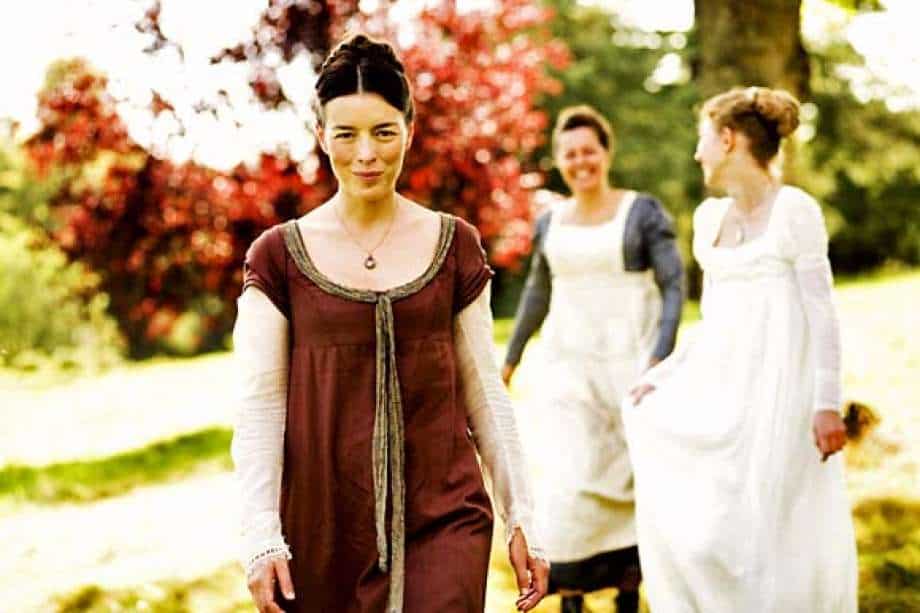 What's your favorite Jane Austen movie or television adaptation? Let us know in the comments!