Racially-Diverse British TV Shows
In some cases, we earn commissions from affiliate links in our posts.
Last Updated on July 17, 2020 by Stefanie Hutson
If you've watched much British TV, you've probably noticed that on average, it's not very racially diverse – and that's especially true of older shows. At the time of the 2011 census, the United Kingdom was 85.4% white or white British. In 2001, it was 91%. Prior to that, the percentage of white British was even higher. It's more diverse in the cities, and significantly less so in rural areas. As a result, you're more likely to see diversity in shows with an urban setting.
This post is not designed to cast judgment on the racial makeup of the UK or its TV shows (particularly in comparison to American shows, which are produced in a more diverse nation). Instead, this post is designed to highlight those shows that have featured black or Asian characters in prominent roles.
Whether you're a non-white British TV fan looking for more actors and characters like you, or you're a white British TV fan who enjoys diversity of characters, we hope you'll find this list useful.
Racially-Diverse British Dramas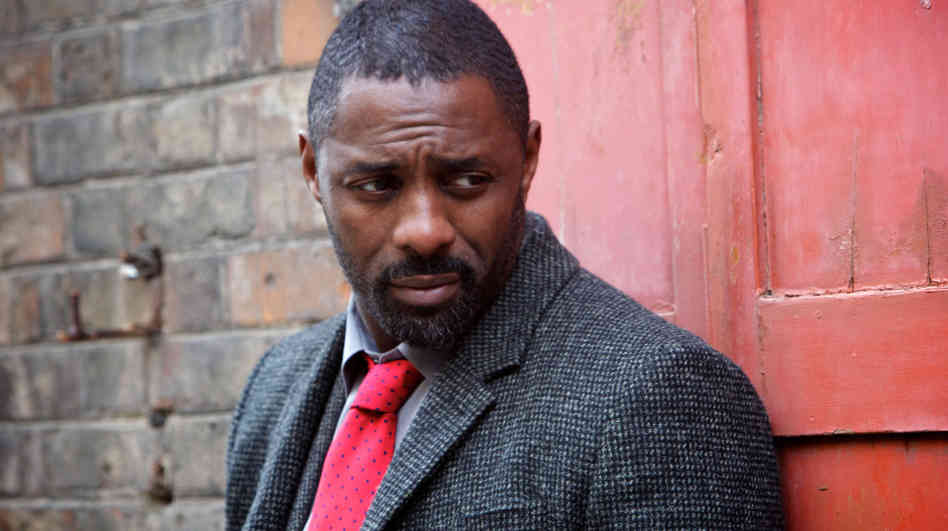 Luther – Idris Elba stars as DCI John Luther, a brilliant but troubled detective who specializes in murder. His investigations and career are frequently compromised by an inability to control his actions. Set in London, this is a relatively diverse series. Other actors of color include Indira Varma as Zoe Luther, Nikki Amuka-Bird as DS/DCI Erin Gray, and Wunmi Mosaku as DS Catherine Halliday. Watch it HERE.
New Blood – New Blood features two junior investigators working together to take down rich and powerful corporate criminals. Mark Strepan plays Stefan, a Polish immigrant, while Ben Tavassoli plays Rash, an Iranian immigrant. While "Polish" might not seem terribly diverse to the average American, it's important to understand than in the UK, there's still a fair bit of prejudice about Eastern European immigrants.
You can watch New Blood HERE on BritBox.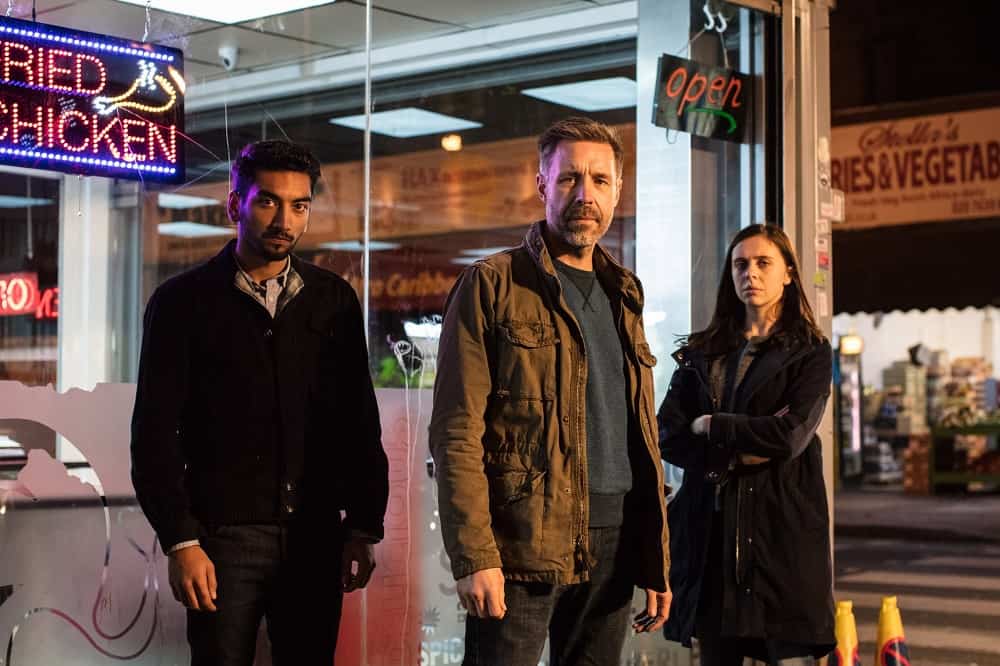 Informer – This controversial new series stars Paddy Considine as a counter-terrorism officer who pressures Raza, a young Pakistani man played by Nabhaan Rizwan, to become an informer in East London. As might be expected from the description and location, Informer features a talented and diverse cast of white British, Asian, and black actors. Among them are Roger Jean Nsengiyumva as Dadir Hassan, Arinzé Kene as Sal Brahimi, and Fehinti Balogun as Officer Cooper.
Watch it HERE on Amazon.
Ackley Bridge – This series follows the mixing of two schools in a British and Pakistani community in Yorkshire. Hint: it doesn't always go smoothly. Due to the nature of the plot, the show is much more diverse than the average non-urban program.
Actors of color in this series include Amy-Leigh Hickman (the British-born daughter of Indian immigrants) as Nasreen Paracha, Sunetra Sarker as Kaneez Paracha, and Abdullah Shahid as Mo Ahktar. Watch it HERE on Acorn.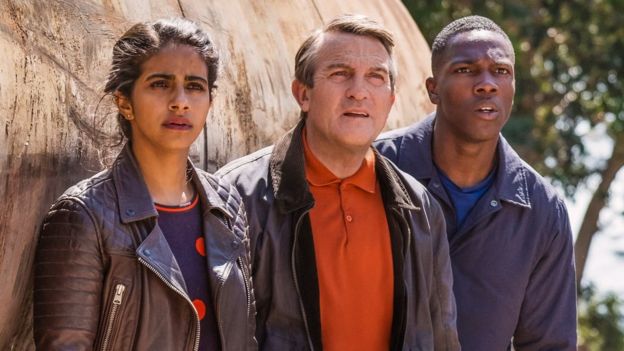 Doctor Who – While this British classic hasn't always been the most diverse show around, recent seasons have featured a number of black and Asian companions. Some might argue that's still not THE BIG ROLE, but most companions have pretty substantial parts. It's hardly "waiter #2" material.
Some of the prominent diverse characters from the series include Freema Agyeman as Martha Jones, Tosin Cole as Ryan Sinclair, Noel Clarke as Mickey Smith, Pearl Mackie as Bill, Mandip Gill as Yasmin Khan, and Adjoa Andoh as Francine Jones.
You can watch recent seasons of Doctor Who HERE on Amazon.
Undercover – This six-part drama stars Sophie Okonedo as Maya Cobbina QC, a British criminal lawyer attempting to prove the innocence of an American death row inmate. Adrian Lester plays her husband, a man whose deception she uncovers only as she's about to come under the spotlight for her work.
Watch Undercover HERE on Amazon.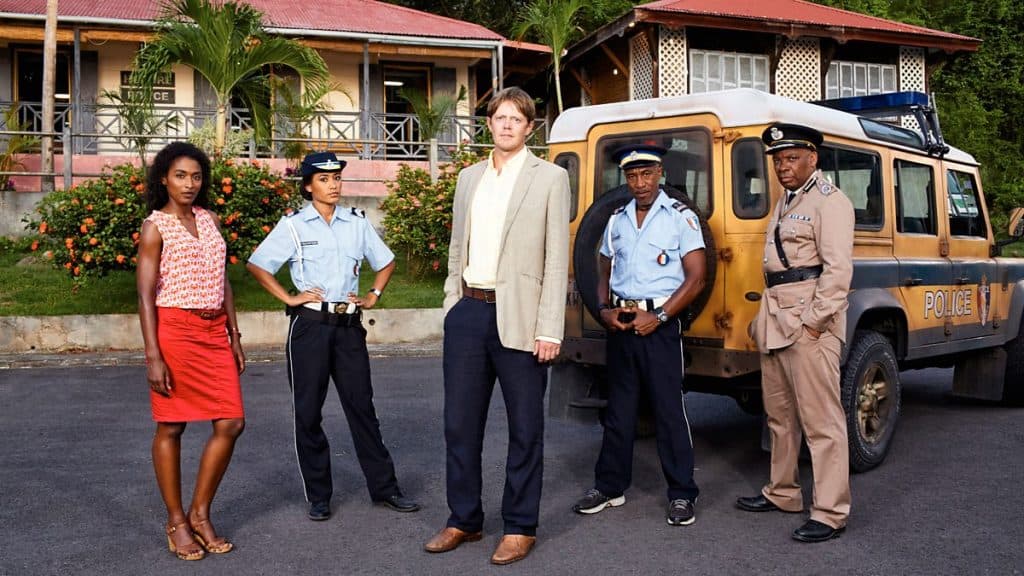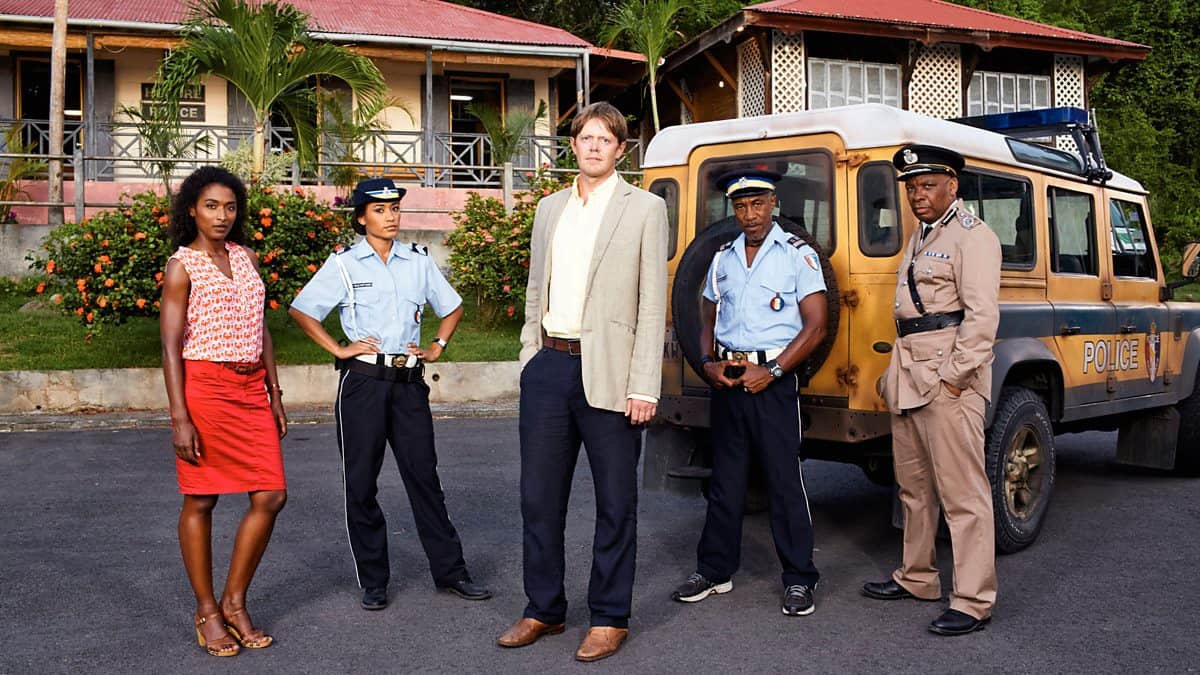 Death in Paradise – This brilliant mystery series is set on the island of Saint-Marie, and while the main detective has always been a white British/Irish man, the rest of the main characters are island locals. Part of what makes the show interesting (aside from all the murder) is the culture clash between stereotypically awkward white British investigators and the more laidback island lifestyle.
Some of the key black cast members include Danny John-Jules as Officer Dwayne Myers, Elizabeth Bourgine as Catherine Bordey, Don Warrington as the Commissioner, Joséphine Jobert as DS Florence Cassell, Tobi Bekare as JP, and Sara Martins as DS Camille Bordey.
Watch Death in Paradise HERE on Netflix or HERE on Amazon.
Good Karma Hospital – When a young British Indian woman goes through a personal crisis, she moves to India to work in a medical clinic. Having grown up with the white British side of her family, she's not entirely prepared to face the Indian culture that's part of her family history.
Being set in India, it's no surprise that this series would feature a mostly Indian cast. Amrita Acharia does a fantastic job as Dr. Ruby Walker, and other standouts include James Floyd as Dr. Gabriel Varma, Darshan Jariwala as Dr. Ram Nair, and Sagar Radia as AJ Nair.
Watch Good Karma Hospital HERE on Acorn.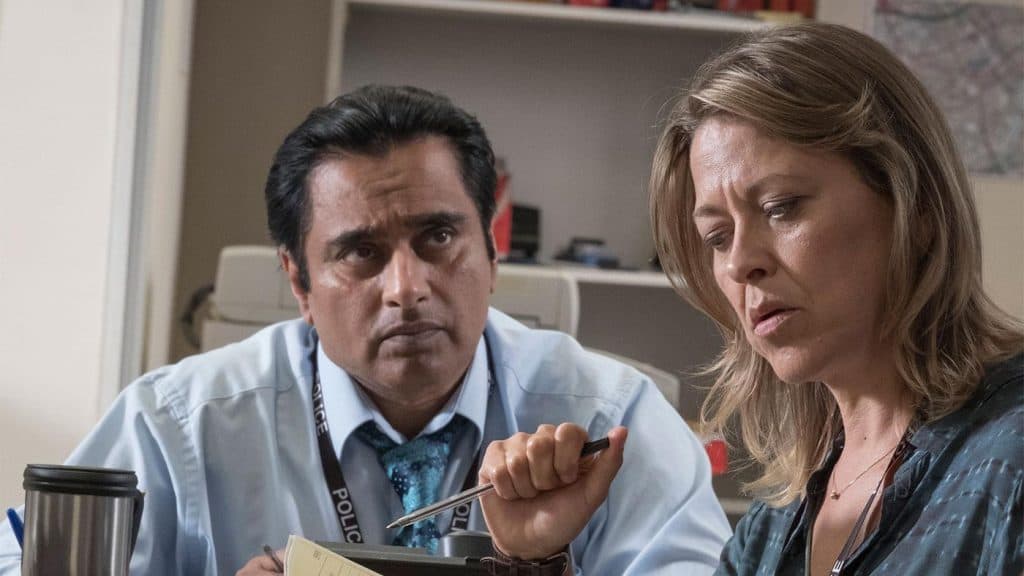 Unforgotten – Sanjeev Baskar stars alongside Nicola Walker in this delightful mystery series about two London detectives who investigate crimes from the distant past.
You can stream Unforgotten HERE on Amazon.
The Indian Doctor – In this heartwarming drama, an Indian couple struggles to adapt to life in a working class Welsh village. Eventually, he wins over the locals and learns to care for them in return.
You can stream The Indian Doctor HERE on Amazon.
Racially-Diverse British Comedies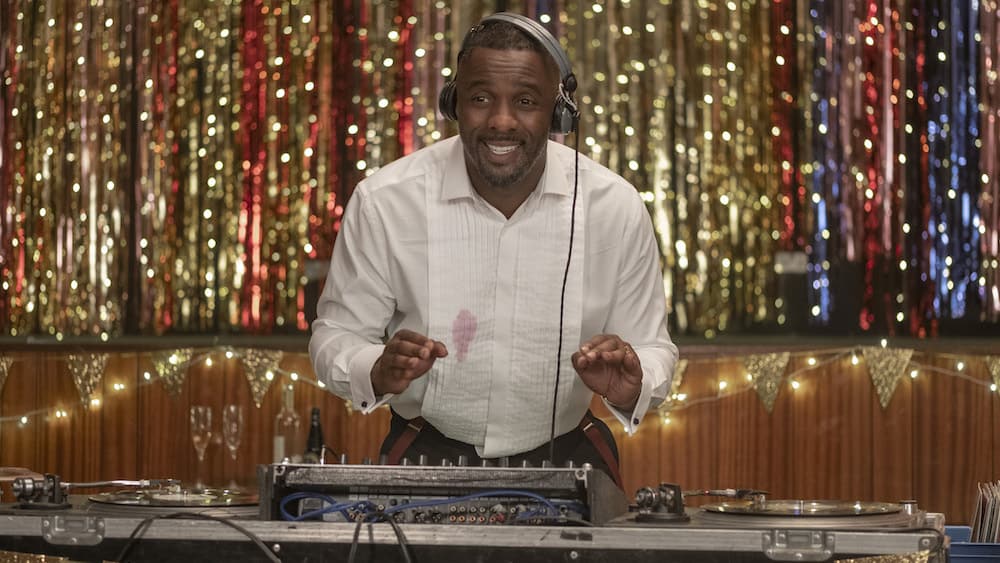 Turn Up Charlie – In Turn Up Charlie, Idris Elba stars alongside Piper Perabo as a perpetually single manchild DJ who gets one last chance at success when he agrees to become a manny for his best friend's daughter. It was partially inspired by Elba's real-life DJ alter ego, DJ Big Driis. He recently performed at Prince Harry's wedding reception, and he'll also be appearing at the 2019 Coachella festival.
Turn Up Charlie hasn't come out yet. It will premiere on Netflix on March 15th.
Chewing Gum – A young, religious black woman in London decides it's time to have sex and experience more of the world. It stars Michaela Coel as Tracey Gordon, and she was also the writer. In true British fashion, the sitcom features some of the most delightfully cringeworthy and awkward moments you'll see anywhere.
You can watch Chewing Gum HERE on Netflix.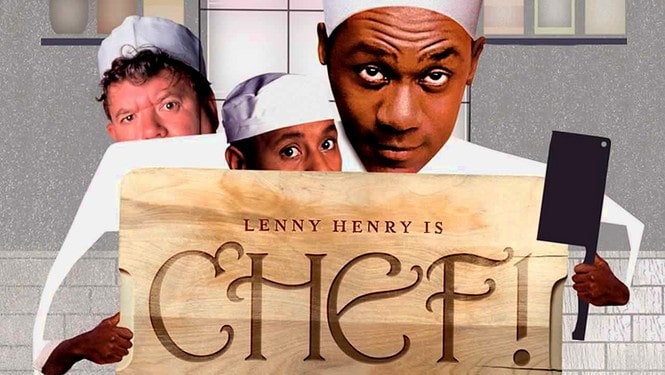 Chef! – Lenny Henry stars in this comedy about an ill-tempered chef at a prestigious French restaurant. His standards are high, and his subordinates don't always fall in line, but he works hard and dreams about the day when he might be able to open his own restaurant.
While somewhat difficult to find in the US, you can get the entire collection on DVD here as long as you have a region-free DVD player to watch it (they're generally under $50 on Amazon). Complete Series DVD
The Crouches – This early 2000s sitcom lasted for two seasons and featured a chaotic black family living in London and struggling with all manner of modern issues. Stars of The Crouches include Robbie Gee (Desmond's), Jo Martin, Rudolph Walker (EastEnders), and Jimmy Akingbola (Rev).
While we didn't see The Crouches on any US streaming services, you can pick up the DVDs pretty cheaply if you have a region-free DVD player to watch them. Series 1 DVD | Series 2 DVD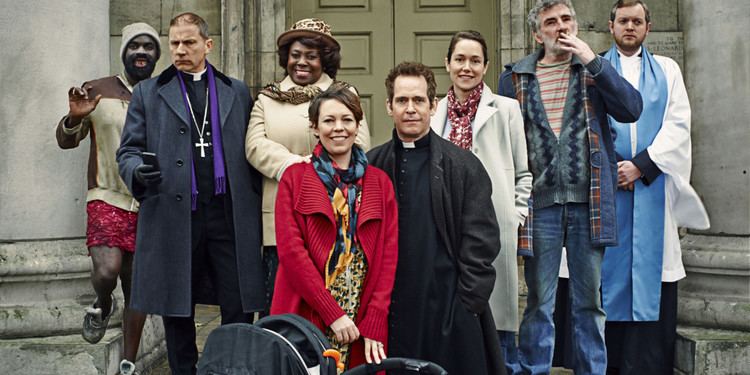 Rev – Rev follows a rather pitiful Church of England vicar who gets transferred from a quiet country church to an inner city parish in London. The core cast includes two very talented black actors, Ellen Thomas as Adoha, and Jimmy Akingbola as local weirdo Mick. Ongoing storylines take advantage of London's diversity, including a run-in with local Rastafarians and some storylines that include a local Imam and his congregation.
While the show does frequently lean on stereotypes, it's an overwhelmingly kind-hearted comedy. You can stream Rev HERE on BritBox.
Goodness Gracious Me – In this Anglo-Asian sketch comedy, we meet the severely English Kapoor (pronounced Cooper) family, The Six Million Rupee Man, and Uncle "Why Don't You Come to Me?" While some feel this series was made more for a while British audience, many others say it's a fantastic, humorous take on what it's like to be Asian in modern-day England.
You can get Goodness Gracious Me on DVD here: Series 1 DVD | Series 2 DVD | Series 3 DVD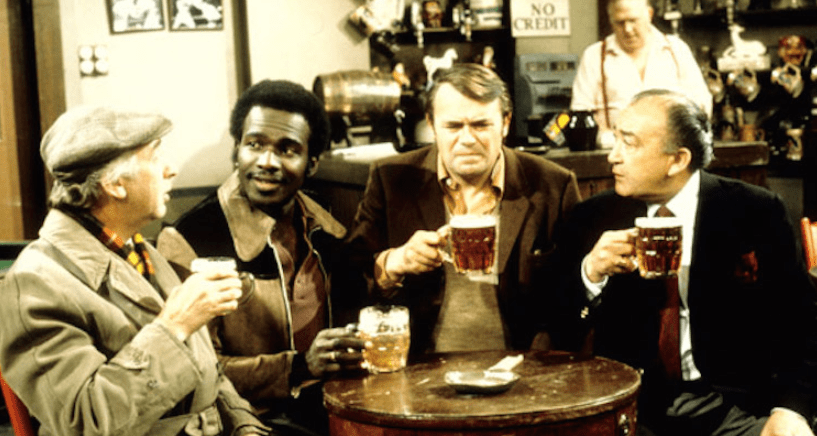 Love Thy Neighbour – Fair warning: this show would not be produced today. By any normal modern standards, it's horribly racist in both directions (more than a few uses of insensitive terms like "honky", "pale face", "snowflake", "nig-nog", and "Sambo"). Back in the 1970s, it lasted for 7 series and 54 episodes.
To give it some context, Love Thy Neighbour came at a time when Britain was struggling to adjust to a newly-arrived population of black immigrants. In the show, we see a suburban working class white couple learning to get along with their new black neighbors. While the white husband is portrayed as a bit dim, black neighbor Bill Reynolds is more educated and sophisticated (though still quite stubborn and insulting in his own right). The wives were much more sensible. Rudolph Walker and Nina Baden-Semper played the roles of West Indian couple Bill and Barbie Reynolds.
In the end, the show is about the stupidity of judging people based on skin tone.
While this doesn't currently stream in North America, you can still get the complete series on DVD HERE.
The Fosters – The Fosters was the first British sitcom written for and starring black actors. It featured a very young Lenny Henry (Broadchurch, The Syndicate) alongside Norman Beaton, Isabelle Lucas, and Carmen Munroe. Munroe and Beaton would both appear years later in Desmond's, too.
The series was based on the US hit Good Times, with Beaton starring as Samuel Foster, a hard-working man just trying to do right by his family in a South London council flat.
While you can get used copies of The Fosters on the US Amazon, you'll likely get a better deal buying it new from Amazon UK here: Series 1 DVD | Series 2 DVD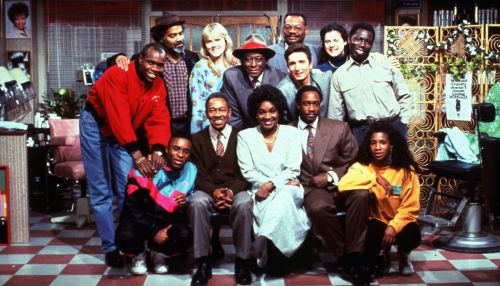 Desmond's – Desmond's is a late 80s/early 90s comedy about a black hairdresser, his family, and his regular customers in London. At the time, the series was somewhat groundbreaking. While The Fosters was the first black British TV sitcom, it was based on the US show Good Times. Desmond's was an original, and on top of it, it focused on a black business.
Among the stars of Desmond's were Norman Beaton (who also starred in The Fosters) as Desmond, Carmen Munroe as Shirley, and Robbie Gee as Lee Stanley. Gee was younger at the time, and he continues work in British film and television. You can also see him in shows like The Frankenstein Chronicles and Guilt.
While Desmond's isn't available streaming anywhere at the moment, you can buy it on UK-encoded DVDs (meaning you'll need a region-free DVD player to watch them). Series 1 DVD | Series 2 DVD
The Real McCoy – This 1990s comedy series ran for 6 series, and featured some of the UK's top black and Asian comedy stars in a variety of sketches.
While popular, it has never been released on DVD, and only a handful of VHS copies are available for purchase. You can find some scattered clips on YouTube.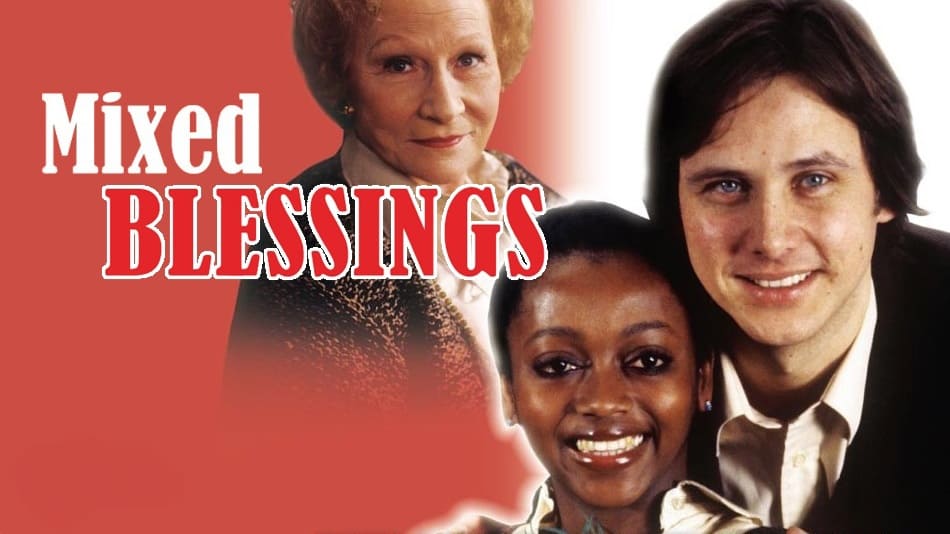 Mixed Blessings – Back in the late 1970s, Mixed Blessings was an extremely controversial British TV show featuring a mixed race couple and their very disapproving families (particularly Joan Sanderson, who many readers will recognize from After Henry). Though groundbreaking, it did seem to portray the relationship as a problem, something that feels rather icky to most modern viewers.
Muriel Odunton starred in the series, and it would be her final acting role. She died in 2018 in Florida at the age of 65. Carmen Munroe (Desmonds, The Fosters) also starred in Mixed Blessings.
While the series doesn't stream anywhere at time of writing, you can use a region-free DVD player and order the DVDs from the UK here: Series 1 DVD | Series 2 DVD | Series 3 DVD
IT Crowd – This one's a bit iffy since overall, it's not very diverse – but half-Nigerian actor Richard Ayoade is just too fantastic not to include it. In The IT Crowd, Ayoade stars as Maurice Moss, socially-awkward IT guy who works in the basement alongside fellow IT guy Roy and their clueless boss, Jen.
You can stream The IT Crowd HERE on Netflix.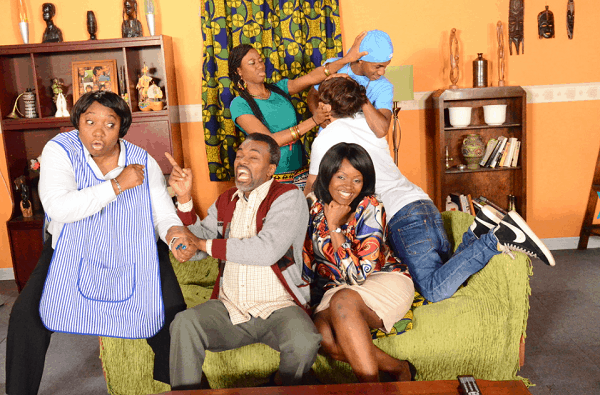 Meet the Adebanjos – This successful web-based British sitcom features a Nigerian family whose children were both in London. There are 50 episodes in total (at time of writing), and the series focuses heavily on the cultural differences between Nigerian and British life.
You can stream the series on their website HERE.
It Ain't Half Hot Mum – This late 70s/early 80s comedy featured a colorful group of men traveling around the jungles of Burma to entertain the troops during World War II. While very few shows of this time period featured diverse casts, this series featured a number of Asian actors. Standouts include Dino Shafeek as Char Wallah Muhammed, Barbar Bhatti as Punka Wallah Rumzan, and Renu Setna as The Maharajah. It's true that the main characters were white British, but given the time period, this one is very much worthy of a mention.
You can get It Ain't Half Hot Mum on DVD HERE.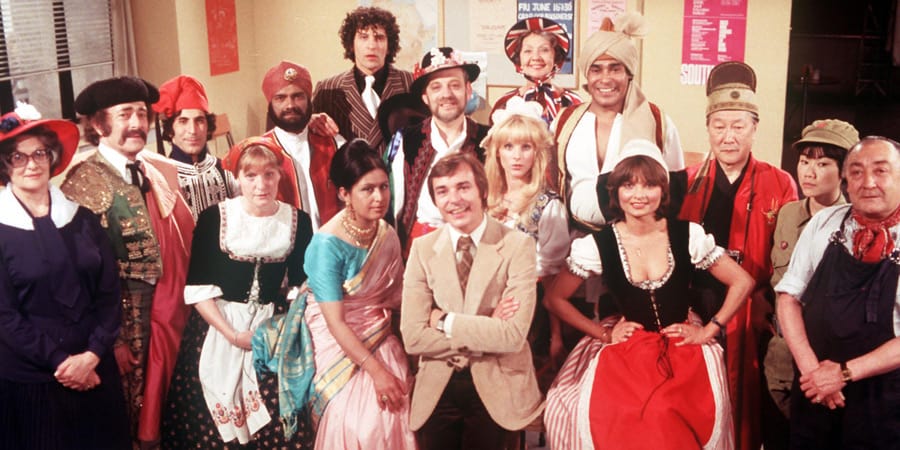 Mind Your Language – Mind Your Language is another great example of diverse vintage British TV. In this series, a British language teacher attempts to earn a living teaching English to immigrants – but he finds it a bit more challenging and chaotic than he bargained for.
Notable non-white actors from this series include Dino Shafeek (who was also in It Ain't Half Hot Mum), Jamila Massey, Pik Sen Lim, Ricardo Montez, and Albert Moses. While this and many other comedies of the time period used a lot of questionable stereotyping for comedic effect, it represented a huge step forward in representation.
You can stream Mind Your Language HERE on Amazon.
The Kumars at No. 42 – This comedy focuses on a normal British family that broadcasts a celebrity chat show from the back garden of their home. Son Sanjeev hosts, but his business-oriented father, matchmaking mother, and mischievous granny all get in on the action.
We're not aware of any current streaming options, but you can pick this one up on DVD pretty cheaply. Complete Series DVD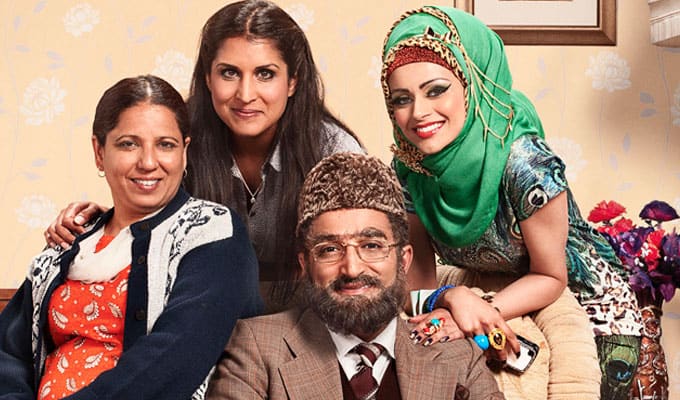 Citizen Khan – Set in Birmingham, this series follows a British Pakistani man who longs to lead, but his family and community never seem to follow. The show stars Adil Ray as Mr. Khan alongside Shobu Kapoor as his long-suffering wife. Bhavna Limbachia and Maya Sondhi play his daughters.
This is another one of those shows that isn't available streaming in the US, but you can get it on DVD if you have a region-free DVD player. Complete Series 1-3 DVD
British Soaps
Virtually all modern British soap operas feature incredibly diverse casts and storylines. Rather than summarize all the various storylines here, we recommend you check out our post on Where to Watch British Soap Operas.
Did We Miss Some Diverse British TV Shows?
This list is far from exhaustive. If you can think of a racially-diverse British TV show we've missed, let us know in the comments!