Living the Dream: Interview With Philip Glenister, Kevin Nash, and Kim Fields
In some cases, we earn commissions from affiliate links in our posts.
Last Updated on September 15, 2019 by Stefanie Hutson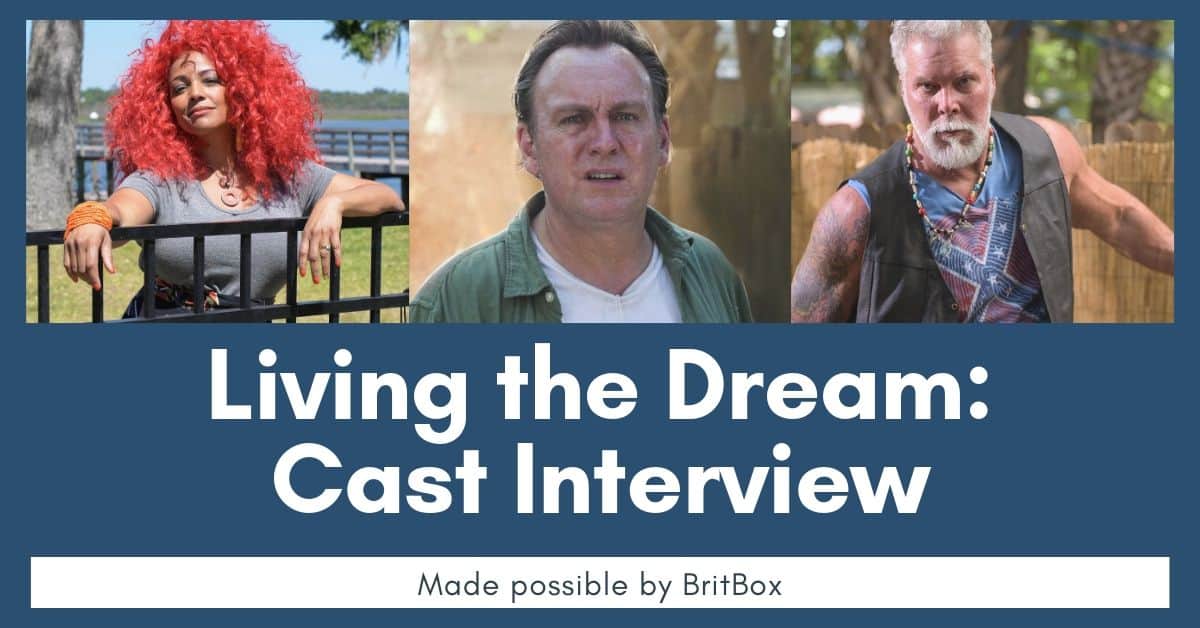 On May 14th, the new Philip Glenister and Lesley Sharp series Living the Dream premiered on BritBox. The comedy-drama tells the story of a Yorkshire family that relocates to Florida with dreams of sunshine and new adventures. Mal Pemberton, played by Glenister, has acquired a Florida caravan park (aka "trailer park" in the US) and he uproots his family to bring them along for the ride.
Now, as someone who's been to Florida and just got back from North Yorkshire, the entire premise of the show seems completely insane. Trade in a life in Yorkshire – one of the loveliest and friendliest places in England – for a Florida caravan park? Move to a McMansion? Absolute madness.
However, if you spend much time in the UK and you ask people if they've been to the US, you'll find an awful lot of people talking about Florida and Las Vegas. They're very, very popular locations for Brits craving a bit of sunshine and relaxation – so it makes sense they chose Florida for the series. And of course, as anyone familiar with the "Florida man" game will know, there's plenty of built-in comedic potential when you set a show in Florida. Nothing against Floridians – most of them are lovely people, but for some reason they do attract a lot of nutters.
Living the Dream Cast
As I mentioned, Living the Dream stars Philip Glenister and Lesley Sharp as Mal and Jen Pemberton. British TV fans will likely recognize Glenister as DCI Gene Hunt from Life on Mars and its follow-up Ashes to Ashes (requires a region-free DVD player). He also played Reverend Anderson in the US TV series Outcast. Sharp is probably most recognizable as DC Janet Scott from Scott & Bailey, but she also appeared in the crime drama Paranoid and the miniseries Capital.
The cast also includes Rosie Day and Brenock O'Connor as their children, Tina and Freddie Pemberton, along with Kim Fields as neighbor Rhoda and Kevin Nash as Troy, an interesting character from the caravan park. American readers will almost certainly recognize Kim Fields from her role as Tootie in the much-loved sitcom The Facts of Life – and Kevin Nash from his long career as a professional WWE wrestler.
Our Living the Dream Interviewees
In this interview, we're joined by three members of the Living the Dream cast: Philip Glenister, Kim Fields, and Kevin Nash. This interview was made possible by BritBox, and we thank them for their help in arranging it.
As always, please remember this was a phone interview that we've transcribed, and there's always a chance we could have mis-heard a word here and there. If anything sounds a bit off, please chalk it up to a transcription error. Also, please note that if you're bothered by adult language, you may want to avoid this interview.
Cast Interview for Living the Dream
For those who perhaps aren't familiar with the series, could you tell us what Living the Dream is all about?
Philip: Okay, this is Phil, I play Mal Pemberton. The series is really about a British family who, the short and tall of it, up sticks and move from the UK and move to Florida to buy and run an RV trailer park. As you do. Yes, quite common. Quite common thread that goes through the people in the UK. What should we do today? Let's go to Florida and buy an RV trailer park.
Yeah. So that was something I wanted to ask because, as an American who would love to move to the UK, Mister Pemberton, why is he so keen to move his family to Florida to run a trailer park?
Philip: Well, I think Florida is renowned, in terms of the Brits, there's a lot of visitors to Florida from Britain. Probably it's the most visited state from our point-of-view, and I think what we wanted to show was this spin on a couple that, although they're heading towards their middle years they still enjoy each other's company, they love each other and rather than just retire quietly and have a bit of a boring life, they want another adventure. You know? Because life is too short, so they have this mad idea to purchase a trailer park and go and experience the American dream, I guess.
Yeah?
Philip: Obviously it never quite works out like that but I do think that's the problem with the Brits, they do think of Florida as being one gigantic Disneyland and obviously the reality, as Kevin will tell you because he lives there, it's not quite true.
Kevin: Amazing as it is, Orlando is the number one destination in the World.
Philip: Is it really?
Kim: In the world?
Wow. Is it?
Kevin: Yeah.
I didn't know that. Interesting.
Kevin: Yes, yes.
Philip: Tiger Woods has got all that money and he still chooses to live there.
Kevin: Yeah.
Philip: That's mad.
Kevin: He lives, his house, you couldn't find him at his house its so large. Miles and miles of it.
Philip: He needs a three wood to get from-
Kevin: Exactly.
Philip: The bathroom.
Well, one of the things that comes across and we like the show is how much fun you were all having with it. So what is the most fun or the best part of filming the series for you guys?
Kim: I think each other. You know, quite honestly, the writing is so terrific on the show so we're enjoying the work first and foremost. I think everybody has had, and unfortunately some people still may have, work that they don't enjoy. And that can suck. So when you have work and you are doing work that you enjoy, the icing on the cake is doing it with people that you enjoy. And I think that's what they capture with this cast. And yes the show is shot beautifully, the production value is tremendous, but being able to really capture the dynamic of how we all interact with one another. And that's really what comes through.
Yep. Sounds good.
Philip: Yeah, I'd agree with that. From our point of view, as well, we're made to feel very welcome by everybody and, as I say, we wanted to make an hour of escapism really and obviously there's a responsibility to doing that but it was nice to have a good subject matter and, as I say, as Kim said, we all got on like a house-
Kevin: Yeah.
Philip: The hardest part, as Kevin will say, was the climate. Sometimes the humidity and the bugs were a little stifling especially when we were actually filming in the trailer park. But we're grown-ups, we can get through that. We're tough. We're hardened.
"I've been bitten again, Kevin. I've been bitten again. Right on the nose." Can't go on camera…
Kevin: Once we shot this right when Trump took office so we had a lot of starting talk.
Philip: And then Brexit was kicking off as well so we had loads to talk about.
Kevin: Just to talk about.
Philip: In our little bubble of loveliness.
Have any of you started to pick up any phrases or habits from each other, or had any interesting misunderstandings?
Philip: Kim knows a lot of swear words which she got courtesy from me unfortunately and in fact she has one in the show, can't remember which episode it is but she uses the word to describe the Mayor as a complete "knob-jockey".
Kim: And I say it with an accent, because I'm that much of a beast with an accent.
Philip: She does the line beautifully, it is so funny. I think it stayed in that she said it. It's just a nice little moment that we don't expect her to know that word. It's funny, it's a fun moment.
Yeah for sure. For Kim and Kevin, were there any differences for the two of you working on a British production compared to an American one?
Philip: The hours.
Kevin: Yeah, there were some long hours, but I think going in knowing we had six episodes of it. If we were shooting 26 I'm quite sure I'd have said whoa. I think it affected Phil's golf game more than it did anything. He didn't get a chance to get out. He'd have one day a week he could get out and hit the ball so I think that it set him back by about three-
Philip: It's kind of interesting when, coming from London, you go on a golf course and on the first tee you've got a bit sign saying, "beware of alligators and poisonous snakes." Oh great, thanks for that. So any ball that went astray or anywhere near water stayed there.
Kevin: Yeah.
Wise choice, probably. What were each of your favorite scenes or episodes that first come to mind?
Kevin: Mine, personally, was because I was always at the RV park, finally I got a chance to cross over and go to Phil's house and-
Philip: Did we let you in?
Kevin: Yes, I actually got hurt-
Philip: That's right
Kevin: Trying to save your ass in the park. But that was kind of a nice scene because I get to reveal that I actually have kids and a different Kevin that you see. That was quite a nice cross-over.
Kim: He only liked it because he was in the house with air conditioning.
Kevin: [crosstalk] It was actually a bug-free zone.
Kim: Right, right. For me, I really enjoyed the scenes where I'm in the pool and Mal is presumably in his pool and we're swimming and talking back and forth to each other. And also when Rhoda and Rosie get a chance to chat every now and again, I enjoyed that. But just hanging out with Lesley who played Jen, all of her scenes were just so much fun. You know, just loads of fun.
Philip: For me I quite enjoyed doing the church scene, actually. It's in Ep Two. We ad-libbed quite a lot of that. Where I'm doing my version of All Things Bright and Beautiful and suddenly get a bit American on it and start Bon Jovi-ing it up a little bit.
Kim: Did you really say Bon Jovi-ing when you're talking about singing in a church?
Philip: Yeah. Well, I was singing outside the church. I had a bit of something going on, you know? I should have been asked to do the Superbowl this year, I think. I would have knocked it out of the ballpark.
Kim: Oh gosh. I love you, Phil. That was so funny.
Philip: There you go, maybe next year.
So how do the characters grow and change throughout the course of the show and their interactions with each other?
Kevin: I think between Phil and my characters, I think it starts off that we're very much antagonists, but as the season goes on we become more cohorts and we work together through it. I see that he's trying to make the park a better place for us which, in turn, makes me embrace him as the owner. So, for me, as any human would if somebody's making things better for you, you start to have a bond with them.
Philip: Embrace change.
Kevin: Yes! Embracing change. I was waiting for him to see if could maybe get the EPA to have absolutely no [inaudible] I think we were fracking in series three.
Philip: Fracking!
Kevin: Yeah.
What does the future hold for the series? We saw that Series Two is underway. Is there any plans or talks for a third?
Philip: At the moment we don't know. The last episode of season two is being shown in the UK next week and I think that the will and the wherefore is there to do another season but it's just a question of the logistics and the usual stuff that goes on in this industry. And also, dare I say it, its because we shot the second season in Spain. We're unsure as to how Brexit is going to affect filming and stuff in Europe. Hopefully it won't but until there's some sort of cohesion and some sort of result on all that we just don't know.
Kim: Well, I only know being on long running series so my assumption is that Living the Dream will at least have five, six, seven, eight, nine seasons, because that's all I know!Philip: I'd like that. We'll see. We'll see.
You can take the whole cast over to the UK and do a season there, or something.
Kim: There you go!
Philip: Well, yeah, we'll probably get even closer to home, we'll be in Surrey Woods or somewhere. Sherwood Forest.
Kevin: We'll shoot in Budapest and make it look like London.
Philip: Yeah. Cape Town, we could double that. That could work. Who knows.
Kevin: Just gotta shoot by 5:00 PM.
You already mentioned this a little bit with the bugs and humidity. Besides that, or if that is it, what has been the hardest thing about working on the series?
Philip: Remembering lines. As you get older, I find remembering lines. But then we used to make half of it up anyway.
Kevin: They were good about letting us have lapses.
Philip: I'm of the school where I say, "I can do it with a look. I don't need to say it."
Kevin: This is not the Gettysburg Address, I can make it my own.
Philip: Exactly! [crosstalk] three-page sermons in my character, I say, "We'll lose all this. I'll do it with a look."
Kevin: Killed it.
Philip: Yeah, killed it.
Kim: Nailed it.
Philip: Maybe get home earlier as well.
Where to Watch Living the Dream
If you haven't already, check out Living the Dream on BritBox. Series 1 premiered on BritBox on May 14th, and Series 2 aired in the UK in early 2019 (important to note for those people who don't like watching shows that get cancelled after just a season). Let us know your thoughts in the comments!
Remember, new members can get a free 7-day trial of BritBox, and if you don't have a smart TV or device compatible with their app, you can always subscribe through Amazon's Prime Video service. Thanks again to BritBox for coordinating this interview for our readers!