Is Sanditon Season 2 Confirmed? UPDATE: Officially Confirmed
In some cases, we earn commissions from affiliate links in our posts.
Last Updated on May 6, 2021 by Stefanie Hutson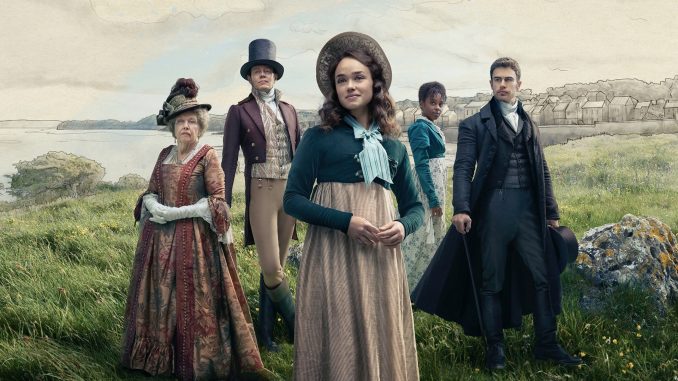 Ever since it was announced that Sanditon was cancelled, fans have been calling for it to come back. While there have been little blips of hope, they've generally been crushed pretty quickly. However – we've just seen something that might suggest the wheels are in motion.
Edit: We've now gotten official confirmation that Sanditon will get a second and third season. ITV's Head of Drama Polly Hill said:
I'm so glad that the success of Sanditon in the U.S. has paved the way for its return, and for ITV to continue on this wonderful journey. We know there are many loyal fans of the show in the UK that will be delighted to see its return and that we were able to find a way to bring it back.
What is Sanditon?
Sanditon is based on an unfinished Jane Austen novel. In 1917, her health was failing. While experts aren't in complete agreement about what ultimately ended her life, Addison's disease and Hodgkin's lymphoma are among the most popular hypotheses. Though she continued to work through her illness, her final work, The Brothers, would remain unfinished after 12 chapters.
In the middle of March 1817, she was no longer able to write. On the 18th of March, she wrote that she was turning "every wrong colour" and she was confined to her sofa. By July, she had passed away at the age of 41.
The Brothers would go on to be published, incomplete, as Sanditon in 1925. You can read her original work HERE in a convenient ebook, or HERE at Project Gutenberg for free.
Since then, many have attempted to finish her work. Most recently, Sanditon was adapted into an ITV television series by Andrew Davies. There's also a book that finishes the story, based on the version Davies put forth (get it HERE).
What is Sanditon About?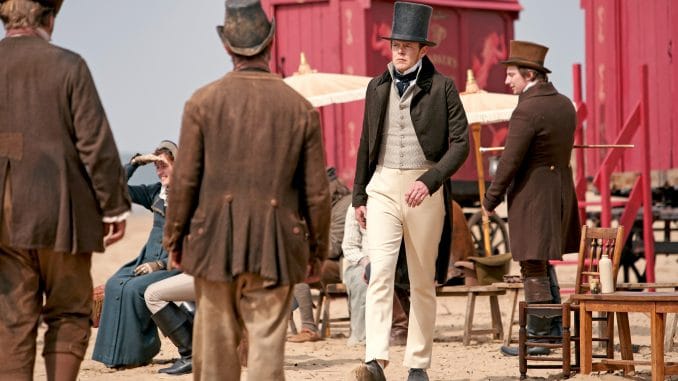 Sanditon tells the story of a spirited young woman and her relationship with the charismatic promoter of a new seaside resort town. It's a story of youthful innocence and enthusiasm meeting up with an upstart town and all its schemes and secrets.
The original series wasn't well-received in the UK, but American audiences loved it, and petitions almost immediately went up to beg for more.
Where Can I Watch Sanditon?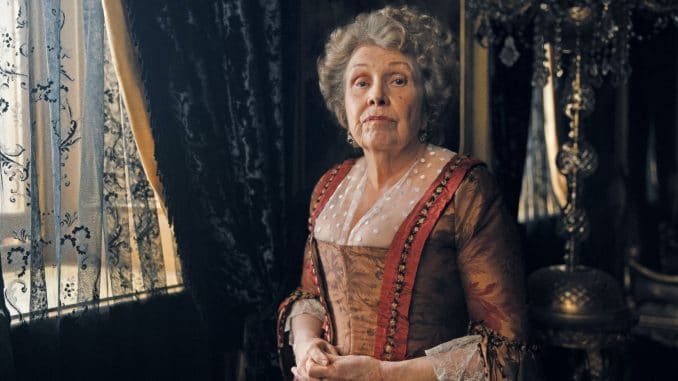 If you haven't already watched Sanditon, you can check it out HERE on PBS Masterpiece.
Update: For Season 2 and 3 of Sanditon, BritBox UK will be the co-producer, so they'll premiere it as a BritBox Original in the UK. The new seasons have been picked up by ITV, so it will air on ITV after the initial premiere window.
In the US and Canada, PBS Distribution will be the distributor for all three seasons.
Will There Be a Season 2 of Sanditon?
Running a British TV site, we subscribe to a casting call service so we can keep tabs on upcoming productions. This popped up yesterday, suggesting that a Series 2 of Sanditon is forthcoming.
For those who can't read the screenshot below, it says the record was updated on the 15th of January in 2021, and that the status of the project is "pre-production". Red Planet Pictures and ITV are listed as production company and network (the same as with Series 1).
Filming is scheduled for Summer 2021 in and around Bristol. Casting announcements will be forthcoming.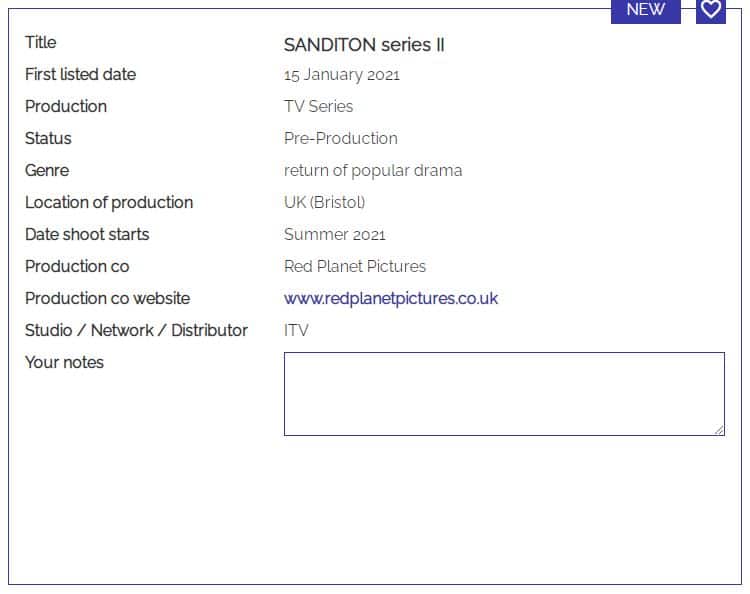 When casting alerts go out, it's usually a pretty sure thing that the production is going forward. Hopefully, that means Sanditon fans will have something to look forward to in late 2021 or early 2022.
May 2021 Update on Sanditon, Series 2 (and 3)
As of May 6th, PBS Masterpiece has officially confirmed that the earlier casting calls were real – because Sanditon will be returning not just for a second season, but a third one, too.
Break out your bathing suits and bonnets… we're heading back to the finest seaside resort! #SanditonPBS WILL RETURN for a second AND third season. Read more here: https://t.co/s09Rf1HLfv pic.twitter.com/OQqJmP6y6R

— MASTERPIECE | PBS (@masterpiecepbs) May 6, 2021
It seems safe to say that the success of Bridgerton has everyone scrambling for more sexy period dramas to make – and with so many people already wanting a second series of Sanditon, it was only natural to revive the project.
Who Will Return for Series 2 of Sanditon?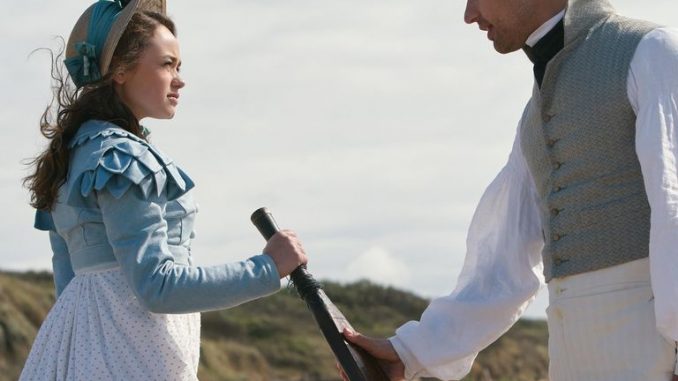 The first series of Sanditon featured a star-studded cast with Rose Williams (Curfew) as Austen's heroine, Charlotte Heywood; Theo James (Bedlam) as the charming Sidney Parker; Anne Reid (Last Tango in Halifax) as the grande dame of Sanditon, Lady Denham; Kris Marshall (Death in Paradise) as Sanditon's ambitious promoter, Tom Parker; and Crystal Clarke (Ordeal by Innocence) as West Indian heiress, Miss Lambe.
As there's been no formal announcement about casting for Series 2 (yet). We'll update this when we know more about what's to come.
Will You Be Watching Season 2 of Sanditon?
Are you one of those who've been eagerly hoping and praying for a second series? Or did the first season of Sanditon leave you cold? Either way, it's hard to disagree with those forlorn fans getting another fix (not to mention, a few answers about the ending of Season 1).
Save it to Pinterest!