Interview with Bailey Patrick of London Kills
In some cases, we earn commissions from affiliate links in our posts.
Last Updated on September 15, 2019 by Stefanie Hutson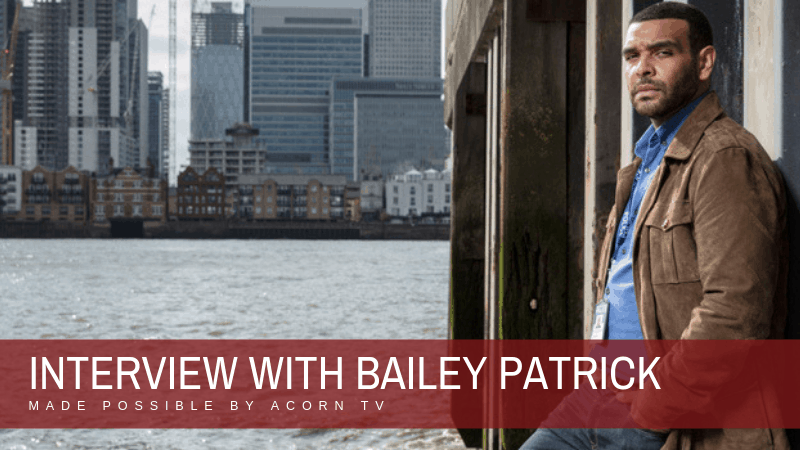 Even if you're a dedicated British TV fan, you may not be familiar with Bailey Patrick. He's an up-and-coming talent in the UK, and the recent Acorn Original London Kills was his first lead role in a series.
Series 1 of London Kills debuted earlier this year, and you can check out our interview with Hugo Speer HERE if you're interested in hearing about the series from another perspective. Series 2 is now available on Acorn TV, too.
What's London Kills About?
London Kills is a gritty, fast-paced crime drama set in London and focusing on an elite homicide investigation squad. Hugo Speer plays DI David Bradford, an experienced but suffering detective leading a team of three others.
Each episode follows a single murder, and the story of DI Bradford's wife's disappearance is woven through the entire series. As he struggles with a desire to figure out the mystery, his co-workers wonder if he's fit for duty – or whether he may have done something terrible to his wife.
We don't want to say too much because it's so much better if you let it unfold as you watch. For now, enjoy the interview! Special thanks to Acorn TV for setting this up.
Editor's Note: There were a few crackles and echoes here and there during the call, so there's a chance we may have missed a couple words in places. If something sounds a bit funny, blame that on us and/or technology, not Mr. Patrick!
Interview with Bailey Patrick of London Kills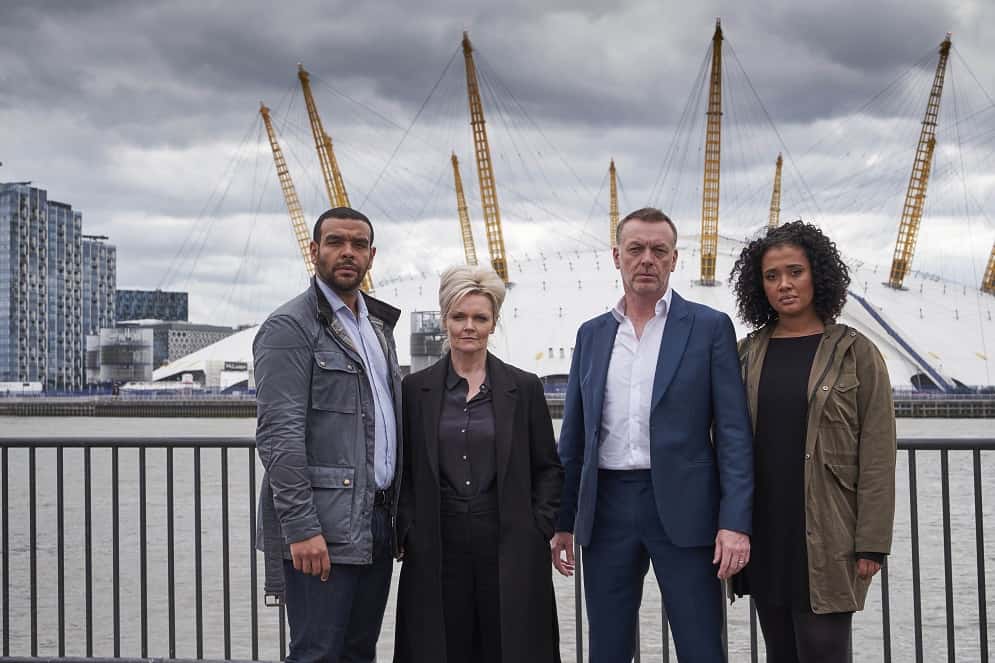 For those who've not watched London Kills, can you tell us a little bit about the series?
A little bit about the series, okay. So, it's set in London as the title suggests. Each week a murder team of four, myself, Hugo Speer, Sharon Small, and Tori Allen-Martin, we're an elite murder investigators, and we have to solve a murder each week. And it's a modern theme of his wife's gone missing, so we're trying to solve that at the same time.
Tell us about the character you play in the show.
I'm playing a character called DC Rob Brady. He is ex-military, so he's seen a lot of stuff in the field before he became a copper. He's a very seasoned detective, so he's got a lot of experience. He has a background in child protection, and he's a very stern policeman. He's very easy to kind of get set into, he's a kind of an authority figure, out of the four, so he's a no nonsense copper, lets put it that way. He unifies the team, he's kind of the glue that holds the team together. He gets sent in when people are messing around and he gets tough stuff done.
Got it. How did you personally become involved in the show?
How did I become involved in the show. I met up with Paul Marquess, and some of the team over in Dublin, uh Mary Hare of course, our producer. I met with the casting authority Jane Ripley, we'd met previously before and they got me in and we met with Craig Pickles who was gonna be the director for season 1 and we had a little read through, and then I was invited back to do a little bit more, a bit of workshopping, and then after a couple of meetings we were good to go really. It was one of the projects, one of the characters that I read and was like, this is for me. This is what I want to do, I want to be involved. It's representing my hometown, I'm born and bred Londoner, so we got to shoot in London and it was a bit of a dream job to be honest.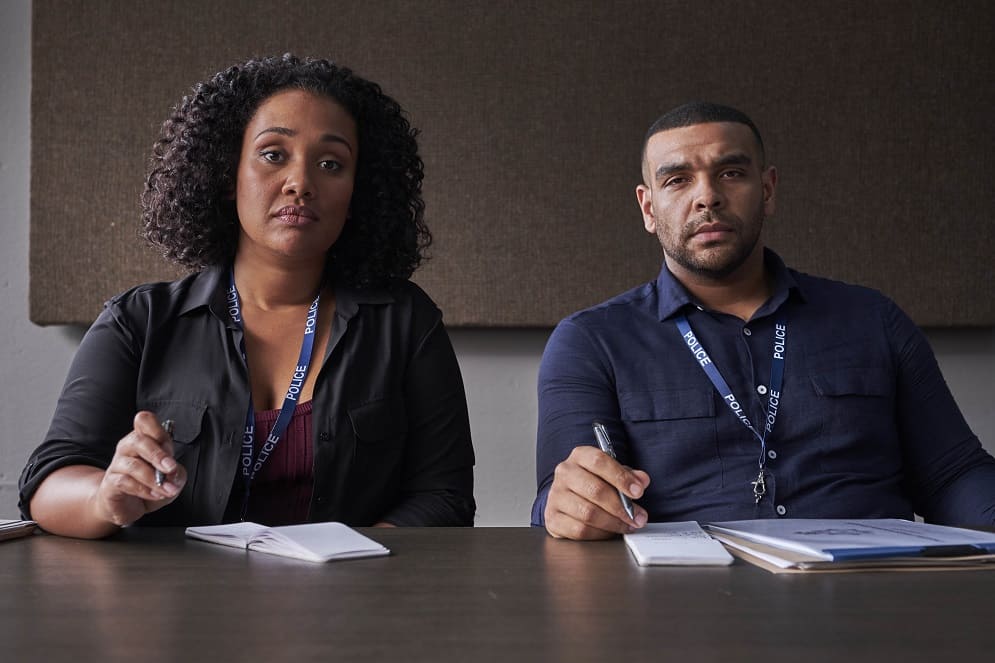 Yeah, I had read that you really wanted the part after reading about it. Were you nervous at all auditioning?
I don't tend to get nervous. I think it does kind of hit in a wave of things that you want, so it's a bit more excited, being able to bring a character to life, and I realized I connected with him really quickly. Just seemed like a really fun character to get into, and it has been, it's been an amazing one to play.
Yeah, I'm sure. How does your character change from season one to season two, would you say?
Season one we see a very kind of stern, hardened detective, he is there for everyone, he's having to play the hero at the same time. You don't really see that much of him, it was sort partly him, he's more open, but also you see a kind of untrusting side to him. He's trying to figure out his colleagues. He's not been there for his colleagues, he supports them as much as possible, but he's started to doubt a couple of them in season two. He has the thought that maybe some of them are playing a bit dirty, and something's up, and people he thought were his allies have started to become what he thinks enemies. So there's a big shift, as I think there is for all four of them, but he's going on a real big journey in season two.
How did you prepare for the role? Did you study any other procedural shows?
Throughout my career so far, I've managed to play quite a few coppers, but not detectives. So we had a week's training just before we started shooting, a very quick shoot, we were doing an episode a week over 10 months, so we had one week to do a bit of training on how to arrest people, all the correct procedures on how to interview, things you can and can't do, which is pretty intense as well, we had a guy who was top of his game within the CID and murder squad. He was on-board with us at all times, so if there were any questions that we needed to ask, we could check in with him, or rehearse with him before we went off.
But I think it was growing up I watched things, over here we had a show called The Bill, **inaudible**, Silent Witness, lots of shows, so I kind of had that background knowledge of it already. Also, it's kind of in the writing, it's there for you in the writing, so you don't have to do too much preparation. I think I watched a lot more shows before I started to shoot as well. But it was buried there, deep down.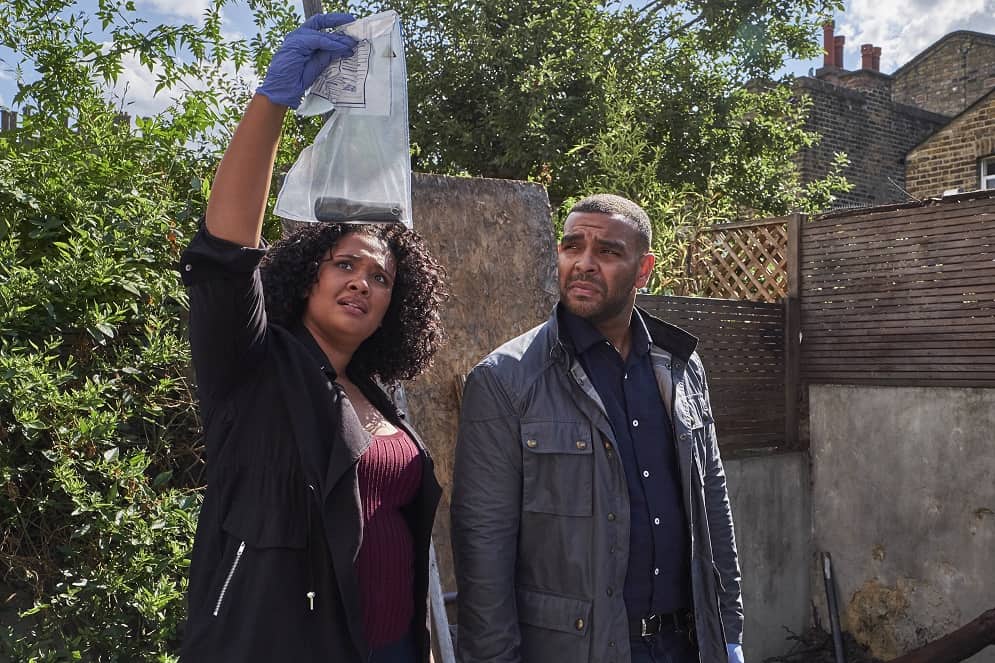 Was there anything that surprised you about the line of work, having worked with the law enforcement professionals? Anything you didn't realize went on?
Not particularly. They had some great stories that we spoke about at the beginning. I think it was silly little things, like for instance when we put the forensic gloves on and we're searching houses, and putting things in bags, if you pick up keys, you have to use a pen, you have to put the pen through the loop of the key, and then put it into a bag, which I would never have known.
I suppose also the way you approach a suspect, and the way you cuff them, you have to be quite forceful and hold their hands, and give them eye contact, just general demeanor I think is you have to be always alert, always emboldened, and ready for any kind of situation.
So I think the heightened awareness and being alert at all times was quite a difficult thing to get, and also the balance of wanting to display a slight bit of emotion if you're going to be doing a drama, but being these hardened officers, you're not allowed to display too much emotion, you know you can't be sensitive. Murders happen every day, so you have to get the balance of the viewer to empathize with you as a character, but also understand you deal with this stuff everyday, so it's a difficult balance to grasp.
I'm sure, yeah, that's very interesting to hear you say that. I can definitely imagine that. How is it different working on London Kills versus some of the other shows and sets you've worked on?
It was very different. We, as I mentioned before, it was very quick, we were doing an episode a week, which is pretty much unheard of, you're normally doing a few weeks for an episode, so we were getting through 12 to 13 scene pages a day, which really is a awful lot.
There was, there were 3 cameras, handheld cameras, we had drones, so it was very loose, there wasn't much track work, so the cameras were lugging around and moving around with us. We didn't have any lighting, which is very different. We came in and would rehearse a scene once or twice, and then we would shoot, and kind of find out where we were going to stand, and where we were going to place it, and just ran with it. It kind of gained momentum that we were really smashing through it all, and you can feel that energy, through both seasons, we are completely in-tune with each other and on-the-ball with it.
That was a very different process to anything that I've ever shot before because on film sets, you're kind of waiting around a lot. You may shoot a scene in the morning, and then not back on until after lunch, so it's very difficult to gain your momentum, and your energy. So it was lovely to be at certain tempo the whole way through, it was great. It was exhausting, but it was great. It really kind of gave it lick.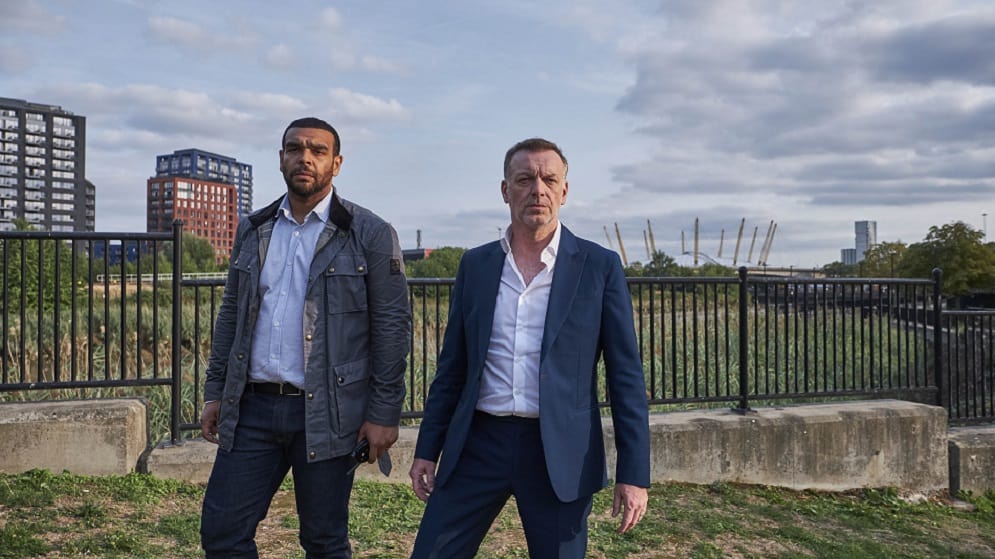 How fast do you guys shoot the episodes? Did you say?
We've been doing an episode a week, one per week.
Wow, yeah.
We're all very tired by the end of it.
I'm sure. What's it like working alongside a cast with so much talent? Do you all get on very well?
None of us had ever worked together before, but growing up obviously I've seen Sharon and Hugo on television, I'm a little bit, slightly younger than them, and we, from the first day that we met in the green room, we all just completely clicked. I think having those guys with so much experience, this is my first lead, so it really pushed me to pull out my best work and produce something amazing that I'm very proud of.
We did have a good laugh from it as well, going from something that is so intense, the weather was ridiculous last year as well, you can imagine chasing after criminals all day in big, thick jackets, it got a bit much after **inaudible** they were great. Everyone that came in, the guest casts were amazing, it was a pleasure to work with everyone from**inaudible** to craft, it was brilliant.
Yeah, I bet. Do you guys laugh a lot? Or is it more serious when you get into the gruesome crimes and stuff like that?
No, we knew what we had to do. There was no time to mess around. There wasn't any real pranking. It was more like, when you're doing intense things, sometimes you get a bit serious, especially when you've done it three or four times, the giggles come out. We were all quite giggly, if one of us started, then we'd all go. The whole crew would be that way as well, it wasn't like the crew was sitting around waiting for you, we had a big family atmosphere, which was great. And everyone pitched in, and enjoyed each other's company, so we were all having fun. It wasn't standing around [inaudible 00:12:47]. We had a great laugh and we were serious as well, it was a lovely balance to be able to have fun at work, that's the dream.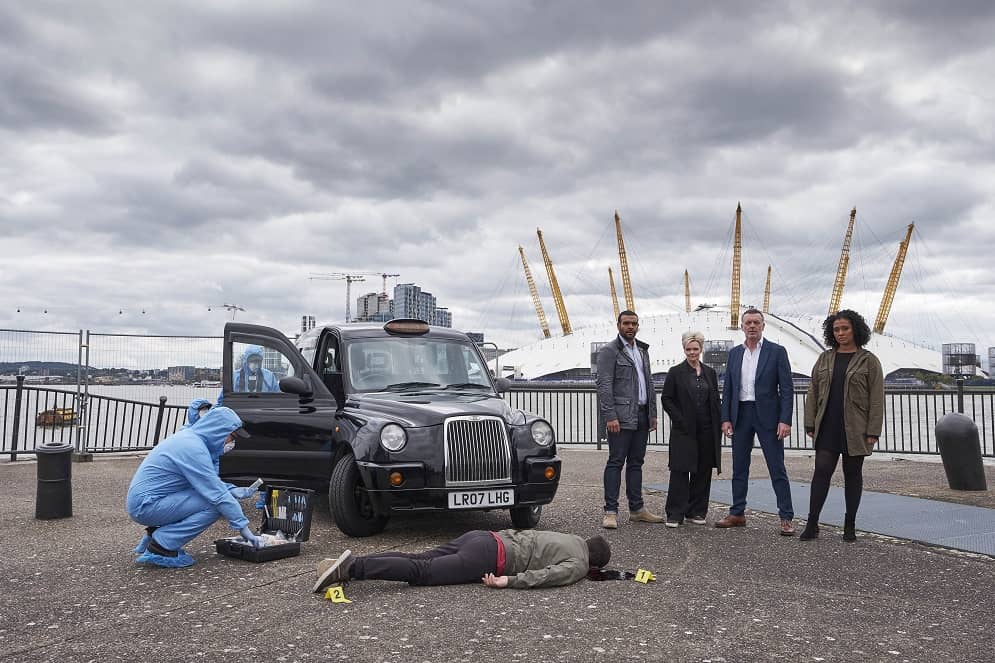 Yes, for sure. Do you have a favorite episode and/or favorite themes so far?
Favorite episode. Favorite episode kind of difficult to pick because they're all brilliant, and they're all, season one sort of builds the characters and sets the page and gave them a bit of a lick. I think episode two, season two is a very juicy episode. There's a lot that goes on in the second episode, season two. Possibly that. Maybe, kind of four and five in one is very action-packed as well, it's tough. Four and five from one, and episode two season 2.
I know we're just about out of time, so last question. Without giving away any spoilers, what can fans look forward to with season two?
Okay so season two is a lot grittier, a lot more gruesome, a lot going on for every character. We're still trying to figure out what's going on with David's wife, which wasn't resolved in season one, which I think a lot of people thought would be resolved. So there's that going through. David's starting to act a little bit dodgy towards everyone, and that's making Rob a little suspicious. Vivian is trying to find out what's going on there, usually does. There's a bit of friction between all three of them. Billy is unaware to what's going on, so there's a bit of friction going on, but it gets very heated towards the last couple of episodes. It's action-packed and I'm sure it'll be very exciting to tune back in and find out what's going on.
Yeah, for sure, well we will look forward to it. Congratulations on the success of the show, you guys do a fantastic job.
Thank you so much.
Sure, thank you so much for taking the time to do the interview, we appreciate your time.
No problem at all, it's been lovely talking to you.
When & Where to Watch London Kills, Series 2
Series 2 of London Kills made its world premiere on Acorn TV on Monday, July 15th. All five parts are live. Season 1 is available on both Acorn TV and DVD. If you need a quick recap, Acorn has put one together, and you can check it out below:
If you've had the chance to watch the new series, let us know what you thought in the comments!
Save it to Pinterest!