BritBox Series Murder in Provence to Star Roger Allam
In some cases, we earn commissions from affiliate links in our posts.
Last Updated on August 24, 2021 by Stefanie Hutson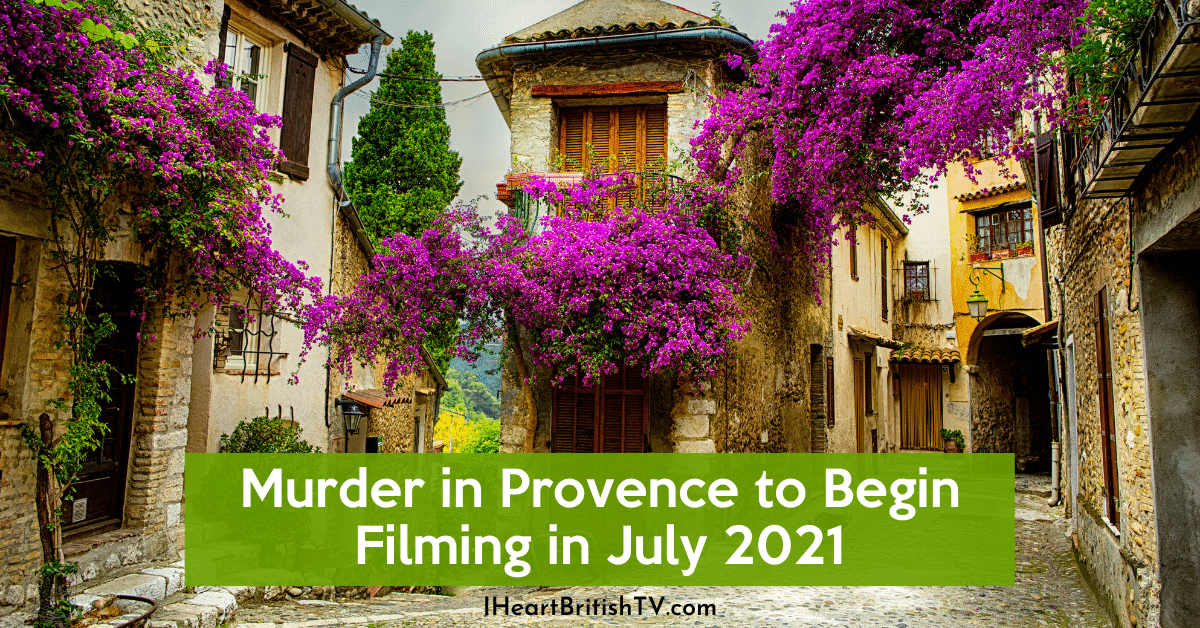 Great news for mystery fans – another new series is headed into production this summer. The new cosy mystery Murder in Provence began filming in July, with Roger Allam in the lead role.
What is Murder in Provence About?
As the name implies, Murder in Provence involves murder and mystery in the south of France. The series follows chief magistrate Antoine Verlaque and his old flame Marine Bonnet as they team up to solve a variety of murders fueled by love, money, and other sinister elements.
It's based on the Verlaque & Bonnet mystery series by author M.L. Longworth, but for now it's unknown whether a single book will take up a series, or whether each book will fill a smaller number of episodes.
If the books are anything to go by, Murder in Provence will offer a gentler, more feminine mystery experience than other French mysteries like Maigret. The books are full of romance, intrigue, and deliciously-described French food.
Though we don't have a lot of specifics at this point, we know there will be three 90-minute episodes in the first series.
BritBox's official statement says:
Murder in Provence follows Antoine Verlaque (Allam), Investigating Judge in Aix-en-Provence, and romantic partner Marine Bonnet (Carroll) as they investigate the murders, mysteries and dark underbelly of their idyllic home.
Who's Involved in Murder in Provence?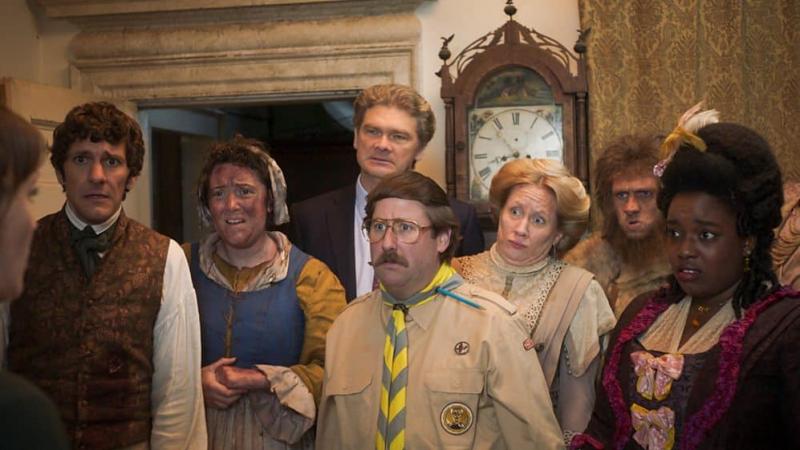 Murder in Provence is being produced for BritBox by Monumental Television, the same company behind hits like Harlots and Ghosts. Monumental is run by producers Alison Owen and Debra Hayward, and the company is 51% owned by ITV Studios.
Roger Allam (Endeavour) will star, and Nancy Carroll (Lady Felicia of Father Brown) is also slated to appear as his romantic partner. Downton Abbey writer Shelagh Stephenson is handling the television adaptation of the books.
When Can We Expect the Episodes?
Based on a normal production timetable (and assuming no nasty COVID surprises), the series is expected to premiere sometimes in 2022.
We'll update this post with more details as soon as we hear something official.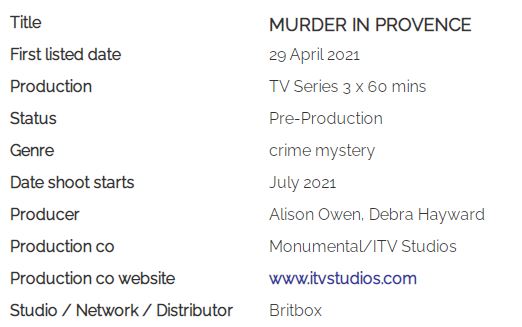 Check out the Murder in Provence Books

At present, there are nine books in the Verlaque and Bonnet series. You can check them out below:

A Similar Mystery Series to Enjoy in the Meantime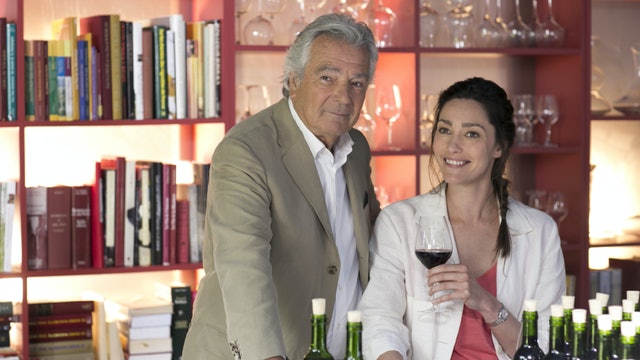 If the idea of France, wine, and murder excites you, we strongly recommend checking out Blood of the Vine. It's a French series, so we know that means subtitles for most of our readers – but it feels a bit like a cross between Midsomer Murders and Rosemary & Thyme.
It begins with the somewhat implausible premise of a wine expert who encounters murder at every turn, but it's well worth watching for the scenery and the great relationships between the characters. You can watch the series with an MHz Choice subscription.
Will You Tune in For Murder in Provence?
Around here, we're always up for a new mystery – so we'll definitely be giving this one a go. Will you tune in? Do you enjoy the British-produced mysteries set in other locations (like Death in Paradise or Mallorca Files)?