A Guide to the Modern Doctor Who Companions
In some cases, we earn commissions from affiliate links in our posts.
Last Updated on November 18, 2021 by Stefanie Hutson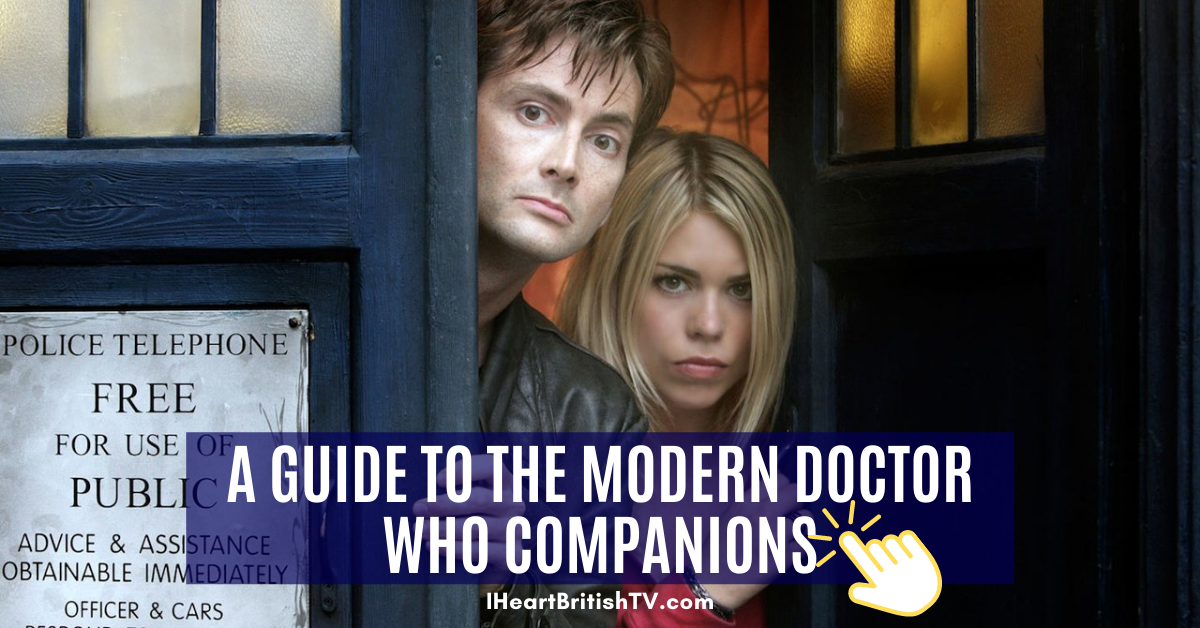 If you could travel anywhere in time or space, where would you go? Often, these companions don't get much choice. Between The Doctor's inclinations to save the universe and the TARDIS's ability to take them where they need to go (rather than where they want to), these companions don't always get their way. Some even meet unfortunate ends. But it's amazing while it lasts and meeting The Doctor changes them forever.
Time travel is a little confusing, finicky, and hard to get right. When you're dealing with a big ball 0f wibbly-wobbly timey-wimey stuff… You might say you'll be back in five minutes and show up five years later.
A Guide to the Modern Doctor Who Companions
These companions have all travelled extensively with The Doctor and some come with their own cast of family members, friends, and lovers. Like The Doctor's regeneration, how companions are written off and how new ones are written on adds an emotional element to Doctor Who and keeps the show refreshing. The companions are considered a surrogate for the audience; so, many of us often relate to the companions and their desire to travel.
Want to watch Doctor Who but don't know where do you start? While it's very possible to start with the original show which aired from 1963 to 1989, many fans recommend starting with Season 1, Episode 1 of the 2005 show. This 2005 continuation begins with the 9th incarnation of The Doctor (Christopher Eccleston) with Russell T. Davies as the showrunner.
Currently, the 2005 series is streaming exclusively on HBO Max in the U.S., but you can own seasons and single episodes digitally on Amazon or get the DVDs; sets are sold as single seasons or as sets for each doctor. *The digital seasons are often sold separate from the digital Christmas/New Year's Specials, so I recommend using Wikipedia or IMDb as an episode guide if you are watching them in order.
Rose Tyler (Billie Piper)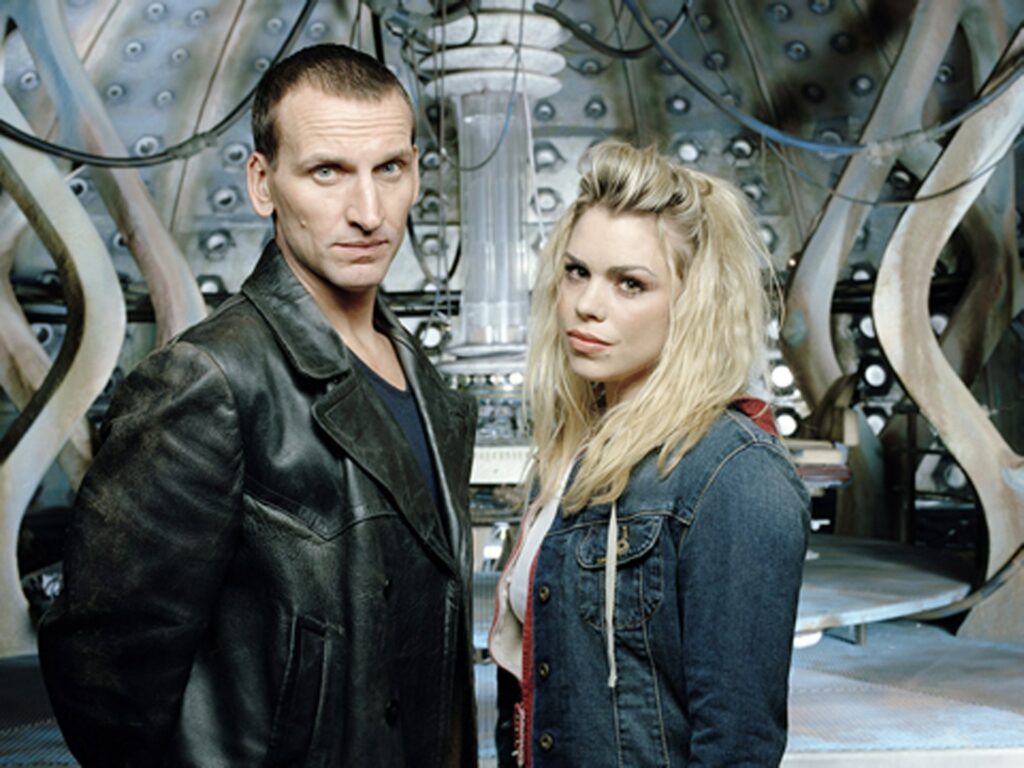 Rose Tyler is an average working-class 19-year-old girl until The Doctor crashes into her life. She's normal and that affects how she sees The Doctor's adventures. Companions like Rose are used to interpret alien worlds for the audience; they're the audience's connection to The Doctor's amazing life.
Rose is fun, sassy, and stands up for herself (even in scary otherworldly situations). She's youthful, modern, and a great first companion for the modern Doctor Who series.
She appears as the primary companion in seasons one and two. She then reappears later in other episodes, including the 50th Anniversary Special. She was the only primary companion for Christopher Eccleston's Doctor and was the first companion to David Tennant's Doctor.
Billie Piper is an English actress from Swindon. She started her career as a singer and transitioned to acting. At 15, she was the youngest singer to ever enter the UK singles chart at #1. After her second album, she chose to focus on acting and Doctor Who's Rose Tyler was her breakout role.
Three Recommendations Starring Billie Piper: Secret Diary of a Call Girl, Collateral, and Penny Dreadful.
Mickey Smith (Noel Clarke)
Mickey Smith debuts alongside Rose Tyler as her boyfriend. He is played by Noel Clarke, an English actor from London. He is also a screenwriter, director, and comic book writer. You can see him in Fisherman's Friends, Bulletproof, and the upcoming miniseries Viewpoint.
Jackie Tyler (Camille Coduri)
Once the audience is introduced to Rose's mum, Jackie, it's obvious where Rose gets all her sass from. Jackie is protective, sassy, and a great character. She is also a widow and single mum to Rose. Jackie is played by Camille Coduri, an English actress from London. Coduri has appeared in Rumpole of the Bailey, A Bit of Fry and Laurie, and A Touch of Frost.
Captain Jack Harkness (John Barrowman)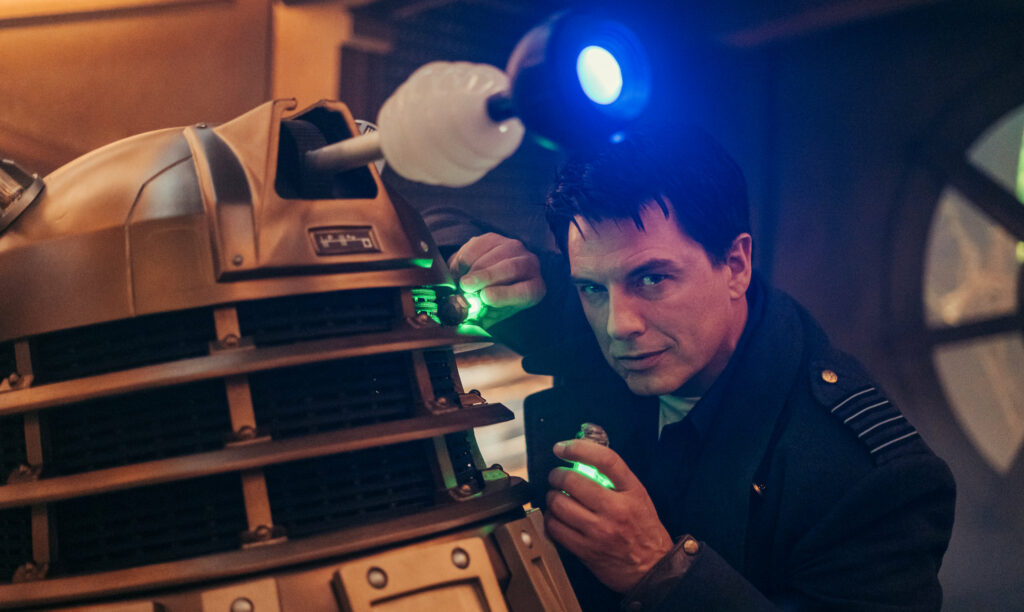 Captain Jack makes his first appearance during season one when Rose is the primary companion. He reappears at times and is also in season 12; in total, he has appeared in 14 episodes.
Captain Jack is played by the Scottish-American actor John Barrowman. He also stars in the Doctor Who spin-off series Torchwood; it ran for four seasons. Barrowman is a singer, presenter, author, and comic book writer. He has also had an extensive stage career. You can watch him in Arrow, Legends of Tomorrow, and Desperate Housewives.
Martha Jones (Freema Agyeman)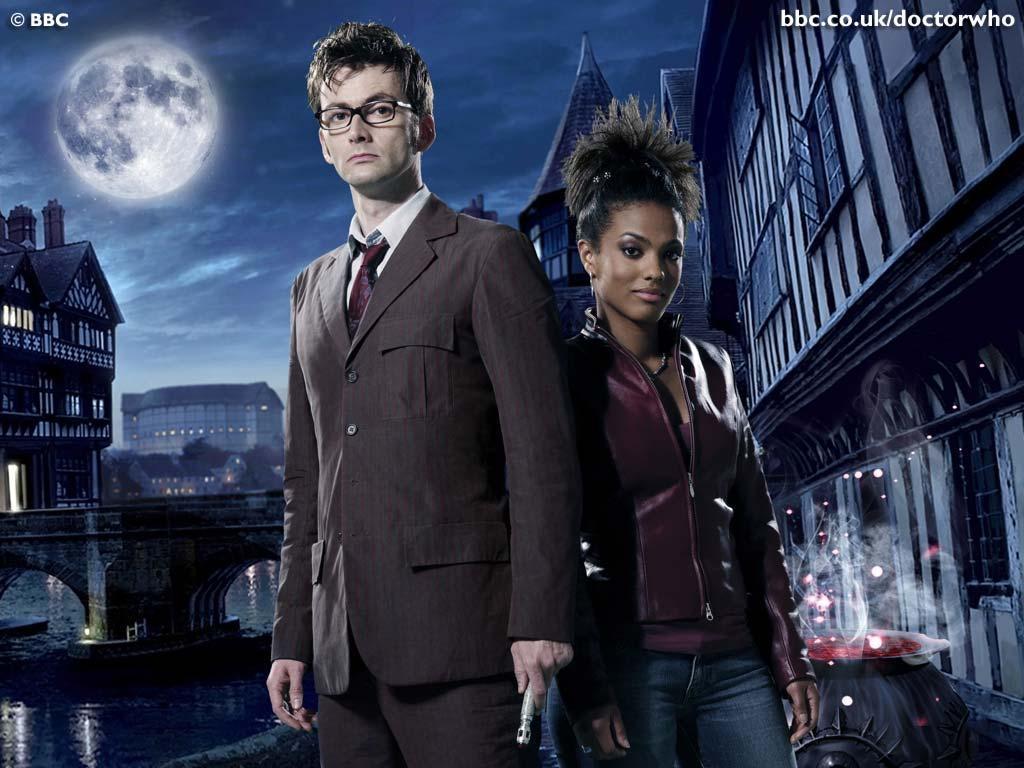 Martha Jones is a travelling companion to the Tenth Doctor, David Tennant. She is a medical student and they meet in a hospital in "Smith and Jones" (Season 3, Episode 1). In her first episode, the hospital she's in gets transported to the moon by alien police known as the Jadoon while they hunt for an alien fugitive inside.
Martha is older than Rose, from a slightly higher social class, and more focused on the adventure of travel before finishing her medical degree. Like Rose, she is also from London. Martha is self-assured, bold, intelligent, and dedicated to the common good. While she's not often a fan-favourite companion, she is also considered highly underrated and sometimes mistreated by The Doctor due to his difficultly moving on from Rose.
Martha primarily appears in season three; David Tennant's Doctor is the only incarnation of The Doctor we see her with on screen. She reappears in five episodes of Doctor Who and three episodes of Torchwood. The writing of her character improves in Torchwood as well, giving her added depth.
Freema Agyeman is an English actress from London. Her first popular role was as Lola Wise on the ITV soap opera Crossroads. Prior to Doctor Who, she also appeared in an episode of Silent Witness.
Three Recommendations Starring Freema Agyeman: Sense8 (US), New Amsterdam (US), Little Dorrit.
Donna Noble (Catherine Tate)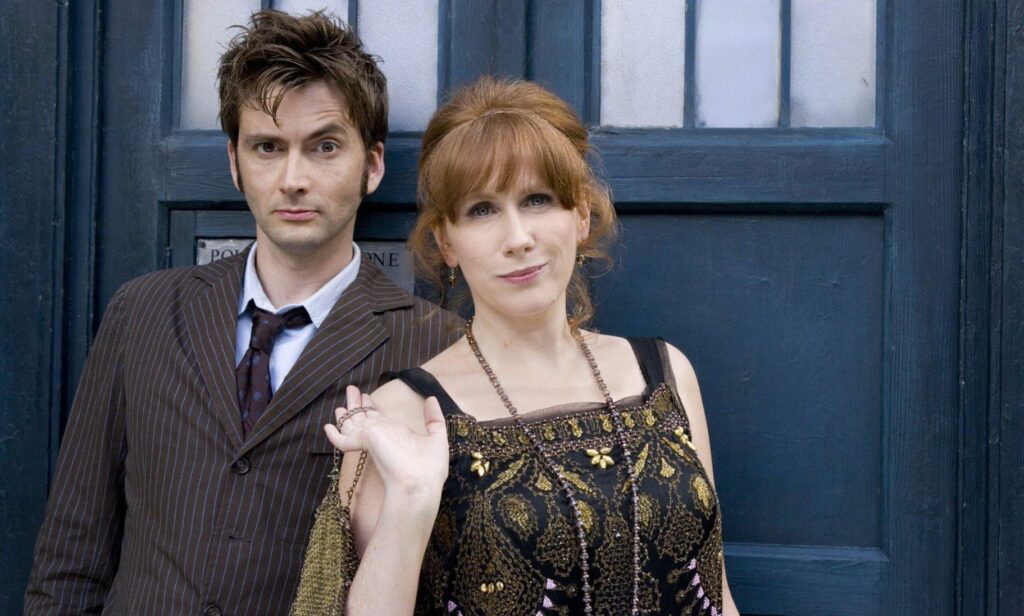 Donna Noble is introduced a season earlier in the Christmas special "The Runaway Bride" between Season 2 and 3. Then in Season 4, she becomes the primary companion beginning with the first episode "Partners in Crime." She continues to accompany the Tenth Doctor for his final season until he regenerates.
Donna tries to get her life started but is dissatisfied; she's stuck living with her mother and granddad while working as a temp. Donna is a bit of a diva (in the best way), but she's compassionate and has a great sense of humor.
Catherine Tate is an English actress, comedian, and writer from London. In the comedy scene, she worked alongside David Walliams, Peter Kay, Mackenzie Crook, Lee Mack, Dawn French, and more. Tate then went on to develop her successful sketch comedy series The Catherine Tate Show.
Three Recommendations Starring Catherine Tate: The Catherine Tate Show, Gulliver's Travels, The Office (US, Seasons 7, 8, & 9).
Wilfred Mott (Bernard Cribbins)
Bernard Cribbins plays Donna's grandfather, Wilfred Mott. He's a stargazer, supportive, and kind. His character creates a wonderful dynamic with The Doctor. Although Wilf is about 900 years younger than The Doctor, he is protective of The Doctor and they develop an intriguing relationship that culminates with Tennant's regeneration. (It's this character dynamic that makes Wilf my favourite companion, if you can consider him a companion).
Bernard Cribbins OBE is a retired English actor, comedian, and singer. He began acting at 14 and was a major stage actor by his mid 20s. He also narrated the iconic British children's show The Wombles.
River Song (Alex Kingston)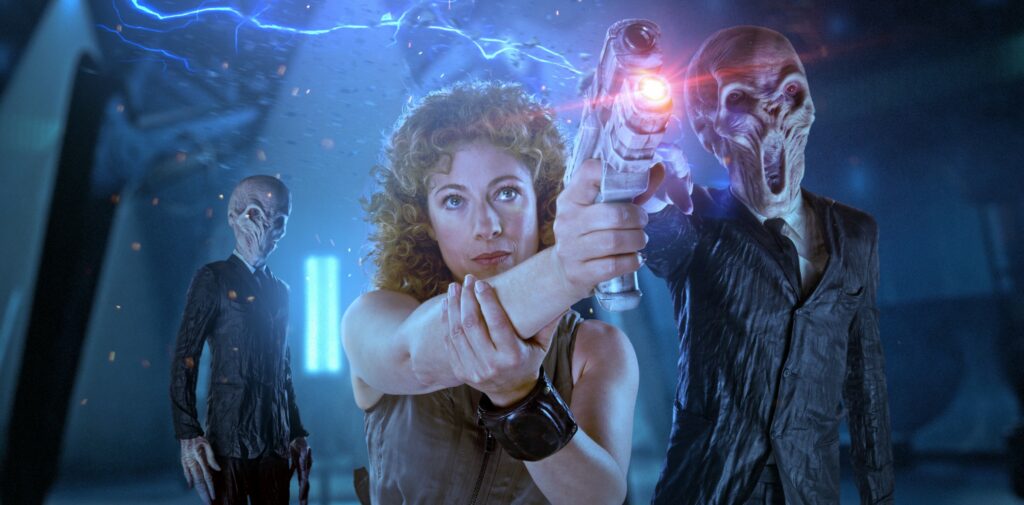 Alex Kingston's debut as River Song in Doctor Who came in Season 4 with the two-part story "Silence in the Library" and "Forest of the Dead." She enters as a mysterious character who knows The Doctor, but he doesn't know her.
We learn more about who River Song is when she regularly re-appears during later seasons when Matt Smith is The Doctor. Her story culminates when Peter Capaldi is The Doctor. In total, she is in 17 episodes.
She is a complex character, so new viewers should be sure to pay close attention to her story. Like I mentioned earlier, time travel can be confusing, finicky, and hard to get right.
Alex Kingston is an English actress from Surrey. You can watch her in Lost in Austen, Chasing Shadows, A Discovery of Witches.
Amy Pond & Rory Williams (Karen Gillan & Arthur Darvill)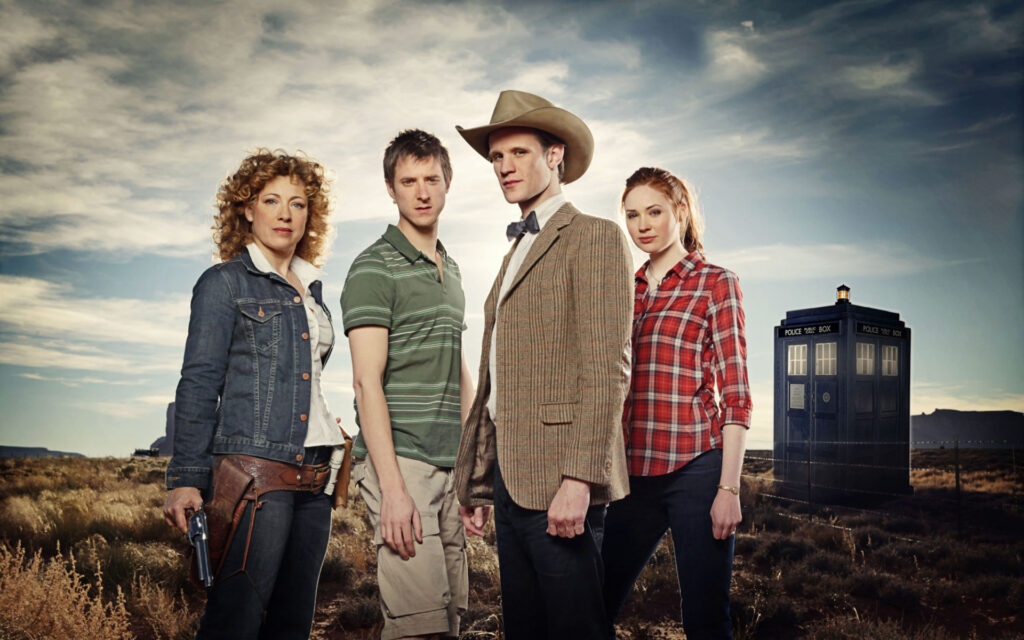 When Steven Moffat became lead showrunner and Matt Smith became The Doctor, Amy Pond and Rory Williams joined as the first primary companions for Smith's Doctor. Just after regenerating, he meets Amy when she is a little girl and tells her he'll be right back, but ends up coming back many years later when she is an adult.
Amy Pond is brave, confident, and decisive. She is friends with Rory who sees her as more than a friend. Rory is patient, loyal, and determined. The story often focuses on their lives, experiences, and how their adventures with The Doctor change them.
Amy and Rory are the primary companions in seasons 5 and 6. They are accompanied by River Song, Rory's dad Brian Williams (Mark Williams), and three recurring characters known as the Paternoster Gang: Jenny Flint (Catrin Stewart), Madame Vastra (Neve McIntosh), and Strax (Dan Starkey).
Karen Gillan is a Scottish model and actress whose TV debut was in an episode of Rebus. Her breakthrough role, though, was as Amy Pond. She has gone on to have a great career, jumping the pond to Hollywood with her role as Nebula in the Marvel films, the Jumanji reboots, and as the lead in the short-lived ABC sitcom Selfie.
Three Recommendations Starring Karen Gillan: Oculus, Guardians of the Galaxy (Et al.), The Big Short.
Arthur Darvill is an English actor and musician who got his start in youth theatre. He is most well known for his role in Doctor Who and as Rip Hunter in DC's Legends of Tomorrow. He also appeared in Broadchurch and The White Queen along with many theatre productions.
Three Recommendations Starring Arthur Darvill: Little Dorrit, World on Fire, Broadchurch.
Clara Oswald (Jenna Coleman)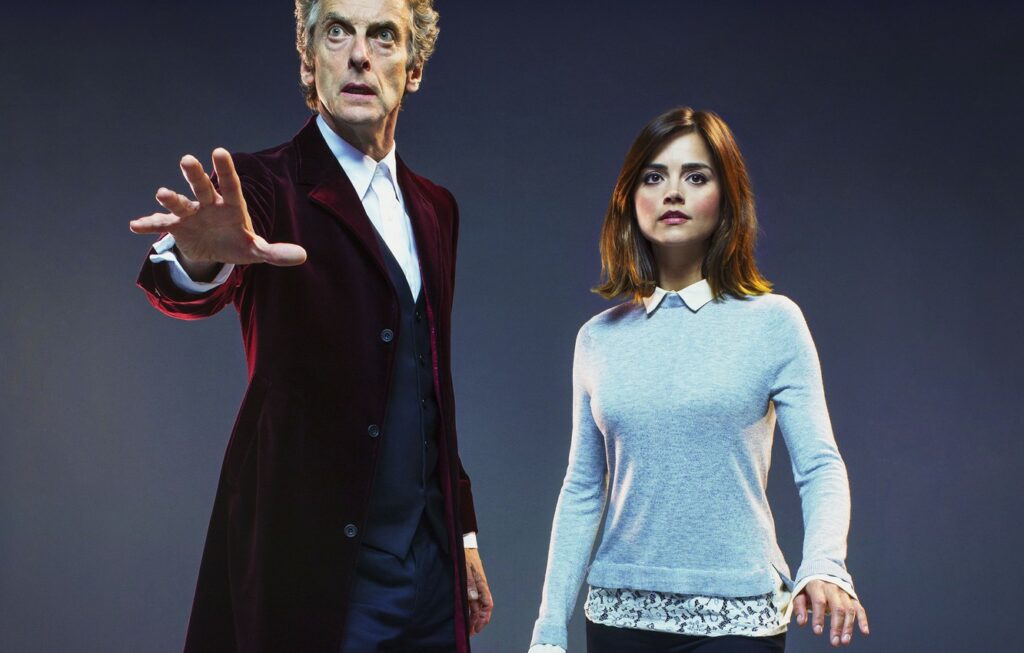 Clara Oswald first appears in "Asylum of the Daleks" when Amy and Rory are still the companions. She then appears again in the 2012 Christmas special "The Snowmen." Her first episode as the primary companion is "The Bells of Saint John" (Season 7, Episode 6). She is the longest-running companion of the 2005 series.
Clara is noble, kind, loyal, and ready for adventure. She follows the Eleventh Doctor through his regeneration into the Twelfth Doctor and deals with his transformation.
Jenna Coleman is an English actress from Blackpool. She got her start in television on Emmerdale Farm and Waterloo Road. Since Doctor Who, she's been most well known for her role as Queen Victoria in Victoria alongside Tom Hughes and Rufus Sewell.
Three Recommendations Starring Jenna Coleman: Victoria, The Cry, Death Comes to Pemberley.
Danny Pink (Samuel Anderson)
Clara's significant other, Danny Pink, is also a part of her Doctor Who story. He is a veteran and Clara's new co-worker. He first appears in "Into the Dalek" (Season 8, Episode 2). He appears in all episodes of Season 8 apart from the first "Deep Breath" and the third "Robot of Sherwood." Anderson is known for Emmerdale, DCI Banks, and Another Life.
Nardole (Matt Lucas)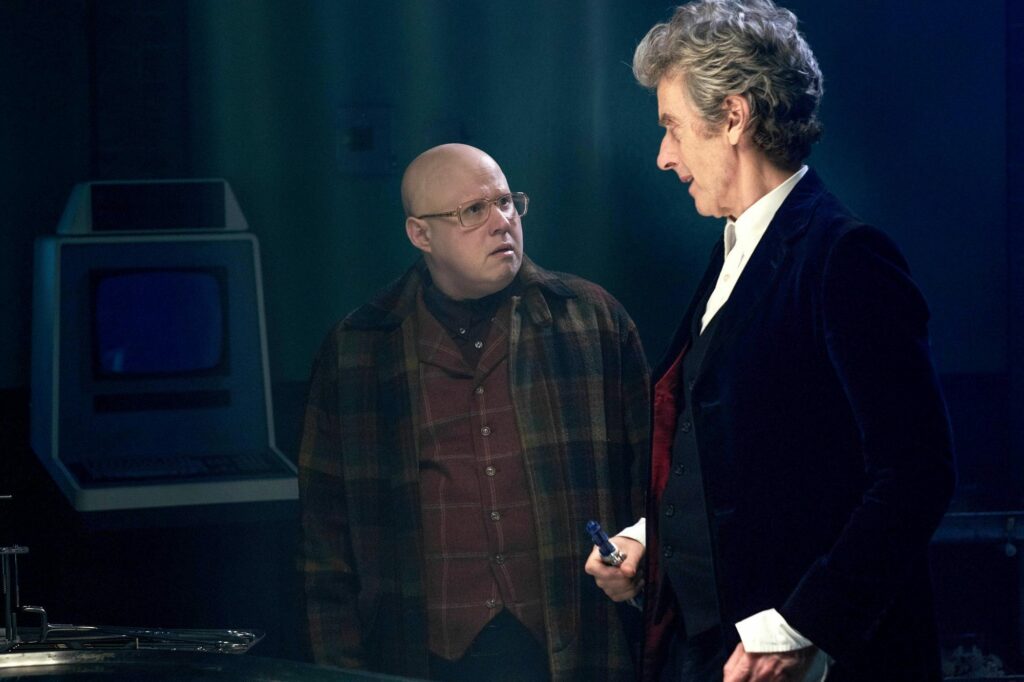 Matt Lucas appears as the non-human companion Nardole. He is an alien from the 54th century with cybernetic implants and is the first alien companion of the 2005 series. He first appears in "The Husbands of River Song" (2015 Christmas Special). He appears in 15 episodes, mostly in the same episodes as Bill Potts (Pearl Mackie). Matt Lucas is best known for Little Britain, Pompidou, and Come Fly with Me.
Bill Potts (Pearl Mackie)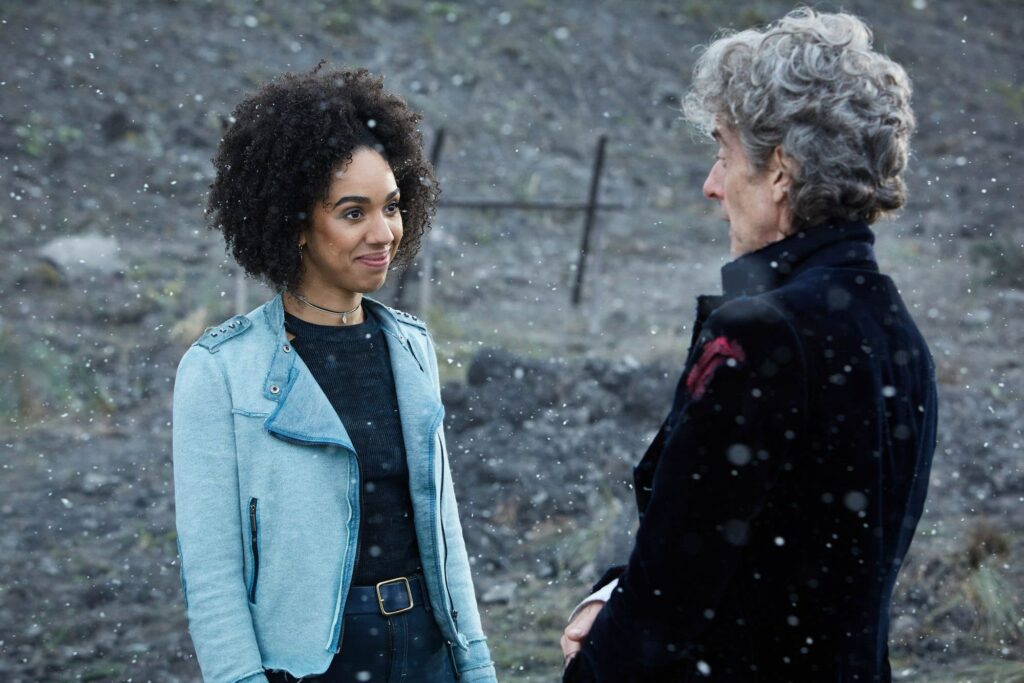 Bill Potts first appears in "The Pilot" (Season 10, Episode 1) and tags along for a total of fourteen episodes. She is Peter Capaldi's last companion as The Doctor.
Bill is inquisitive, willful, and brave. She is an orphan working in the cafeteria of St. Luke's University. The Doctor is a lecturer and she often sneaks in to listen to him speak. Realizing this, he offers to tutor her.
Pearl Mackie is a British actress from Brixton. Bill Potts was her breakout role. Since Doctor Who, she has gone to appear in many TV series and TV shorts. She also has an extensive stage career and not many of the productions she's starred in are available to stream in the U.S.
Two Recommendations Starring Pearl Mackie: Friday Night Dinner ("The Caravan" Season 6, Episode 1 and "The Females" Season 6, Episode 6 – not yet available in the U.S.) and Greed.
Yaz Khan (Mandip Gill)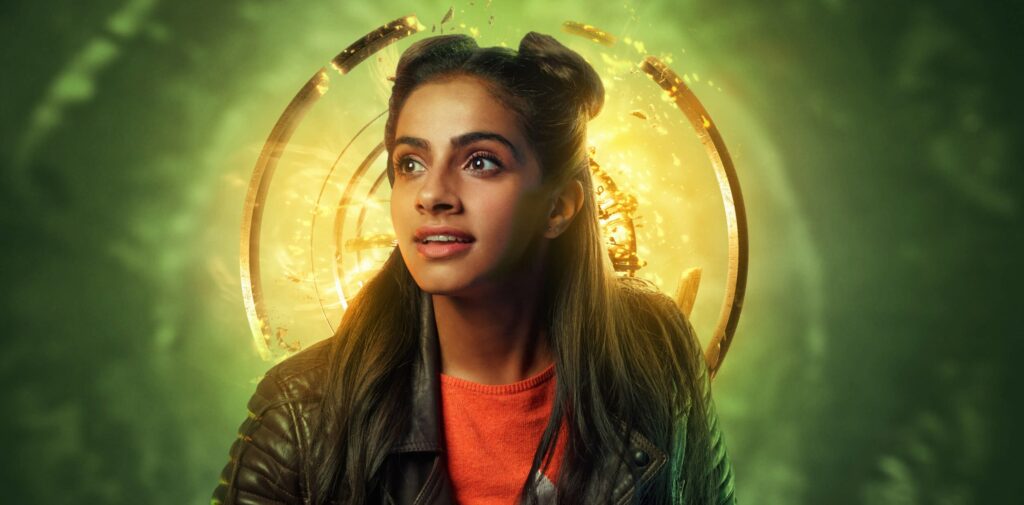 After Peter Capaldi, Bill Potts, and Nardole finished their stories, Steven Moffat handed his role as showrunner to Chris Chibnall. Chris Chibnall already wrote several Doctor Who episodes and was best known for creating Broadchurch. Capaldi transitioned into Jodie Whittaker's Doctor and in her first episode, she was joined by Yaz, Graham (Bradley Walsh), and Ryan (Tosin Cole).
Yazmin "Yaz" Khan is a police officer with Hallamshire Police in Sheffield. She is hungry for adventure, has strong sense of morality, and is loyal to The Doctor. She went to primary school with Ryan, so when they join together in an adventure with The Doctor, they are not strangers.
Mandip Gill is an English actress from Leeds. Her first role on television was on Hollyoaks. She also appeared in all six episodes of Love, Lies, and Records and the 2019 film The Flood starring Lena Headey.
Three Recommendations Starring Mandip Gill: The Good Karma Hospital (Season 1, Episodes 1 & 6), Cuckoo ("The Holiday" Season 3, Episode 7), Love, Lies, and Records.
Graham O'Brien (Bradley Walsh)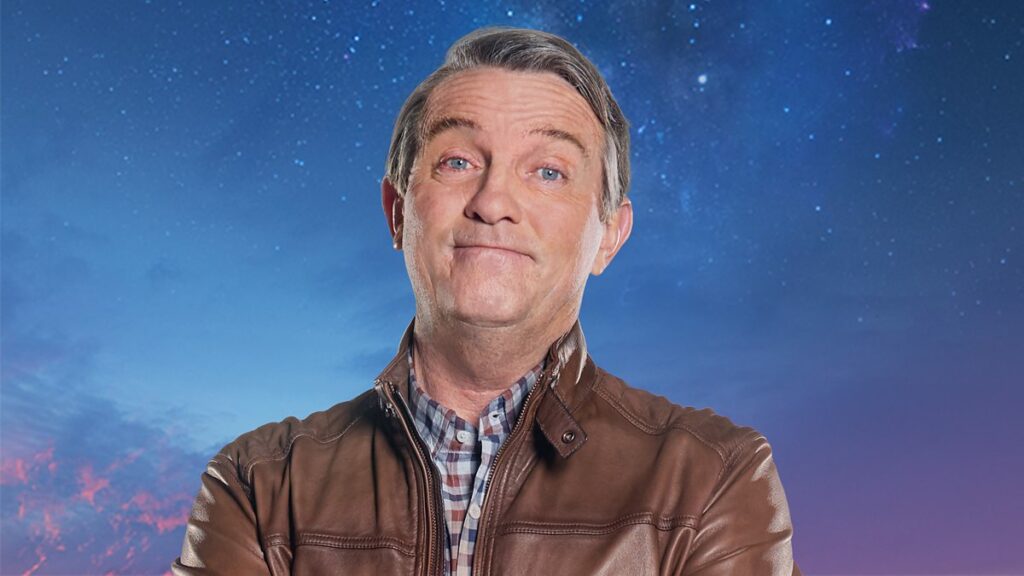 Graham O'Brien is a retired bus driver and is in remission from cancer. He is Ryan's step-grandfather. Graham is funny, compassionate, and fatherly. Like Yaz, his first episode was the Season 11 opener "The Woman Who Fell to Earth." His last episode was "Revolution of the Daleks," the New Year's Special following Season 12.
Bradley Walsh is an English actor from Watford. He started out as a professional football (soccer) player, tried his hand as a comedian, and was eventually recruited by ITV to work as a presenter. After presenting for some years, he shifted his focus to acting. He appeared in nearly four-hundred episodes of Coronation Street. You can even spot him in two episodes of the Doctor Who spin-off show The Sarah Jane Adventures. Walsh has also had an extensive theatre career.
Three Recommendations Starring Bradley Walsh: Law & Order: UK, Coronation Street (2002 – 2006), The Sarah Jane Adventures ("Day of the Clown" Parts 1 & 2).
Ryan Sinclair (Tosin Cole)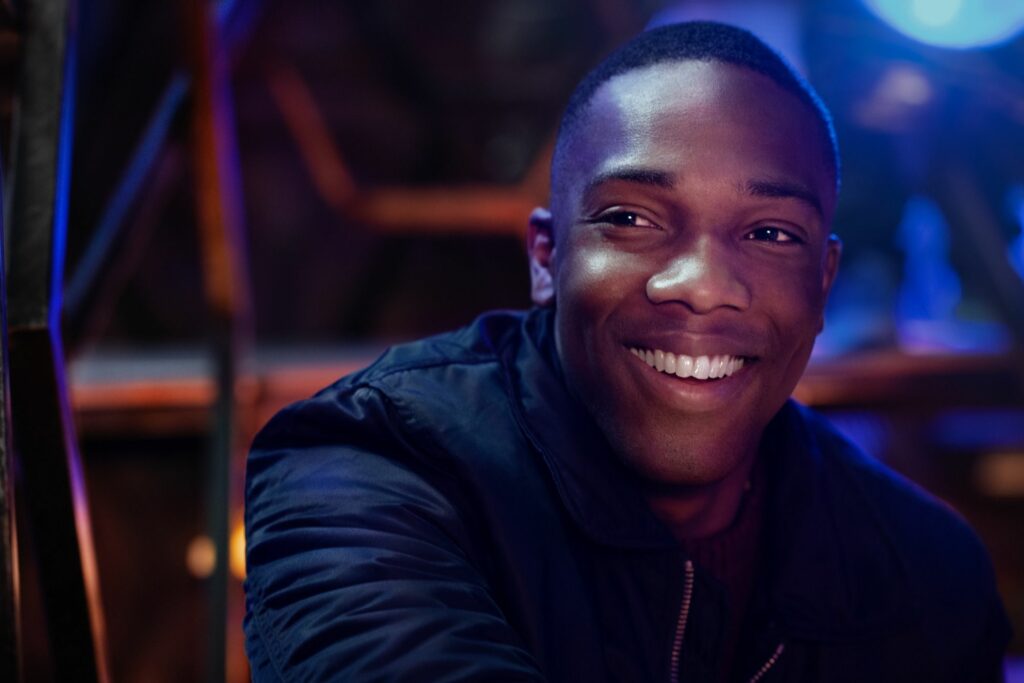 Ryan Sinclair is studying to be a mechanic. He is impressionable but eager to learn. His mother died when he was young and his relationship with his father is strained, making his grandmother Grace his primary parental figure. He also has dyspraxia, a neurological coordination disorder that can debilitate him in everyday situations. Like Graham, his first episode was the Season 11 opener "The Woman Who Fell to Earth" and his last episode was "Revolution of the Daleks," the New Year's Special following Season 12.
Tosin Cole is a British actor who was born in New York City and moved London when he was eight. As an actor, he had recurring roles on soap operas EastEnders: E20 and Hollyoaks, and was in one episode of Holby City. He also appeared in Star Wars: The Force Awakens as X-Wing pilot Lt. Bastian.
Three Recommendations Starring Tosin Cole: Inspector Lewis ("What Lies Tangled" Part 1 & 2, Season 9 Episodes 5 & 6), The Souvenir, and be sure to look for him in the upcoming series 61st Street produced by AMC; date is still TBD.
The Newest Companion: Dan (John Bishop)
Not much has been announced about Dan other than who was cast in the role. John Bishop will john The Doctor and Yaz in Season 13 of Doctor Who, airing later in 2021.
Bishop is an English comedian, actor, and presenter from Liverpool. Like Walsh, he is also a former football player. Before becoming a comedian, he was a pharmaceutical salesman. As a comedian, he has sold out many national (UK) arena tours. Bishop has made at least nine documentary-style shows such as John Bishop's Australia, John Bishop's Only Joking, The John Bishop Show, and John Bishop's Gorilla Adventure.
You can watch him in Fearless available HERE on Amazon Prime and in Accused available HERE on Amazon Prime.
Who is Your Favourite Companion?
…Or who would you love to see step into the TARDIS as a future companion?
Let us know in the comments!