20 British Actors You Can Follow on Instagram
In some cases, we earn commissions from affiliate links in our posts.
Last Updated on March 12, 2019 by Stefanie Hutson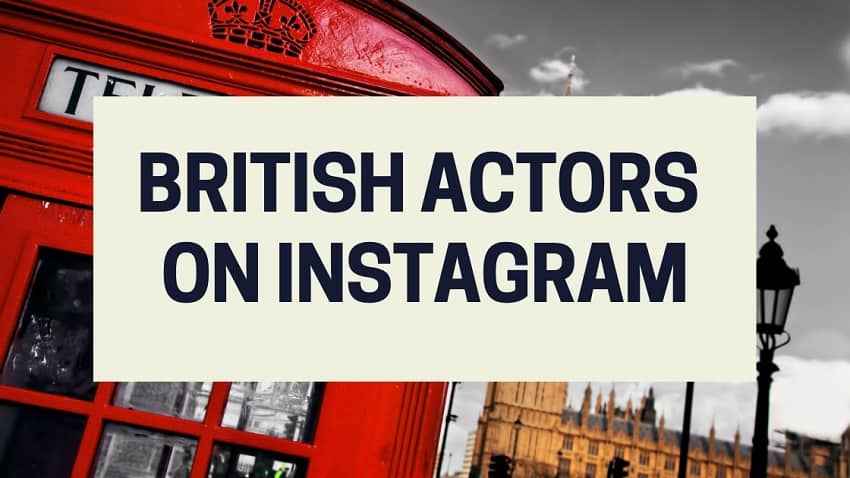 You don't have to be a celebrity-stalking gossip hound to enjoy following the odd British actor on Instagram, and there are loads to choose from. Below, we take a look at some of the most popular British actors you'll find on Instagram. And of course, while you're browsing celebrity accounts, don't forget to follow us:
British Actors on Instagram
Sir Patrick Stewart
https://www.instagram.com/p/BlTebjTDM1g/
In addition to being the oldest British actor on our Instagram list, Sir Patrick Stewart may also have the best account of the bunch. It's not surprising, of course, given that he has decades more to draw from (not to mention the fact that he can't really get away with an account full of bicep pics like Tom Ellis or Sam Heughan).
If you only follow one account on this list, make it Sir Patrick Stewart. You won't regret it.
Follow Sir Patrick Stewart HERE.
Joanne Frogatt
https://www.instagram.com/p/BntCyVKj1lI/?hl=en
Joanne Froggatt is best known for her role in Downton Abbey, but she also did a fantastic job as lead in Liar. Her Instagram account is pretty standard celebrity fare – some fan art, red carpet shots, the occasional production update, and a few vacation photos scattered throughout. If you enjoy her work, it's definitely worth a follow.
Follow Joanne Frogatt HERE.
Miranda Hart
https://www.instagram.com/p/Buo6YI_APnd/
I'm not sure there's anyone else in the whole of Britain who manages to be so simultaneously awkward and likable (and that's saying a lot – we're talking about the nation that practically invented awkwardness). Whether you came to love her watching Call the Midwife or Miranda or something else entirely, her Instagram account is SUCH FUN!
Follow Miranda Hart HERE.
Suranne Jones
https://www.instagram.com/p/BuJAvqjBFwy/
Suranne Jones is probably best known as either the "Bailey" from Scott & Bailey or the creepy lady from Doctor Foster, but she actually has quite a respectable back catalog of work. Her Instagram account isn't as personal or interesting as some, but it's also a relatively new account – so hopefully, there's more great stuff to come!
Follow Suranne Jones HERE.
Rob Brydon
https://www.instagram.com/p/BkGIfkugveU/
Rob Brydon is a fantastic actor with a long history of great comedy work, but in my mind, he'll forever be Uncle Bryn from Gavin & Stacey. That's not to detract from his other work – it's just a statement of how great a job he did with that particular character. It can be hard to be THAT strange and still totally endearing.
Brydon's Instagram account isn't as frequently updated as some, but he makes up for it in quality. If he's hired an assistant to do the posts for him, they're doing a great job because you really wouldn't know it.
Follow Rob Brydon HERE.
Jo Joyner
https://www.instagram.com/p/Bua5Ix3ju2h/
Jo Joyner is perhaps best known to many of us as Luella Shakespeare on Shakespeare & Hathaway, but she was also the vicar in Marley's Ghosts, and she's appeared on popular series like Eastenders, Ackley Bridge, and Doctor Who.
Joyner's Instagram account is a bit scattered in focus, but it's very personal and real and it gives you a great sense of what she might be like in real life – so it's pretty much everything a die-hard fan could hope for.
Follow Jo Joyner HERE.
Hugh Bonneville
https://www.instagram.com/p/BsU_Vwzg1M_/
Downton Abbey and W1A star Hugh Bonneville has a fun, light-hearted Instagram account. Even if you're not a Downton Abbey fan, it's a fun look into the quirky lifestyle of a successful actor.
Follow Hugh Bonneville HERE.
Stephen Fry
https://www.instagram.com/p/BohUUpuhE4w/
We almost didn't include Stephen Fry on this list – not because he's not a fantastic British actor, but because he's gone pretty Hollywood recently. Much of his recent Instagram feed is about The Great Indoors, but even if that's not your cup of tea, he does have some other topics in the mix.
Follow Stephen Fry HERE.
Ricky Gervais
https://www.instagram.com/p/BngGceug5oa/
If you enjoy strange selfies and cute pet photos, Ricky Gervais is the man to follow. The creator of The Office and the new Netflix series After Life has an account that's personal and fun without being excessively promotional like some celebrity accounts.
Follow Ricky Gervais HERE.
Tom Ellis
https://www.instagram.com/p/Btl3V-WASuU/
Miranda and Lucifer star Tom Ellis has an Instagram account that's an odd mixture of workout shots, behind-the-scenes shooting photos, cute pet pics, and dad stuff. Not recommended for those with heart conditions.
Follow Tom Ellis HERE.
Sam Heughan
https://www.instagram.com/p/BrNeN2sgM46/
Outlander star Sam Heughan posts a lot of publicity shots, but he also publishes the occasional fun, off-topic post – vacation photos, relaxed behind-the-scenes shots, and even a few workout shots for those who can't get enough of his bulging biceps.
Follow Sam Heughan HERE.
Catriona Balfe
https://www.instagram.com/p/BtHt-r8AQVl/
Of course, this list wouldn't be complete without Heughan's equally talented co-star, Catriona Balfe. Her account is a bit less personal than that of her co-star, but it's a great way to stay apprised of any new Outlander updates.
Follow Catriona Balfe HERE.
James Corden
Who doesn't love James Corden? I've been a fan since his Fat Friends days, and he really is just an all-around likable sort of guy. It's just a shame he has an American talk show now, because I'd much rather see him back in the UK doing quality original TV shows instead (though his trip through Liverpool with Paul McCartney is not to be missed – so good, in fact, that I've embedded that here instead of an Instagram shot).
Follow James Corden HERE.
Paddy Considine
https://www.instagram.com/p/Bt4XUYFgd8U/
Scrolling through Paddy Considine's Instagram account is certainly an interesting experience. Immediately, you realize, "This is not your typical actor." I won't spoil it for you by trying to describe it in any more detail, but I highly recommend following Considine, star of Peaky Blinders, Hot Fuzz, and the recent hit Informer.
Follow Paddy Considine HERE.
Richard Madden
https://www.instagram.com/p/BlL4z8Bhjrt/
The immensely popular star of Bodyguard (Netflix) and Game of Thrones has an Instagram account to match. With roughly 2 million followers, this account is stuffed to the gills with glamorous photos, beautiful women, amazing scenery, and fast cars. Would you have imagined it any other way?
Follow Richard Madden HERE.
Idris Elba
https://www.instagram.com/p/BubVpXXhrwb/
At roughly 3.5 million followers, Luther star Idris Elba is awfully popular on Instagram. With shots like the one above, we can see why. If you want to stay up-to-date with all things Idris, you'll definitely want to follow this account.
Follow Idris Elba HERE.
Amy Huberman
https://www.instagram.com/p/Bra_1SAjOQl/
Acorn TV fans will likely recognize Amy Huberman as either the writer and star of the recent comedy Finding Joy, or as the lead in the series Striking Out. Whether you prefer her in comedy or drama, her Instagram page is well worth a follow.
Follow Amy Huberman HERE.
John Simm
https://www.instagram.com/p/BuuBfe6hnrY/
Though he's perhaps best known for his role in Life on Mars, many of us around here have been enjoying his more recent performance in Strangers/White Dragon. He also spent two seasons on The Catch, and American series that was recently canceled. His Instagram account isn't especially deep, but there are some gems there, along with a great tribute to former co-star Olivia Colman on her Oscar win.
Follow John Simm HERE.
Ioan Gruffudd
https://www.instagram.com/p/Bt4GpaJB4tt/
If you haven't already watched the Australian series Harrow, get yourself over to Hulu or Amazon and check it out. Welsh actor Ioan Gruffudd stars, and it's phenomenal (not to mention, renewed for another season). Gruffudd's Instagram account shows a man who takes immense pride in both his work and his family. Prepare to be awww-ed at his various tributes to his wife of 11+ years.
Follow Ioan Gruffudd HERE.
Eve Myles
https://www.instagram.com/p/BdIFC6Pnd7v/
The Welsh star of Keeping Faith and Broadchurch has only posted 16 times since 2014 (giving her an average of about 3 posts/year), so there's no danger of her selfies taking over your Instagram feed. If you've ever found yourself wondering, "Where does a successful actress put her Elf on the Shelf?" this is the account to satisfy that curiosity.
Follow Eve Myles HERE.
Want More British Actors on Instagram?
Let us know if you enjoyed this post. We've got quite a few more to recommend if you like this one.