McDonald & Dodds Review: A Delightful & Scenic New British Mystery
In some cases, we earn commissions from affiliate links in our posts.
Last Updated on August 21, 2020 by Stefanie Hutson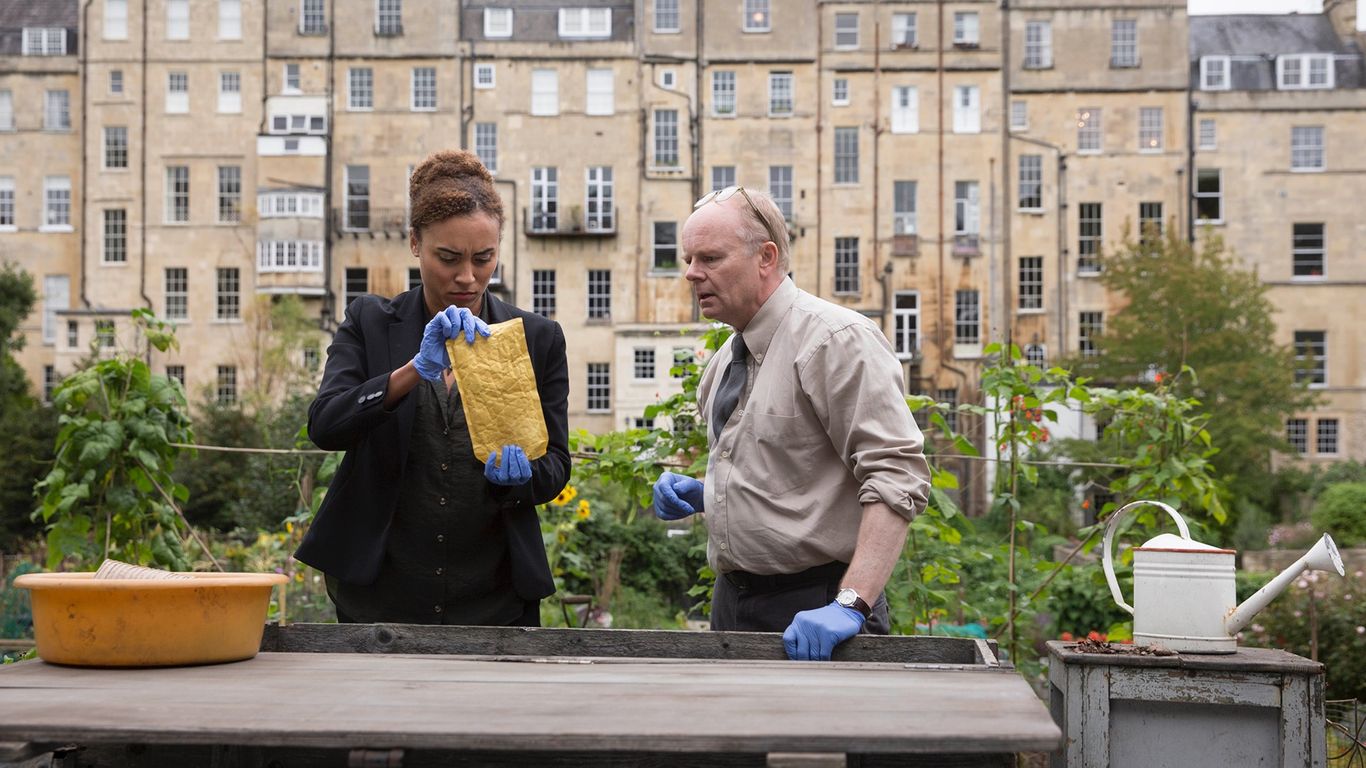 If you read much British TV news, or if you have a copy of the 2019 British TV Year in Review magazine, you may have heard about an upcoming British mystery set in Bath, starring Jason Watkins. And around here, who doesn't love a new British mystery with a lovely setting? We recently had the opportunity to check out the first episode of the series, so we wanted to share a bit for those who either haven't watched it, or who might be thinking of giving it a go.
Please note – we haven't included ANY plot-related spoilers. We give our thoughts on what's great about the series and who's most likely to enjoy it, but we've omitted any details that might harm your enjoyment of the series.
What is McDonald & Dodds About?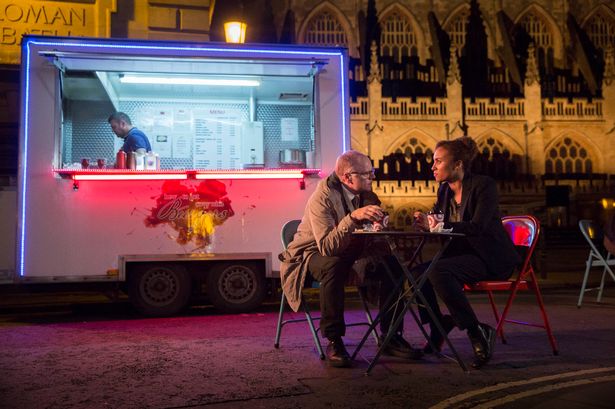 McDonald & Dodds is a new mystery series set in the city of Bath, starring Jason Watkins (Trollied, The Crown) as DS Dodd and Tala Gouveia (largely unknown, but she did a one-episode stint on Cold Feet) as DCI McDonald. McDonald is an ambitiuos, rough-around-the-edges London detective, while Dodds is a veteran investigator who's been on desk duty for the last 11 years. He's an old school detective still hanging around a system that doesn't quite know what to do with his slow but insightful way of working.
It's your standard odd couple detective pairing. She's brash and credit-seeking, he's modest and unconcerned with who gets the credit as long as justice is served. She leaps before she looks, while he stands back, absorbing the details, following his hunches, and solving puzzles completely missed by everyone else.
Age Before Beauty and Primeval star James Murray also stars as Chief Superintendent John Houseman, alongside Pearl Chanda (Motherland, Endeavour) as DC Laura Simpson and Jack Riddiford (Poldark, Murder On The Orient Express) as DC Darren Craig.
If you have the 2019 British TV Year in Review magazine, you'll note that this show was originally titled "Invisible" – and we're quite glad to see that it changed. It's tough to keep all the vague, creepy or ominous one-word title shows straight – Paranoid, Liar, Accused (both of them), Hidden (all of them), Blackout, Bang, Backup, Conviction, Exile, Deceit, Forgotten, Safe, Innocent, Injustice, Hunted, Identity, Prey, Murder, Missing, Out, Proof, Suspects, Strangers, and so on. Unique names make it easier to remember shows AND to search for them online.
McDonald & Dodds is made up of two feature-length episodes, but hopefully we'll be seeing more in the future.
Episode 1: The Fall of The House of Crockett
When a homeless man is killed in a prominent inventor's mansion, newly-arrived DCI McDonald is paired up with long-serving DS Dodds to find the killer. On the surface, the inventor and his family are wealthy and successful – but as we all know, that's never the whole story, and certainly not in a British mystery. It's not long before motives start bubbling to the surface.
Episode 2: The Wilderness of Mirrors
Newly adjusting to life in Bath, DCI MCDonald and her partner DS Dodds are called out to the Mara Retreat, a private rehab clinic where a wealthy patient has died mysteriously. Unfortunately, the close-knit therapy group is secretive and resentful at the intrusive investigation, leading the detectives to get creative in their search for information.
No Offence fans will be pleased to see Joanna Scanlan (DI Viv Deering, in No Offence) appearing as Kelly Mulcreevy in this one. Hugh Dennis, Caroline Catz (Doc Martin), and Freddie Fox are also among the cast for episode 2.
What's the Verdict? Our McDonald's & Dodd Review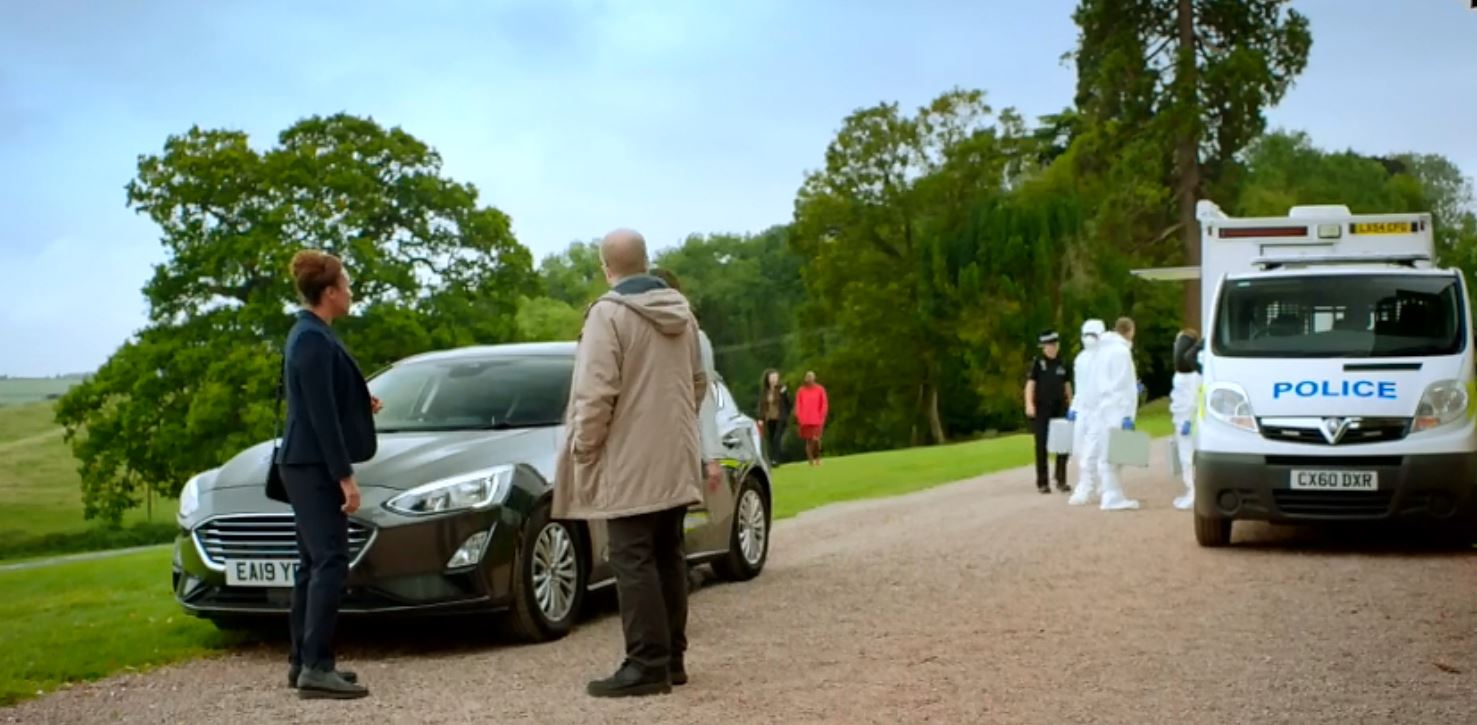 Here at I Heart British TV, we have a very different approach to reviews. Rather than bitterly tearing down shows over every little flaw, we want to help our readers find the shows that are right for them. Pretty much any show you can think of is SOMEONE'S favourite, so we like to think of reviews more like matchmaking than criticising.
Having watched the first episode, we think McDonald & Dodds is a wonderful antidote to gloomy, end-of-winter weather. Through some miracle of television, the version of Bath we see is bright, sunny, and stunning in nearly every shot. It's a bit like Midsomer Murders in that respect.
McDonald & Dodds takes the standard detective show format and tweaks it, making it new, quirky, and utterly watchable. The first mystery in the series is light and even a little far-fetched, but not completely silly like you might find in the lightest of mysteries.
They don't often make shows like this anymore, and it's refreshing to see it. It doesn't reach out and assault you. Rather, it draws you in and captures your imagination for a couple of hours.
While most aspects of the show ranged from "pretty good" to "really good", there was one thing that stood out above all the other positives. Jason Watkins's performance as DS Dodd was fantastic. He was quiet and unassuming, with expressions that conveyed far more than his actual lines – the sort of person who's soaking everything up like a sponge, even if nobody around him realises it. He's timid, but not a pushover. He's also funny, but in a very understated way. I'd be happy to watch his character in a show all his own where we got a lot more insight into his personal life and backstory.
The feature-length format was a plus, too, as it allowed the mystery to unfold in more directions. It had a slow, gentle pace that paired nicely with Watkins's character and the lovely scenery.
The only real weak point we found was the character of DCI McDonald. She came across as pushy, out of control in both her personal and professional lives, and not particularly competent. It makes you wonder how she ever managed to get promoted to her current position. Our hope, of course, is that as the series progresses, we'll see her soften and be a bit more polite to her partner, DS Dodds. It would also be great to see her doing more than just yelling, jumping to conclusions, and pushing everyone around. She must have some talent to reach DCI level, so it would be wonderful to see that in action (though admittedly, it's SO much more satisfying to see Dodds figuring things out).
Overall, we're very much looking forward to episode 2 and hoping there's a second season on the horizon. With a guest cast that includes Caroline Catz, and Joanna Scanlan, it's hard to imagine the second one being anything short of wonderful.
Who's Going to Love McDonald & Dodds?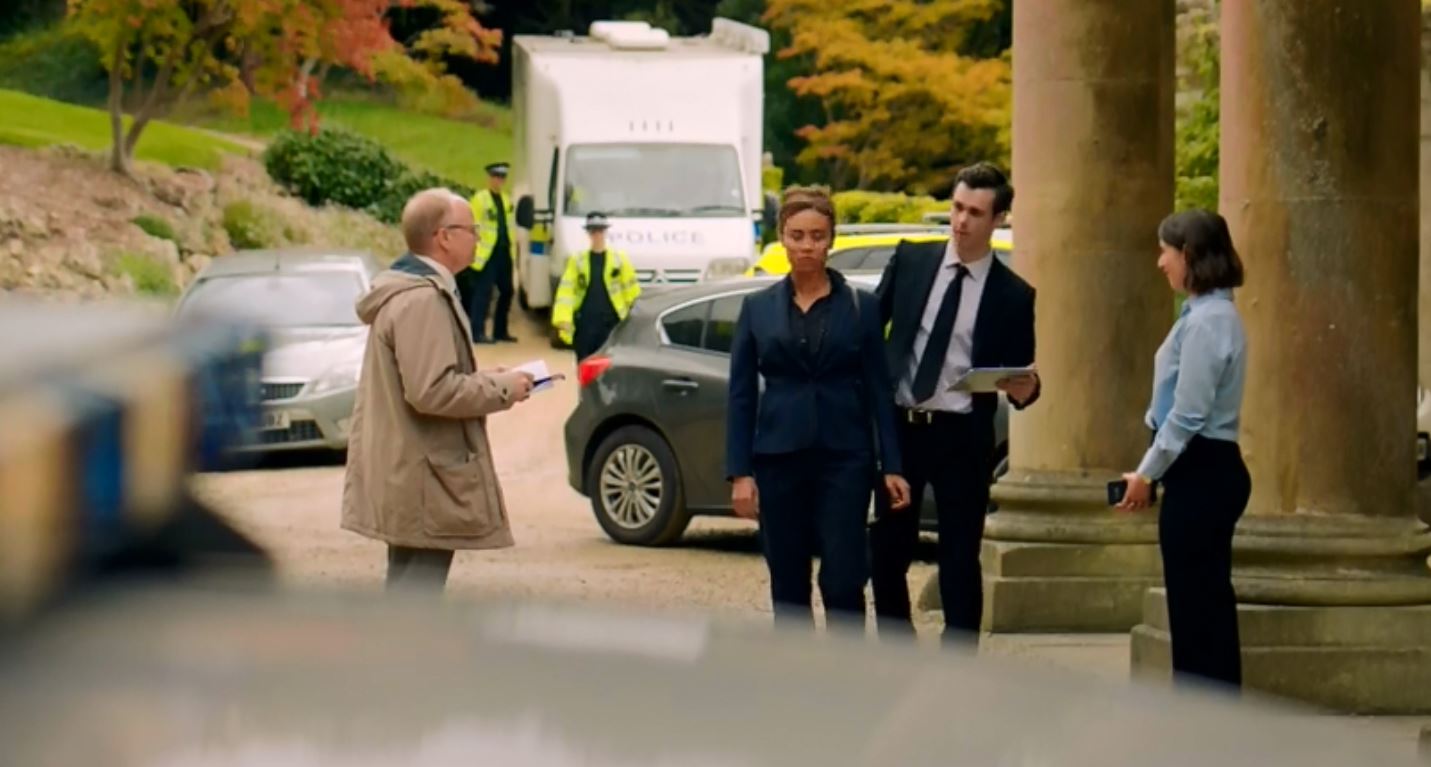 If we think of British mysteries like tea, we might compare gritty shows like Hinterland and Luther to a dark, strong cup without any milk. At the other end of the spectrum, shows like Shakespeare & Hathaway or Agatha Raisin would be more like really light tea with tons of milk and sugar. McDonald & Dodds is somewhere in between, a bit closer to the milky side.
It's lighter than Grantchester or Endeavour, but slightly more "serious" than Midsomer Murders.The closest comparisons I can think of are older shows like Rosemary & Thyme, Hetty Wainthropp Investigates, and Jonathan Creek.
If you like British mysteries that are a bit more serious than the really campy cosy mysteries – but still significantly lighter than the dark and gritty ones – you'll probably enjoy McDonald & Dodds.
Even if you favour the darker mysteries, you may still enjoy this one for Jason Watkins's fantastic character work and the incredible local scenery. They've used the city of Bath to their full advantage, and I suspect it will have a lot of viewers checking their favourite booking sites and daydreaming of trips to Bath. I wouldn't be at all surprised if this series was more popular in North America and Australia than in the UK.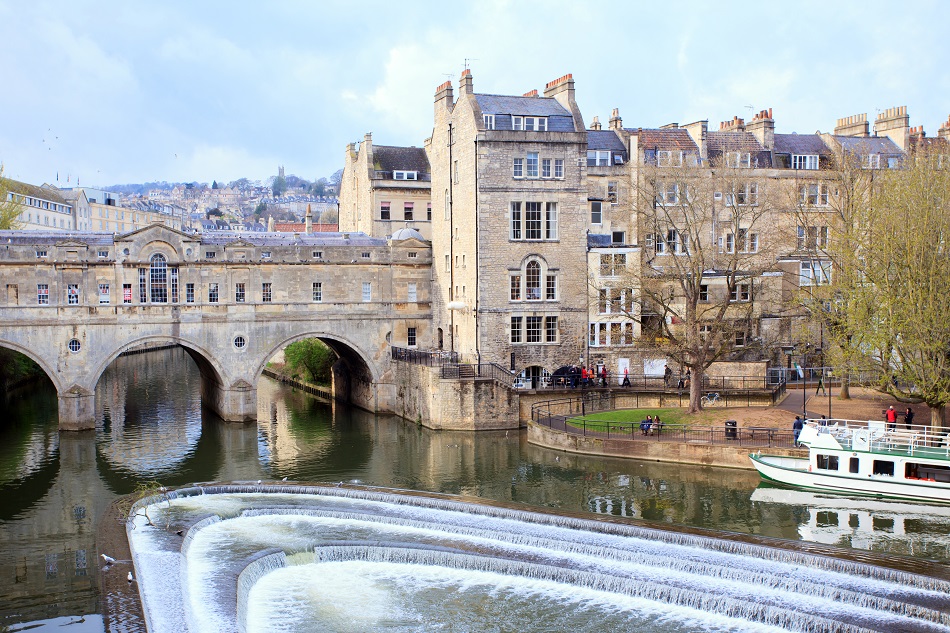 When Does Mcdonald & Dodds Premiere?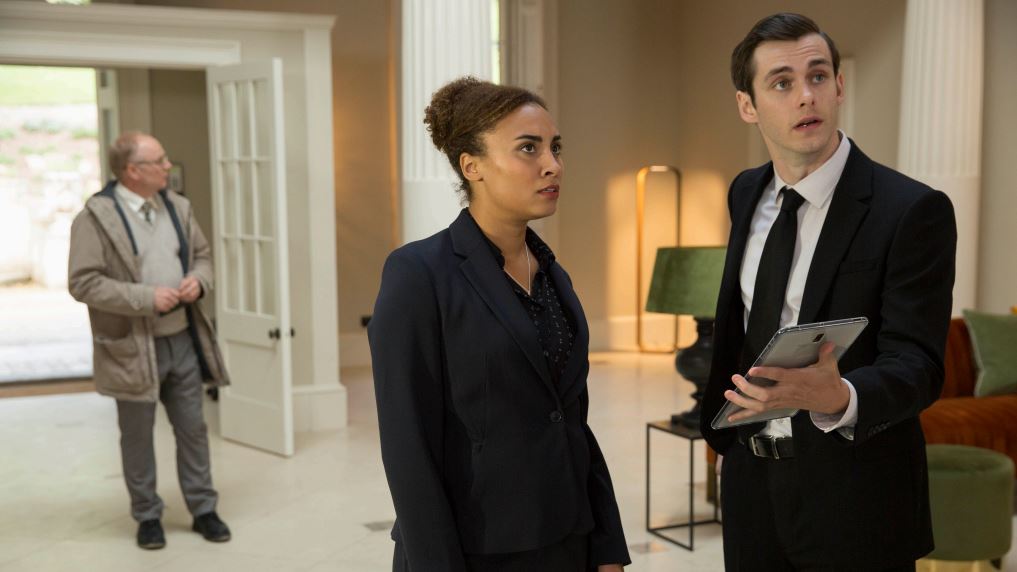 In the UK, McDonald & Dodds premiered on Sunday, the 1st of March 2020 on ITV. It's now airing on BritBox UK, or you can stream it on Amazon UK.
In the US and Canada, this one premieres on BritBox on September 1, 2020.
Will You Be Watching McDonald & Dodds?
Is this one you'll be watching for? Share your thoughts in the comments!
Save it on Pinterest!