31 Great British Biopics Streaming Now
In some cases, we earn commissions from affiliate links in our posts.
Last Updated on July 25, 2020 by Stefanie Hutson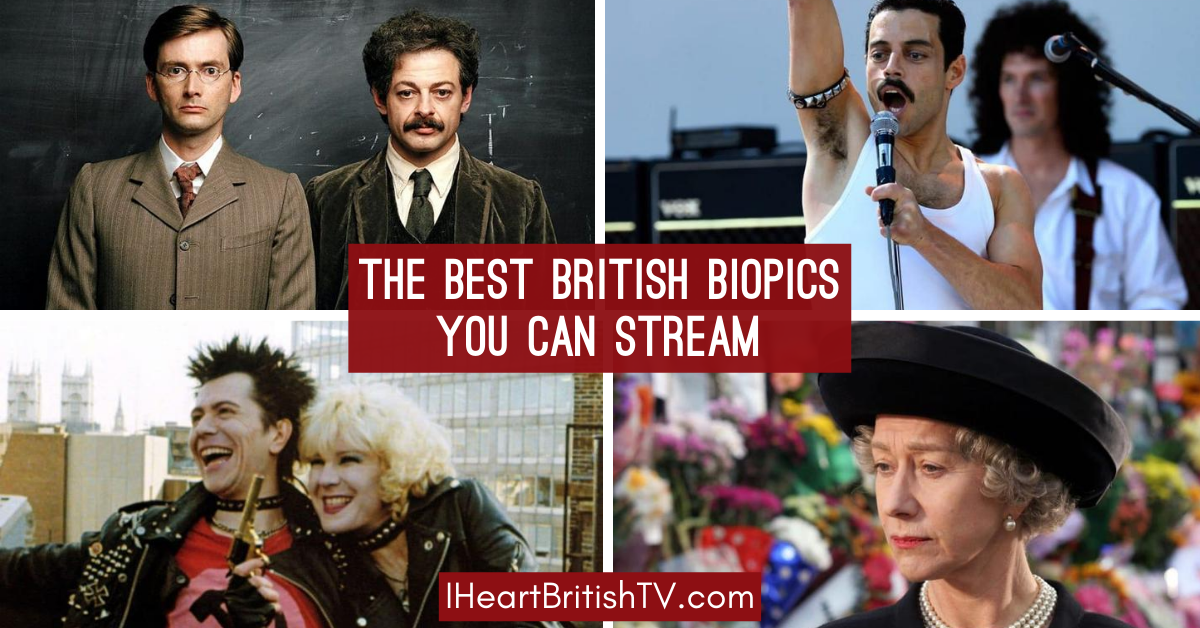 31 Great British Biopics Streaming Now
Biopics can be touchy. On one hand: filmmakers need their movies to be entertaining, but on the other hand: preserving historical facts is important, too. And it's impossible to please everyone. But we've curated a list of some of the best British biopics for fans of music, sports, science, literature, royalty, and even the criminal world.
British Biopics About Musicians
Bohemian Rhapsody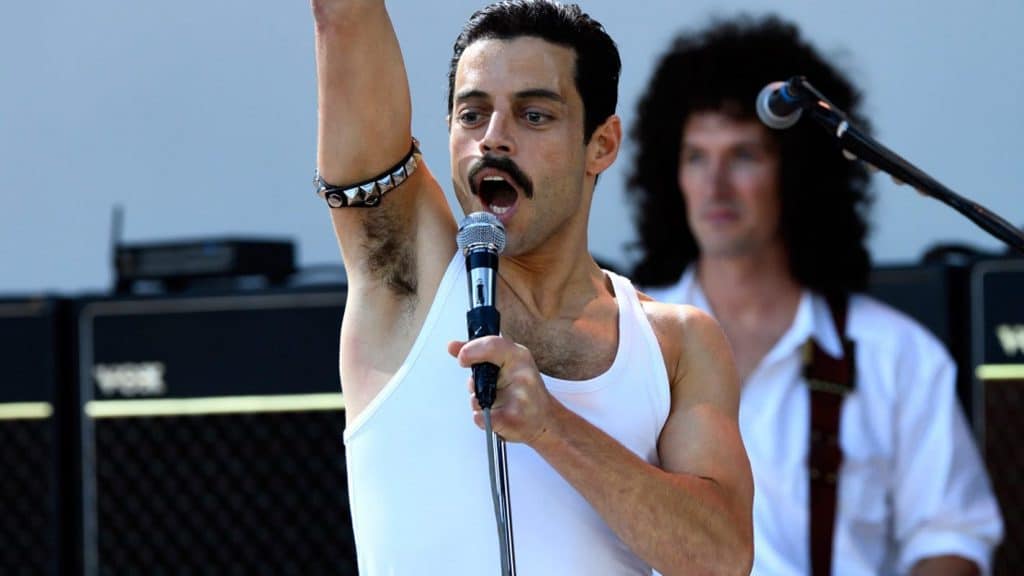 This biopic tells the story of the sensational 70s rock band, Queen. Rami Malek stars as Freddie Mercury. Midsomer Murders own Gwilym Lee plays Brian May. Joseph Mazzello plays John Deacon. Ben Hardy plays Roger Taylor. Even thought it's a Hollywood blockbuster, the cast has no shortage of British stars.
Bohemian Rhapsody is streaming on HBO or available to own on Amazon.
Immortal Beloved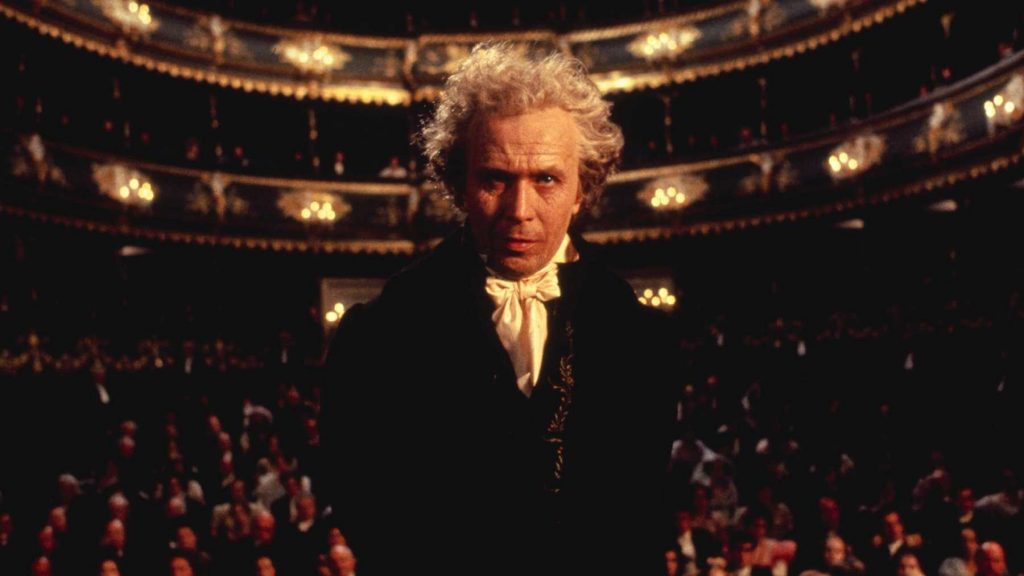 Immortal Beloved is a somewhat loose biopic about Ludwig van Beethoven starring Gary Oldman. This film follows Beethoven's struggle with hearing loss. It also deals with a woman he calls his "immortal beloved" (hence the title). If you enjoy Beethoven's music and costume dramas, be sure to watch this one.
Rent or own Immortal Beloved on Amazon.
Lennon Naked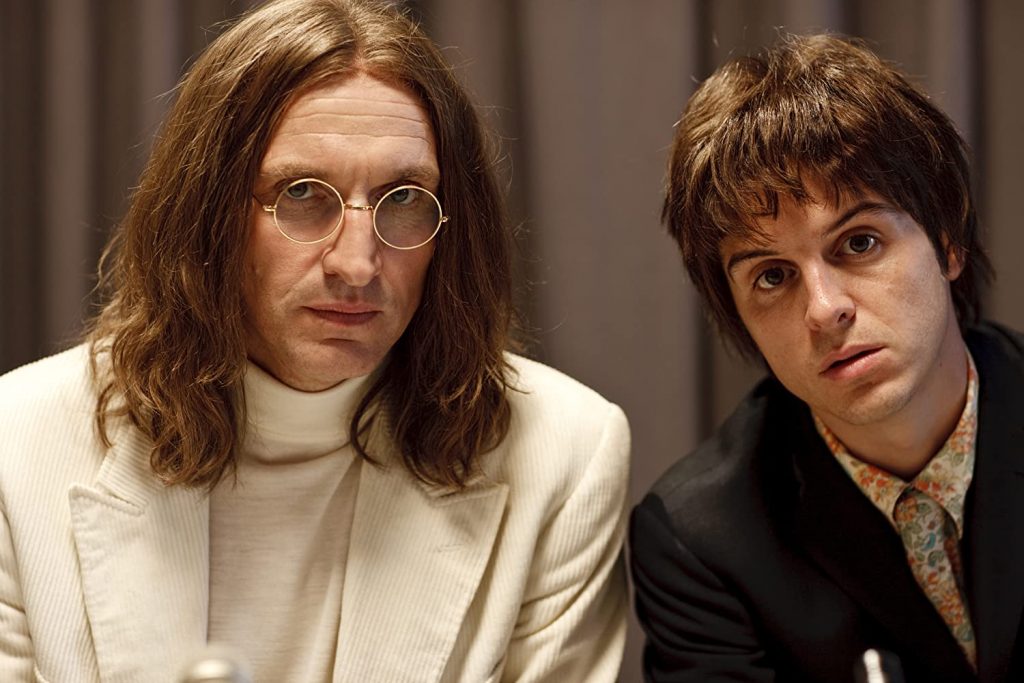 Lennon Naked stars Christopher Eccleston during the period of Lennon's life as he transitions to a solo artist, from 1967 to 1971. It deals with Lennon's struggles on multiple fronts, from his home life as a father to his relationship with his own absent father. Lennon Naked also stars Andrew Scott.
Stream Lennon Naked on BritBox.
I originally planned to include Nowhere Boy, but it is no longer streaming. It is also a great film about John Lennon's formative years if you want to get the DVD of Nowhere Boy.
Rocketman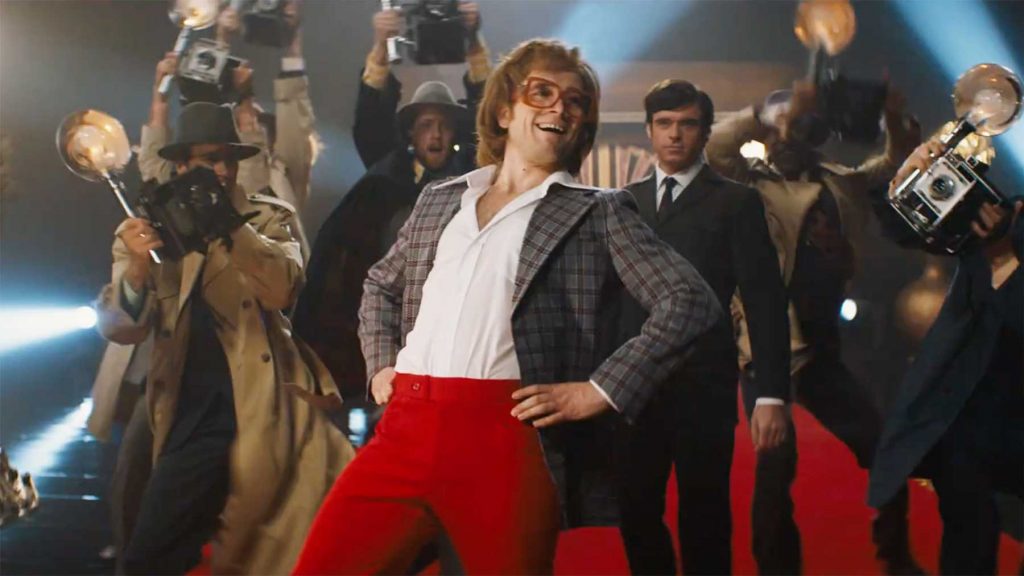 Rocketman tells the story of Elton John's rise to fame. Fans of Bohemian Rhapsody will also love this film, and vice versa. It's a musical biopic (not just a biopic with music) and includes songs in new formats.
It stars Taron Egerton as Elton John, along with Richard Madden, Bryce Dallas Howard, and Jamie Bell.
Rocketman is streaming on Amazon Prime.
Sid & Nancy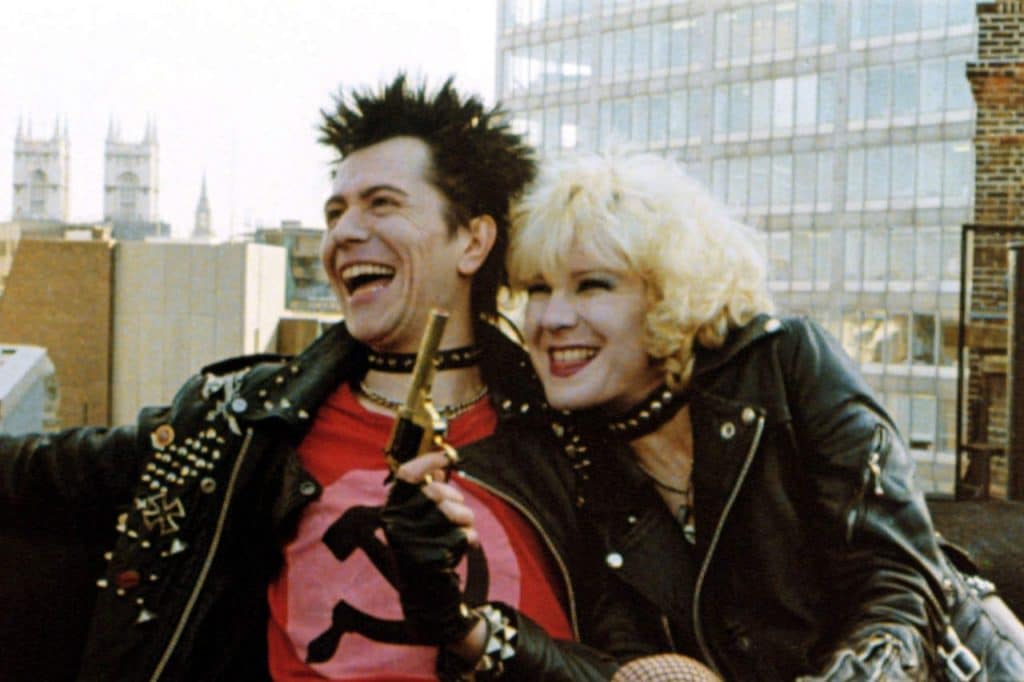 Sid & Nancy stars Gary Oldman as Sid Vicious and Chloe Webb as his girlfriend Nancy Spungen. The story starts in 1978 with the Sex Pistols' tour of the US. This film shows their co-dependency, their strain on other band mates, and their eventual decline into drug addiction.
You can stream Sid & Nancy on IndieFlix with a 7-day free trial.
British Biopics About Sports & Athletes
The Flying Scotsman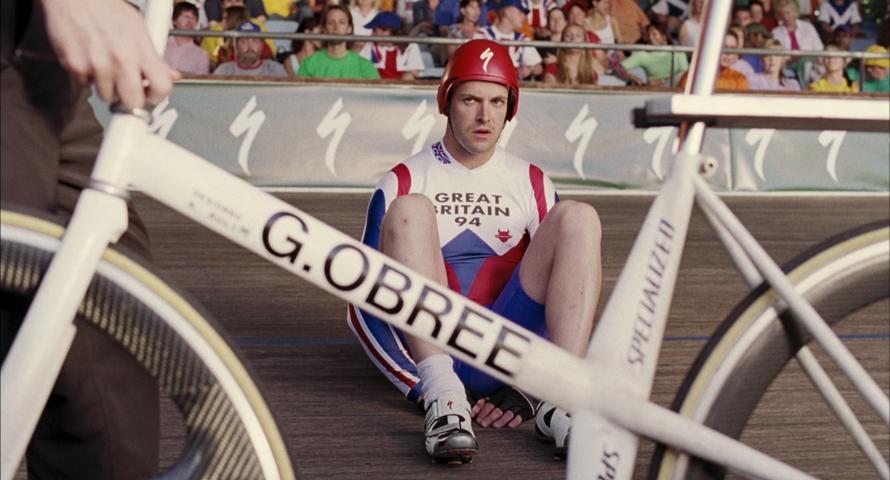 The Flying Scotsman stars Jonny Lee Miller as cyclist Graeme Obree who won a world record on a bicycle made of scrap and washing machine parts, along with fighting efforts to ban him from the sport. This film also touches on his struggle with mental health and his marriage.
It also stars Laura Fraser, Billy Boyd, Brian Cox, and Morven Christie.
Stream The Flying Scotsman on Amazon Prime.
The Program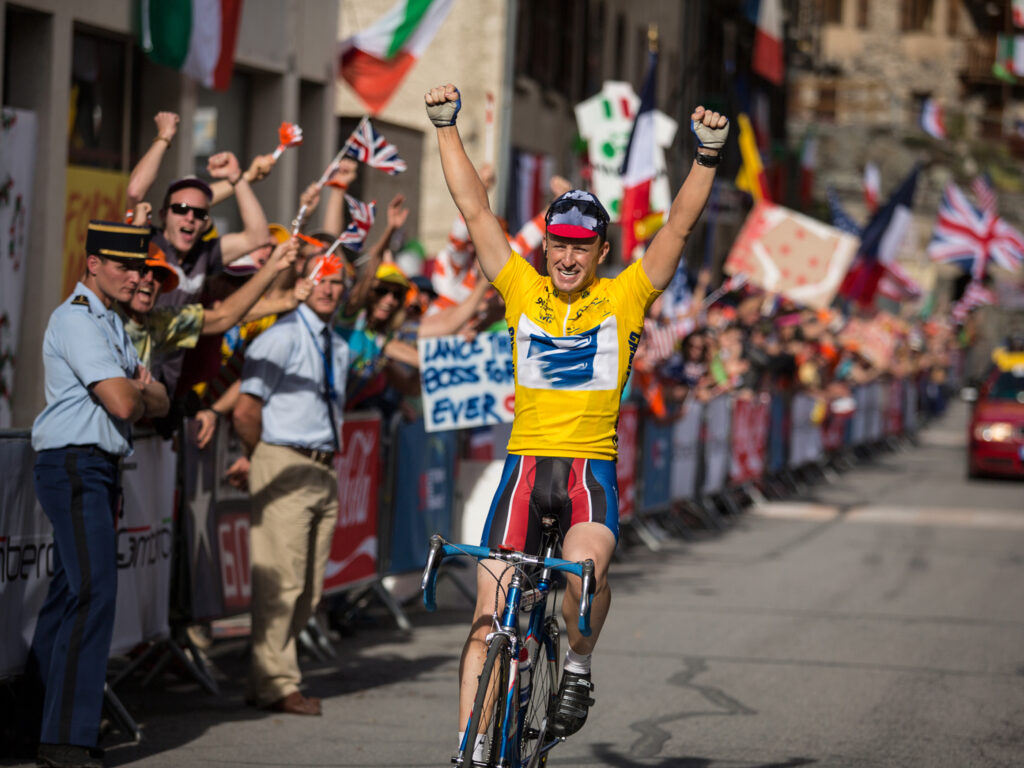 The Program is a different kind of sports biopic. Instead, it focuses on journalist David Walsh who suspected Lance Armstrong was using banned substances to improve his performance.
It stars Ben Foster, Chris O'Dowd, and Jesse Plemons.
Stream The Program on Amazon Prime.
Rush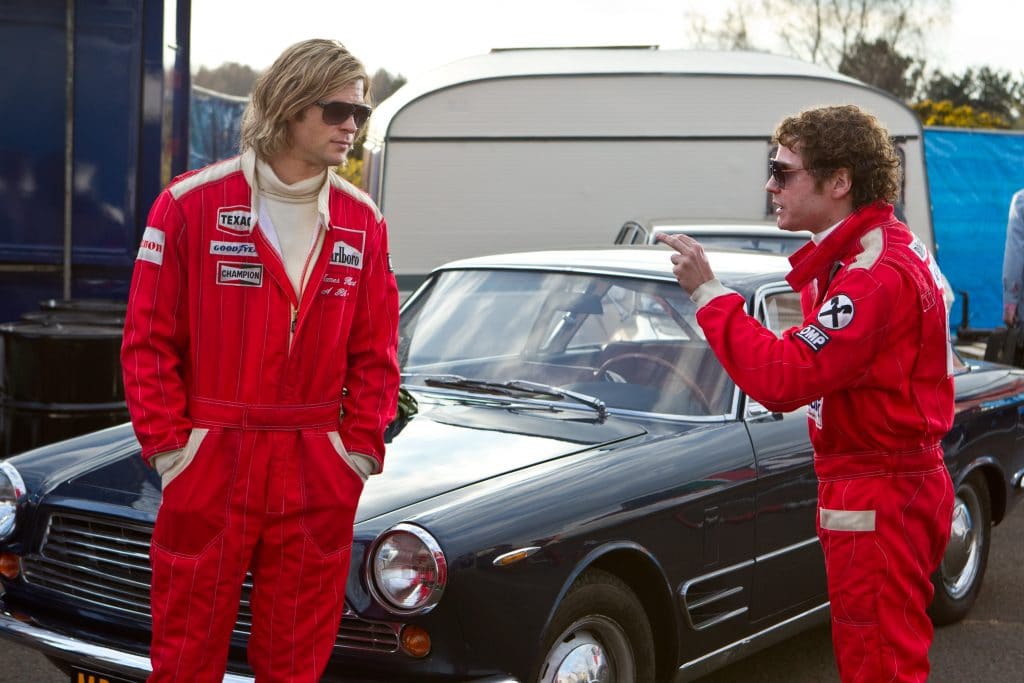 Rush isn't a completely British film, but it does tell the story of the 1970s rivalry between British Formula One driver James Hunt (Chris Hemsworth) and Austrian driver Niki Lauda (Daniel Brühl). It's a Ron Howard film and includes Brits such as Natalie Dormer, Stephen Mangan, James Norton, and Alistair Petrie.
You don't have to be a gearhead to enjoy this movie. It's thrilling, heart-warming, and colorful. But I'm 100% biased because it is one of my all-time favorite movies.
Stream Rush on HBO or rent/own it on Amazon.
United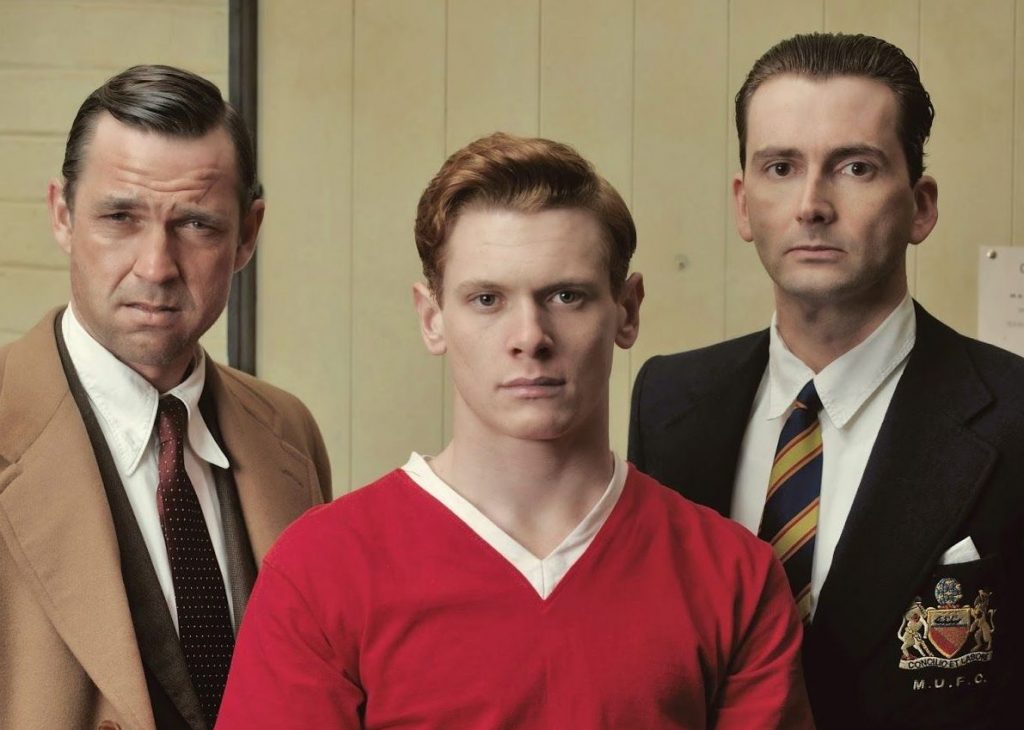 You don't need to be a fan of soccer to watch this movie.
United is a true underdog story of tragedy and perseverance.
When British European Airways Flight 609 crashed on its third attempt to take off from a slush-covered runway on February 6th, 1958, eight Manchester United players and three team officials were killed. Two players were so severely injured, they would never play again.
In the aftermath, many young players had to quickly rise to their new roles.
United is the story of their perseverance in the face of devastation.
David Tennant plays coach Jimmy Murphy.
It's streaming on Acorn and Amazon.
The Damned United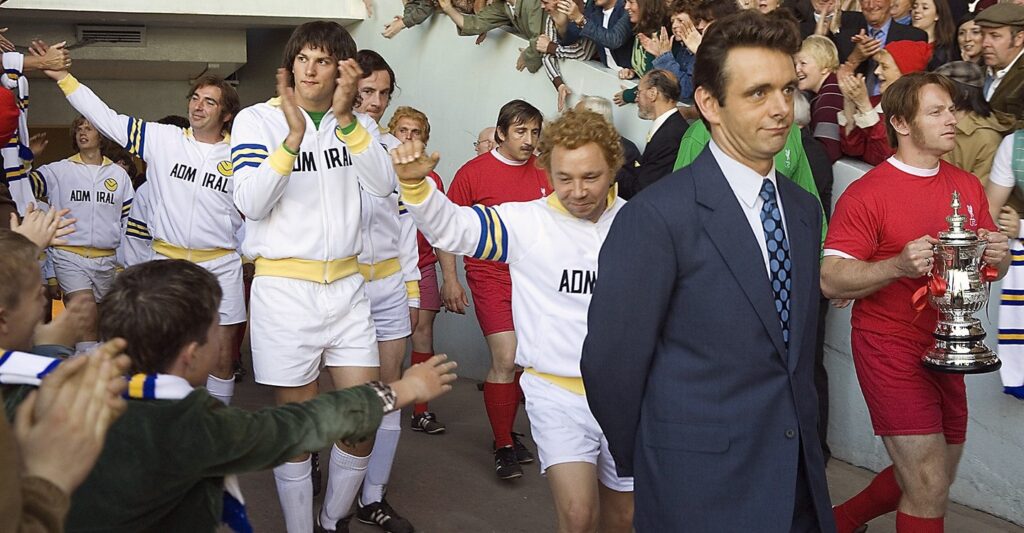 The Damned United follows the story of Brian Clough who is considered one of England's best soccer managers. It stars Michael Sheen as Clough, manager of Leeds United Football Club for just 44 days.
It also stars Jim Broadbent, Colm Meaney, and Timothy Spall.
Rent or own The Damned United on Amazon.
British Biopics About Scientists
Creation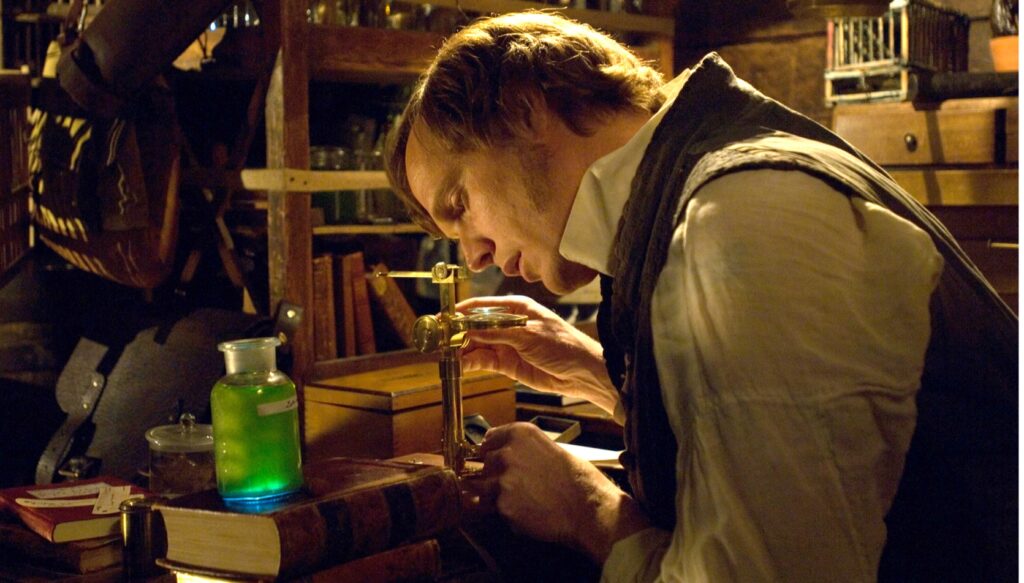 Creation follows Charles Darwin as he struggles between science and faith, hallucinations, finishing his groundbreaking work "On the Origin of Species," and keeping his marriage together.
Creation stars Paul Bettany as Charles Darwin along with Jennifer Connelly, Benedict Cumberbatch, Jim Carter, Toby Jones, and more.
Stream Creation on Amazon Prime.
Einstein and Eddington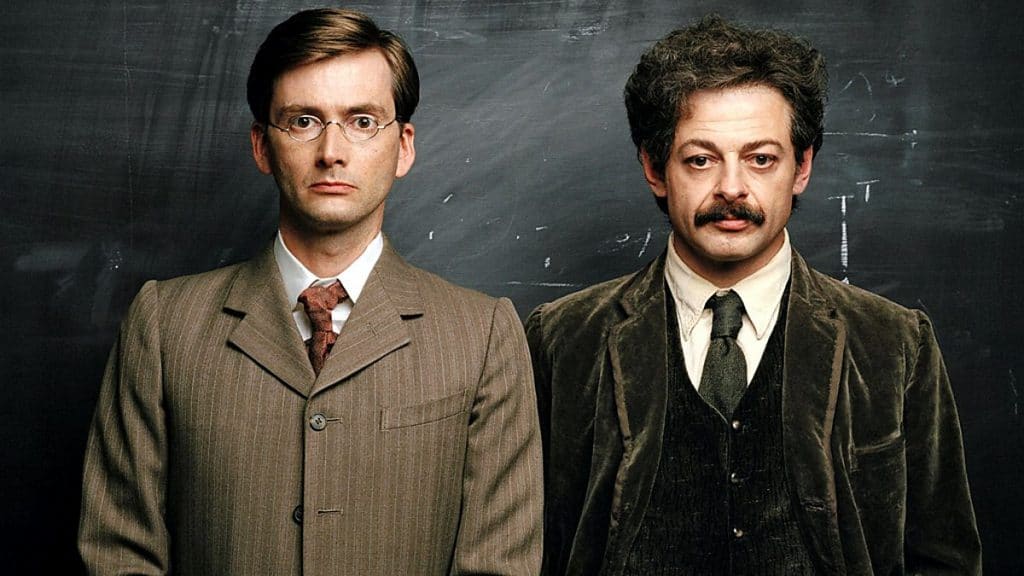 This film follows Einstein (Andy Serkis) and Eddington (David Tennant) through their work together during WWI and Eddington's support of Einstein's theory of relativity.
It also stars Rebecca Hall, Jodhi May, Donald Sumpter, and Jim Broadbent.
Stream Einstein and Eddington on HBO.
Hawking (2004) & The Theory of Everything (2014)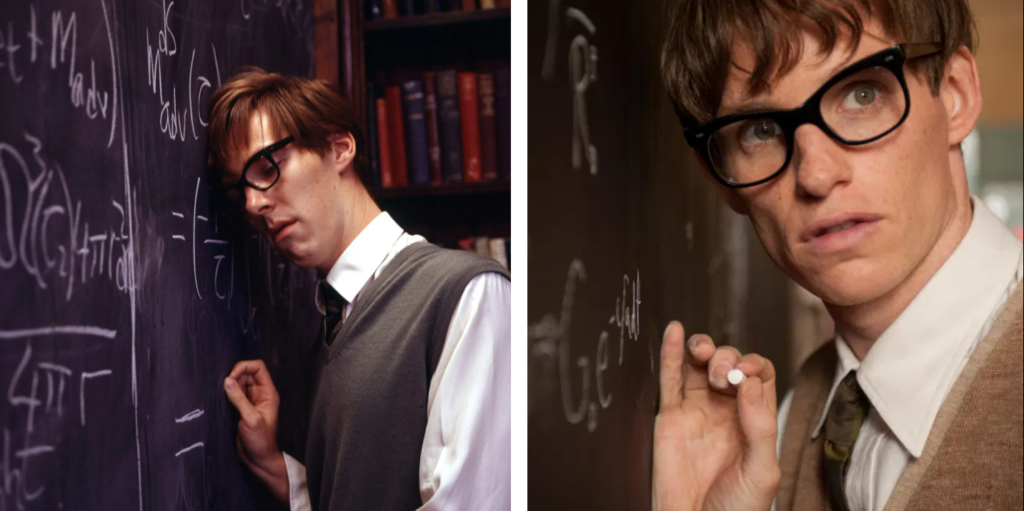 I love to recommend these two films together because Hawking is a great, underrated film about Hawking's academic years and his work toward the theory that the universe started with one big bang. It also covers his diagnosis of amyotrophic lateral sclerosis (ALS / Lou Gehrig's). Benedict Cumberbatch plays Hawking.
Cumberbatch also went on to narrate a wonderful documentary series called Into the Universe with Stephen Hawking.
The Theory of Everything (Eddie Redmayne as Hawking), on the other hand, primarily covers Hawking's later life and his marriage to Jane (Felicity Jones). More than anything, The Theory of Everything is a movie about Jane.
I highly recommend watching Hawking first on Hoopla or DVD and then watching The Theory of Everything on Amazon (rent/buy) or on Netflix. They're both great films and a lot of people seem to overlook Hawking because The Theory of Everything was so popular, but they are equally great films in their own ways.
The Imitation Game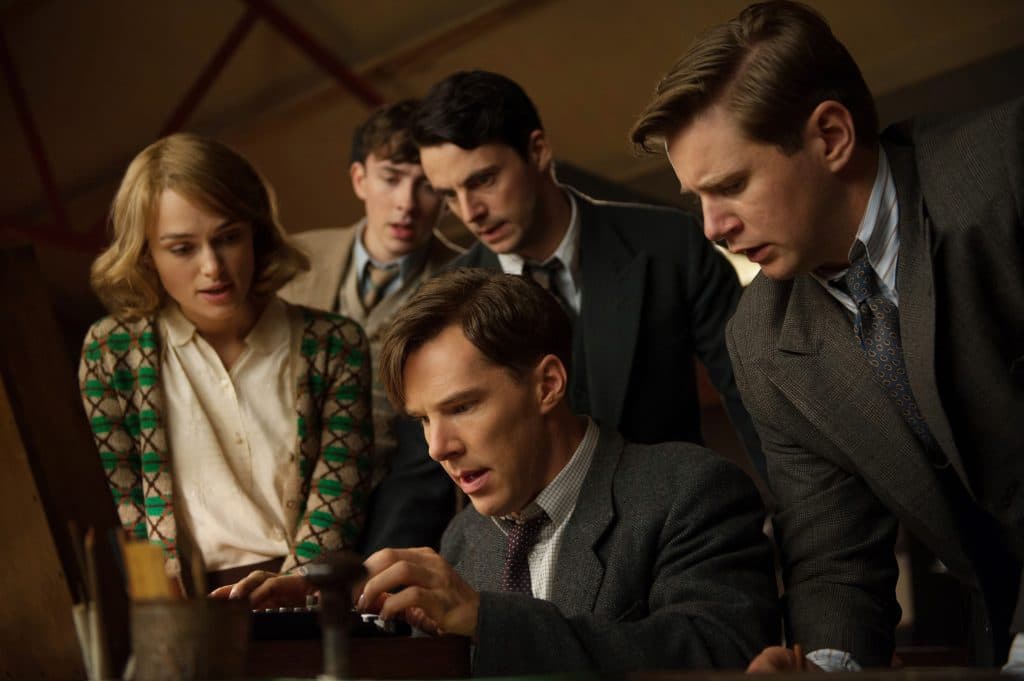 In The Imitation Game, Benedict Cumberbatch stars as Alan Turing, a WWII codebreaker working on the German enigma code. It also stars Keira Knightley, Matthew Goode, Rory Kinnear, Charles Dance, Mark Strong, and Allen Leech.
It's available to rent or own on Amazon.
Codebreaker starring Ed Stoppard and narrated by Paul McGann is also a nice docudrama if you want more Alan Turing. It's streaming on Amazon Prime.
Steve Jobs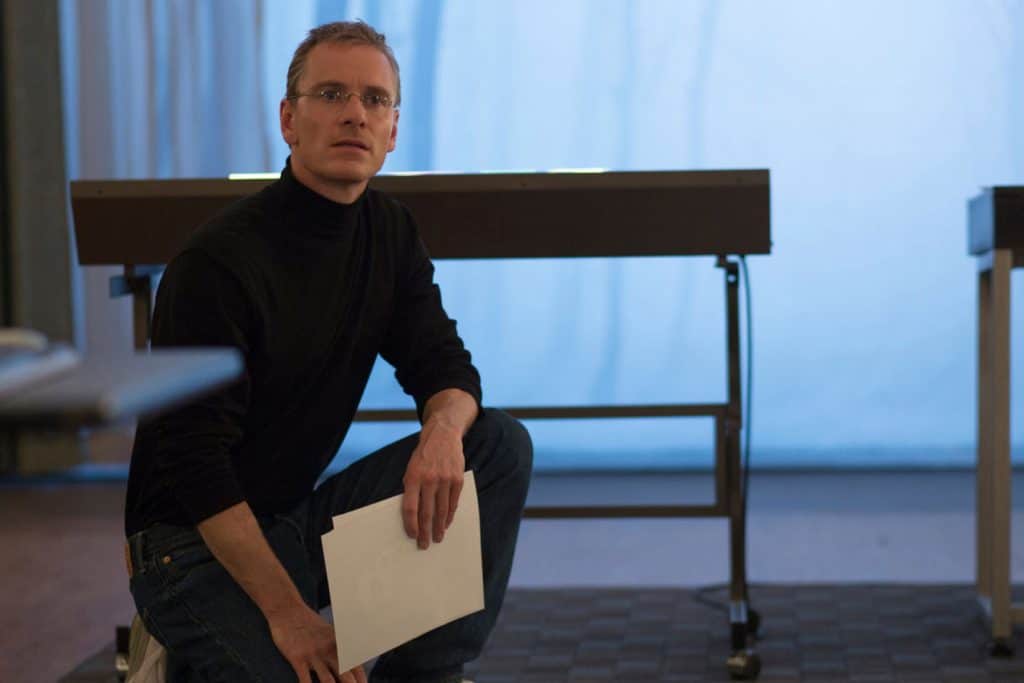 Steve Jobs isn't British, but hear me out: this movie is incredible and full of amazing British artists. First off, it's directed by Danny Boyle. That's enough for me to click play. On top of that, it stars Michael Fassbender and Kate Winslet. It also won a ton of awards.
I loved it so much, I watched it again the next night. I never do that! This is a great movie if you don't mind three hours of dialogue crammed into a feature-length film. It was also filmed in three different formats: 16mm, 35mm, and digital to reflect the changes in time and mindset. Danny Boyle always has something interesting up his sleeve.
British Biopics About Authors
Becoming Jane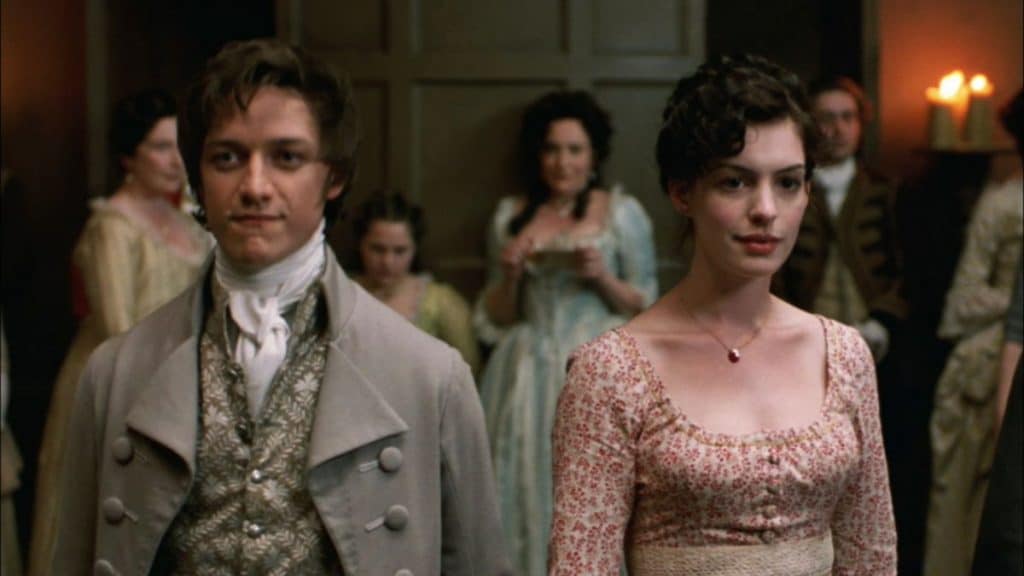 Becoming Jane is a film about Jane Austen's early life. Anne Hathaway plays Jane, so if you don't mind an American playing a Brit, this is a decent movie. We can assure you that the presence of James McAvoy makes up a lot of ground.
This film melds fact with fiction to make Jane's story a bit more like her heroines, so if you're looking for a completely realistic account, you'll not find it here. If you want to compare her life with this movie, this is a good article.
This film also stars Dames Julie Walters and Maggie Smith.
Nearly twenty years later… If you want to see a film about Jane Austen's later life, check out Miss Austen Regrets on Amazon Prime.
Bright Star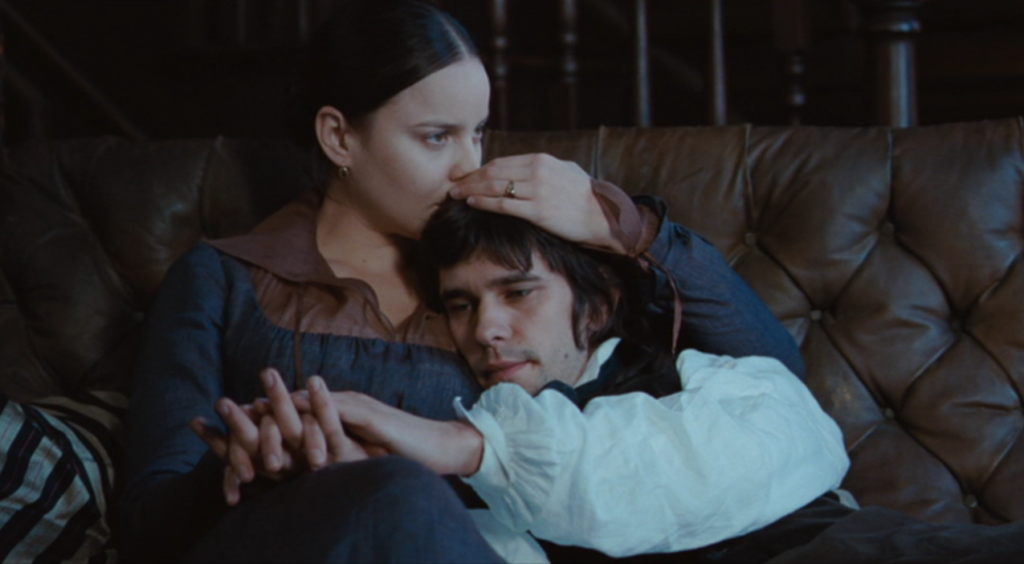 Bright Star is a biopic about Romantic era poet John Keats in the last years of his short life. Specifically, it is a romance between Keats and Fanny Brawne. If you're looking for a touching artistic tale, look no further… "Bright star, would I were stedfast as thou art—"
It stars Ben Whishaw as Keats and Abbie Cornish as his muse and love, Fanny.
Stream Bright Star free with ads via IMDb TV on Amazon.
Byron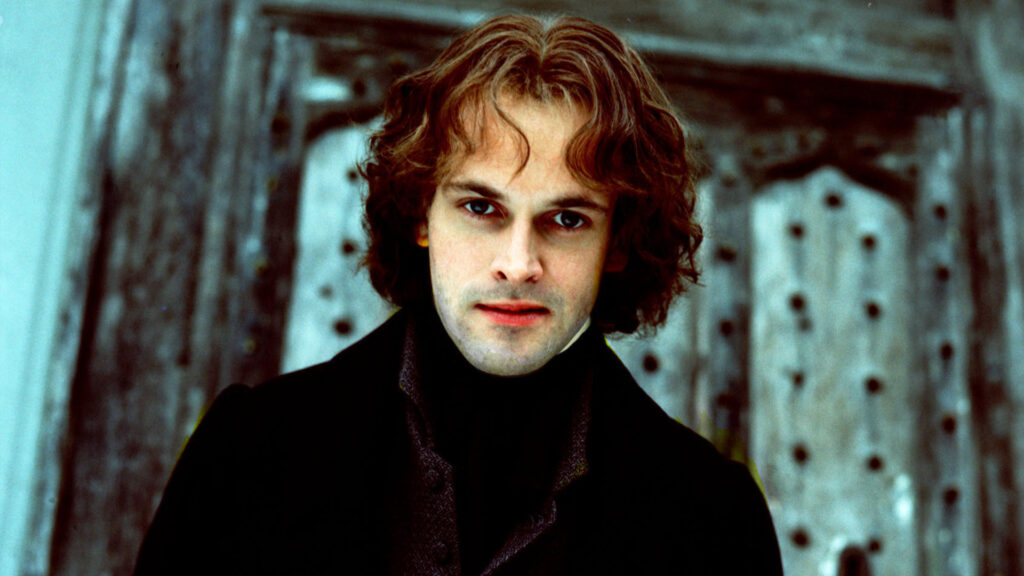 This story follows Lord Byron, the Romantic era poet, from 1811 to 1824.
I like to think of Lord Byron as the biggest rock star of his time. Maybe that's hyperbole, but unlike most artists from the past, he was famous while he was alive and lots of people had "Byron fever."
Byron, the TV Film, is a breath of fresh air for a period drama. It's both funny and sexy. The story starts at the very end when Byron's associates decide to burn his memoirs because they are too scandalous. They were never recovered, despite Byron's wish that they be published.
Byron is listed as "season one" but it is only 2 hours and 27 minutes in total, so that's why I'm calling it a movie.
Disclosure: I'm a big fan of Lord Byron's work. He's one of my favorite writers because he is such a quirky person – with perhaps more than a few kinks, but that's what makes him interesting. So, I am probably super biased.
To Walk Invisible: The Brontë Sisters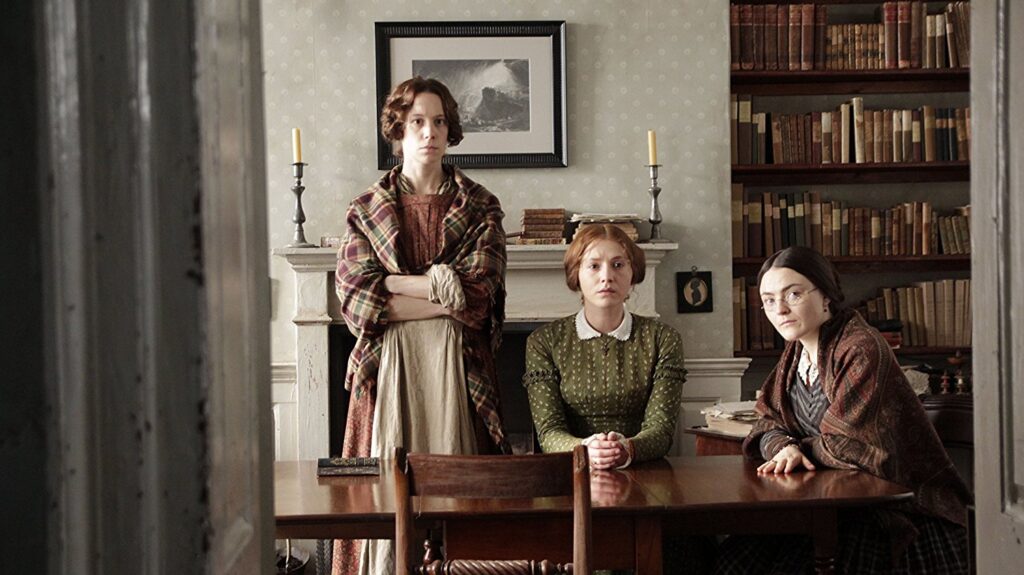 To Walk Invisible is a movie about the strength of women in a male-dominated world. It follows the lives of the Bronte sisters. In the movie, we watch as the Bronte sisters persevere to publish their novels.
It's listed as two episodes even though it's two hours long. This is because it aired on PBS Masterpiece as two parts, but it is a movie.
It stars Finn Atkins, Rebecca Callard, Charlie Murphy, Adam Nagaitis, Chloe Pirrie, and Jonathan Pryce. The screenplay was written by Sally Wainwright who worked on Happy Valley, Gentleman Jack, and Last Tango in Halifax.
Stream To Walk Invisible on Amazon Prime.
Iris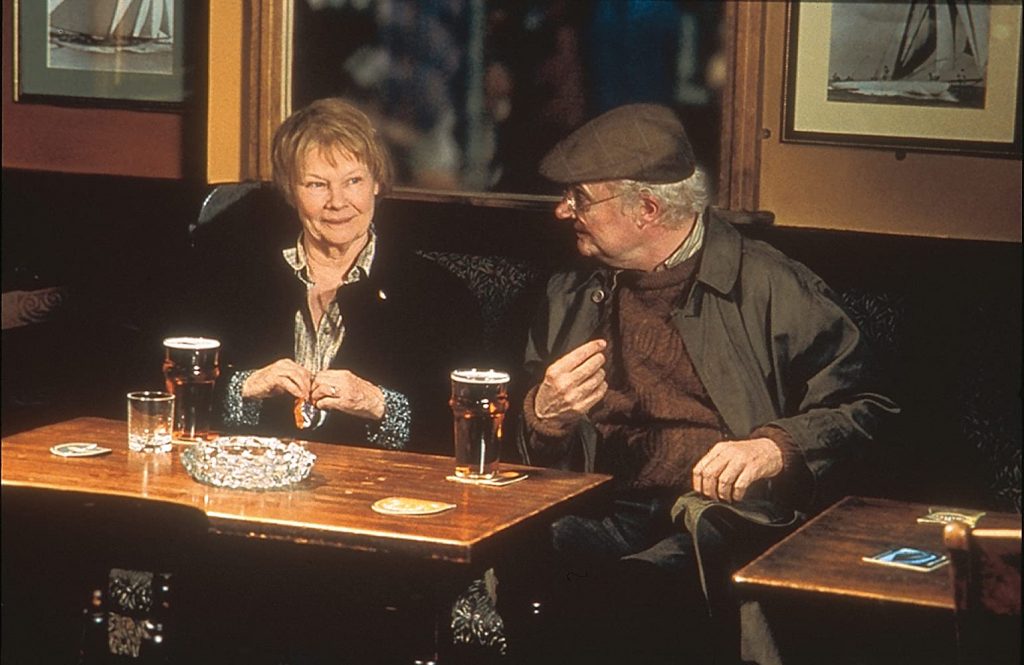 Iris follows the story of novelist Irish Murdoch and her husband John Bayley. Judi Dench and Jim Broadbent star as the couple in older age, while Kate Winslet and Hugh Bonneville play their younger versions. The film does a wonderful job contrasting the couple at the start of their relationship and later in life, when Iris is suffering from Alzheimer's disease.
It was nominated for three Academy Awards, for which Jim Broadbent won one for Best Performance by an Actor in a Supporting Role. It was also nominated for six BAFTAs and Judi Dench won one for Best Performance by an Actress in a Leading Role.
Iris is available to rent or purchase on Amazon.
Royalty
Elizabeth (1998)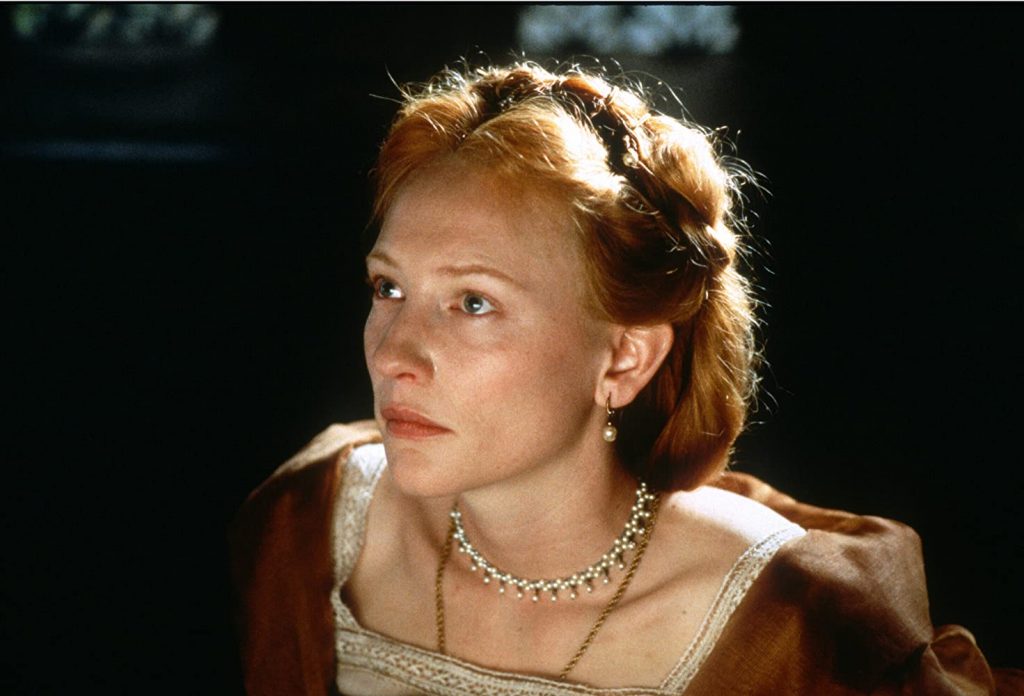 This version of Queen Elizabeth I's story covers her early years. It stars Cate Blanchett as Elizabeth.
It also stars James Frain, Christopher Eccleston, Kathy Burke, Emily Mortimer, Joseph Finnes, Kelly Macdonald, Richard Attenborough, Geoffery Rush, Daniel Craig, and even little Alfie Allen.
The 2007 sequel, Elizabeth: The Golden Age is also streaming on Starz.
The Queen (2006)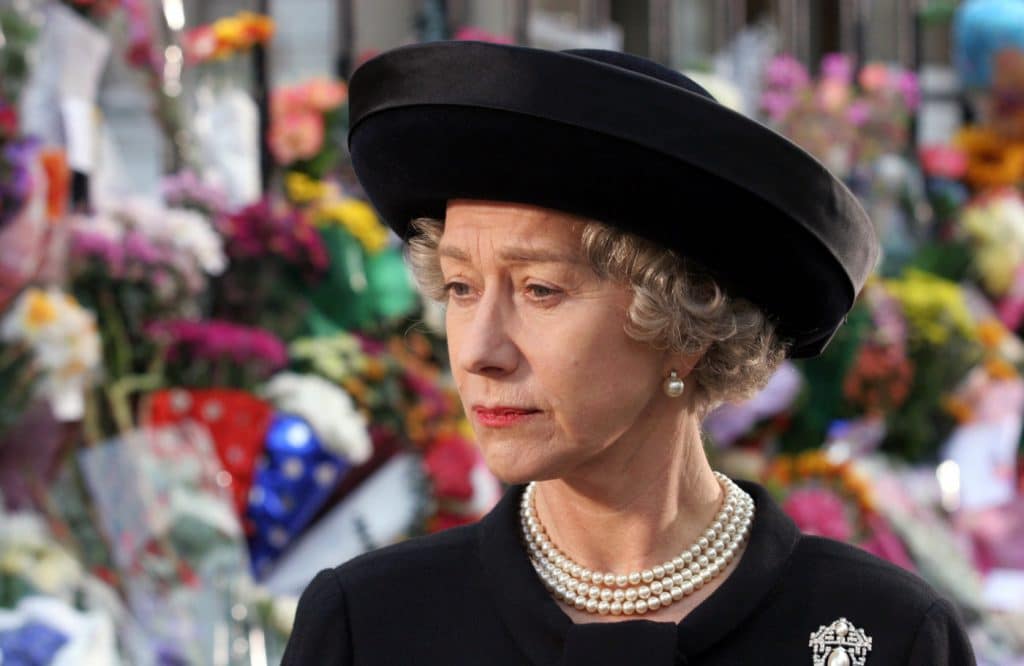 The Queen stars Helen Mirren as Queen Elizabeth II. It follows the events after the death of Princess Diana when Her Royal Majesty and Tony Blair seek to give Diana a memorial beyond tradition.
The Queen also stars James Cromwell, Michael Sheen, Alex Jennings, Helen McCrory, and Roger Allam.
You can stream The Queen on Netflix or own/rent it on Amazon.
The Young Victoria
The Young Victoria, as you've guessed, is about the formative years of Queen Victoria. While people scheme around her, Victoria struggles to find her place as queen.
It stars Emily Blunt, Rupert Friend, Paul Bettany, Miranda Richardson, Jim Broadbent, and Mark Strong.
You can own or rent The Young Victoria on Amazon.
Victoria & Abdul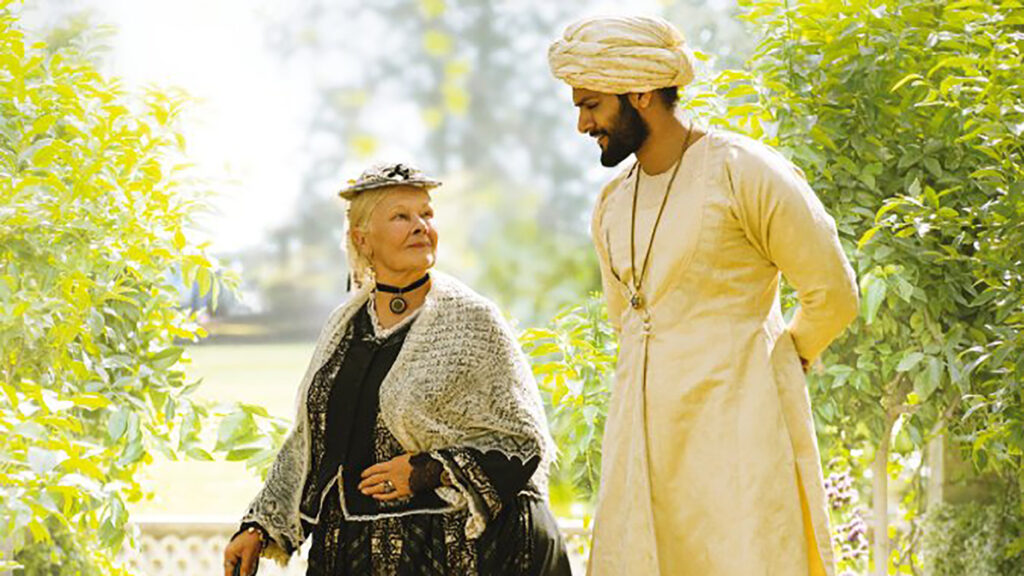 Skipping ahead to Queen Victoria's later life, we see Dame Judi Dench star as Queen Victoria in a surprising friendship with a young clerk named Abdul who becomes her close friend and acts as a source of spiritualism and guidance.
Victoria & Abdul also stars Ali Fazal as Abdul along with Tim Pigott-Smith, Michael Gambon, Eddie Izzard, Olivia Williams, and Paul Higgins.
You can own or rent Victoria & Abdul on Amazon.
The King's Speech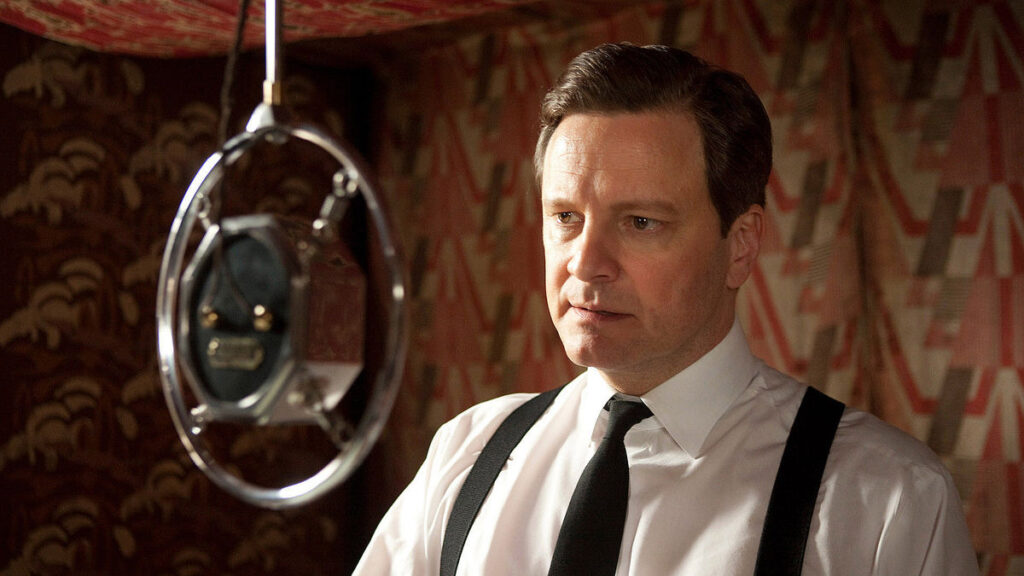 The King's Speech stars Colin Firth as King George VI and Geoffery Rush as Lionel Logue, his unconventional speech therapist. The film won four Oscars, including Best Picture and Best Actor.
It also stars Helena Bonham Carter, Derek Jacobi, Michael Gambon, Jennifer Ehle, and Timothy Spall.
You can rent or own The King's Speech on Amazon.
British Biopics About Criminals
Bronson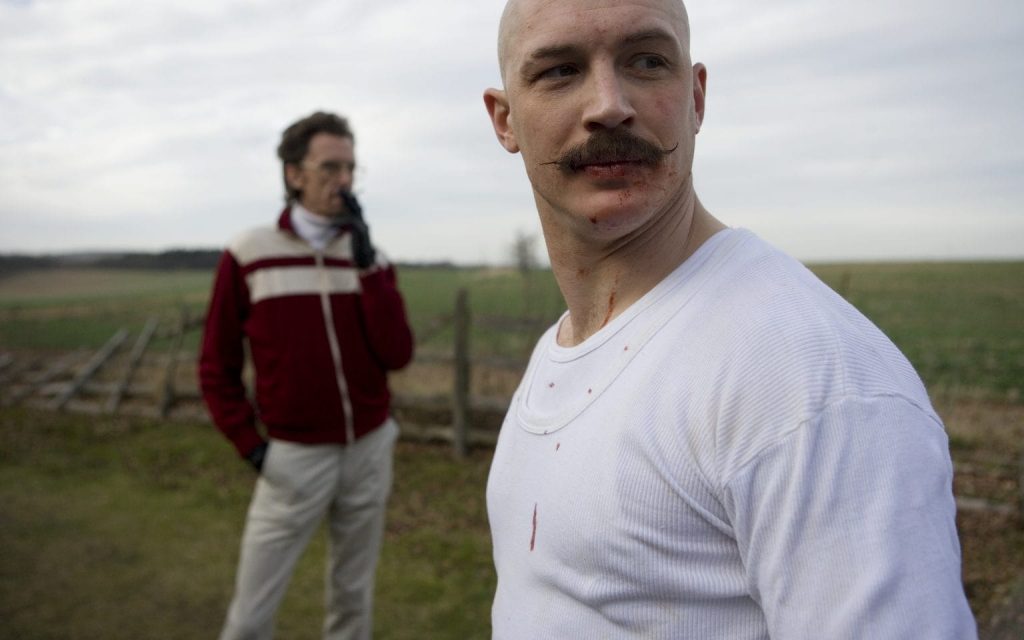 Tom Hardy stars as Michael Peterson, also known as Charles Bronson, who was considered Britain's most violent prisoner despite growing up with an average middle-class family. During his years as a bare-knuckle fighter, his fight promoter called him Charles Bronson. Bronson suffered through thirty years of solitary confinement, contributing to poor mental health. This film covers his stints in multiple prisons and mental facilities. If you like films that make you think about life and philosophy, this is one of them.
It is a wonderfully bizarre and artsy film, but also an incredibly graphic one. There is a LOT of full-frontal nudity. So if you can sit through graphic content and you enjoy raw acting talent, Tom Hardy's performance is outstanding and it's worth watching if you follow his career.
Bronson is streaming for free via The Roku Channel, Tubi, and Hoopla.
You can also own it on Amazon.
King of Thieves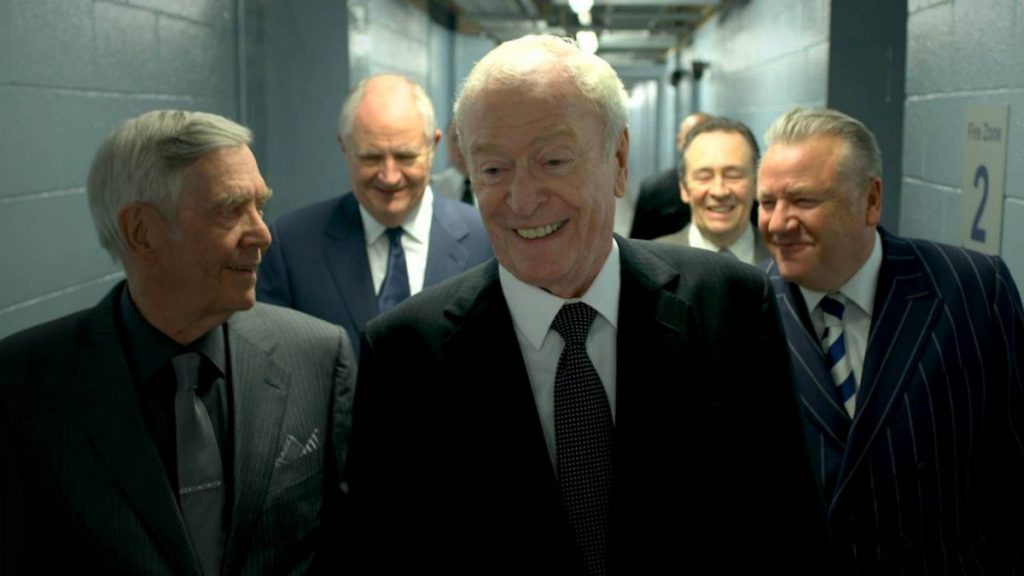 King of Thieves is the story of the Hatton Garden heist of 2014 when four elderly men stole £200 million from the Hatton Garden Safe Deposit Company in London. It was the largest burglary in British legal history.
The movie is not well rated on IMDb, but I want to explain that… Because it's super underrated and misunderstood. It's not an action-packed all-guns-blazing heist movie like some might expect. It's more quaint than that. It is British, after all.
Instead, it's a movie about four elderly men squabbling about pulling off a robbery. It is also full of dry British humor. I truly think the majority of people who like crime shows and British movies are a good fit to enjoy this film, rather than people who might expect this film to be in league with Ocean's 11.
It shouldn't be compared to high-octane heist movies because that's not what it is. It's slower in the same way the characters (and actors) are slowing down. It's much more about trying to make ends meet in retirement.
King of Thieves stars Michael Caine, Tom Courtenay, Michael Gambon, Charlie Cox, Jim Broadbent, Paul Whitehouse, and Ray Winstone.
Stream King of Theives on Amazon.
Legend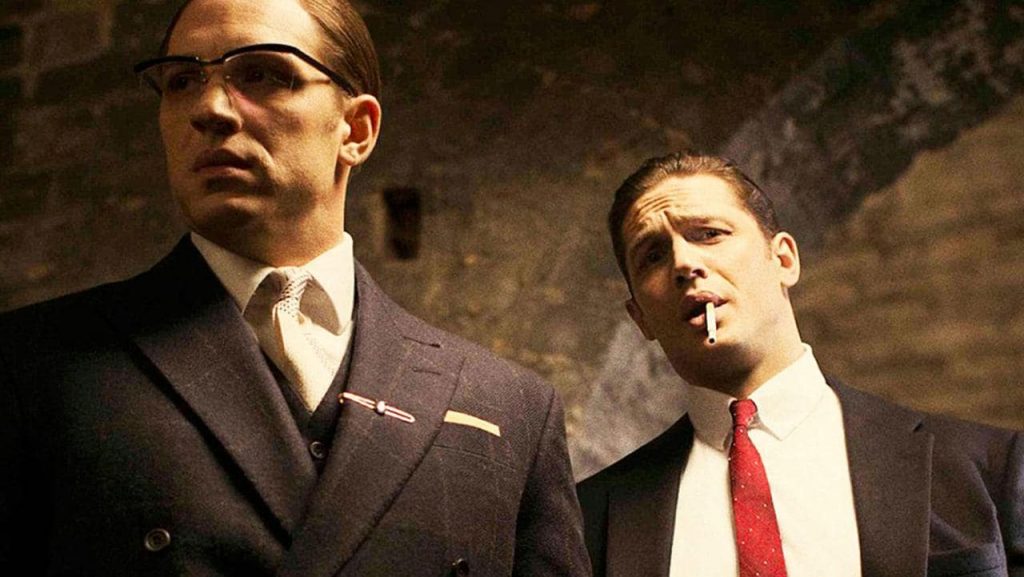 Tom Hardy pops up again as both of the Kray twins in Legend. The Kray Brothers were heavily involved in organized crime during the 50s and 60s. They were notoriously cruel and were involved in no less than: murder, armed robbery, arson, protection rackets, and assaults.
Legend also stars Emily Browning, Colin Morgan, Taron Egerton, David Thewlis, and Christopher Eccleston.
Legend is streaming on Netflix or available to rent/own on Amazon.
Mr. Nice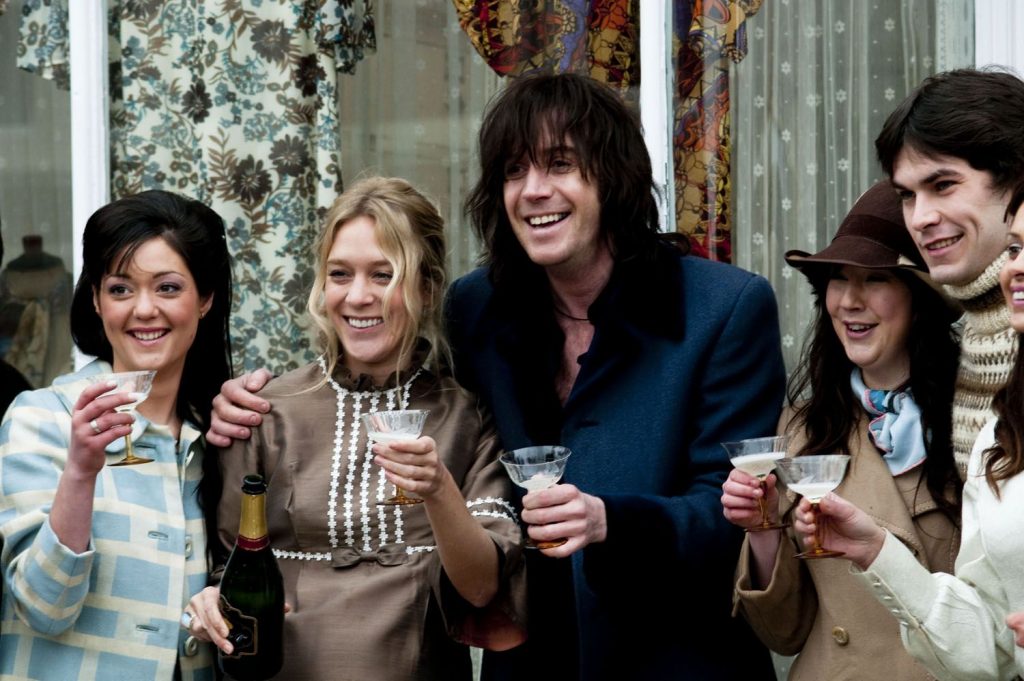 Mr. Nice is about Welsh drug smuggler Howard Marks, A.K.A. Mr. Nice. At one point, he controlled ten percent of the global trade in hashish. This movie shows his life from an early age, through his rise, and to his downfall. It's funny and unbelievable to see how he smuggled so many illegal substances.
Rhys Ifans stars along with Chloë Sevigny, Crispin Glover, and David Thewlis.
Mr. Nice is streaming on Amazon Prime.
Veronica Guerin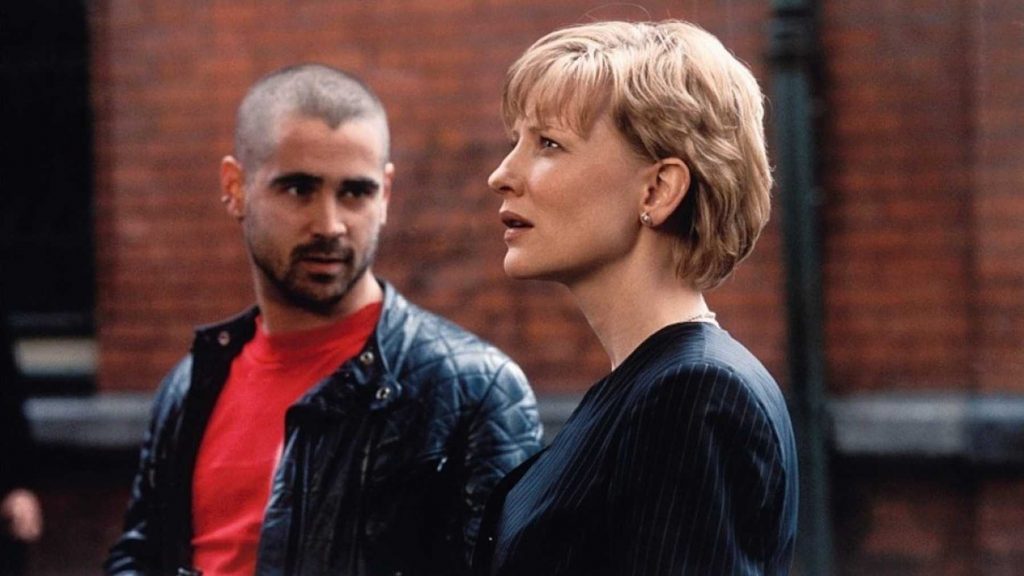 Veronica Guerin is a journalist and this film chronicles her work to expose the leaders of Dublin's criminal underworld.
Along with Cate Blanchett, this film stars Gerard McSorley, Ciarán Hinds, Brenda Fricker, Amy Shiels and even Colin Farrell has a small role.
You can rent or own Veronica Guerin on Amaon.
What are Your Favourite British Biopics?
Or, just for fun: What person do you wish had a biopic?
Let us know in our Facebook group and be sure to follow our Facebook page for updates and fun conversations.
Save it to Pinterest!