Castle Howard and Where to See It
In some cases, we earn commissions from affiliate links in our posts.
Last Updated on February 13, 2019 by Stefanie Hutson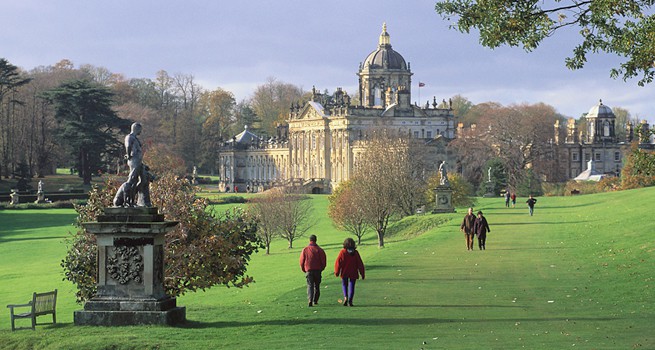 The United Kingdom is full of lovely old estates and castles, but few are quite so grand as Castle Howard, located in the North Yorkshire countryside. Construction of this incredible home began in 1699 and took over 100 years to complete – the lifespan of three separate earls. Since then, its been modified, enlarged, and even partially destroyed by fire. Still, the castle survives. Although I could go on about the history, this video does a much better job than I could hope to do.

If you find yourself in Yorkshire, you can visit Castle Howard 364 days out of the year (every day but Christmas). At present, a public tour of the house and gardens will set you back £17.50, but you'll need to book it in advance. Private tours can also be arranged. The castle is about 15 minutes from York, and you can get there by private car, taxi, or public transport. Complete visitor information (and quite a lot of lovely images) are available on their website here.
Castle Howard as a Filming Location
As you might expect, a building of such great beauty and grandeur has been a popular filming location for both movies and television series. It has provided a setting for everything from the classic Brideshead Revisited to the slightly less distinguished Garfield 2: A Tale of Two Kitties. If you'd like to see more of Castle Howard, check out our compilation of shows that have been filmed there.
Bill Bryson: Notes from a Small Island – Quite a lot of people are familiar with Bill Bryson's outstanding books on Great Britain, but fewer are familiar with the 6-part TV series based on those books. Although it's long been out of print, you can get a DVD copy here. If you're more interested in checking out Bryson's books, check out Notes from a Small Island and The Road to Little Dribbling: Adventures of an American in Britain. They're practically required reading for any anglophile.
Death Comes to Pemberley – This 2013 TV miniseries is an adaptation of Jane Austen's Pride and Prejudice. After six years of marriage, Elizabeth and Darcy are preparing for an annual ball when things suddenly go very wrong. This is a particularly good show to watch if you're planning a trip to York, as it includes footage at York Minster, York Castle Museum, the York County Courthouse, and St. William's College as well. You can enjoy this series in a variety of formats: DVD, Streaming, and Novel.
Time Team – It seems like all the great historic sites in the UK have a Time Team episode, and Castle Howard is no exception. Although it's a bit hard to find, Series 10, Episode 11 features Castle Howard and the search for the lost village of Henderskelf. This episode doesn't appear to be available through conventional streaming channels, as both Amazon and Acorn use an altered list of episodes and series. However, if you'd really like to see this one, the DVD is available here.
The Buccaneers – In this TV miniseries, 4 American girls go to England to find husbands. Released in 1995, this represents one of actress Mira Sorvino's earliest roles. You can get this series on DVD.
Brideshead Revisited – In the years between the two world wars, an aristocratic English family struggles to deal with family problems and a crumbling estate. This classic has been both a 2008 movie and a 1981 TV series, and their popularity means you can view them in a variety of ways. TV Series: Streaming, DVD. Movie: Streaming, DVD, DVD 3-pack British Romance Collection. You can also purchase the Evelyn Waugh Novel.
Victoria – The new ITV series about the early life of Queen Victoria features Castle Howard quite prominently in the first episode. You can read more about the home's appearance on their website, or you can buy the DVD series and watch it yourself. You can also watching it streaming here.
A Final Note
Please note that some of the DVDs mentioned above will not play in a standard American DVD player. That's not uncommon when seeking out less popular British DVDs, but it's easily remedied. We explain how you can get around that in our Region-Free DVD Players Guide.