British Television Filming Location Spotlight: Canterbury, England
In some cases, we earn commissions from affiliate links in our posts.
Last Updated on February 13, 2019 by Stefanie Hutson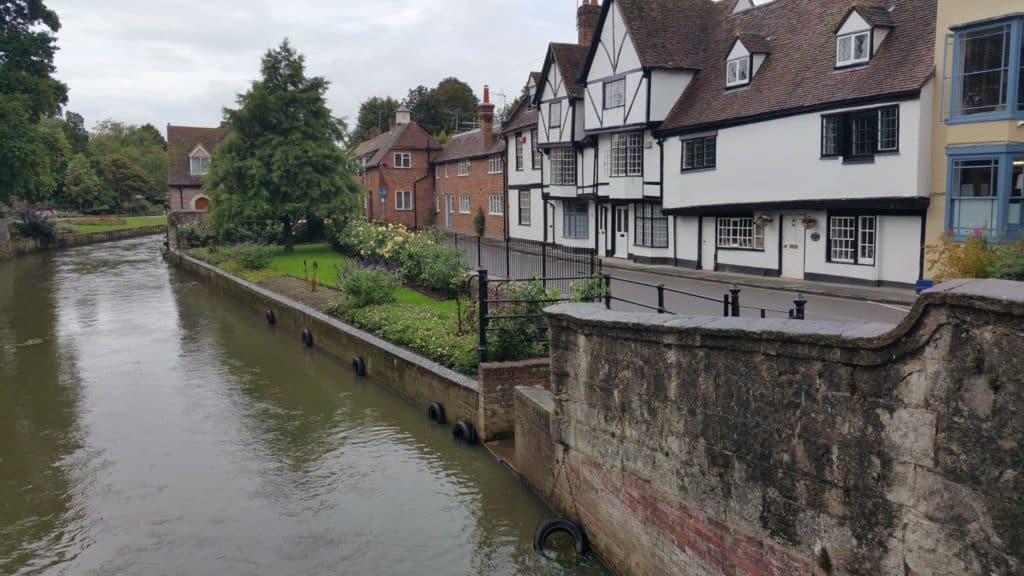 Canterbury is a lovely historic town of about 40,000, located in the county of Kent in Southeastern England. Nearly all of us are familiar with the Canterbury Tales, but many may be far less familiar with just what a beautiful city it is. I visited on a recent trip to England, and I was blown away by its scenery and general peacefulness.
Getting to Canterbury is easy, as it's just a little more than an hour away from London by train. Taxis are easy to come by, and our lack of a car was no trouble at all. In fact, it was probably a good thing considering our hotel (ABode Canterbury) was located along the High Street and vehicle access was a bit limited.
While in Canterbury, we wandered about the town for hours, enjoying both the scenery and the people. The town was much livelier than any similarly-sized US city I've encountered, and in the daylight hours, the streets were filled with people and the sounds of music from talented buskers. A wide variety of shops and restaurants offered plenty of opportunities for browsing and dining in between planned activities.
We ventured out into the surrounding countryside for a visit to Howletts Wild Animal Park, which was unexpectedly delightful. Instead of the usual cold zoo enclosures, it was all kept very natural, and animals had an enormous amount of room to move around and live in a very natural setting. This pile of capybaras seemed quite content to nap in the sun.
Although we weren't in town on a Friday or Saturday night for the normal tour times, we found that the owner of Canterbury Ghost Tours was happy to offer a private tour for a small additional cost. Owner and guide John Hippisley was both incredibly knowledgeable and highly enthusiastic. Although normal history walks can at times be a bit dry, his ghost tour offered a lot of interesting insight into Canterbury's history, and from a much more interesting perspective. We can all be grateful to live in a time of indoor plumbing, when human waste isn't tossed out the window into the streets.
What's Been Filmed in Canterbury?
Unlike, say, London or Cardiff, there isn't a lot of filming in Canterbury. Much of what is filmed there is history-related, for fairly obvious reasons. However, there are some exceptions.
The Tunnel – Though it's set in Folkestone and Calais, Series 1 of The Tunnel lists Canterbury as a filming location in every episode – along with a number of other locations in Kent. Produced from 2013 to present, The Tunnel is a drama/mystery in which British and French police are forced to work together to stop a serial killer who has left a politician dead on the border between the two countries. You can get series 1 at Amazon (streaming, DVD).
Britain's Bloodiest Dynasty – Episode 1.1 was filmed partially in Canterbury. The series explores the Plantagenet rule of England, beginning with Henry II. You can get a sense of the program from the trailer below, and the entire series is available on Acorn, Acorn via Amazon streaming, or on DVD. It's very much like a real-life Game of Thrones.
Time Team – Several episodes have been filmed in Canterbury, but sadly, Acorn's offerings of Time Team are not complete. Rather, they offer a curated selection of the "best" episodes, and that does not include the Canterbury ones. In case you're not familiar with Time Team, it's a show where archaeologists spend time at various sites around Britain (and some surrounding locations) in hopes of finding historical artifacts. 20 seasons have been filmed, and 10 series of assorted episodes are available on Acorn and Acorn via Amazon. A smattering of DVD offerings are available on eBay, but be careful to note that Time Team and Time Team: Favorite Digs are two different things, and if you want the Canterbury episodes you would need Series 8, 9, or 13 of the regular Time Team series (each contains an episode featuring Canterbury). At present, they are also available on Youtube: Series 8, Episode 11, The Big Dig in Canterbury, and Big Dig: The Hole Story.
Derek Acorah's Ghost Towns – Given its history, it's no surprise that Canterbury would get its own episode on this paranormal investigation show. To see Canterbury in all its haunted glory, check out Series 2, Episode 3 on Amazon streaming or DVD.
Last Orders – Though it's actually a movie instead of a TV show, I couldn't help but include this one because it includes a scene at Canterbury Cathedral. In the film, several men attempt to honor their late friend's wishes to take his ashes from London to Margate. If that interests you, you can read about how the difficulties in filming there, according to author Graham Swift, or you can pick up a 6-movie DVD set that includes Last Orders and a number of other British films.