What is the 2019 British TV Year in Review Magazine?
In some cases, we earn commissions from affiliate links in our posts.
Last Updated on October 27, 2019 by Stefanie Hutson
Not too long ago, we announced that the 2019 British TV Year in Review magazine was open to pre-orders. Since then, we've seen great demand, along with a number of questions. As we make the final adjustments and additions before sending it off to the printer, we wanted to talk a little more about what the magazine is, what it's not, and why it's a limited edition.
And of course – if you want to place a pre-order to reserve your copy, you can do so HERE. Shipping within the United States starts at a bit over $3.
What is the 2019 British TV Year in Review Magazine?
The 2019 British TV Year in Review magazine has a few purposes. We've designed it to:
Celebrate the new shows of 2019
Say farewell to the notable people of British TV who passed away in 2019
Take a look at the British TV shows that ended in 2019
Offer a look ahead at the new British TV shows coming in 2020
Feature interviews and quotes from actors involved in British TV shows for 2019-20
Offer a look at some of the Christmas specials coming in 2019
NO ADVERTISEMENTS
It's a full-colour magazine, and while we're still adding some last minute news from a few production companies/streaming services, we're estimating it to be between 64-72 pages, possibly a little longer. By avoiding ads, we can make it a densely-packed edition rather than 300 pages of fluff in between a handful of articles.
We're offering both a traditional magazine format and a collectible hardcover edition for those who prefer a more durable keepsake and reference.
What's in the 2019 British TV Year & Review?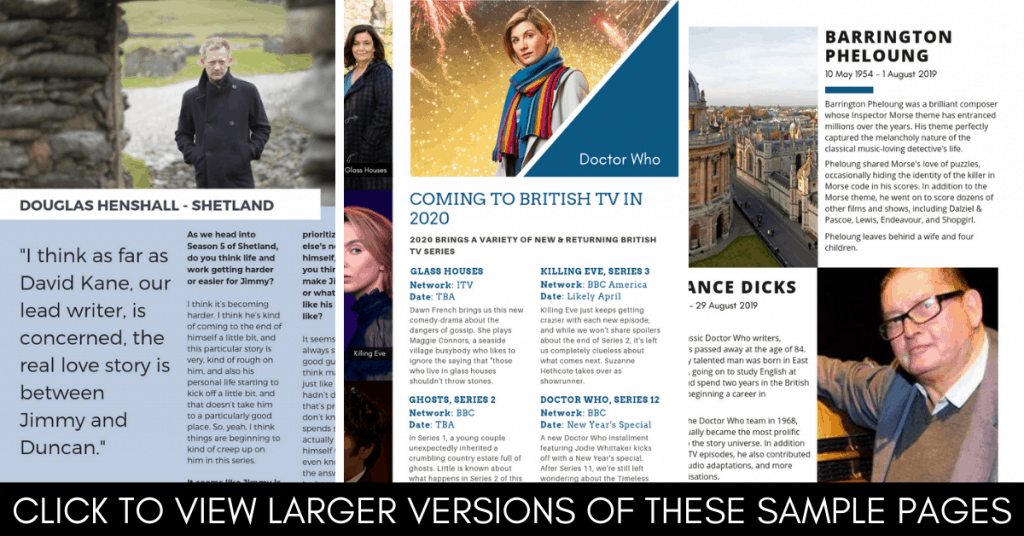 Now that we're a lot further along in the project (just finalizing some layouts and adding in last minute additions on 2020 shows), we can share a little more about what's in the guide. It's not comprehensive, but it should give you a better idea of the contents:
A special feature on the new Downton Abbey movie (and what it means for the future at the box office)
Interviews with Douglas Henshall, Martin Clunes, Lesley Manville, and at least one more we're awaiting confirmation on
A special look at No Offence as it ends much too soon
A look at Morse's Oxford as we close in on the final seasons of Endeavour
A closer look at Deadwater Fell, War of the Worlds, a new Victorian-era period mystery, and several other upcoming releases
A look ahead at the upcoming Agatha Raisin movie-length episode premieres
A feature on the upcoming Gavin & Stacey Christmas special
Dozens of new 2020 programs
Loads more – we can't give away EVERYTHING before it comes out 🙂
Where Can I Get the 2019 British TV Year in Review?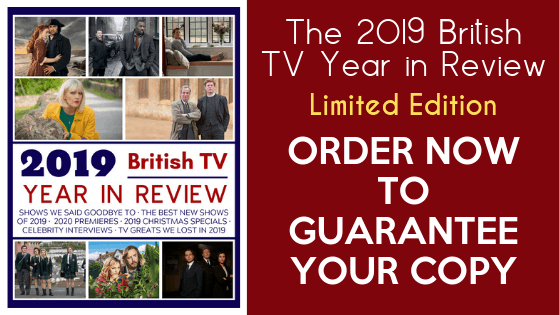 The 2019 British TV Year in Review is only available HERE, though we're happy to chat with any interested retailers, particularly in Canada and the UK.
Because the information in the magazine is timely, we don't anticipate a second printing. Our final order size will be based on pre-orders received by the time of print (in early November). We'll definitely be ordering some extras for those who haven't pre-ordered, but we have no idea what the demand will be like so we can't guarantee whether you'll be able to get one if you don't pre-order.
Last year, we had a tough time getting and keeping copies of The British TV Field Guide in stock around the holidays, and quite a few people had to wait for second, third, and fourth reprintings. If you really want a copy of the 2019 British TV Year in Review magazine, whether for yourself or for a gift, I would strongly recommend putting in your pre-order. We hate to see anyone disappointed – but at the same time, we can't take the risk of ordering an extra 3000 copies and spending the next 2 years sandwiched in between all the extras.
If you have any questions, please feel free to reach out to us at stefanie@iheartbritishtv.com.
Finally, we want to extend a big thanks to everyone who has placed a pre-order. We appreciate your contribution to the site and community, and we hope you enjoy your magazine when they ship in late November.