British Comedies: TV Shows
When you start talking about funny groups of people, Brits nearly always come up near the top of the list. They've been producing great comedy since at least the days of Chaucer's Canterbury Tales.
Like Chaucer, British comedy often achieves a brilliant mixture of the lofty and the bawdy. Shows like Gavin & Stacey, Miranda, and As Time Goes By manage to masterfully weave together the naughty and the thoughtful, the ridiculous and the high-brow. Others, like The IT Crowd or The Good Life are so good at picking up on little aspects of real life that they can make us realize things we didn't quite know we knew.
Above all, British humour is known for its quirkiness. Just watch Monty Python, Fawlty Towers, Are You Being Served, The Mighty Boosh, or The Young Ones and you'll see what I mean.
Of course, if you've managed to find your way here, you probably know most of this already. Rather than chat your ear off, let's move on to the list. We've divided it up into 8 sections alphabetically. If that's too overwhelming, scroll down for our highlights.
Navigate the List of British Comedies
A-B-C | D-E-F | G-H-I | J-K-L | M-N-O | P-Q-R | S-T-U | V-W-X-Y-Z
The Best British Comedies: Some Highlights
We realize the pages above can be pretty overwhelming if you're new to British TV. To help you cut through the enormous number of options, we've included some of our all-time favorite British comedies below. While the list is primarily composed of post-2000 shows, we've also included some timeless classics.
Modern British Comedies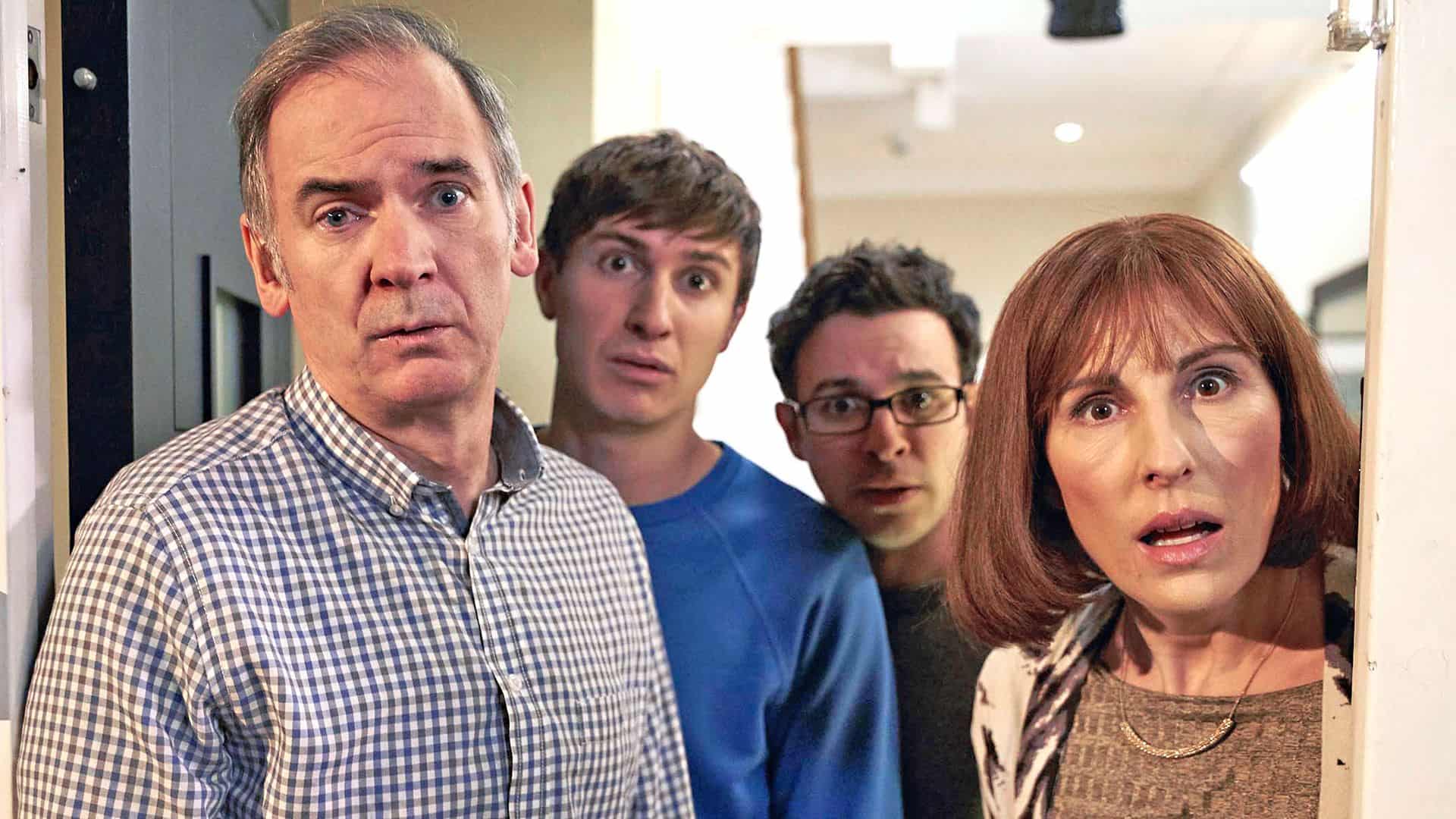 Friday Night Dinner – 2001 to present – The Goodman family can never seem to have a calm and uneventful Friday night dinner, especially with eccentric neighbor Jim around. Series 1 | Series 2 | Series 3 | Series 4 DVD | Hulu
Gavin & Stacey – 2007 to 2010 – After meeting on the internet, Welsh Stacey and Essex-based Gavin decide to meet up in London. What follows is a story of young love and quirky loved ones. Complete Series DVD | S1-3 Streaming
Trollied – 2011 to present – In an ordinary Warrington grocery store, the wildest of things can happen. Series 1 DVD | Series 2 DVD | Series 3 DVD | Series 1-3 DVD | Series 4 DVD| Series 5 DVD | Series 6 DVD | Series 7 DVD | Series 8 DVD
The Office – 2001 to 2003 – Ricky Gervais and Stephen Merchant created this groundbreaking comedy series in which a documentary crew follows the staff in the fictitious Wernham Hogg Paper Company. Also starts Mackenzie Crook of Detectorists fame. Netflix: Series 1 & 2
Peep Show – 2003 to 2015 – Two dysfunctional friends, one awkward but responsible, the other social but irresponsible, share a flat in Croydon, London. Series 1 DVD | Series 1-9 DVD | Series 9 DVD| S1-8 Streaming
The IT Crowd – 2006 to 2013 – Deep in the bowels of a large and faceless corporation's shiny London headquarters lurks…the IT Crowd. Complete Series DVD | S1-5 Streaming | Netflix Streaming
Coupling – 2000 to 2004 – Six attractive young friends explore life and love in London. Series 1 DVD | Complete Series DVD | Complete Series Streaming
Upstart Crow – 2016 to present – This quirky comedy gives us an unusual glimpse into the imagined life of a young and ambitious Shakespeare as he balances the challenges of work and family. S 1-3 Streaming
Miranda – Awkward, socially-inept Miranda does her best to get through life with a good sense of fun and humour. Her extremely middle-class mother frequently complicates matters. Series 1-3 + Finale DVD
Black Books – 2000 to 2004 – Bernard Black is a grumpy bookshop owner who spends most of his time with his stressed-out accountant Manny and his best friend Fran, owner of the gift shop next door. Series 1 DVD | Complete Series DVD | Complete Series Streaming
Doc Martin – 2004 to present – This one isn't a traditional comedy, but it has plenty of gentle comedic strands flowing through it. After developing a sudden fear of blood, the intensely awkward Doc Martin leaves surgery and becomes a doctor in a small Cornish fishing village. Seasons 1-6 + Movies |Season 7 DVD | S1-8 Streaming
Rev – 2010 to 2014 – Tom Hollander and Olivia Colman star in this comedy about a vicar and his wife in a run-down parish in modern-day London. S1-3 Streaming | Complete Series DVD
Green Wing – 2004 to 2007 – In this hilariously strange hospital-based show, nothing terribly medical ever seems to happen. S1-2Streaming | Complete Series DVD
Detectorists – 2014 to present – Toby Jones and Mackenzie Crooks star as two eccentric but strangely lovable metal detectorists in search of treasure and good fun in rural Essex. Series 1 DVD | Series 2 DVD | Series 3 DVD | S1-3 Streaming
British Comedy Classics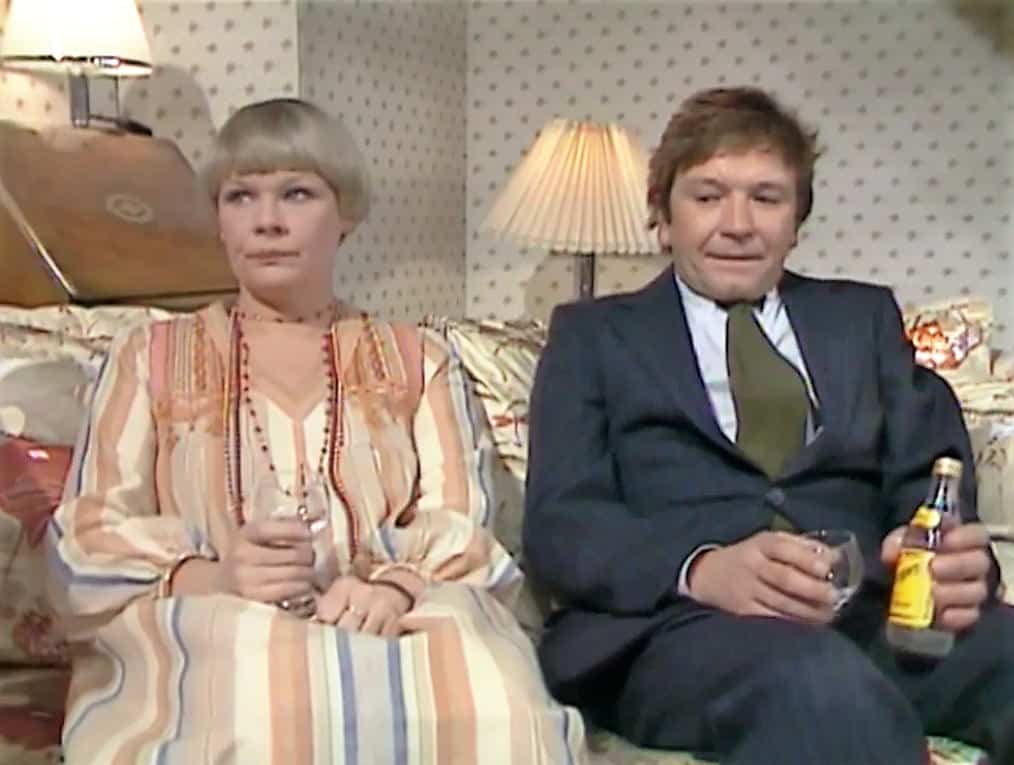 A Fine Romance – 1981 to 1984 – Dame Judi Dench and her late husband Michael Williams star in this gentle 80s comedy about two awkward middle-aged people as they progress through the various stages of love. Complete Series DVD | Complete Series Streaming
As Time Goes By – 1992 to 2005 – After a postal mishap sends two young lovers on separate life paths, they're reunited decades later by a chance encounter. Awkwardness abounds. Complete Series on DVD | Reunion Specials DVD
'Allo 'Allo – 1982 to 1992 – This WW2 comedy follows Rene Artois, owner of a small-town cafe in German-occupied France. Series 1 DVD | Complete Series DVD
BlackAdder – 1982 to 2001 – In the Middle Ages, Prince Edmund the Black Adder spends his days trying to figure out how to seize the crown from his father and brother. BlackAdder Complete Collector's Set | S1-4 Streaming
Chance in a Million – 1984 to 1986 – The story of Tom Chance, a man plagued by unlucky coincidences, and his love Alison (played by a young Brenda Blethyn). Complete Series DVD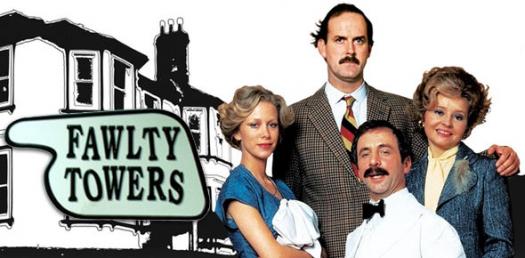 Fawlty Towers – 1975 to 1979 – Classic comedy featuring John Cleese as Basil Fawlty, an incompetent and forever-troubled hotel owner. Complete Series DVD | Complete Series Streaming
To the Manor Born – 1979 to 2007 – The wonderful Penelope Keith stars as widow Audrey fforbes-Hamilton who is down but not out when she's forced out of her home after her husband's death. Complete Series DVD
Father Ted – 1995 to 1998 – Three unusual priests live and work together in a zany Irish island community. Complete Series DVD | Complete Series Streaming | The Complete Scripts | The Craggy Island Parish Magazines
Only Fools and Horses – 1981 to 2003 – Two brothers wheel and deal their way through life, always looking for the big score that will leave them set for life. Complete Series DVD | Series 1-3 DVD | Series 4-5 DVD | Series 6 DVD | Series 7 DVD | Specials DVD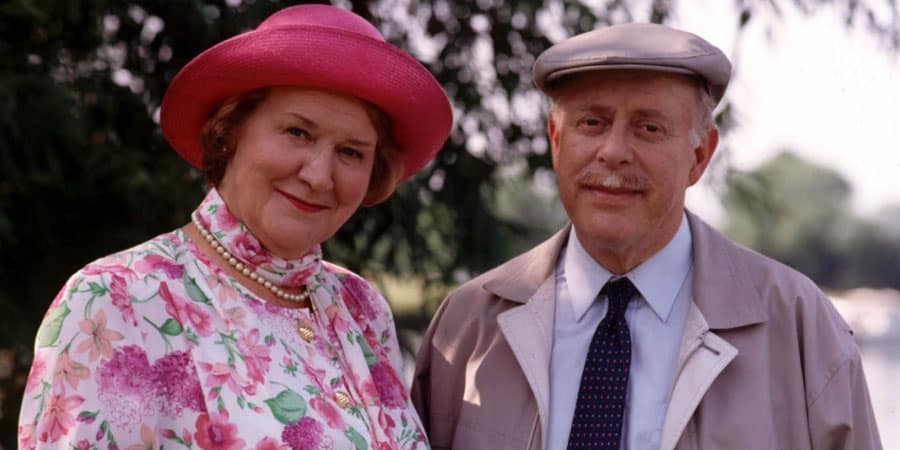 Keeping Up Appearances – 1990 to 1995 – Poor Hyacinth Bucket just can't come to terms with the fact that she wasn't born to the landed gentry. The lack of class in those around her proves a constant source of hilarious friction. Series 1 & 2 DVD | Complete Series DVD | Hyacinth Bucket's Book of Etiquette
Are You Being Served? – 1972 to 1985 – Mischief and innuendo abound in this retro department store comedy. Complete Series DVD | Are You Being Served?: The Movie Streaming
Red Dwarf – 1988 to present – The adventures of the last human alive and his unusual feline companion, set in the future on a spaceship called the Red Dwarf. Complete Collection DVD (2006) | Series XI DVD | S1-10 Streaming
Good Neighbors (aka The Good Life) – 1975 to 1978 – Richard Briers (of Monarch of the Glen) and Penelope Keith (of the Hidden Villages travel series) star in this delightful comedy about suburban self-sufficiency and the things most people take for granted. Series 1-3 DVD | Series 4 DVD | Assorted Series DVDs on eBay | Streaming on Amazon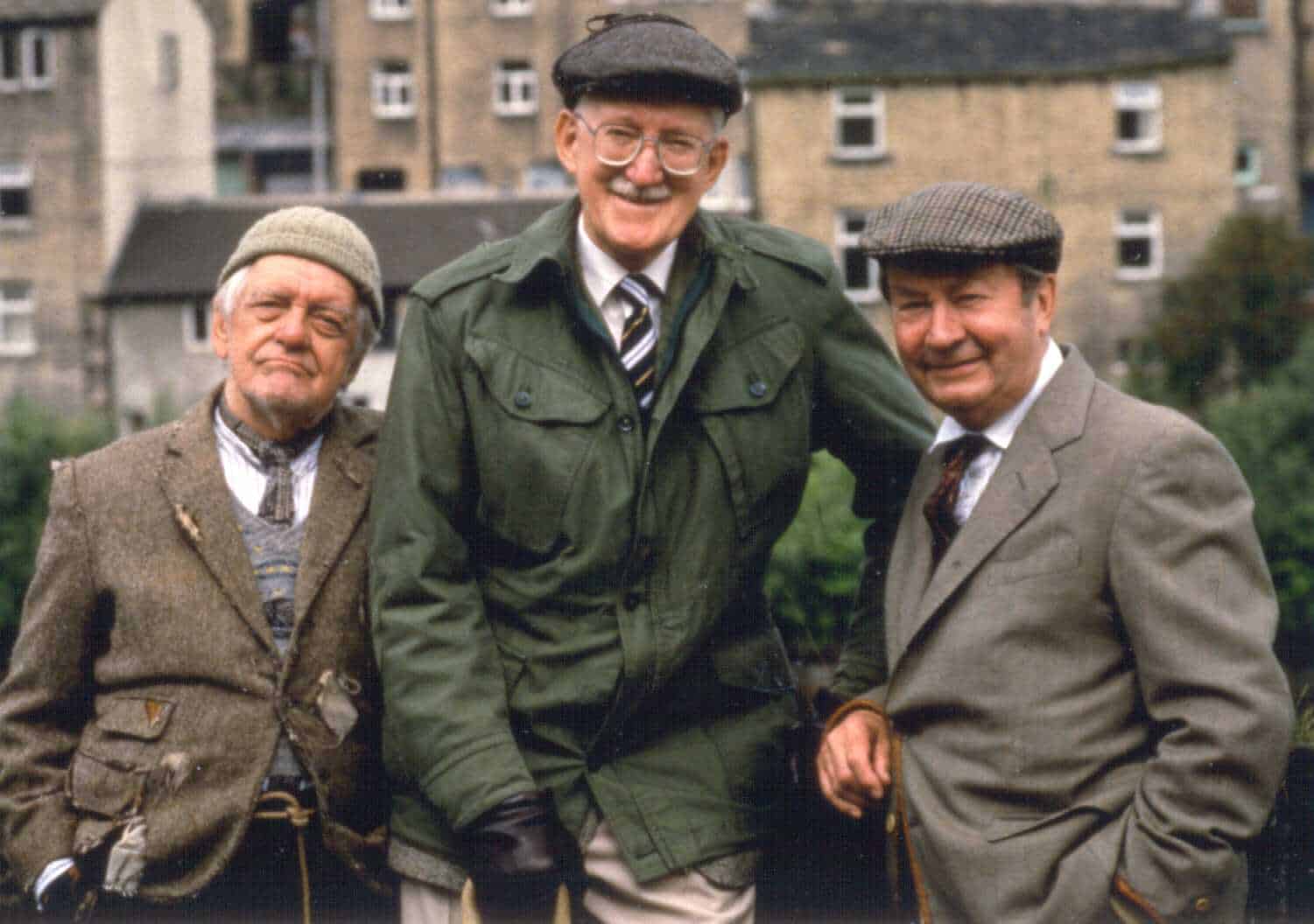 Last of the Summer Wine – 1973 to 2010 – Elderly Yorkshire residents refuse to grow old quietly or gracefully. As a result, they live out a sort of second childhood. Series 1 & 2 DVD | Series 3 & 4 DVD | Series 5 & 6 DVD | Series 7 & 8 DVD | Series 9 & 10 | Series 11 & 12 | Series 13 & 14 | Series 15 & 16 | Series 17 & 18 | Series 19 & 20 | Series 21 & 22 | Series 23 & 24 | Series 25 & 26 | Series 27 & 28 | Series 29 & 30 | Series 31 & 32
The Young Ones – 1982 to 1984 – It's difficult to describe this series, but it involves a group of young students at Scumbag College, along with the occasional presence of their sketchy landlord Jerzy. Complete Series DVD | Complete Series Streaming
Benny Hill Show – 1969 to 1989 – Benny Hill stars in the classic British sketch comedy. Best of DVD | Complete Series DVD | S1-5 Streaming
Need More Ideas? View Our Complete List of British Comedies
A-B-C | D-E-F | G-H-I | J-K-L | M-N-O | P-Q-R | S-T-U | V-W-X-Y-Z