British Invasion: Instinct, with Alan Cumming
In some cases, we earn commissions from affiliate links in our posts.
Last Updated on July 14, 2019 by Stefanie Hutson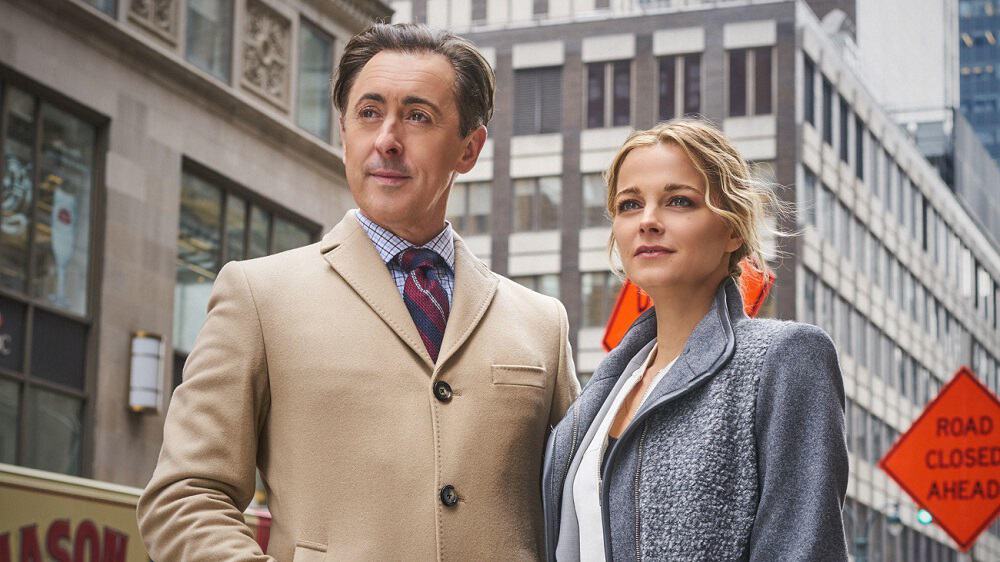 While the primary topic of discussion around here is British television, a lot of British actors do find their way onto American television screens. Many times, I've come to know and appreciate an actor through British TV or movies, only to later spot them on American shows that I enjoyed more for their presence in them. That's definitely the case with Alan Cumming in Instinct.
2019 Update: In spite of last year's controversy with Instinct (read about it below), this series was renewed for a second season. It started airing in late June 2019, and you can watch Season 2 HERE.
If you haven't seen Season 1 yet and you need to catch up, I'd recommend the CBS subscription option (includes free 7-day trial for new users) instead of buying all the episodes. It's cheaper than buying all the episodes, and while this series is fun, I'm not sure it has a lot of re-watching potential unless you really enjoy Alan Cumming or mysteries set in New York City.
Who's Alan Cumming?
For those who aren't familiar with Alan Cumming, he's a highly respected Scottish actor who started his career with small roles in shows like:
Bear in mind, some of the shows above are only available on British DVDs, meaning you'll need a region-free DVD player to play them.
Cumming later hopped the pond and started showing up in American-produced movies like Romy & Michelle's High School Reunion, Eyes Wide Shut (as a desk clerk!), and Get Carter. Today, many people know him from larger roles in things like Goldeneye, The L Word, and The Good Wife. PBS fans will also recognize him as a host on Masterpiece Mystery. If you watch Inspector Lewis on Amazon, you'll see his intros before each episode.
What's Instinct?
Instinct is a new CBS police procedural about a former CIA operative (played by Cumming) who's moved on to a quieter life in academia. He lives and teaches in New York City, and he also writes books about getting inside the minds of serial killers.
When a murder based on his book gets him involved with the NYPD, he gets just enough excitement to make him hungry for more. Three episodes have aired now, and while they're a bit formulaic, they're still reasonably good. We much prefer Cumming with his native Scottish accent, but his acting is great either way.
You can watch Instinct online here.
The Controversy with Instinct
Incredibly, at just three episodes in, there's already a bit of controversy with Instinct. Some observant fans noticed Episode 3 was quite similar to an old Bones episode (Season 5, Episode 3), and The Independent put together a video outlining the similarities. Both episodes featured a murdered young person who had left an extremely religious Amish/Amish-like background. Both were piano prodigies, and the episodes contained some lines that were almost identical. You can view The Independent's take here.
Showrunner Michael Rauch issued an apology and stated the similarities were 100% unintentional. The episode has since been removed from Amazon. It will be interesting to see if anything comes out of this, and whether the rest of the season airs like normal. It seems like a very unfortunate mess for all the innocent actors and crew members whose hard work is being tarnished by this eerily similar episode.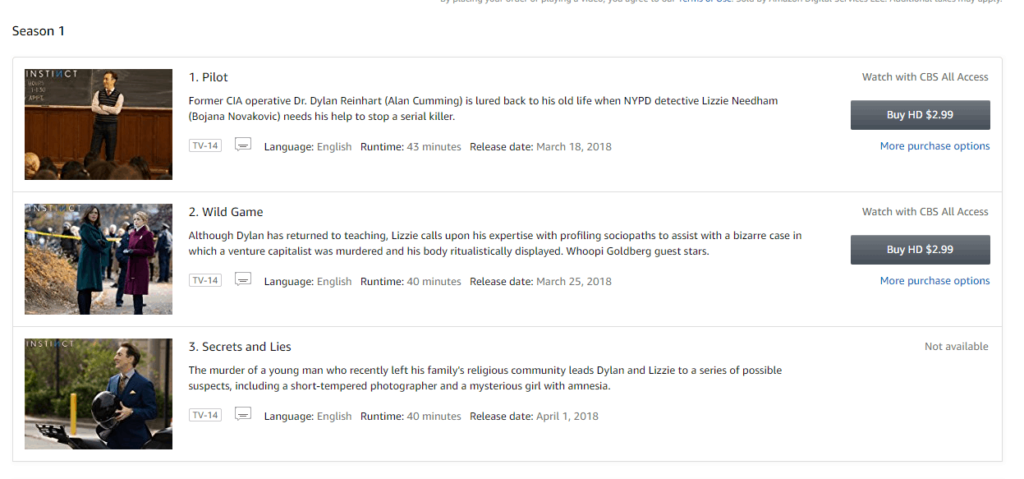 2019 Update: Episode 3 has been restored to Amazon. I'm not sure if that means they've sorted out the problems, but it's there for all to watch and compare if you're interested.
Have you Watched Instinct?
Have you watched any episodes of Instinct? Let us know what you thought! If you haven't already seen the trailer, you can watch it below.