Because Netflix, Acorn, Britbox, and Hulu change their offerings regularly, we recommend checking them before paying for DVDs or purchasing Amazon streamed episodes. Bear in mind, though, that most streaming sites do not include DVD extras (and some skip the specials).
All Acorn offerings can now be found on Amazon (and you can pay for and manage an Acorn subscription through Amazon).
A Note About DVDs: Remember that many British shows are only available on non-US DVDs. Learn more about what that means in our Region-Free DVD Viewing Guide.
Where relevant, we've also included links to books about the shows.
2010s
An Idiot Abroad – 2010 to 2013 – Ricky Gervais and Stephen Merchant send sheltered friend Karl Pilkington on a trip around the world. Series 1 DVD | Series 2 DVD | Series 3 DVD | S1-3 Streaming | Book 1 | Book 2
Bad Education – 2012 to present – In this witty high school comedy, the teacher is even more immature than the students. Series 1 DVD | Series 1-3 DVD
Badults – 2013 to 2014 – A group of friends fails terribly at being proper adults. Series 1 DVD
Big School – 2013 to present – Just as Mr. Church is about to resign his position as Deputy Head of Science, a new French instructor (played by Catherine Tate) arrives and shakes things up. Series 1 DVD | Series 2 DVD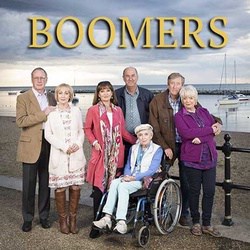 Boomers – 2014 to present – A group of friends adjusts to retirement life – freedom, spare time, funerals, and more. Series 1 DVD | S1-2 Streaming
Crashing – 2016 to present – 6 20-somethings live together as property guardians in an abandoned London hospital. Series 1 on Netflix
Dead Boss – 2012 – Helen Stephens has been falsely sent to prison for the murder of her boss, and everyone around her seems to be either incompetent or unwilling to help get her out. Not Available
Derek – 2012 to 2014 – Ricky Gervais stars as the title character, a nursing home care assistant in a warm but struggling facility. Complete Series + Special DVD
Detectorists – 2014 to present – Toby Jones and Mackenzie Crooks star as two charmingly eccentric metal detectorists in search of treasure and good fun. Series 1 DVD | Series 2 DVD | S1-2 Streaming
Fresh Meat – 2011 to present – This comedy follows 6 students as they head to university and make their way through the challenges of student life. Series 1 DVD | Series 2 DVD | Series 3 DVD | Series 1-3 DVD | Series 4 DVD
Fried – 2014 to present – This series follows the goings on in a struggling Croydon fried chicken shop. Not yet available on DVD. Trailer
Him & Her – 2010 to present – Dives into the strange relationship of a couple working class 20-somethings in love. Caution: A bit crass at times. S1-4 Streaming on Hulu
I Want My Wife Back – 2016 to present – Murray is shocked and confused when his wife leaves him on her 40th birthday, and he sets out to get her back. Series 1 DVD
Life's Too Short – 2011 to 2013 – Comedy powerhouses Ricky Gervais and Stephen Merchant star with little person Warwick Davis in this sitcom about being small. Series 1 DVD | Series 1 Streaming | 2013 Special Streaming
Plebs – 2013 to present – Three young men try to make their way in the world – in the suburbs of ancient Rome. Series 1 DVD | Series 2 DVD | Series 3 DVD | Complete Series (1-3) DVD
Still Open All Hours – 2013 to present – This follow-up to the much-loved Open All Hours picks up after Granville inherits his uncle's shop. Series 1 DVD | Series 1 & 2 DVD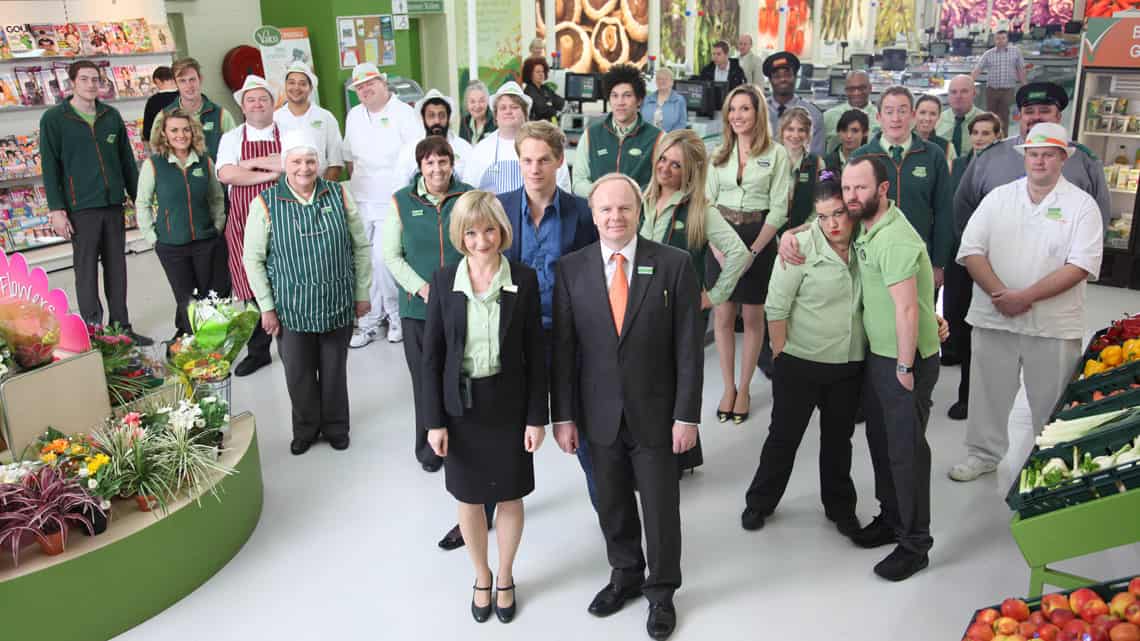 Trollied – 2011 to present – There's never a dull moment at Valco, where the only ones crazier than the staff…are the management. Series 1 DVD | Series 2 DVD | Series 3 DVD | Series 1-3 DVD | Series 4 DVD | S1-4 Streaming
Vicious – 2013 to 2016 – Two elderly gay men spend their golden years entertaining friends and picking at one another. Series 1 DVD | Series 2 DVD | Finale DVD | Complete Series DVD | Complete Series Streaming
The Wrong Mans – Two office workers find themselves thrust into a world of deadly intrigue due to a case of mistaken identity. Complete Series (1-2) DVD | S1-2 on Hulu
Rev –  2010 to 2014 – Tom Hollander and Olivia Colman star in this comedy about a vicar and his wife in a run-down parish in a rough part of London. S1-3 Streaming | Complete Series DVD
Mum – 2016 to present – After the death of her husband, a woman tries to move on. Her crazy family doesn't always make it easy. S1-2 Streaming
Upstart Crow – 2016 to present – The life and times of a younger, pre-fame William Shakespeare. S1-2 Streaming | Series 1 DVD
The Job Lot – 2013 to present – Sarah Hadland of Miranda stars in this comedy about the employees in a job centre in the Midlands. Series 1-3 Streaming | Series 1 DVD
Mrs. Brown's Boys – 2013 to present – The ridiculous ongoing saga of  a loud-mouthed Irish woman and all the various ways she meddles in the lives of those around her, especially her 6 children. Series 1-3 DVD
Flowers – 2016 to present – This dark comedy about an eccentric British family stars Olivia Colman and Julian Barratt.  Series 1 DVD
2000s
After You've Gone – 2007 to 2008 – The struggles of Jimmy, his kids, and his mother-in-law after his wife decides to leave him and take her nursing skills to Africa. Series 1 DVD | Series 2 DVD | Series 3 DVD
Beast – 2000 to 2001 – Alexander Armstrong stars as Nick, a country vet who doesn't particularly like animals (but who does love their attractive female caretakers).  Complete Series DVD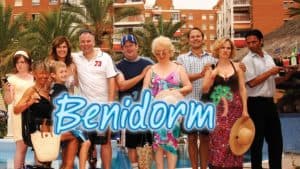 Benidorm – 2007 to present – Follows holidaymakers as they attempt to enjoy their budget vacations at the Solana Resort in Benidorm. Series 1 DVD | Series 1-6 + Specials DVD | Series 7 DVD | Series 8 DVD
Black Books – 2000 to 2004 – Bernard Black is a misanthropic bookshop owner who spends his time with his stressed accountant Manny and his best friend Fran, owner of a gift shop next door. Series 1 DVD | Complete Series DVD | Complete Series Streaming
Coupling – 2000 to 2004 – Six friends explore life and love in London. Series 1 DVD | Complete Series DVD | Complete Series Streaming
Extras – 2005 to 2007 – Ricky Gervais stars as a struggling actor who makes ends meet as an extra. Series 1 DVD | Complete Series DVD | Complete Series Streaming
Friday Night Dinner – 2001 to present – The secular Goodman family can never seem to have a calm and uneventful Shabbat dinner. Series 1  | Series 2 | Series 3 | S1 Streaming
Gavin & Stacey – 2007 to 2010 – After meeting online, Welsh Stacey and British Gavin decide to meet. What follows is a story of young love and quirky loved ones.  Complete Series DVD | S1-3 Streaming
Hardware – 2003 to 2004 – Martin Freeman (of Sherlock) stars in this amusing series about dealing with boring customers in a London ironmongers shop. Complete Series DVD (Amazon UK) | Complete Series DVD (Amazon US)
How Not to Live Your Life – 2007 to 2011 – After inheriting his grandmother's home, awkward layabout Don Danbury takes on a female lodger to help pay for the services of his grandmother's former assistant. Complete Series + Christmas Special DVD | Complete Series + Christmas Special Streaming
The Inbetweeners – 2008 to 2010 – The exploits of four teenagers who are just barely about "freak" status in their school. S1-3 Streaming | Complete Series DVD | Movies 1 & 2
IT Crowd – 2006 to 2013 – Deep in the bowels of a faceless corporation's shiny HQ lurks…the IT Crowd. Complete Series DVD | S1-5 Streaming
Lunch Monkeys – 2009 to 2011 – A comedy set in the administration department of a personal injury solicitor's firm. Series 1 DVD
The Mighty Boosh – 2003 to 2007 – Surreal comedy about the adventures of two young men who work at a zoo run by a lunatic. Series 1-2 DVD | S1-3 Streaming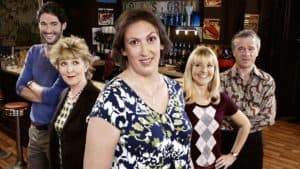 Miranda – 2009 to 2015 – Awkward, socially-inept Miranda does her best to get through life. Complete Series Streaming
Monkey Dust – 2003 – This animated comedy nearly defies description, offering a variety of black comedy skits. Series 1 DVD | Series 2 & 3 Not Released 
The Office – 2001 to 2003 – A documentary crew follows the staff in the fictitious Wernham Hogg Paper Company. Complete Series Streaming
Peep Show – 2003 to 2015 – Two dysfunctional friends share a flat in Croydon, London. Series 1 DVD | Series 1-9 DVD | Series 9 DVD | S1-8 Streaming
Pulling – 2006 to 2009 – After a drunken hen night, engaged Donna calls off her wedding and moves in with two wild single friends. Series 1 DVD | Series 2 DVD | Complete Series Streaming
The Robinsons – 2005 – Though his entire family has found success, son Ed finds himself divorced and drifting at 32. Series 1 DVD
Shameless – 2004 to 2013 – Young and unsupervised siblings survive in a council flat in Manchester. Series 1 DVD | Complete Series DVD  | S1-3 Streaming
Still Game – 2002 to present – Scottish pensioners Jack and Victor enjoy complaining about modern life and reminiscing about the good old days in fictional Craiglang. S1-6 DVD
The Thick of It – 2005 to 2012 – Political satire set in the office of the Minister for Social Affairs. Complete Series DVD | Complete Series Streaming | The Thick of It: Missing DoSAC Files Book
Green Wing – 2004 to 2007 – A hilariously strange medical show where nothing terribly medical actually happens. S1-2Streaming | Complete Series DVD
Not Going Out – 2006 to present – Lee Mack and Tim Vine star in this comedy about the mishaps of a group of friends in London. Also starts Miranda Hart. Series 1-7 DVD 
1990s
Are You Being Served? Again! – 1992 to 1993 – Years later, the staff of a the now-defunct department store (from the original series, Are You Being Served?) return to run a small country hotel. Complete Series (1-2) DVD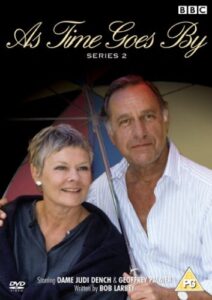 As Time Goes By – 1992 to 2005 – After 38 years apart, first loves Jean and Lionel are reunited by chance. Awkwardness abounds. Complete Series on DVD | Reunion Specials DVD
Bottom – 1991 to 1995 – Two best friends live off the government and get in plenty of trouble. Complete Series on DVD | Complete Series Streaming

Dinnerladies – 1998 to 2000 – A comedy about the goings on of a factory canteen staff and their visitors. DVD Note: I would consider this DVD appropriate only for those who are very good at understanding British regional accents. There are no subtitles on the DVD and many characters have heavy accents that can be hard for many non-Brits to understand. Series 1 & 2 DVD
Father Ted – 1995 to 1998 – A classic comedy about three priests living together in a zany Irish island community. Complete Series DVD | Complete Series Streaming | The Complete Scripts | The Craggy Island Parish Magazines
How to Be a Little Sod – 1995 to 1996 – A sitcom that follows the first year of a baby's life. Only Available in Book Format
Jeeves & Wooster – 1990 to 1993 – Bertram Wooster gets in trouble all the time, and his tireless valet Jeeves is tasked with getting him out of it. Series 1 DVD | Complete Series DVD | Complete Series Streaming
Jonathan Creek – 1997 to present – Jonathan Creek is a magician's consultant living in a converted windmill using his natural puzzle-solving talents to help unravel crimes. Series 1 DVD | Series 2 DVD | Series 3 DVD | Series 4 DVD | Series 5 DVD | Specials DVD | Christmas Specials DVD | Series 1-4 DVD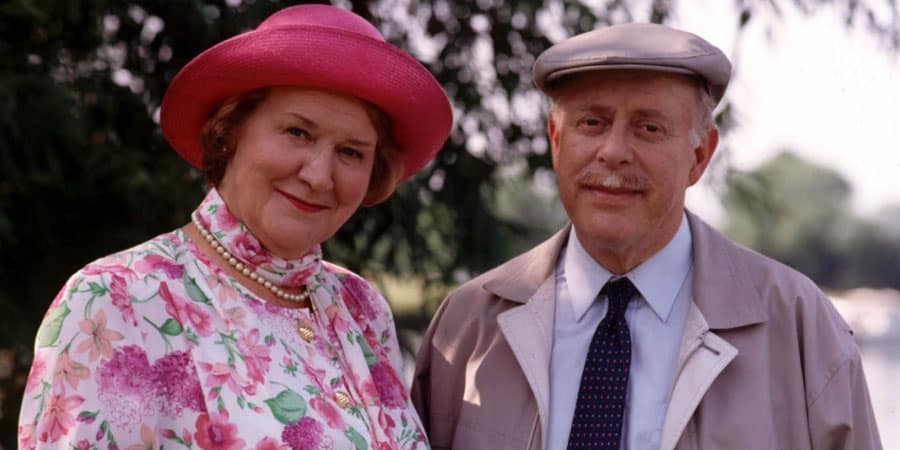 Keeping Up Appearances – 1990 to 1995 – Middle-class Hyacinth Bucket continually seeks opportunities for social climbing, always hoping to live above her station. Series 1 & 2 DVD | Complete Series DVD | Hyacinth Bucket's Book of Etiquette
The Royle Family – 1998 to 2012 – A sitcom about everyday life with the Manchester-based, TV-addicted Royle family.  S1-3 +Specials DVD | 2010 Christmas Special DVD | 2012 Christmas Special DVD
Spaced – 1999 to 2001 – Two 20-something Londoners pretend to be a couple in order to get an apartment. Complete Series DVD | S1-2 Streaming
Waiting for God – 1990 to 1994 – The road to romance isn't always a smooth one in the Bayview Retirement Village. Complete Series DVD
1980s
A Fine Romance – 1981 to 1984 – Dame Judi Dench and her late husband Michael Williams star in this comedy about two awkward middle-aged people in love. Complete Series DVD | Complete Series Streaming
'Allo 'Allo – 1982 to 1992 – This WW2 comedy follows Rene Artois, owner of a small-town cafe in German-occupied France. Series 1 DVD | Complete Series DVD
BlackAdder – 1982 to 2001 – Comedy set in the Middle Ages, wherein Prince Edmund the Black Adder attempts to seize the crown from his father and brother. BlackAdder Complete Collector's Set | S1-4 Streaming
Chance in a Million – 1984 to 1986 – The story of Tom Chance, a man plagued by unlucky coincidences, and his love Alison. Complete Series DVD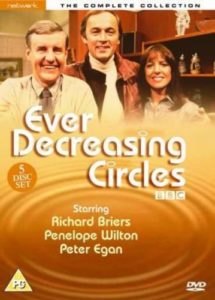 Ever Decreasing Circles – 1984 to 1989 – Richard Briers (of Monarch of the Glen) stars in this comedy about a control freak who drives his wife crazy on a regular basis. Series 1-4 DVD
Filthy Rich and Catflap – 1987 – Short-lived satire about a wannabe actor, his agent, and his drunken bodyguard. Complete Series DVD
Just Good Friends – 1983 to 1986 – Five years after a last minute wedding cancellation, the formerly engaged Penny and Vincent meet by chance in a pub and decide to be friends. Series 1-3 DVD
Only Fools and Horses – 1981 to 2003 – Two brothers wheel and deal their way through life, always looking for the big score that will make them millionaires. Complete Series DVD | Series 1-3 DVD | Series 4-5 DVD | Series 6 DVD | Series 7 DVD | Specials DVD
Rab C. Nesbitt – 1988 to 2014 – The title character in this comedy is a Glaswegian lowlife who drinks a lot and rants about society. Series 1 DVD | Series 1 – 8 DVD | Series 9 DVD | Series 10 DVD | Seasonal Greet DVD
Red Dwarf – 1988 to present – The adventures of the last human alive, set in the future on a spaceship called the Red Dwarf.    Complete Collection DVD (2006) | Series XI DVD | S1-10 Streaming
The Young Ones – 1982 to 1984 – Featuring the wild exploits of four crazy and incompatible roommates at Scumbag College, plus their landlord Jerzy. Complete Series DVD | Complete Series Streaming
1970s
Are You Being Served? – 1972 to 1985 – Mayhem and misadventures among the staff of a large department store. Complete Series DVD | Are You Being Served?: The Movie Streaming
Fawlty Towers – 1975 to 1979 – Classic comedy featuring John Cleese as Basil Fawlty, an incompetent and forever-troubled hotel owner. Complete Series DVD | Complete Series Streaming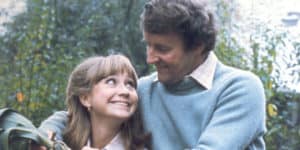 Good Neighbors (aka The Good Life) – 1975 to 1978 – Richard Briers (of Monarch of the Glen) and Penelope Keith (of the Hidden Villages travel series) star in this delightful comedy about escaping to the country in the suburbs and dealing with neighbors. Series 1-3 DVD | Series 4 DVD | Assorted Series DVDs on eBay | Streaming on Amazon
Last of the Summer Wine – 1973 to 2010 – Elderly Yorkshire residents refuse to grow old quietly or gracefully. Series 1 & 2 DVD | Series 3 & 4 DVD | Series 5 & 6 DVD | Series 7 & 8 DVD | Series 9 & 10 | Series 11 & 12 | Series 13 & 14 | Series 15 & 16 | Series 17 & 18 | Series 19 & 20 | Series 21 & 22 | Series 23 & 24 | Series 25 & 26 | Series 27 & 28 | Series 29 & 30 | Series 31 & 32
Not the Nine O'Click News – 1979 to 1982 – British sketch comedy featuring Rowan Atkinson, Mel Smith, and Pamela Stephenson. Best of Vol. 1 DVD | Best of Vol. 2 DVD
To the Manor Born – 1979 to 2007 – The wonderful Penelope Keith stars as widow Audrey fforbes-Hamilton who is down but not out when she's forced out of her home after her husband's death. Complete Series DVD 
1960s
Benny Hill Show – 1969 to 1989 – Benny Hill stars in the classic British sketch comedy. Best of DVD | Complete Series DVD | S1-5 Streaming