A Note About DVDs: Remember that many British shows are only available on non-US DVDs. Learn more about what that means in our Region-Free DVD Viewing Guide.
Penelope Keith's Hidden Villages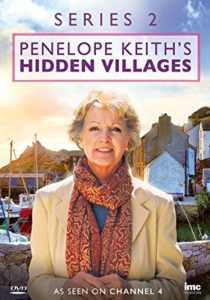 Famed actress Penelope Keith takes us on a journey around Britain's most lovely villages, letting the classic Batsford guides lead the way.
Series 1: Penelope visits East Anglia, North Wales, Cheshire, Staffordshire, and Wessex. Series 1 DVD
Series 2:Penelope visits Devon and Cornwall, Cumbria, Royal Deeside, Sussex, and Kent. Series 2 DVD
Series 3: Penelope visits The Cotswolds, Argyle and Bute, North Yorkshire, and Pembrokeshire. Not yet available on DVD
Coast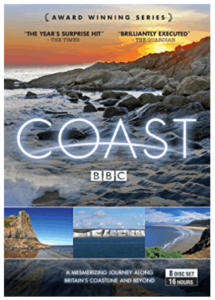 This series focuses on the coastal regions of the UK and surrounding countries.
Series 1: Nicholas Crane shows us Hunstanton, Dover, Robin Hood's Bay, King's Lynn, Berwick, John O'Groats, Firth of Forth, Wick, Northern Ireland, Liverpool, Carlisle, Severn Estuary, Aberystwyth, Exmouth, Bristol, and Dover. Neil Oliver joins for Solway Firth to Skye.  Series 1 DVD
Series 2: Neil Oliver and his team explore Felixstow, Margate, Newcastle, Hull, Dublin, Derry, Cornwall, the Isles of Scilly, Arran, Gretna, Holyhead, Liverpool, Dover, and the Isle of Wight. Series 2 DVD
Series 3: The team explores the Channel Islands, Dover, King's Lynn, Felixstowe, Galway, Baltimore, Berwick-upon-Tweed, Aberdeen, Cardiff, St. David's, Southport, Whitehaven, Bournemouth, Plymouth, Shetland, and Orkney.
Series 4: Neil Oliver and the team visit Rosyth, Hull, Lillesand, Svalbard, Anglesey, Blackpool, Cork, Dublin, Land's End, Porthcawl, Cap Gris-Nez, Mont Saint-Michel, Whistable, and Isle of Wight. Series 4 DVD
Series 5: In series 5, Neil Oliver and the crew check out Hull, London, Denmark, Glasgow, Edinburgh, the Caledonian Canal, Galway, Arranmore Island, Gower, Anglesey, Brittany, Swanage, Land's End, and the Irish Sea. Series 5 DVD
Series 6: The team visits Sweden and the Baltic, Wales, the Western Isles and Shetland, the Netherlands, Devon, Cornwall, London, and Antwerp. Series 6 DVD
Series 7: Series 7 offers a change of pace, exploring topics like the secret life of beaches, the riddle of the tides, the Great Storm of 1703, the hidden history of harbours, the Isle of Sicily, and the death of Lord Kitchener. Series 7 DVD
Series 8: This time around, the team dives into a seafaring prince and communist submarines, the secret life of sea cliffs, the estuaries of Britain, seaside work and leisure, and invasions of the British Isles. Series 8 DVD
Series 9: In series 9, we see the coast in winter, the sea and the city, British connections in North America, Cornwall's artistic side, Cape Wrath, and the sides of the English Channel. Series 9 DVD
Series 10: The team explores caves and coves, wild waters, the Irish Sea, inventiveness fueled by living in and around Britain's isles, the bounties of the sea, and the holiday coasts. Not yet available on DVD