31 of the Best BBC Miniseries & Where to Watch Them
In some cases, we earn commissions from affiliate links in our posts.
Last Updated on December 9, 2021 by Stefanie Hutson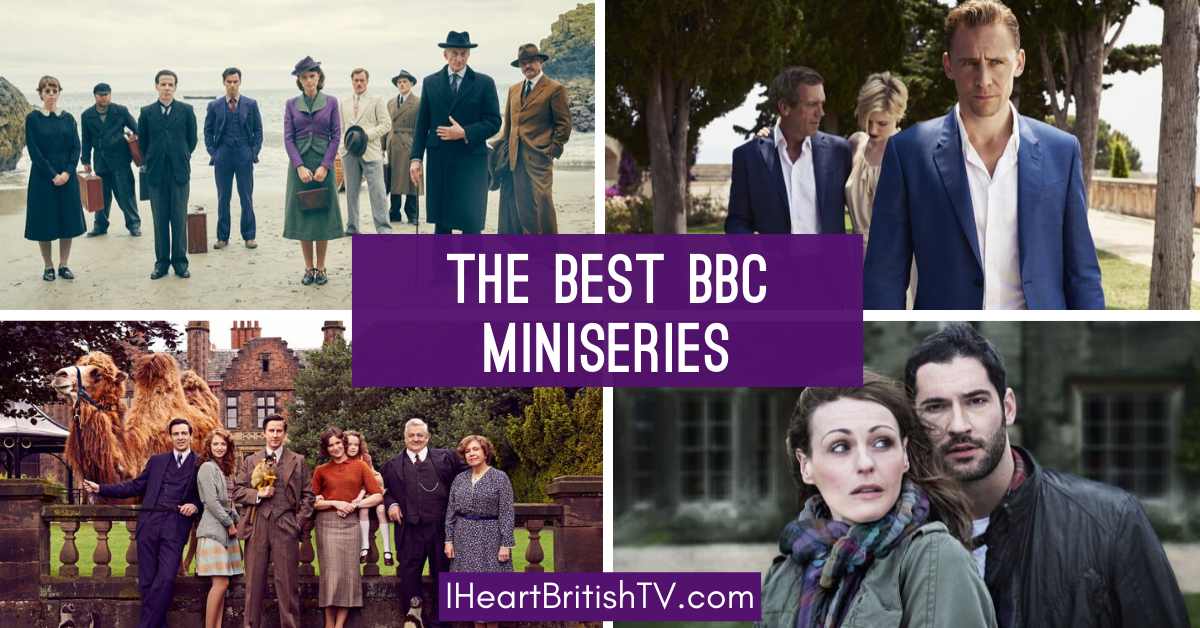 Editor's Note: This post has been updated since its original publication in 2019. As such, there may be additions or modifications the original author wouldn't necessarily agree with.
The Best BBC Miniseries & Where to Watch Them
Miniseries are perhaps the perfect balance between a movie that's too short and a show that goes on too long and then gets cancelled on a cliff hanger. Miniseries allow viewers to take comfort in knowing the story has a decent ending. For some, watching a TV show only to have it get cancelled is a huge pet peeve, so we wanted to highlight miniseries because they have a beginning, middle, and end.
You might notice most of the productions on our curated miniseries list are based on books. Miniseries length productions allow more time to adequately adapt the story, especially when a feature-length film might not be long enough to go in-depth with the characters.
What is the BBC?
In the UK, there are several different networks, such as ITV, Channel 4, Channel 5, Sky, UKTV, Dave, and more. Many of these, such as ITV and Sky, produce wonderful miniseries, too. But for this curated list, we're focusing on miniseries produced by the BBC.
The British Broadcasting Corporation is a public service and the world's oldest national broadcaster. British taxpayers fund the BBC through the license fee tax; therefore, it has no commercials. The BBC employs approximately 35,402 people, making it the largest broadcaster in the world by employment.
While many popular BBC shows air on PBS, the BBC also established BritBox in partnership with ITV. BritBox was created to help viewers in United States and Canada get access to British shows they might not see otherwise.
The BBC works with many different networks to create shows. Many of the shows in our list were co-produced by the BBC with Netflix, HBO, Starz, and more.
The Best BBC Miniseries: Period Drama Productions
Jonathan Strange & Mr. Norrell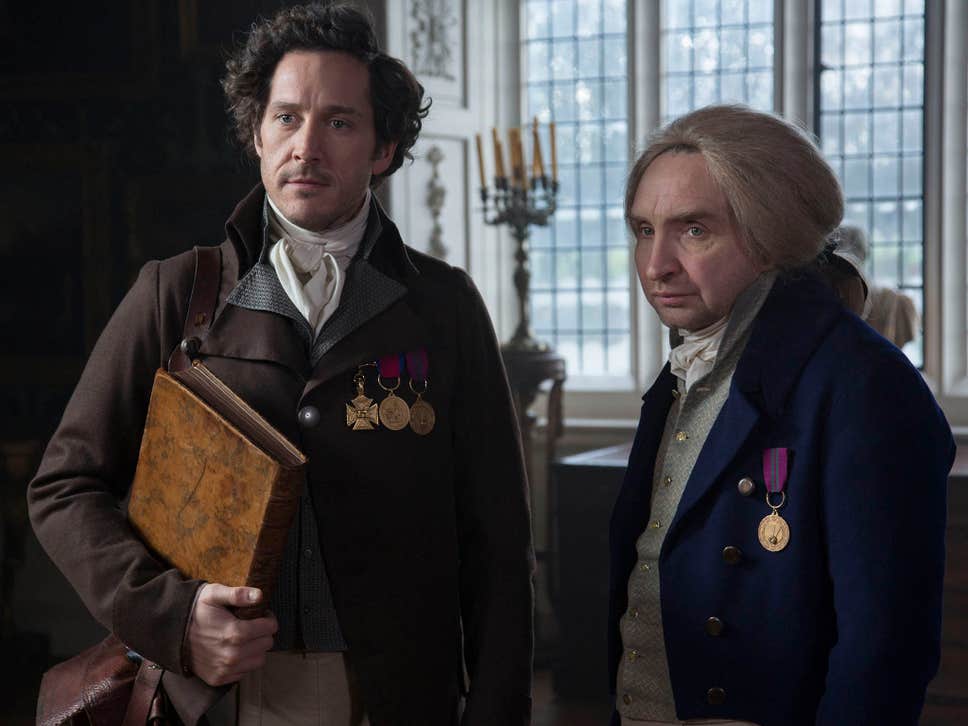 If you're a fan of Harry Potter, A Discovery of Witches, costume dramas, and fantasy… Be sure to add Jonathan Strange and Mr. Norrell to your list. Jonathan Strange & Mr Norrell is an epic tale of alternate-history fiction, richly interwoven with true historical events.
This thrilling miniseries is a big-budget (for the BBC) adaption of Susanna Clarke's debut novel of the same name. It stars Bertie Carvel as Jonathan Strange, a young man struggling to find purpose in his life, and Eddie Marsan as Mr Norrel, a stuffy scholar who believes magic should only exist in books because that's the way it's always been – ever since magic left England. But a vagrant "magician" (played by Paul Kaye) claims magic will return.
Along with Carvel and Marsan, this miniseries stars Marc Warren, Charlotte Riley, Enzo Cilenti, Edward Hogg, and more.
Jonathan Strange & Mr Norrell is available to purchase on Amazon.
Sadly, it is not currently available via any subscription services.
Pride and Prejudice (1995)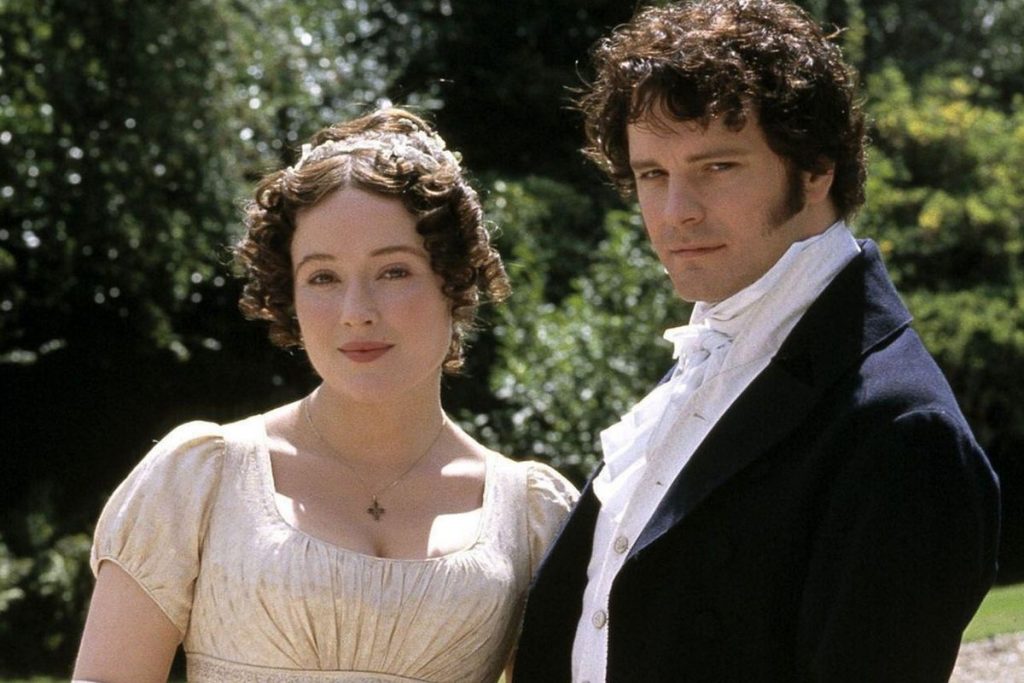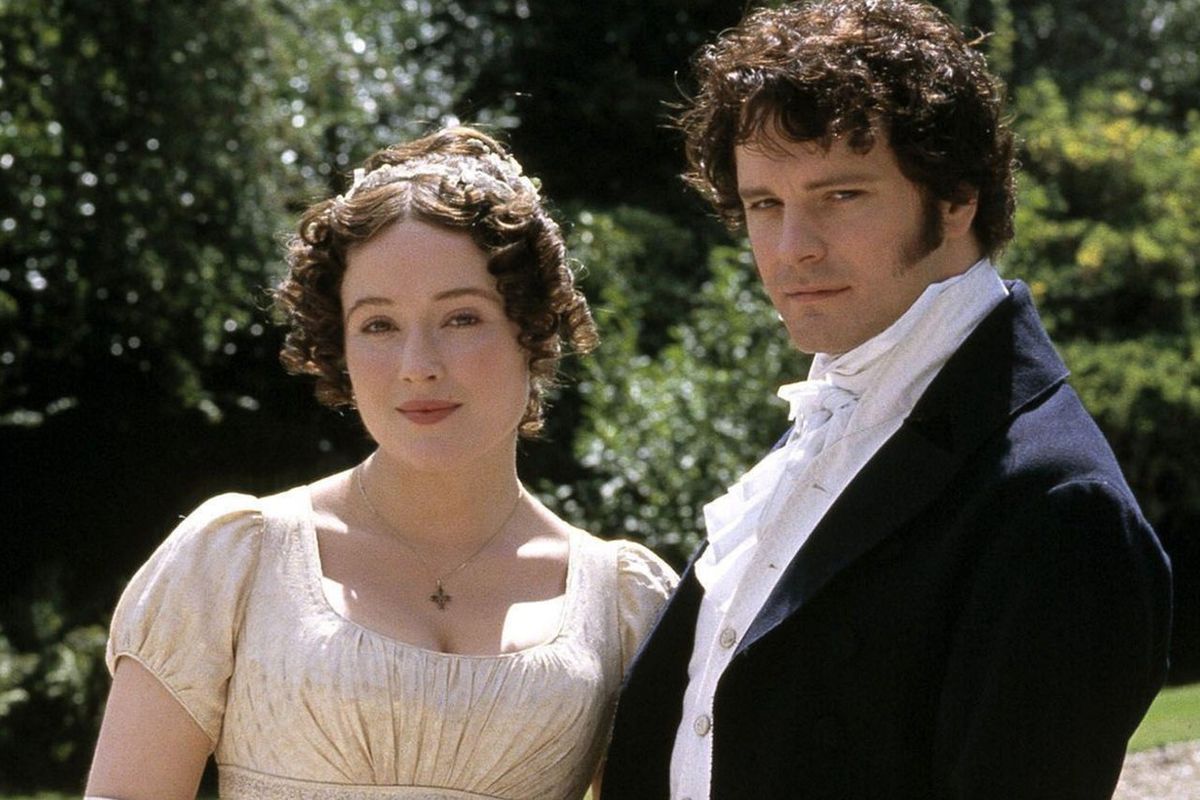 Does it get better than the 1995 miniseries adaption of P&P Colin Firth and Jennifer Ehle? The miniseries length suits Jane Austen's classic book better than a movie because it allows more time to tell the full story. Austen's book analyzes how the class system creates prejudice and keeps love from flourishing. It revolves around Elizabeth Bennet and the brooding, mysterious Mr. Darcy.
You can find this adaptation streaming on BritBox and for purchase on Amazon Prime.
Sense and Sensibility (2008)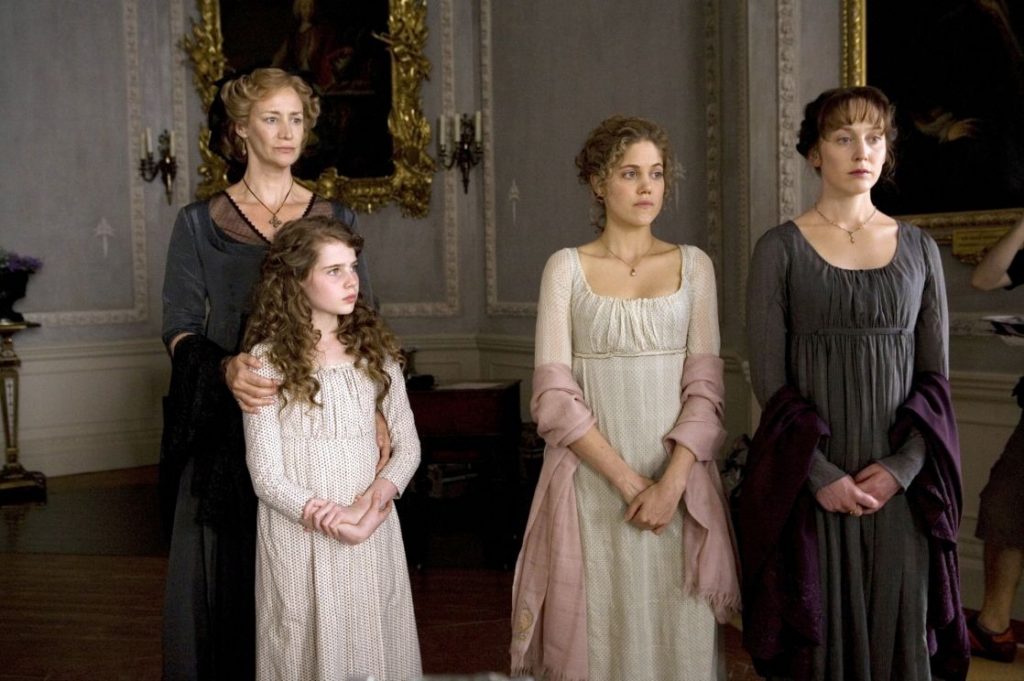 While we love the 1995 movie with Emma Thompson, Kate Winslet, Hugh Grant, Alan Rickman, and Hugh Laurie, the 2008 miniseries adaption of Austen's novel is worth watching and features a great cast of its own. It stars: Dominic Cooper, Dan Stevens, Mark Gatiss, and David Morrissey. Charity Wakefield, Hattie Morahan, and Lucy Boynton star as the Dashwood sisters.
The second wife of Mr. Dashwood and her daughters are now poor due to an unfair inheritance. Like all of Austen's stories, this one is full of interesting characters with complex pasts.
The 2008 adaptation is available to stream HERE on BritBox.
(As amazing as the cast is in the movie from '95, the 2008 version is my preference. What can I say? I love a miniseries!)
Emma (2009)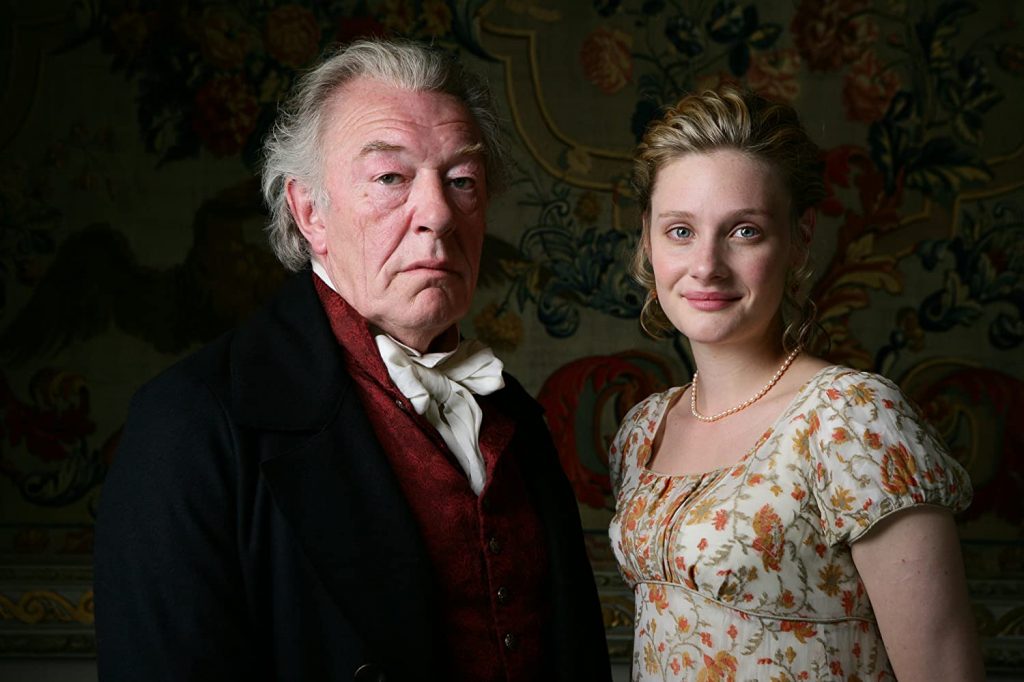 This stunning adaption of Austen's novel of the same name stars Romola Garai, Jonny Lee Miller, Michael Gambon, Tamsin Greig, Rupert Evans, and more. The story revolves around Emma, the changes in her life, and the people who remain the same. Of course, social divides are important to the story. It is Austen, after all, but Emma is Austen's only upper-class heroine, so it makes for a refreshing story where the tables are turned.
Emma is available on BritBox.
Death Comes to Pemberley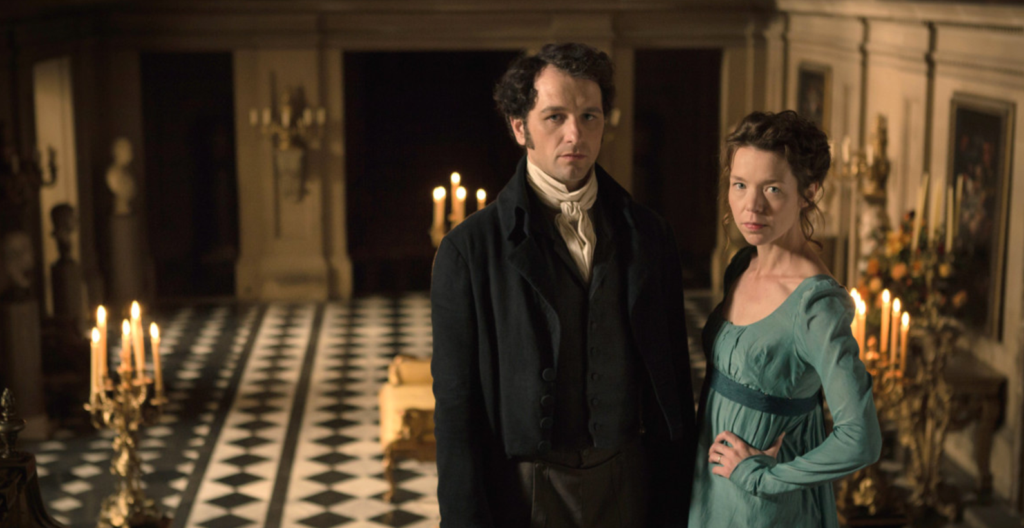 We aren't done with you yet, Austen. Okay, Death Comes to Pemberley isn't actually Austen. It's based on a book by P.D. James that takes place six years after the events of Pride and Prejudice. Mr. Darcy and Elizabeth are preparing for a ball when tragedy strikes. This dramatic whodunit may not be everyone's taste, but it has a great cast.
It stars Matthew Rhys as Mr. Darcy and Anna Maxwell Martin as Elizabeth along with Jenna Colman, Eleanor Tomlinson, James Norton, Rebecca Front, Joanna Scanlan, and Matthew Goode.
Death Comes to Pemberley is a co-production between Masterpiece Mystery (PBS) and BBC.
You can stream it on PBS Masterpiece.
War & Peace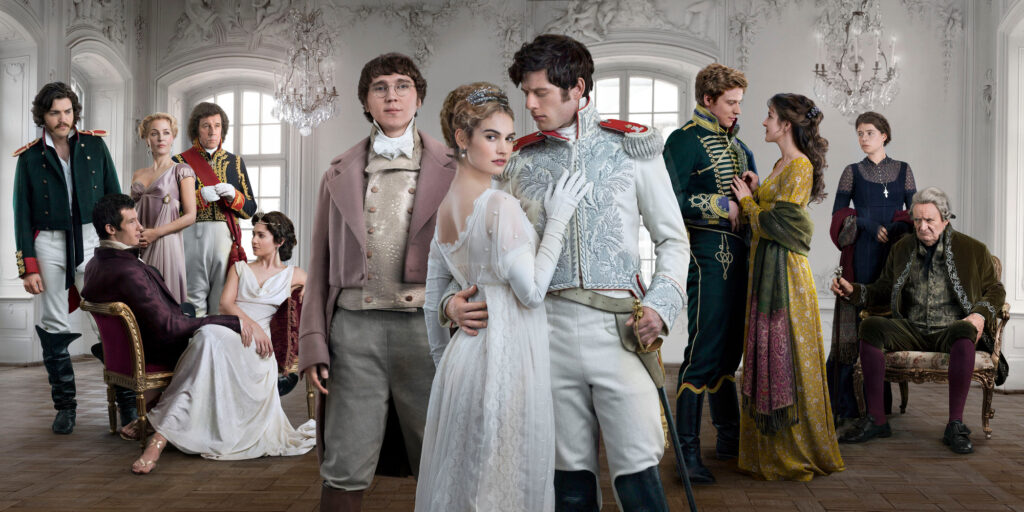 War & Peace takes place in imperial Russia and follows the ebb and flow of five aristocratic families. In particular, it shows how the lives of three people are affected by Russia's wars with Napoleon.
This six-part adaption of Tolstoy's classic novel also stars James Norton, Paul Dano, Lily James, Tom Burke, Jim Broadbent, Rebecca Front, and Tuppence Middleton.
You can own War & Peace on Amazon.
Jane Eyre (2006)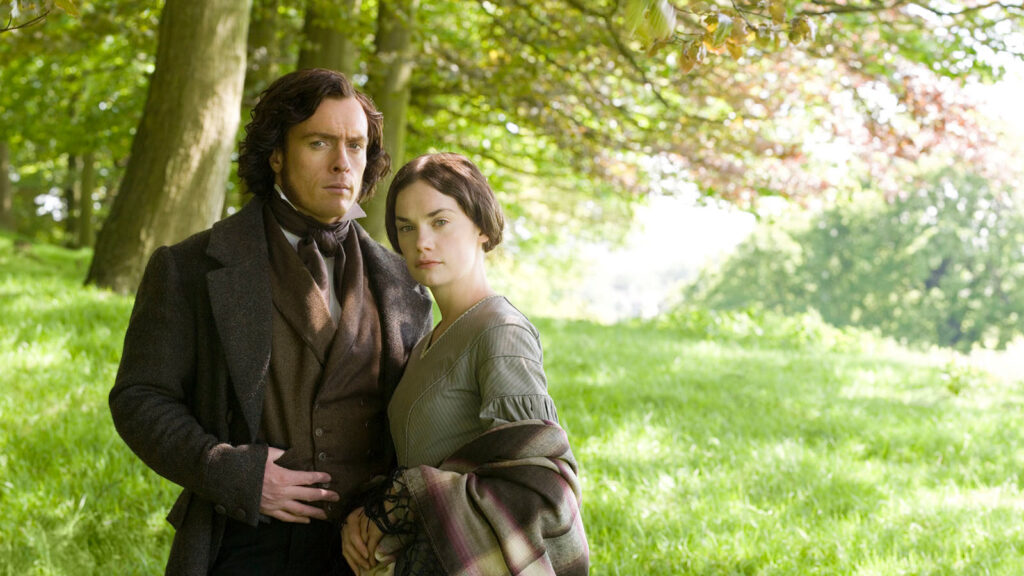 Jane's childhood as an orphan was not ideal, but she was able to secure a position as a governess at Thornfield Hall. There, she falls in love with Thornfield's owner, Mr. Rochester. Although they fall in love and plan to marry, their secrets must be revealed.
Even if you've seen another version of Jane Eyre, this one is worth the watch. The miniseries length allows more of the story to be told. It's also the highest rated adaption on IMDb of Charlotte Brontë's classic novel.
It stars Toby Stephens as Mr. Rochester Ruth Wilson as Jane.
Jane Eyre is streaming on BritBox.
North and South (2004)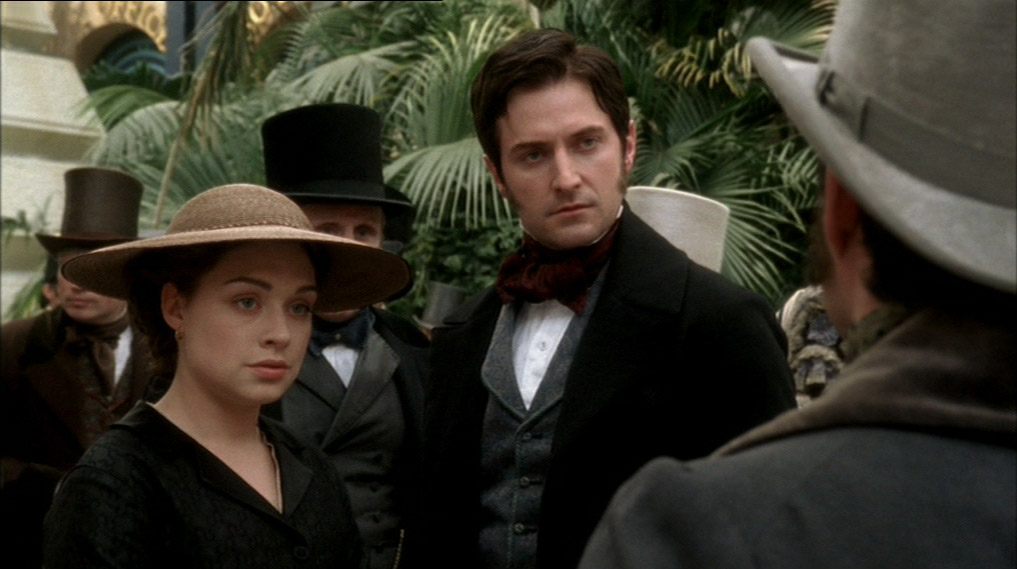 If you're a fan of costume dramas but you haven't seen North and South yet, you're in for a treat. This gorgeous production is based on the 1854 book by Elizabeth Gaskell. The story begins when Margaret Hale, a middle-class southerner, moves to a northern industrial town. North and South considers social divides and the consequences of hasty judgments.
North and South stars Daniela Denby-Ashe, Richard Armitage, Sinéad Cusack, Tim Pigott-Smith, Brendan Coyle, Jo Joyner, and Lesley Manville.
You can stream this one on BritBox.
Cranford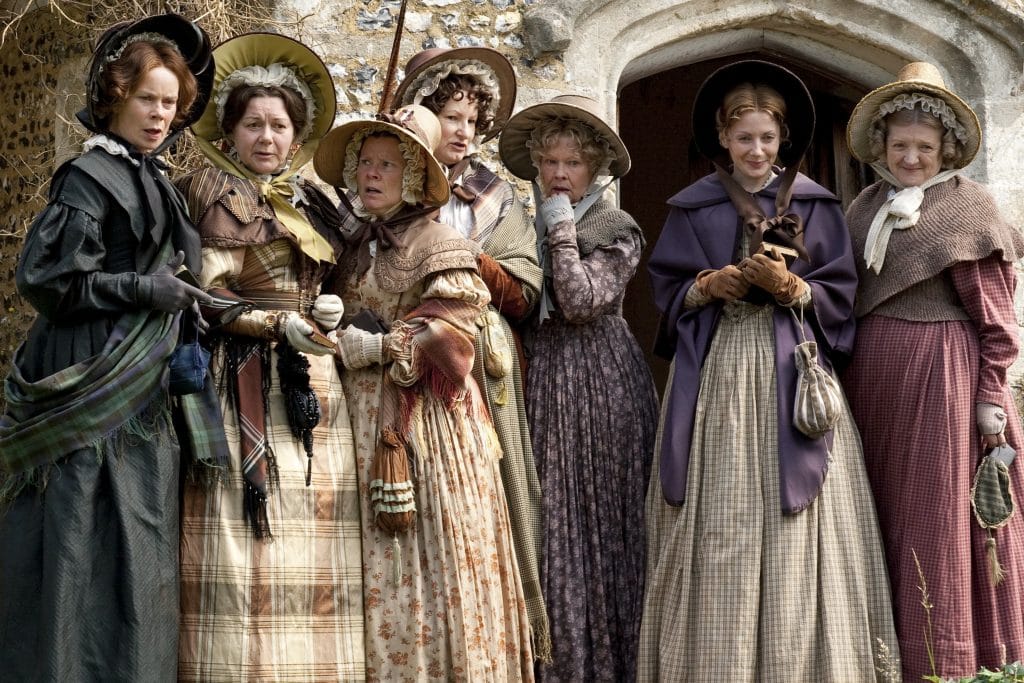 Cranford tells the story of a rural town in Cheshire. A railway is underway and the world is changing ever-so quickly. How will the townsfolk handle the transition from quaint rural life to industry? Like North and South, Cranford is also based on a story by Elizabeth Gaskell.
Cranford is available on BritBox. It stars Dame Judi Dench (need I write more?), Imelda Staunton, Julia McKenzie, and so many more familiar faces.
Return to Cranford, often called the second season, is based on the teleplay by Heidi Thomas which she wrote using material from two novellas and a short story by Elizabeth Gaskell. So, we still consider the original Cranford a miniseries. Return to Cranford is listed as season two on BritBox. In total, Cranford and Return to Cranford are only 7.1 hours combined.
Bleak House (2005)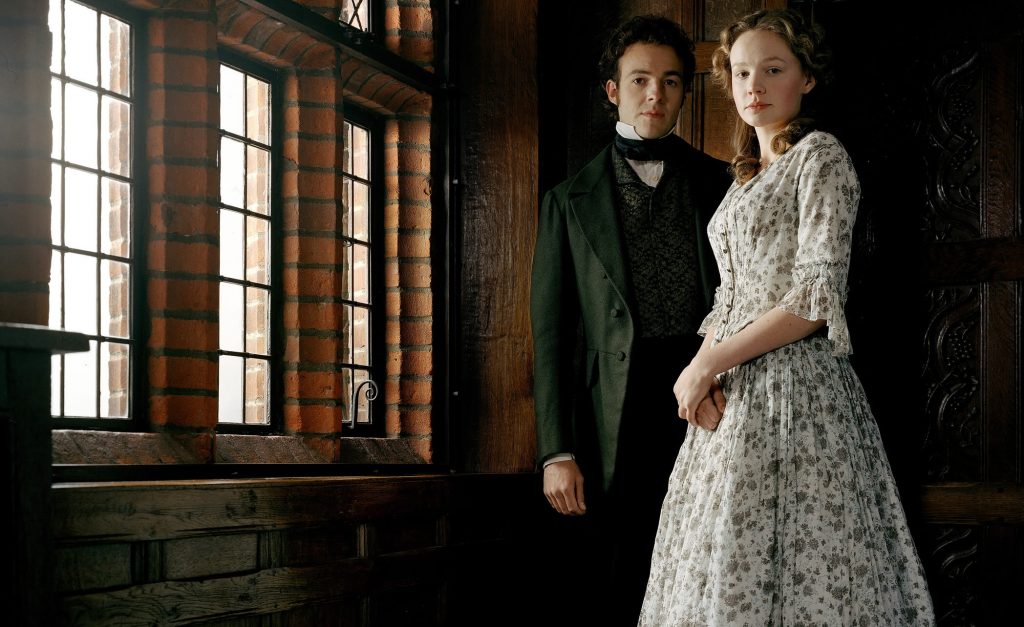 Based on the Charles Dickens novel, Bleak House follows the outcome of a legal case and the many characters who are affected by it. Bleak House stars Anna Maxwell Martin, Gillian Anderson, Carey Mulligan, Charles Dance, Patrick Kennedy, Burn Gorman, Nathaniel Parker, Richard Harrington, Anne Reid, Phil Davis, and more.
Bleak House is streaming on BritBox.
Crooked House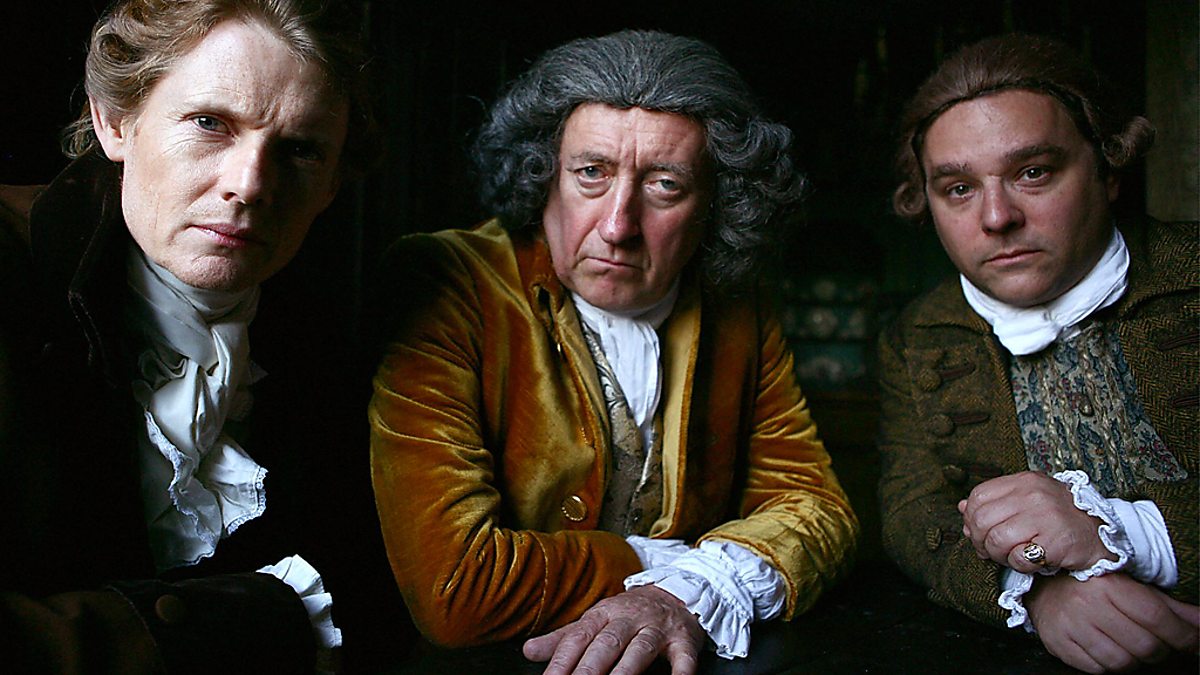 This three-part 2008 series is made up of linked episodes about the fictional Geap Manor, a haunted and recently demolished Tudor mansion. The first story is set in the late 18th century, the second picks up in the 1920s, and the final story follows a modern character who learns that even though the place has been demolished, it still casts a long and ghostly shadow.
With each episode clocking in at around 30 minutes, many platforms combine them into one feature-length episode – but it originally aired as three separate parts on three consecutive nights.
Crooked House is available to stream on Amazon.
Little Dorrit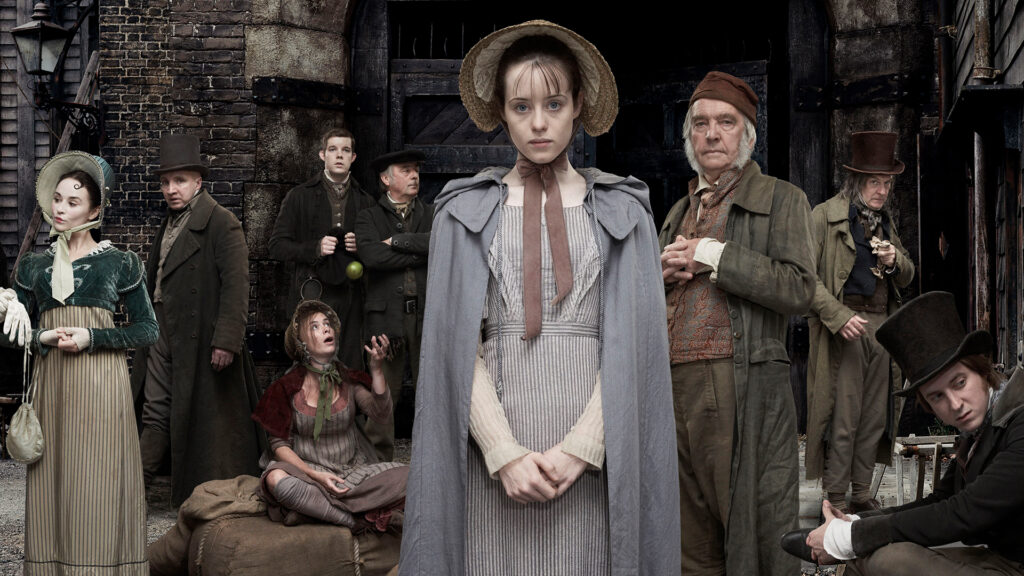 Amy Dorrit is the youngest child in her family. She was raised in London in the Marshalsea prison for debtors. The story's catalyst is the return of Arthur Clennam, who has been abroad for many years. Upon his return, he meets Amy Dorrit who is working as a seamstress for his mother.
It stars Claire Foy, Matthew Macfayden, Andy Serkis, Eddie Marsan, Russell Tovey, Alun Armstrong, Maxine Peake, Eve Myles, and Pam Ferris, among others.
Little Dorrit is streaming on Amazon Prime.
The Living and the Dead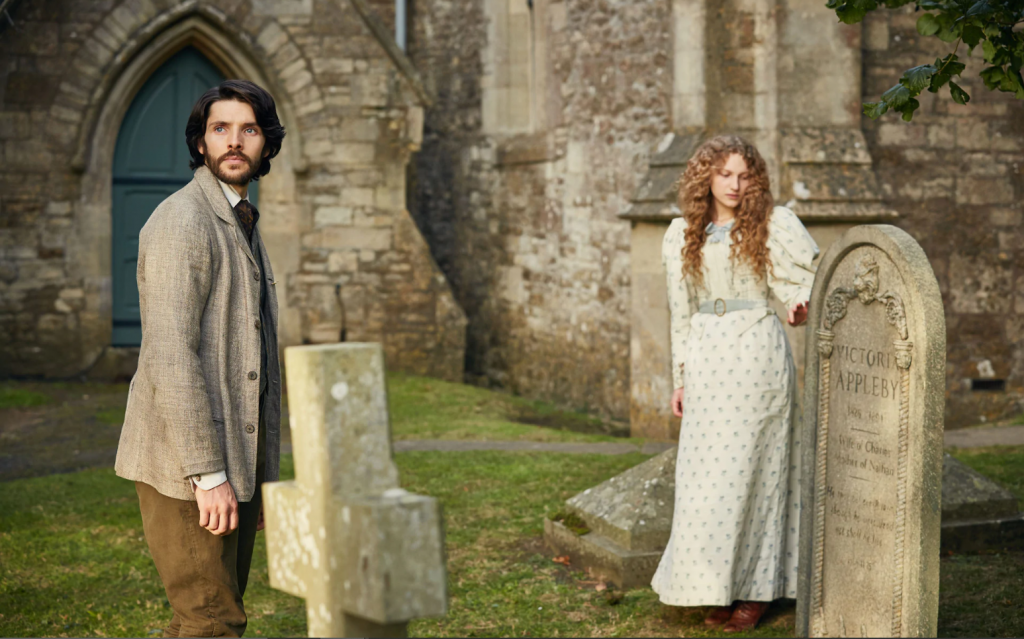 If spooky is your thing, check out The Living and the Dead starring Colin Morgan. It's a twisting psychological tale that focuses on Nathan Appleby, a psychologist who inherits a beautiful house in Somerset Valley. This gorgeous, understated, subtle ghost story is eerie (rather than terrifying).
It also stars Chloe Pirrie, Charlotte Spencer, Malcolm Storry, Kerrie Hayes, Elizabeth Berrington, Tallulah Rose Haddon, and Nicholas Woodeson.
The Living and the Dead is streaming on Amazon Prime.
Howards End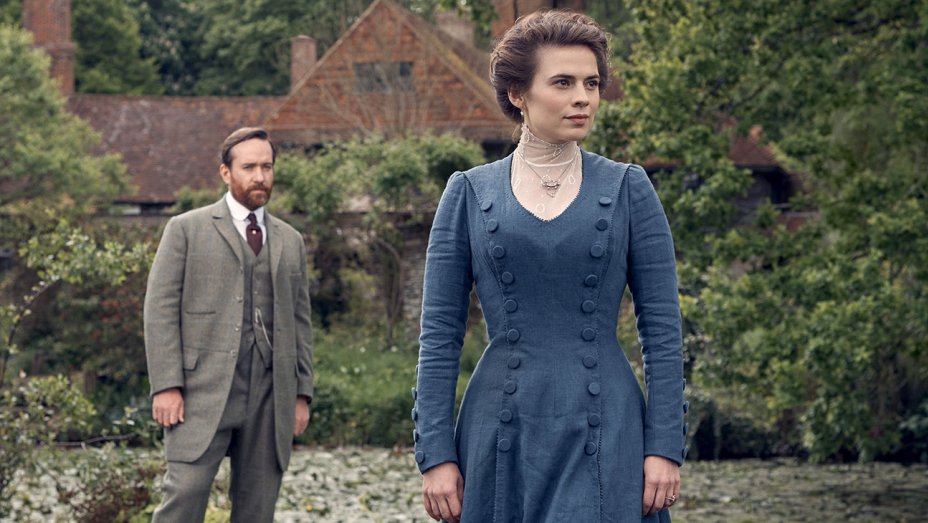 The story of Howards End revolves around three families: the Wilcoxes, the Schlegel siblings, and the Basts. Margaret Schlegel befriends the Wilcox matriarch who promises her the family house, Howards End. But when Mrs. Wilcox dies, her will is nowhere to be found.
Like many of the miniseries listed so far, this story delves into social divides and is based on a classic novel. It also has some gorgeous cinematography. It stars Haley Atwell and Matthew Macfayden.
Howard's End is streaming on Amazon Prime.
Our Zoo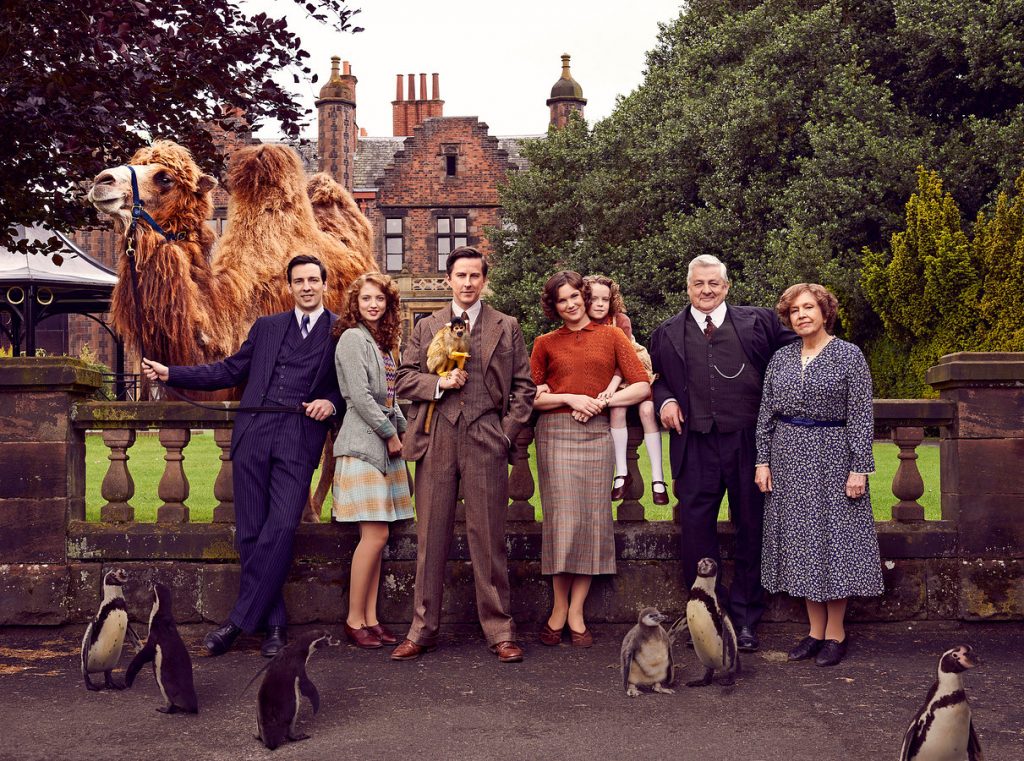 Our Zoo tells the true story of the man who founded the Chester Zoo in the 1930s. This miniseries follows the exploits of the eccentric Mottershead family. They created a unique institution, forever changing how zoos housed animals. Lovers of animals and family shows will enjoy this fun drama.
It stars Lee Ingleby as George Mottershead. It is available through Hoopla or you can purchase European DVD on Amazon, but you'll need a region-free DVD player to watch it.
And Then There Were None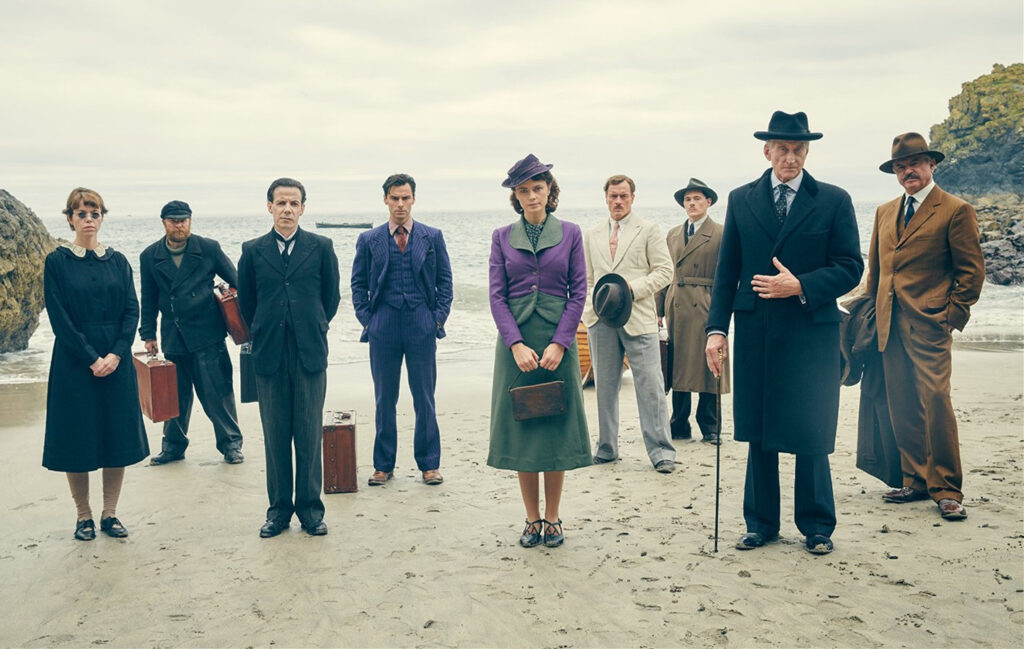 This Agatha Christie tale is a little different. It's an adaption of not only her most famous work but of the best selling crime novel of all time. There's no Marple or Poirot to provide hope. It's bleaker and more mature. The sense of mystery and dread is beautifully conveyed through the cinematography and setting.
The story takes place on a small island off the coast of Devon where eight people, all strangers, are invited to stay in a manor. Not sold yet? The cast is beyond star-studded. You'll see Douglas Booth, Charles Dance, Maeve Dermody, Burn Gorman, Anna Maxwell Martin, Sam Neill, Miranda Richardson, Toby Stephens, Noah Taylor, and Aidan Turner.
And Then There Were None is available to stream on Acorn, alternatively you can purchase it on Amazon.
The Best BBC Miniseries: Modern-Setting Productions
The Game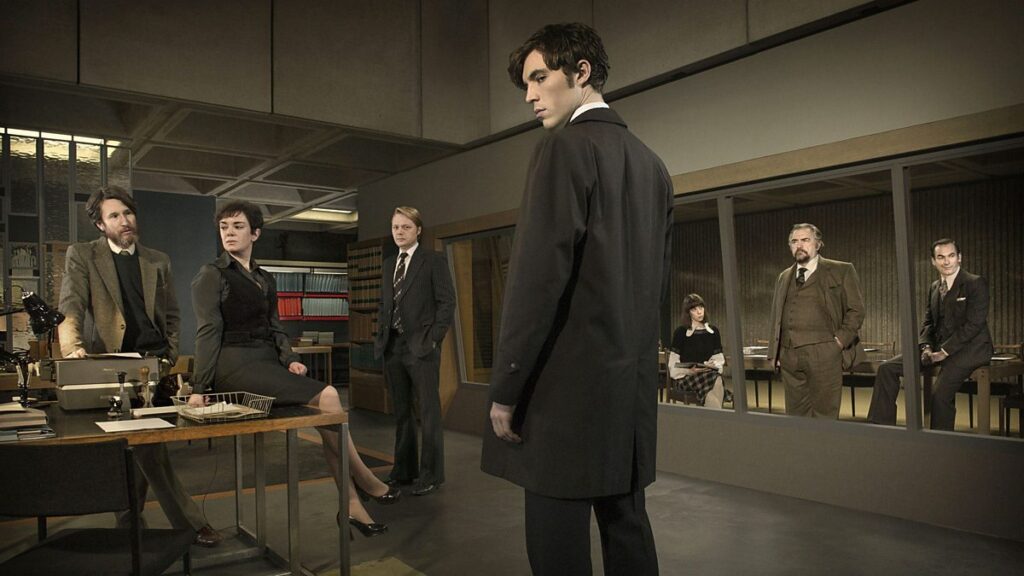 The Game isn't quite modern, but surely the 1970s were only, what, twenty years ago? (Kidding). Okay, this miniseries stars Tom Hughes, Brian Cox, Shaun Dooley, Victoria Hamilton, Paul Ritter, Jonathan Aris, and Chloe Pirrie. (It's written by Toby Whithouse who created the supernatural show Being Human and often writes episodes of Doctor Who).
This understated, slow-burn, bleak cold-war MI-5 thriller follows the story of Joe Lambe, an MI-5 agent. He and his co-workers are tasked with locating enemy sleeper agents before they can take part in a larger conspiracy.
It's available for purchase on Amazon.
Retribution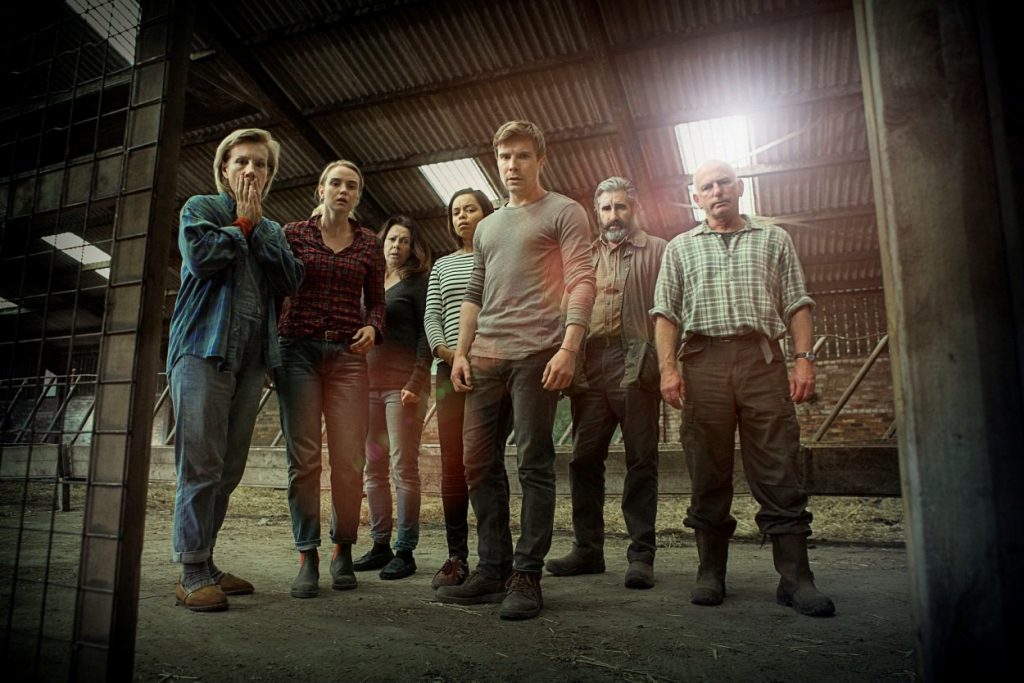 Two families living side-by-side in rural Scotland, shaken by a double murder, deal with grief and the consequences of having a murderer in their midst. In the UK, this production was titled One of Us but was renamed Retribution for American audiences.
Retribution stars Laura Fraser, Joe Dempsie, Julie Graham, Adrian Edmonson, Georgina Campbell, Joanna Vanderham, Juliet Stephenson, Steve Evets, John Lynch, and Gary Lewis.
It's currently streaming on Netflix.
The Honourable Woman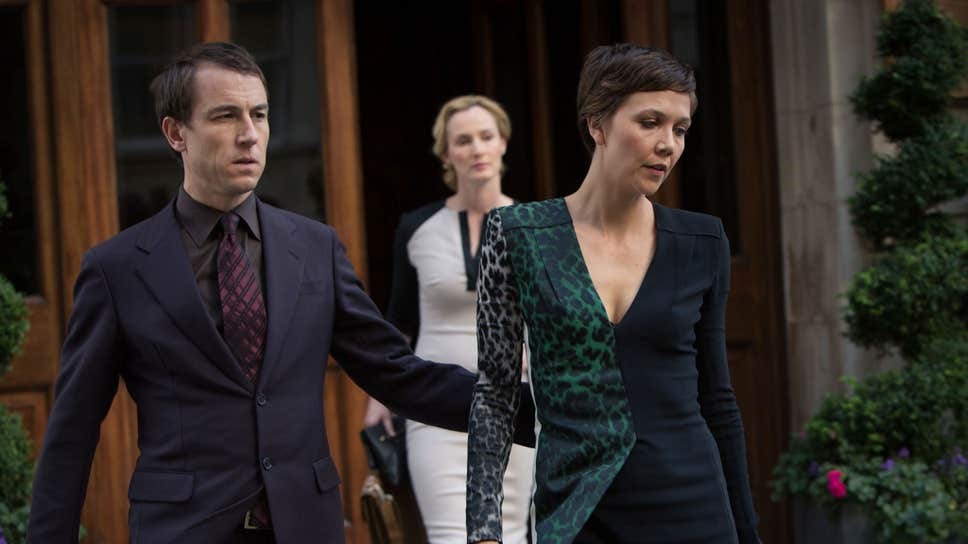 Although The Honourable Woman stars American actor Maggie Gyllenhaal, it is an international story involving politics and espionage that also stars plenty of familiar faces: Katherine Parkinson, Andrew Buchan, Stephen Rea, Tobias Menzies, Lindsay Duncan, Janet McTeer, Eve Best, and Genevieve O'Reilly.
Maggie Gyllenhaal won a Golden Globe for her performance and the show won a Peabody award. For The Peabody Awards, Noel Holston wrote: "a visually rich, densely-plotted thriller set against the backdrop of the Israeli-Palestine conflict, it suggests complexities and age-old vendettas that often escape even the best documentaries, to say nothing of the evening news."
It was a co-production between BBC Two and Sundance.
It's currently available for purchase through Amazon, and you can watch it with an HBO Max subscription.
The Night Manager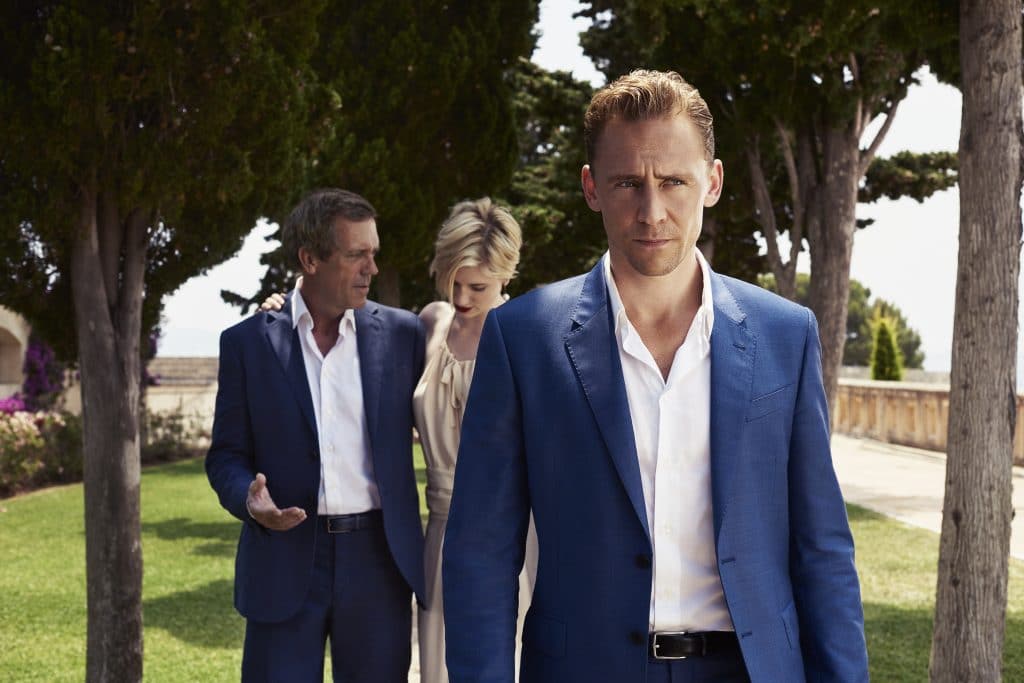 Based on the novel by John John le Carré, The Night Manager is a thrilling tale of espionage starring Tom Hiddleston as ex-British soldier Jonathan Pine who is recruited into MI6 by Angela Burr (Olivia Colman). Pine must infiltrate an inner-circle of arms dealers lead by Richard Roper (Hugh Laurie).
The Night Manager also stars Tom Hollander, Elizabeth Debicki, Tobias Menzies, Jonathan Aris, Neil Morrissey, and Katherine Kelly.
You can stream it on Amazon Prime.
Single Father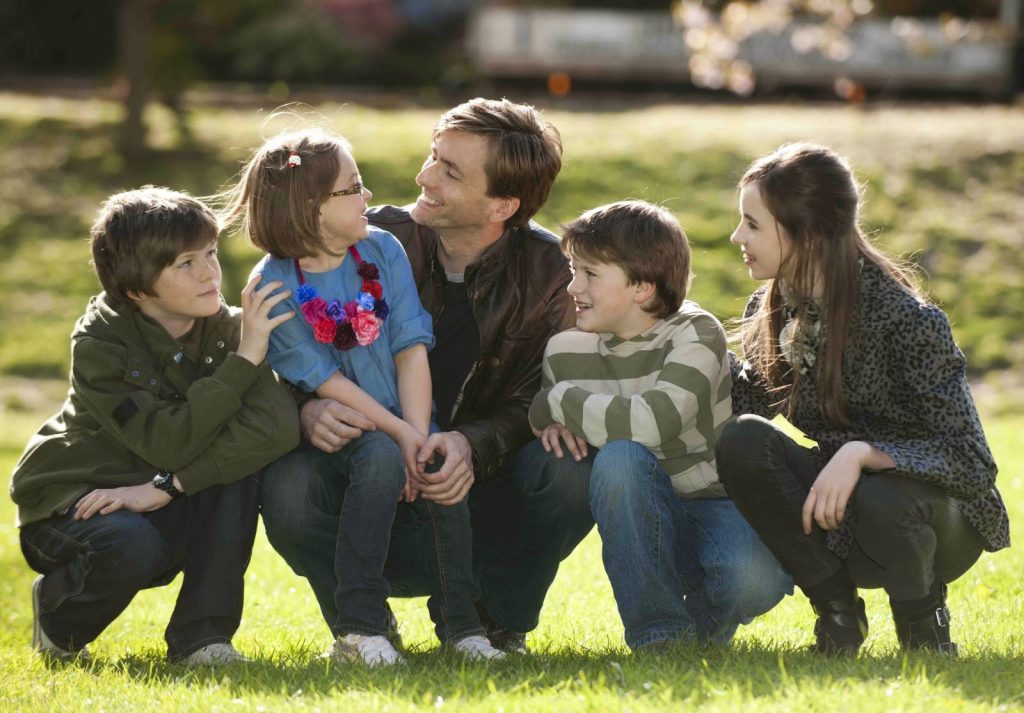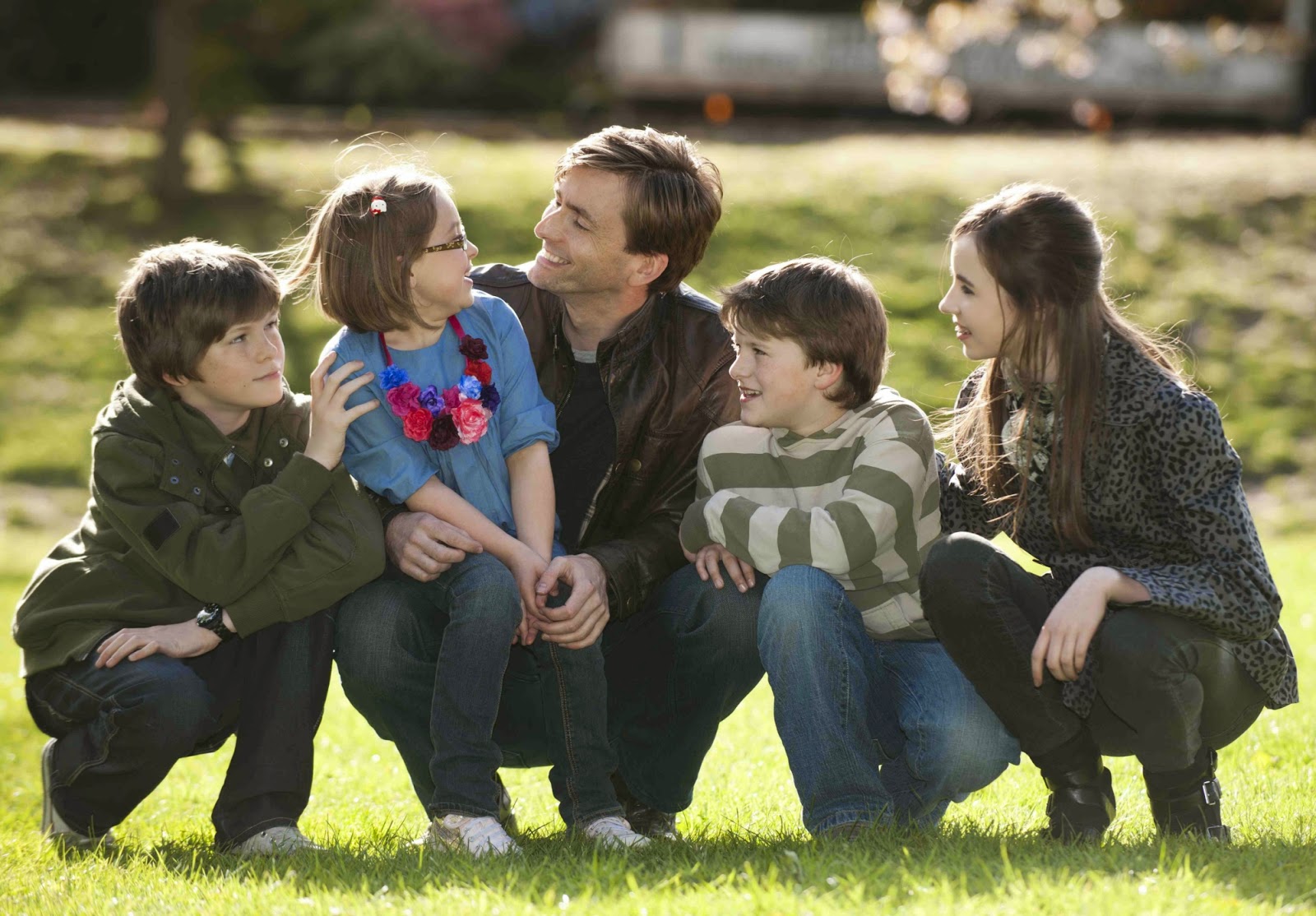 Single Father tells the story of a widower (played by David Tennant) who must care for his kids, balancing his grief and theirs, too. It highlights the ups and downs of parenthood, family, and love.
Single Father also stars Suranne Jones. See it on BritBox.
Roadkill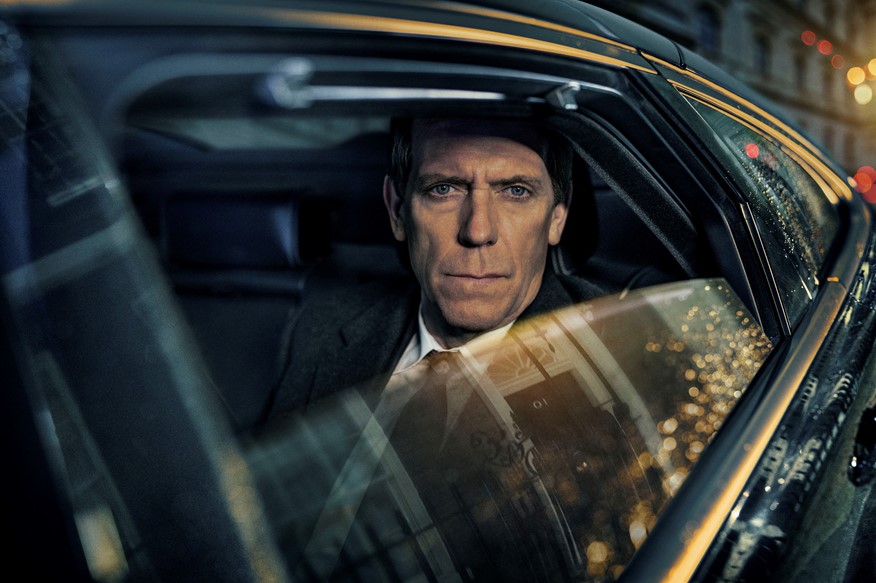 This four-part thriller stars Hugh Laurie as a Justice Minister whose private life may cause problems ahead of his possible promotion. Originally aired in late 2020, it also features the last performance of the late Helen McCrory.
You can stream Roadkill on PBS Masterpiece.
The Driver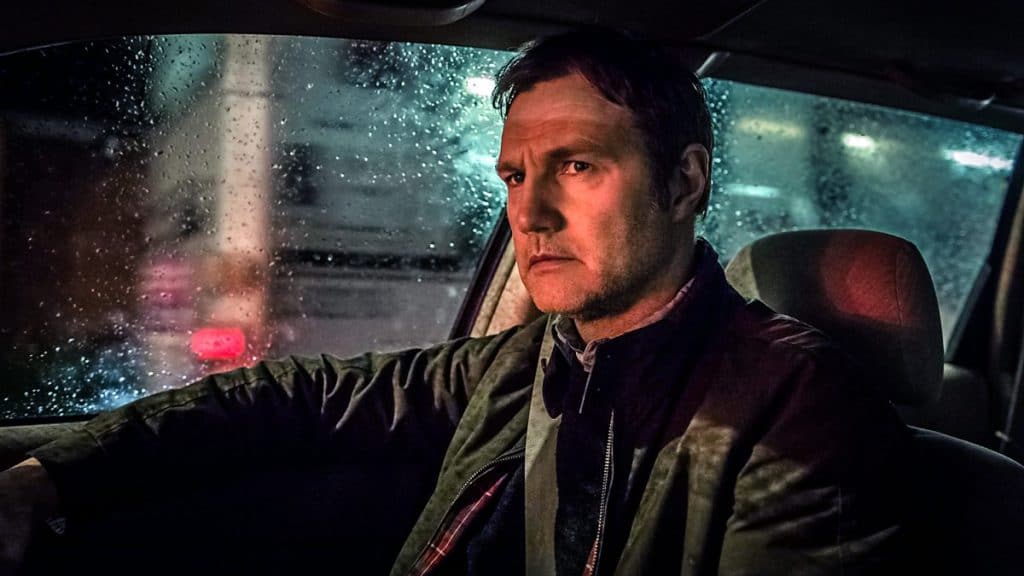 David Morrissey stars in this family drama and thriller as an ordinary cab driver who reluctantly accepts a job as a driver for a crime boss. His complex family life hangs in the balance.
It also stars Ian Hart, Claudie Blakley, Andrew Knott, Shaun Dingwall, Sacha Parkinson, and Colm Meany.
The Driver is no longer available through most streaming services, but you may be able to watch it on Hoopla.
The Secret of Crickley Hall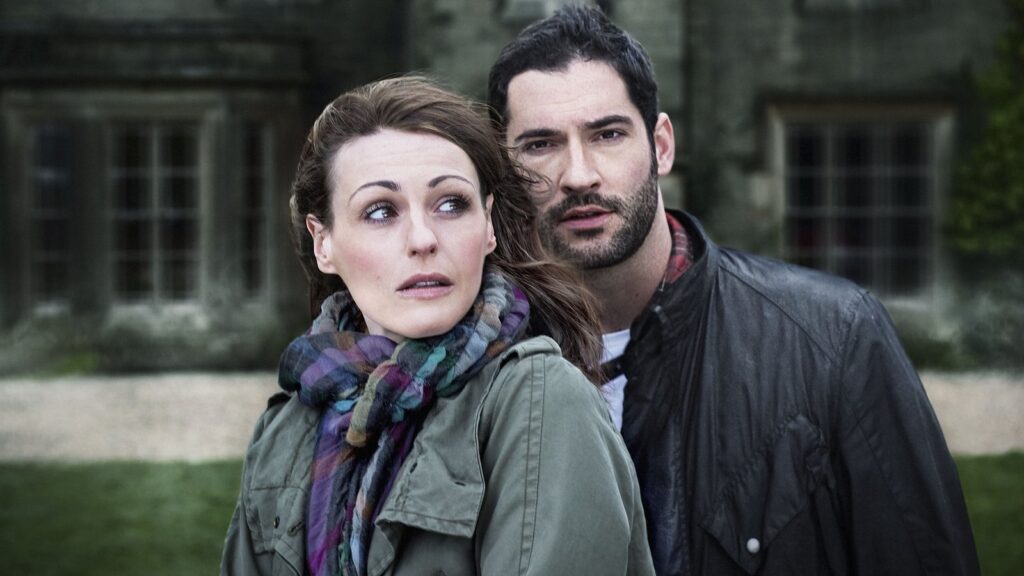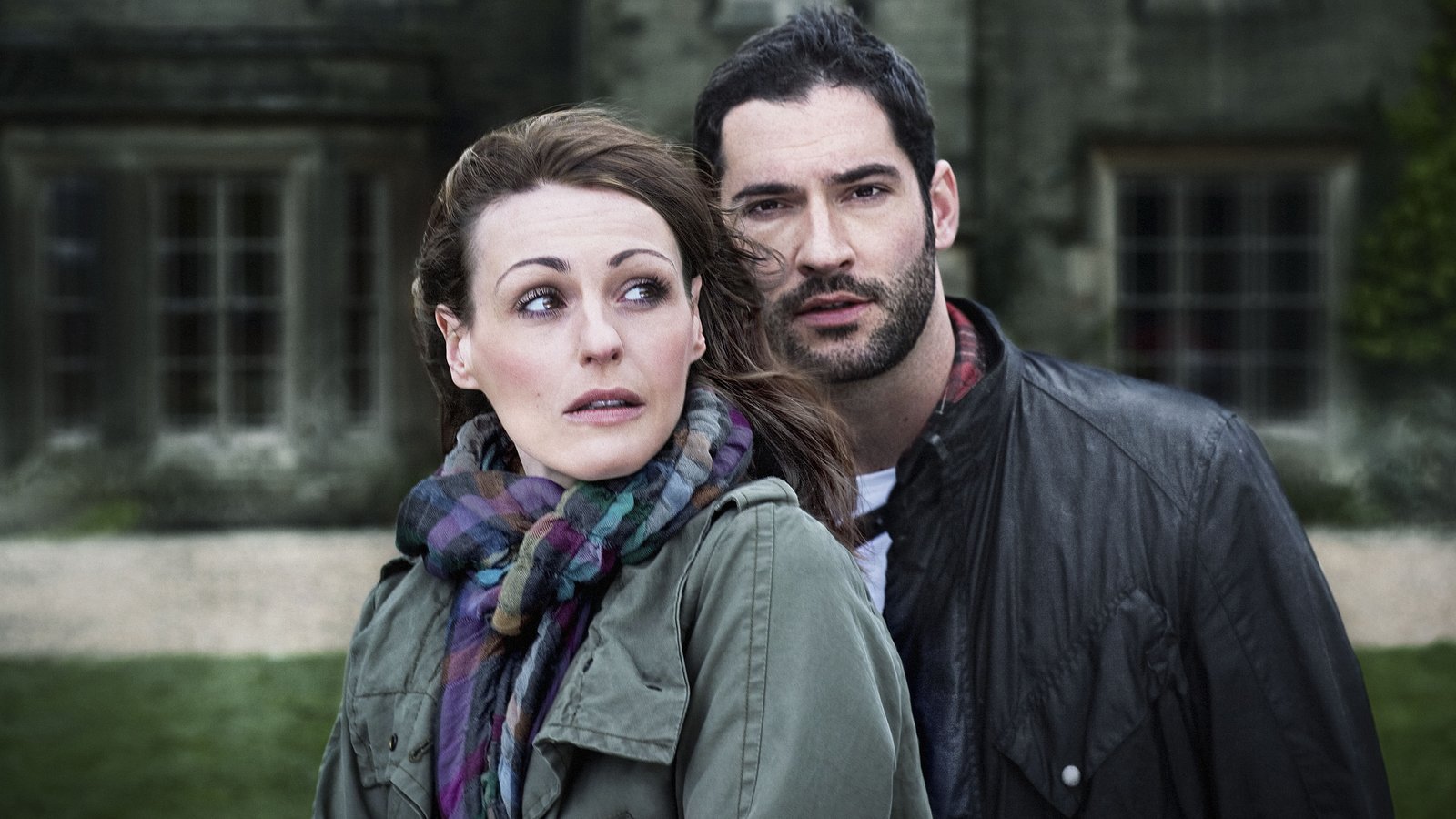 The Secret of Crickley Hall is an emotional, eerie tale about a family grieving. They decide to move to Crickley Hall to get away for a little while, but the ghosts of previous occupants begin to complicate their lives. The stories of all the characters are wonderfully interwoven. It's more eerie than scary and leans more towards a Victorian ghost story type feel than a horror flick. It's based on the novel by James Herbert.
It stars Suranne Jones, Tom Ellis, Maisie Williams, Olivia Cooke, Pixie Davies, Sarah Smart, David Warner, Bill Milner, Donald Sumpter, and Douglass Henshall, among others.
It's currently streaming on Hulu. On December 20th, it will be added to BritBox.
Requiem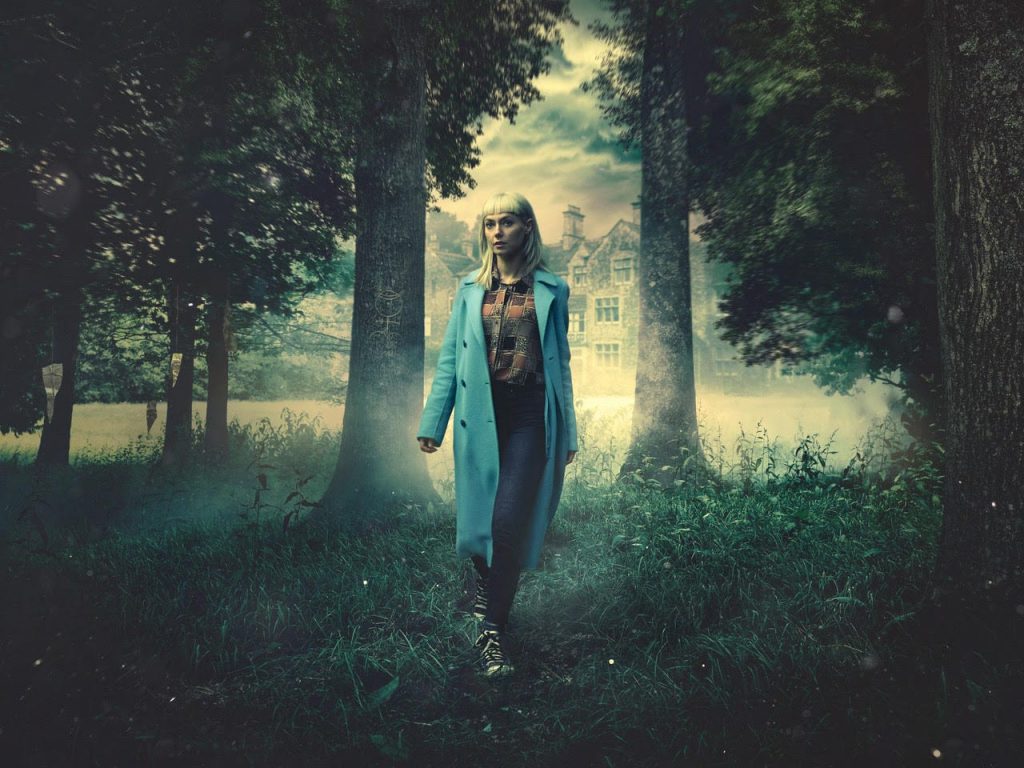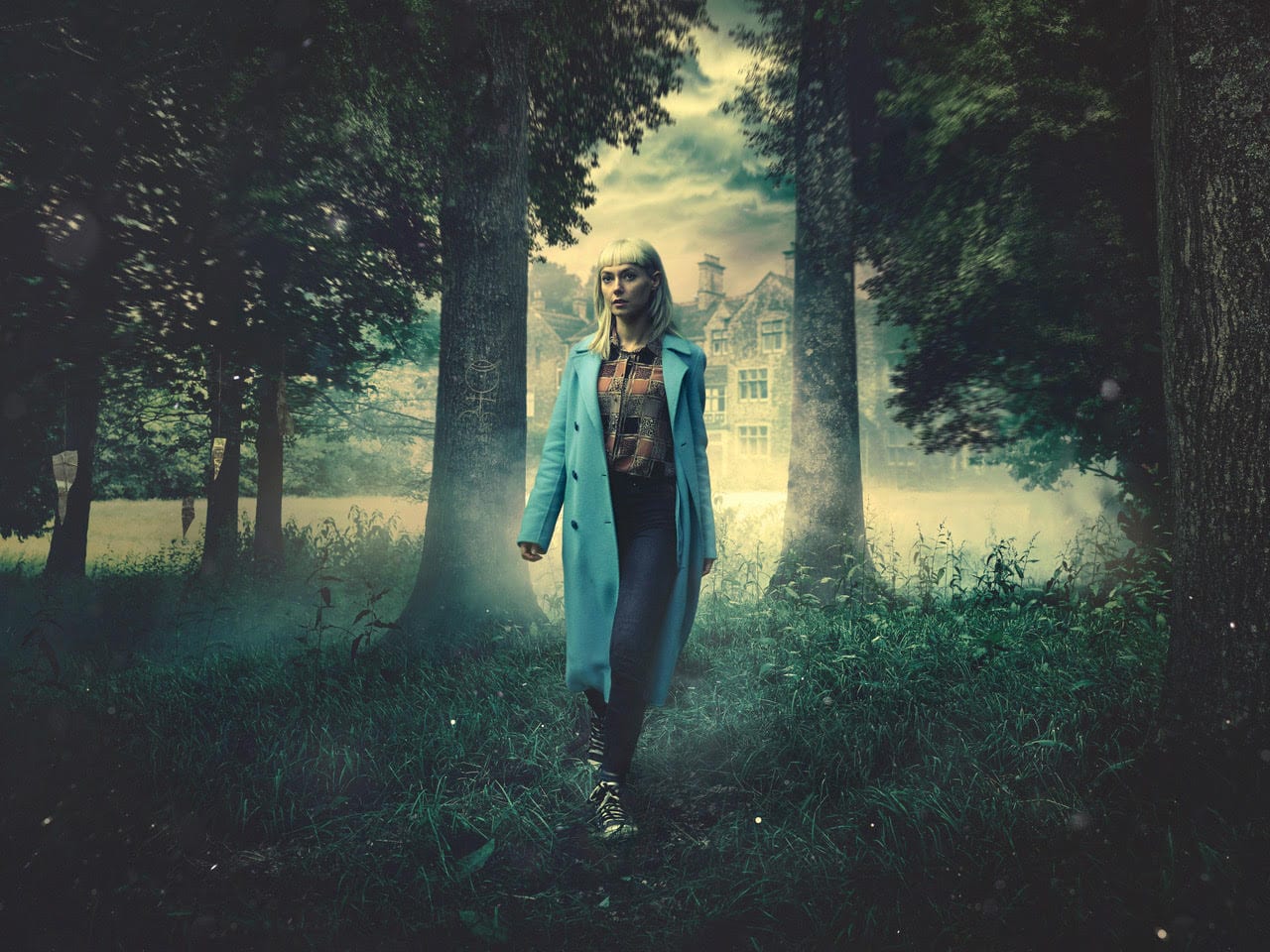 Requiem leans more toward the horror genre than The Secret of Crickley Hall – much more. Though, the most horrific scene is in the first episode. So, if that's too much for you, rest assured: it doesn't get quite that bad again. Rather, it's about the mystery surrounding the disappearance of a young girl and the sinister causes that lead to it.
It stars Lydia Wilson, Brendan Coyle, Joel Fry, Richard Harrington, Claire Rushbrook, Joanna Scanlan, James Frencheville, Pippa Haywood, Tara Fitzgerald, and Sian Reese Williams.
Requiem is streaming on Netflix.
Fair spoiler warning: if you like miniseries because they have complete endings, you might be disappointed with the intentionally open ending of Requiem.
London Spy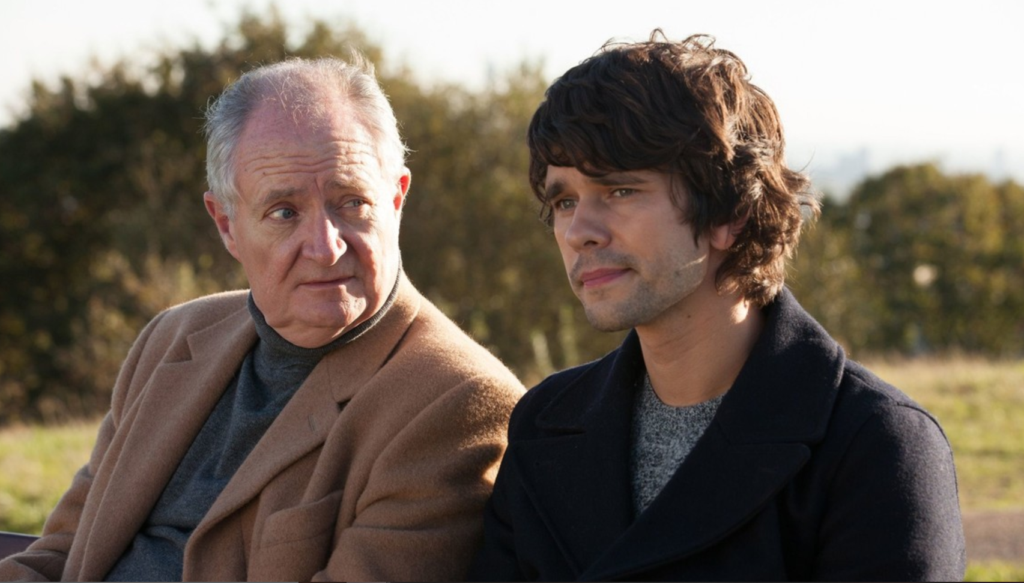 London Spy begins with a romance between two people from wildly different walks of life. Danny, a normal guy, romances Alex, an MI6 spy… but tragedy tears their romance apart. Danny then attempts to uncover the circumstances of his lover's death. This five-part miniseries demonstrates what one man will go through to uncover the truth.
It stars Ben Whishaw, Jim Broadbent, Edward Holcroft, David Hayman, Charlotte Rampling, Harriet Walter, and Richard Cunningham.
You can stream London Spy on Amazon.
Thirteen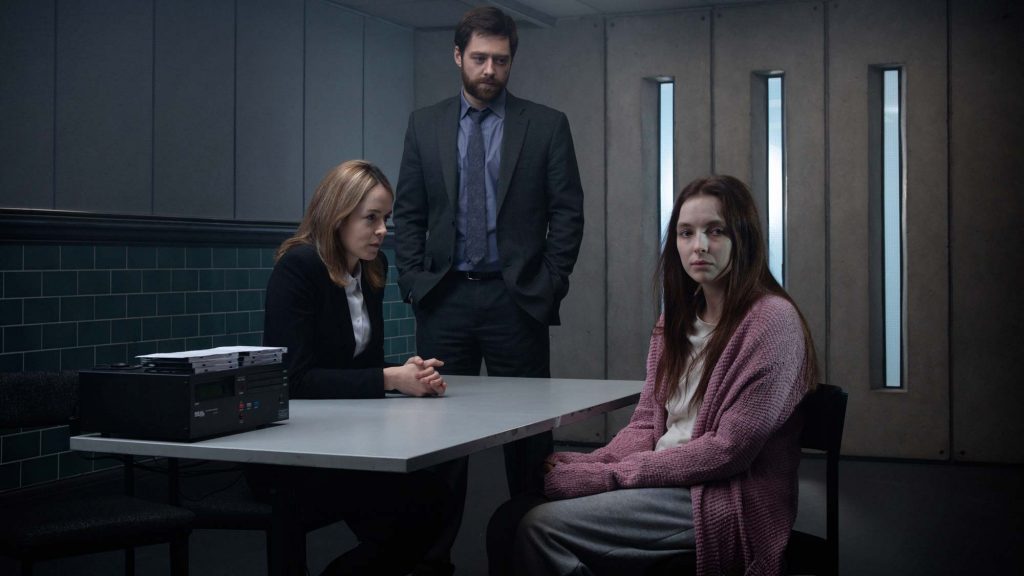 A young thirteen-year-old girl, kidnapped and held captive for thirteen years, finally returns to her family at the age of twenty-six. This miniseries focuses on the emotional fallout, how life moves on, and what she's willing to go through to help investigators save another young girl who's been taken.
This emotional drama stars Jodie Comer, Richard Rankin, Natasha Little, Stuart Graham, Valene Kane, and others.
Thirteen is streaming on Amazon Prime and Hoopla.
The Escape Artist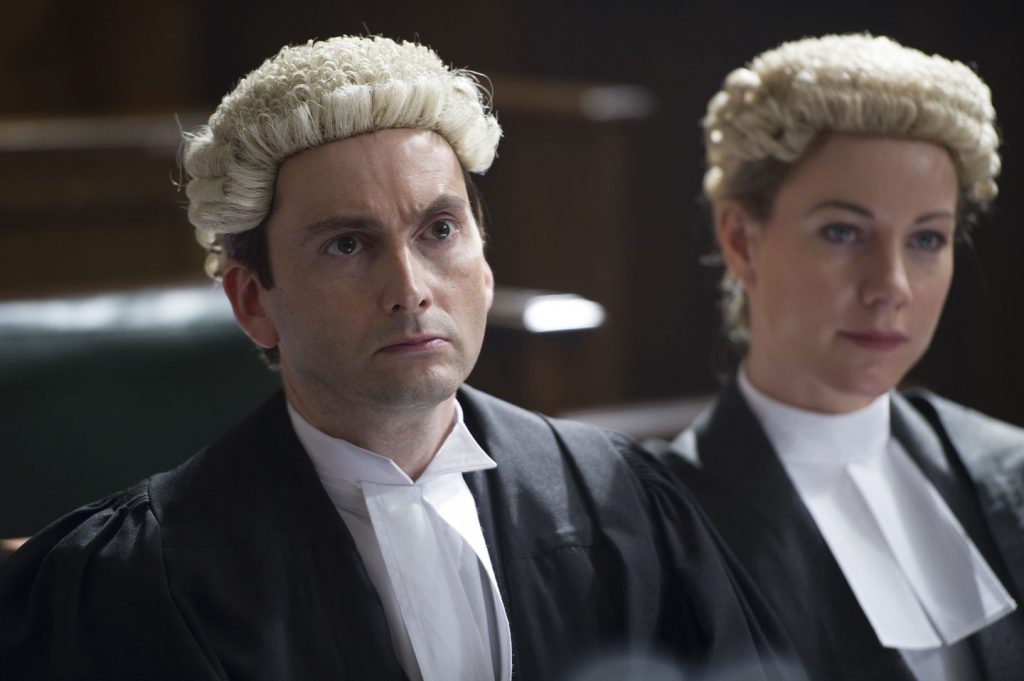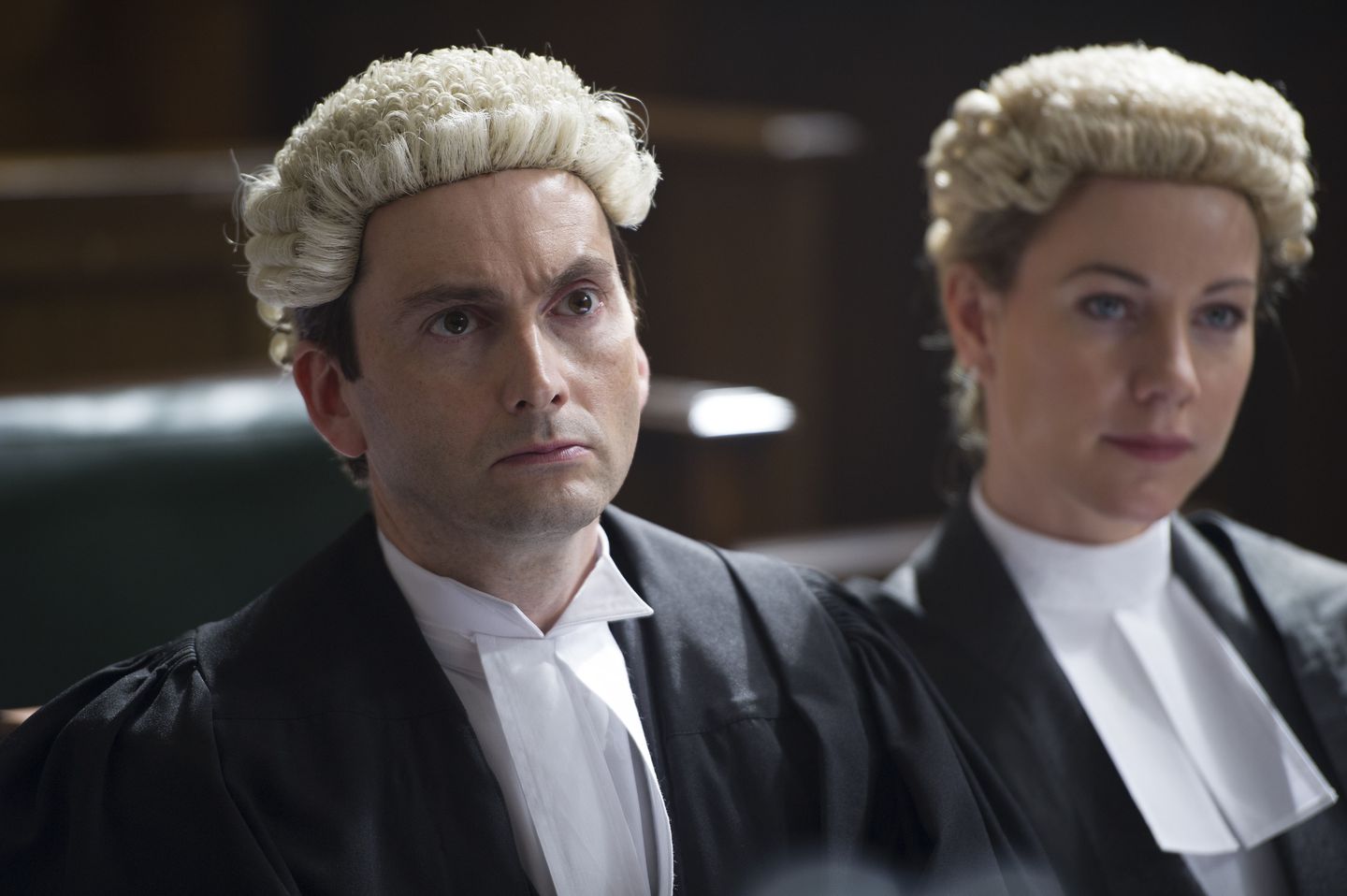 The Escape Artist is a twisting, thrilling drama. David Tennant plays a junior barrister who has never lost a case. When his talents lead to the acquittal of a serial killer, his life begins to unravel. It may start a little slow, but you'll be sitting on the edge of your seat by the end.
The familiar faces you'll see are Sophie Okonedo, Anton Lesser, Jeany Spark, Toby Kebbell, Ashley Jensen, and more.
The Escape Artist is available for streaming purchase.
Press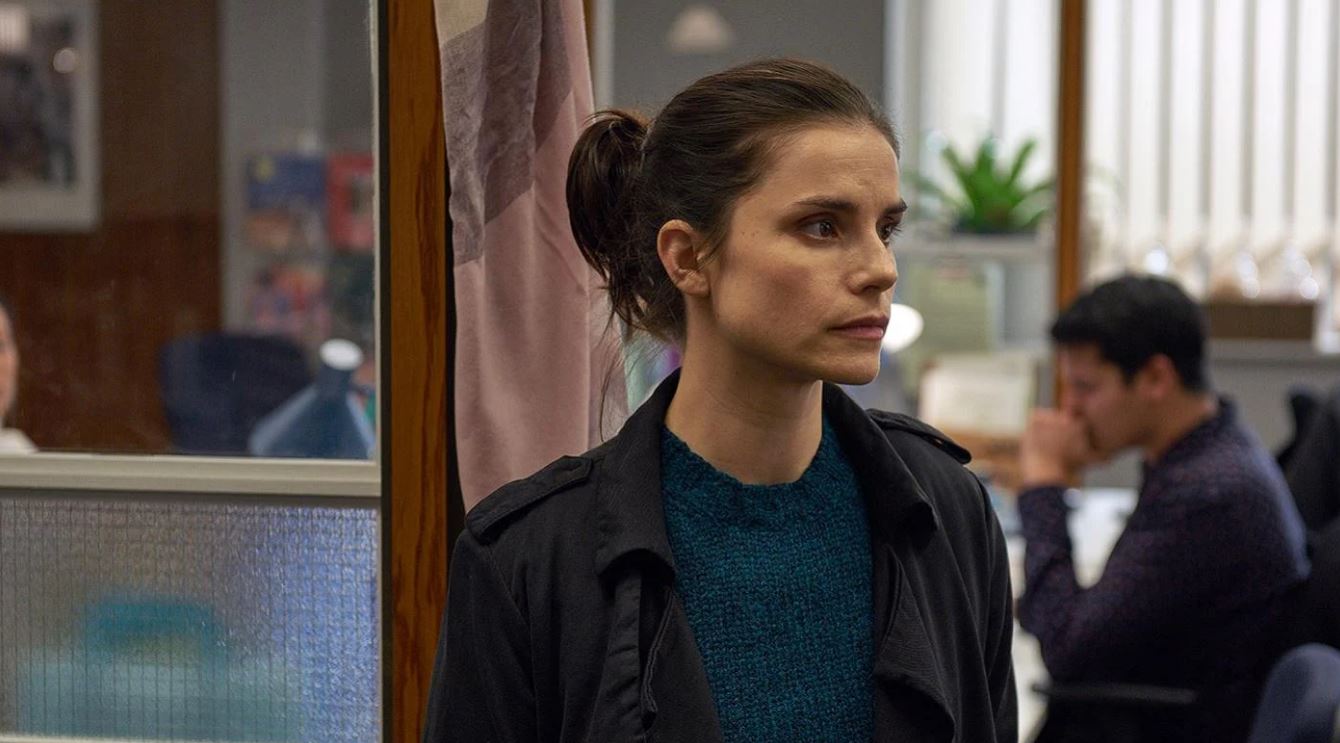 This 2018 miniseries first aired on BBC One, following the rivalry between two fictional British newspapers and their senior employees. Though it definitely left room for further seasons, it has its own contained story and it became a de facto miniseries when it was cancelled after one season.
Though its portrayal of "modern" journalism is wildly unrealistic, it's still a fun series you can watch in a weekend.
Stream it on PBS Masterpiece.
Collateral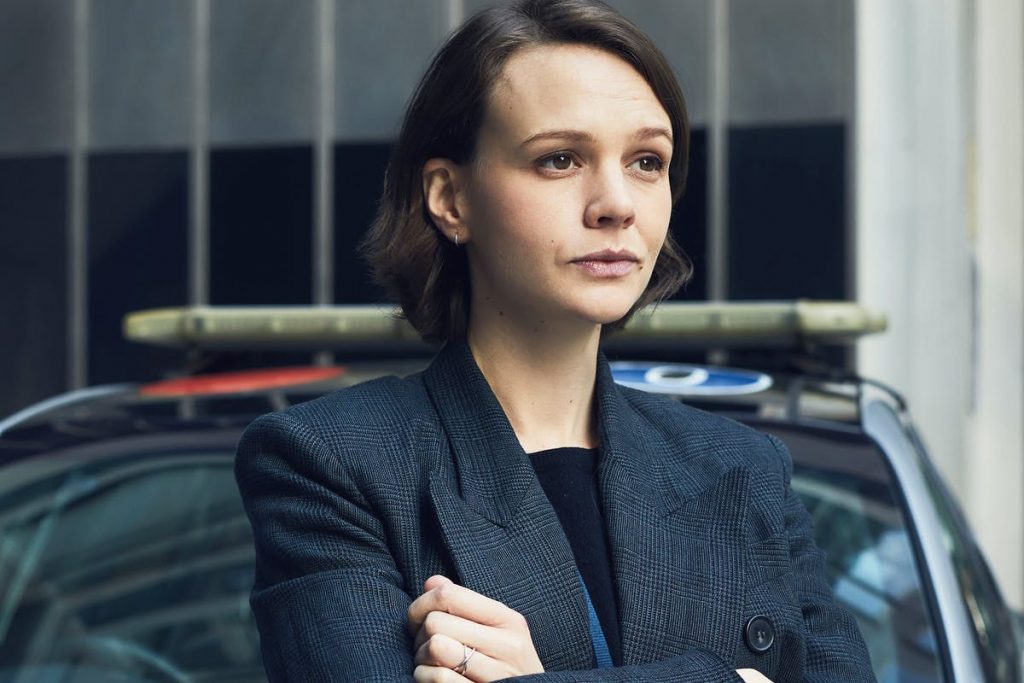 When a pizza delivery man is mysteriously murdered, detectives unravel connections across all walks of life in London. The deeper they dig, the more complex the story becomes.
It stars Carey Mulligan, Jeany Spark, Nicola Walker, John Simm, Billie Piper, John Heffernan, Saskia Reeves, and Nathaniel Martello-White.
Collateral is streaming on Netflix.
Bodyguard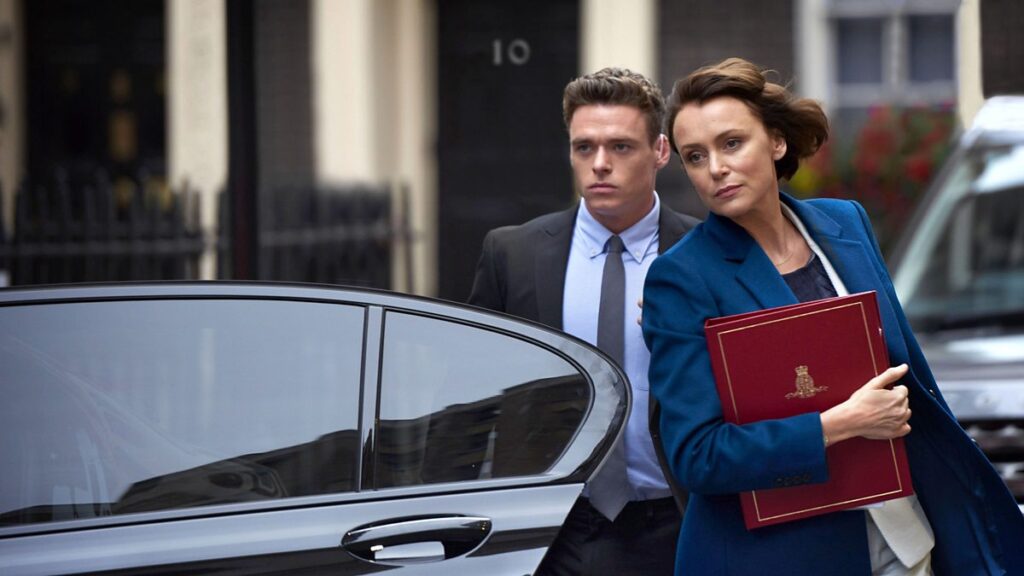 Bodyguard is a thriller revolving around the Royalty and Specialist Protection Branch of the London Metropolitan Police Service. The story starts with a high tension situation on a train, hooking viewers in from the beginning.
David (Richard Madden) is promoted to the protection detail of British Home Secretary Jula Montague (Keeley Hawes). They aren't on the same page politically, but David has a job to do.
This action/political thriller/romance also stars Sophie Rundle, Vincent Franklin, Gina McKee, Poppa Haywood, Stuard Powman, Tom Brooke, and many more familiar faces.
Bodyguard is streaming on Netflix.
Did we miss your favorite BBC miniseries?
Have you seen them all? Which ones are you adding to your list?
Share it to Pinterest!