Queens of Mystery, Season 2: Premiere Date & Where to Watch
In some cases, we earn commissions from affiliate links in our posts.
Last Updated on November 21, 2021 by Stefanie Hutson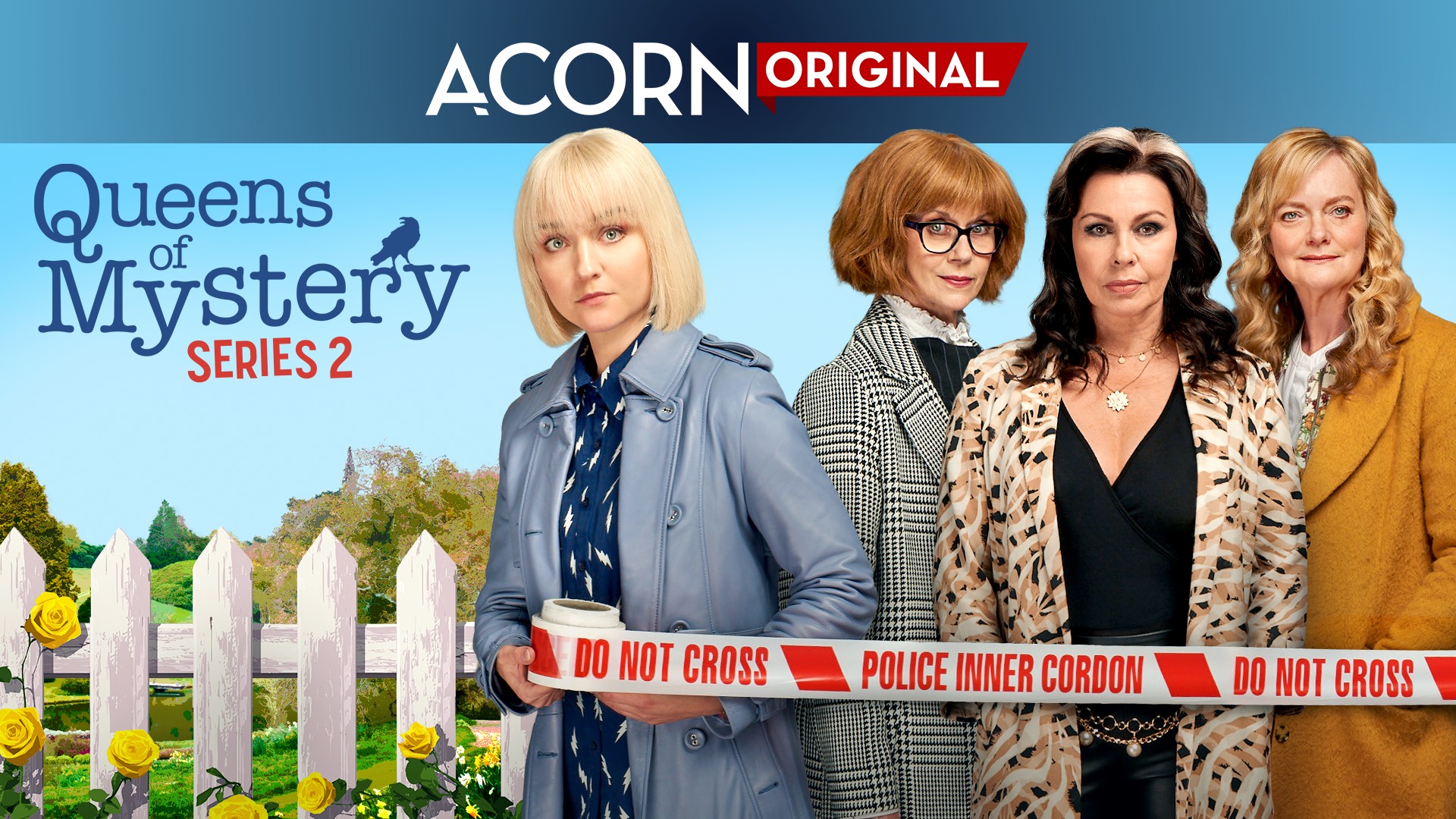 Back in early 2019, Acorn TV released the first season of a fun and original cosy mystery, Queens of Mystery. We reviewed it positively, as did more than a few viewers – but for two years, there have been no new episodes.
The delay was because of the pandemic. Not only is pandemic-era filming more expensive, but after the lockdowns ended/eased in parts of the UK, every delayed production seemed to want to get going at the same time. And of course, we all know how many British actors are in multiple shows each year. They – and crew members – can't be in multiple places at once.
The good news is that Queens of Mystery finally managed to film their second season, and episodes are coming soon!
What is Queens of Mystery About?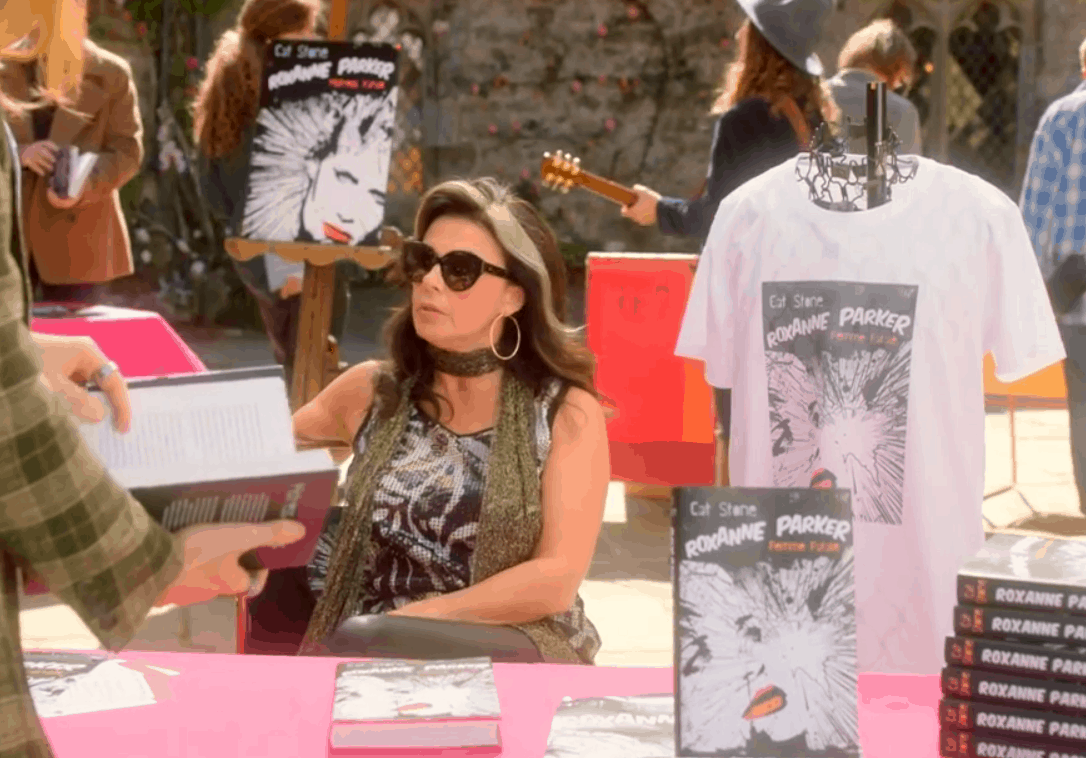 Queens of Mystery follows a young, single detective and her three meddling aunts, all of whom are crime writers (with some variation in the types of books they write). As young Matilda tries to settle into her new detective position, her aunts somehow manage to find themselves in the middle of all her cases – and her love life.
The series was created by Doc Martin writer Julian Unthank, and season 1 saw Olivia Vinall in the starring role of Matilda. She's accompanied by the motherly Aunt Beth (Sarah Woodward, The Politician's Husband), edgy Aunt Cat (Julie Graham, The Bletchley Circle, Shetland), and brainy Aunt Jane (Siobhan Redmond, Alfresco).
In spite of the professional detective at the center of the story, the series falls very much into cosy mystery territory. Much of the action revolves around the three aunts and their meddling investigatons that ultimately help their niece solve her cases. Like any good cosy, all significant violence/murder/sex takes place off screen.
Colours are bright and fun, scenery is gorgeous, and nothing too terrible (aside from murder, of course) ever happens. You're not likely to see the lead characters dealing with anything too real and gritty (this is NOT a Happy Valley or Luther).
If you're a fan of this style of mystery, we also recommend checking out our list of British cosy mysteries.
When Does Season 2 of Queens of Mystery Premiere?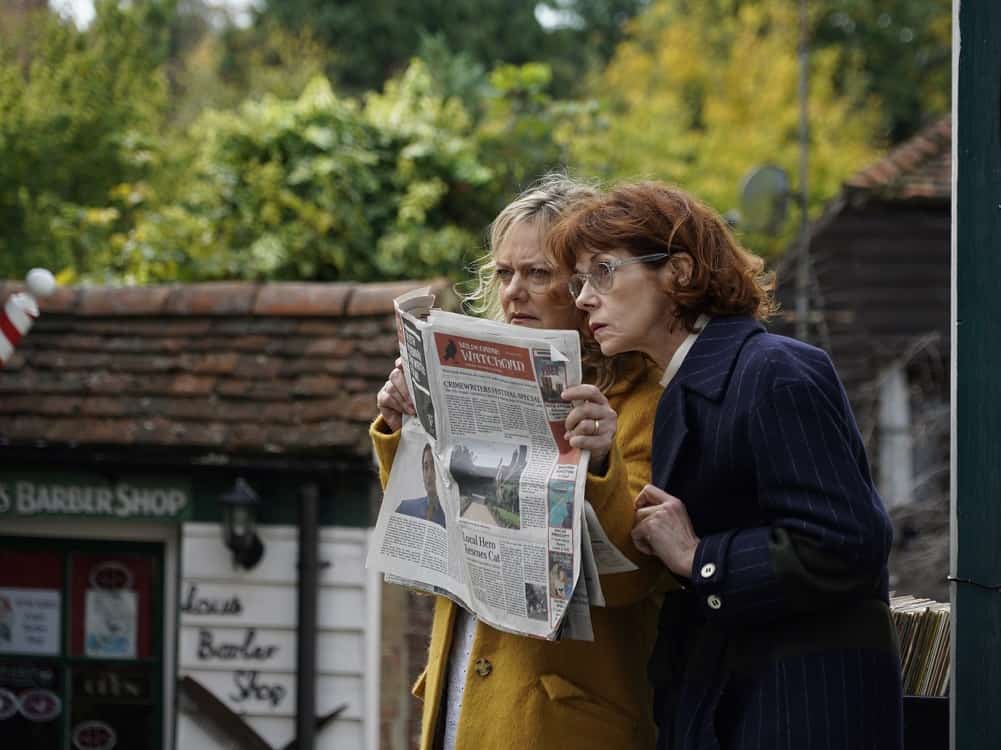 Season 2 premieres on Acorn TV on the 10th of January in 2022. They haven't yet mentioned how episodes will be released, but in the past, Acorn TV Originals have typically premiered with episodes 1-2, then added new episodes weekly. Again, we can't confirm if this one will follow that pattern, but we'll update when we know more.
If you haven't watched season 1 or you just want to watch it again, you can check it out HERE. If you've yet to take the streaming TV plunge, you can also buy the DVD HERE or ask at your local library.
Who's in the Cast for Queens of Mystery, Season 2?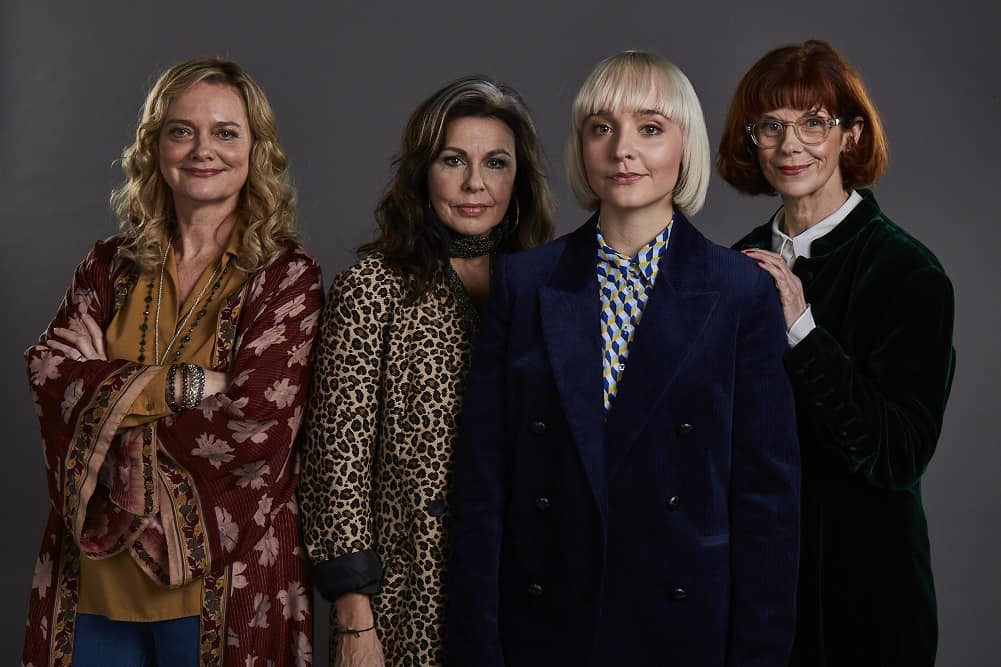 Based on the cast photo and IMDb listing, it looks like the three aunts are all returning for season 2 – Sarah Woodward, Julie Graham, and Siobhan Redmond. Also returning are Martin Trenaman as Inspector Derek Thorne, Michael Elcock as PC Terry Foster, Andrew Leung as Dr. Daniel Lynch, and Rebecca Grant as Natasha Young.
Belgian actress Olivia Vinall will not be returning to the role of Matilda. Instead, relative newcomer Florence Hall will take over the role. Though she's been in productions before, her acting resume is a series of small parts, so it will be interesting to see how she does in a larger role.
After season 1 premiered, there were a lot of comments about the narrator of the series. Some thought it gave it a cosy feel, while others raged on about how much they hated the narration. We've checked IMDb, and the woman who did the narration, Juliet Stevenson, is only listed for 6 episodes. There's also no one new listed as narrator.
That might mean they've scrapped the narration for season 2. Keep in mind, though, that IMDb listings are notoriously error-filled and incomplete, especially with new seasons and productions. We'll have to wait and see what happens to be sure.
Will You be Tuning in for Season 2 of Queens of Mystery?
This is one we'll definitely be adding to the I Heart British TV watch calendar. In a world that's often dark and disturbing, sometimes it's nice to watch something more peaceful. Will you be tuning in?