New Comedy Series Crashing Available on Netflix
In some cases, we earn commissions from affiliate links in our posts.
Last Updated on November 7, 2016 by Stefanie Hutson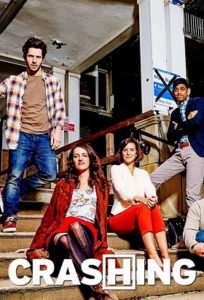 One of the hardest things about being an American fan of British television is the fact that in many cases, you have to wait several years before new shows become available here. It's not always the case, though. At the moment, Netlix is airing Series 1 of the new British comedy Crashing, starring Jonathan Bailey (Broadchurch), Adrian Scarborough (Blunt Talk), Damien Molony (Suspects), Louise Ford (The Windsors), Julie Dray (Cradle to Grave), and Amit Shah (Jekyll & Hyde).
The show follows 6 20-somethings who have decided to live together as property guardians of a hospital that's no longer in use. Although it offers an escape from notoriously high rent prices, it comes with a few complications.
Series 1 includes 6 30-minute episodes, all of which are available on Netflix beginning in September 2016.