Manhunt: The Night Stalker (Season 2) Review & Premiere Details
In some cases, we earn commissions from affiliate links in our posts.
Last Updated on October 17, 2021 by Stefanie Hutson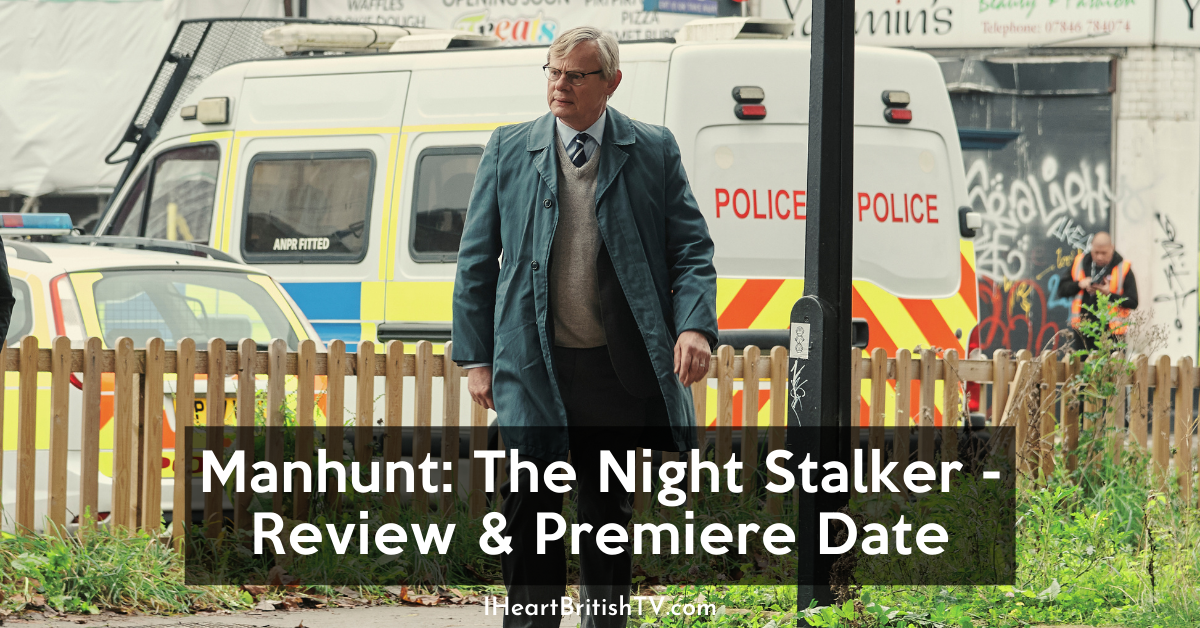 Most Acorn TV fans will have at least seen some mention of the 2019 true crime dramatisation Manhunt. It stars Martin Clunes as the talented detective DCI Colin Sutton, and it followed along as he led the investigation into the death of French student Amélie Delagrange.
The three-part series offered a refreshingly original, yet realistic look at the mundane heroism of dedicated investigators. Instead of dwelling on the gore and violence of the crime and criminal, it gave us a look at the systematic efforts, institutional conflicts, and unfailing determination of officers who simply wanted to do their respective parts in getting justice for the victims of horrific crimes.
As it was based on a true story, some wondered if there would be a second series. Luckily, DCI Colin Sutton is a man with long and successful career – and a lot of stories to tell. On October 18th, Manhunt: The Night Stalker (effectively, Season 2) becomes available on Acorn TV.
Note: There are NO plot spoilers in this post. We do, however, feature Sutton's books under the section "Learn More About the Real DCI Colin Sutton". Those books include the names of the culprits on their covers – so if you don't even want to know that much before watching, skip that section at the end.
What's Manhunt: The Night Stalker About?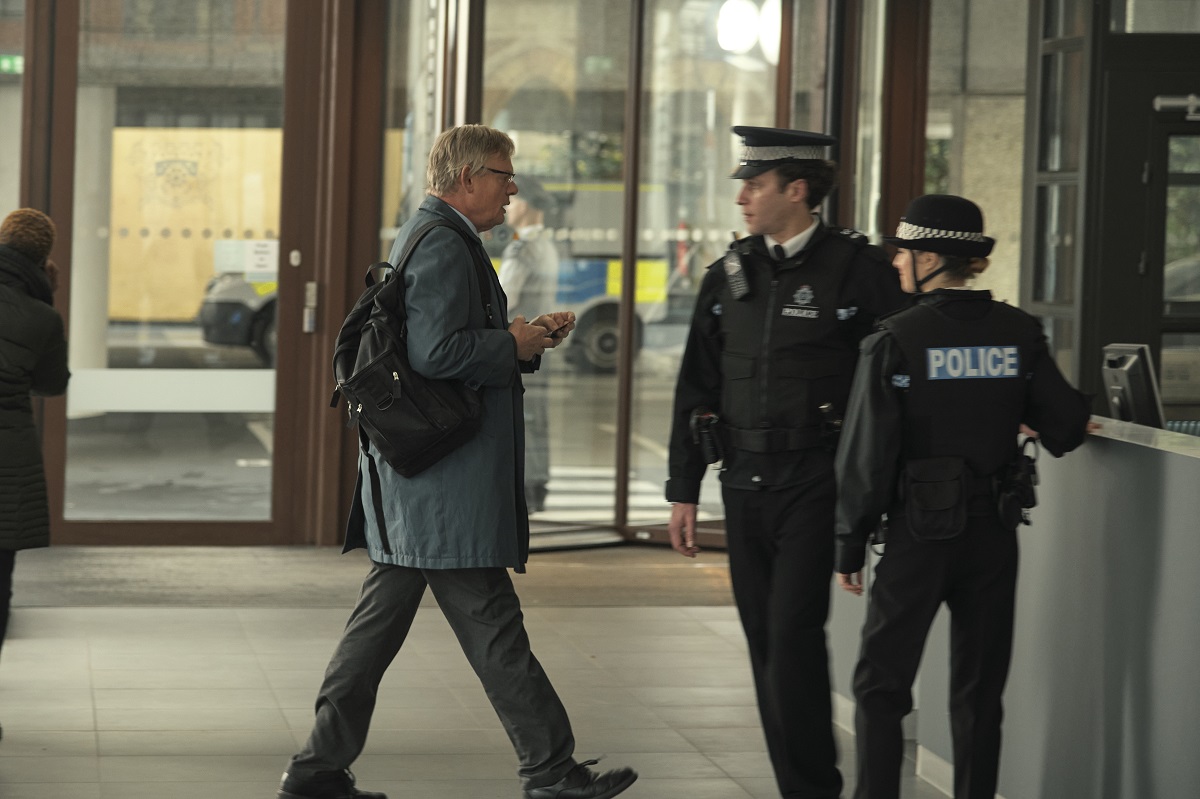 In Manhunt: The Night Stalker, we again join DCI Colin Sutton for a challenging case, this time following along as he takes over "Operation Minstead". The case aims to find the man behind 17 years of attacks and burglaries targeting elderly residents of South London.
While the case may not be as urgent and media-friendly as the murder of young women (a societal judgement Sutton rightfully despairs over in the series), it's not without pressure. We learn early on that Sutton is preparing to retire, and his decision to take a look at the case will almost definitely lead to an extension of his working days.
As he dives into the case, he quickly locks horns with the current investigating officers. Since their methods haven't been delivering results, Sutton feels they need to shake things up and try a different approach. With doubts all around, he'll have limited time and resources to deliver the results.
Where Can I Watch Manhunt: The Night Stalker?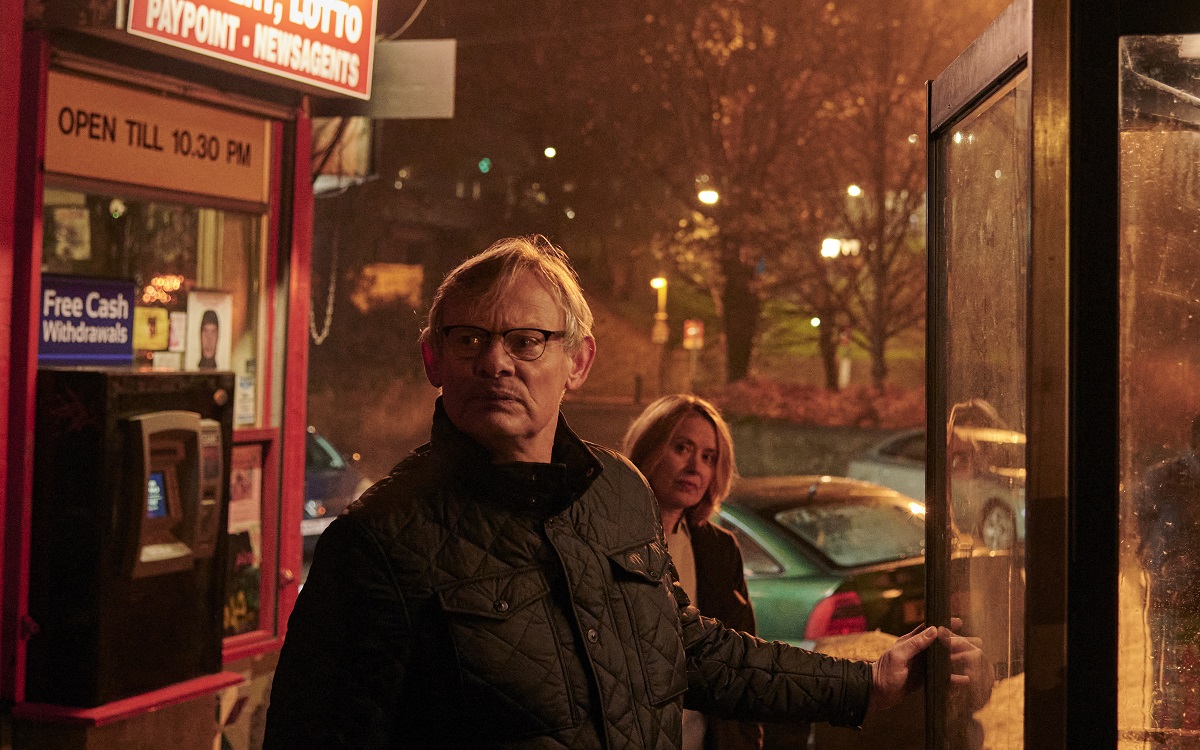 Manhunt: The Night Stalker premieres exclusively on Acorn TV in the US and Canada. The first episode will premiere on Monday, October 18th, and the following three episodes will air weekly through November 8th.
Fair warning: Every episode leaves you wanting more. Depending on your watching style, you may want to put a reminder on your calendar app so you can watch them all at once around November 8th.
Where is Manhunt: The Night Stalker Set?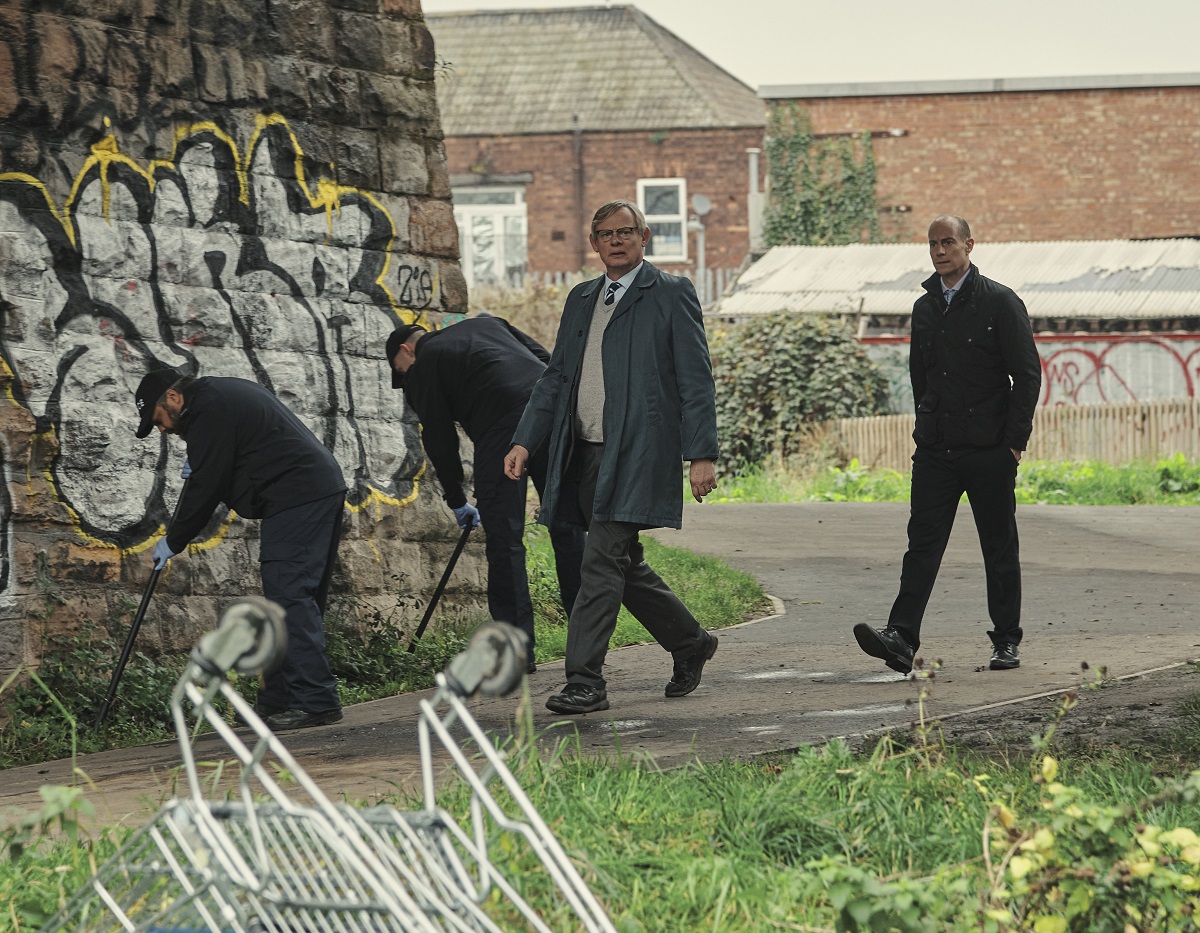 The series is set largely in South East London where the crimes took place. The Night Stalker's offences were heavily concentrated around Shirley in Croyden, but he also hit Orpington, Forest Hill, Coulsdon, Catford, Brockley, Bromley, Dulwich, Sidcup, and Beckenham. There was just one report of him offending outside of Greater London, and that was in Warlingham, Surrey.
The show is largely set in the areas where most offences occurred – and that makes sense, given that officers felt their best chance of catching him was to focus on the areas he favoured.
In the window below, you can take a virtual walk around Shirley. It's an area in the London borough of Croyden, and you'll certainly hear it mentioned throughout the series. Sometimes, it's nice to have some idea what the surrounding area looks like as you're watching.
If you find that interesting, you can also try clicking the "View on Google Maps" button to go into the full Google Maps screen where you can enter in some of the other areas.
Manhunt: The Night Stalker Review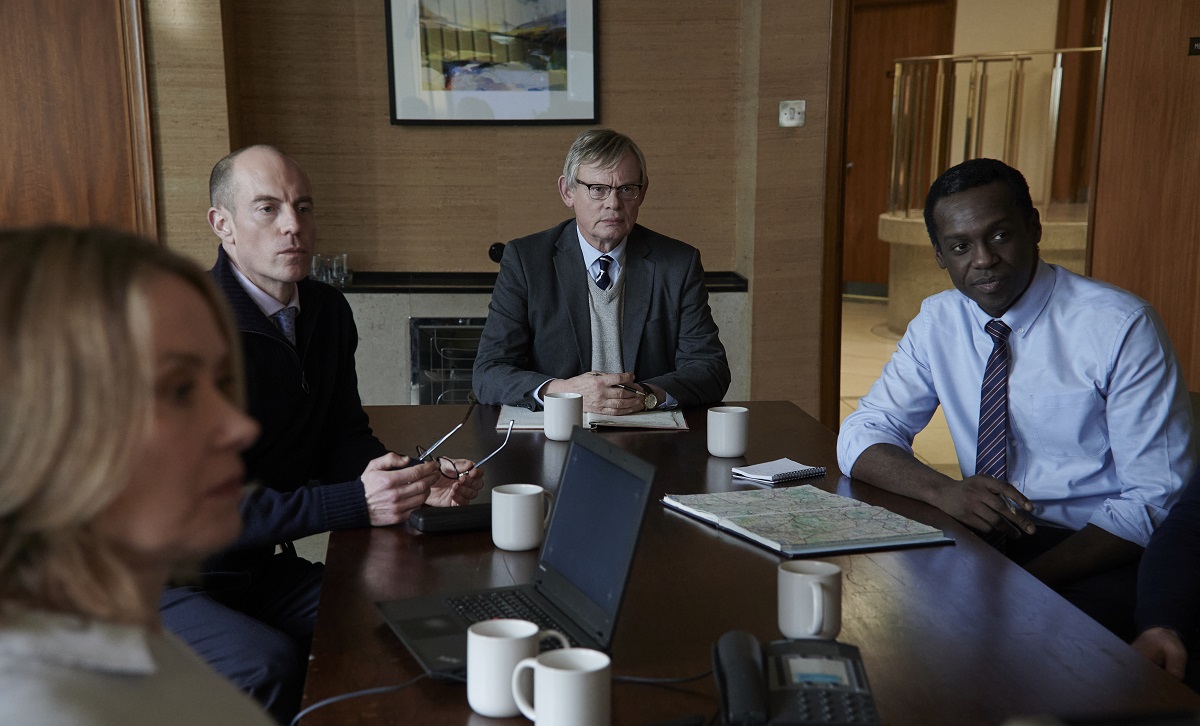 Before we go any further, I want to take a moment to explain our approach to reviews here at I Heart British TV. We're not interested in tearing apart the work of creatives who are out there making new shows – and we try to remember that EVERY show is someone's favourite show.
So – instead of pointing out every last flaw, we'll do our best to help you figure out if it's the kind of show you'd enjoy.
We'll start with the basics:
Tone: Though the crime and human toll are incredibly bleak, Manhunt never lingers on or sensationalises human suffering.
Violence: It's a case in which the culprit is guilty of rape and burglary, so there is implied violence. However, the producers have been careful to keep those bits short and not excessively graphic. It's enough to let you know the awfulness of the crimes without feeling the full force of what happened.
Case Format: One case over four episodes.
Swearing: Medium. It's not children's show-clean, but swearing is contextually appropriate and not excessive. It's not one of those shows where characters swear for the sake of swearing.
Nudity & Sexuality: There's no nudity, but there is some discussion of non-consensual sexual activity at the hands of the culprit – along with the associated trauma. If that's something you're especially sensitive to, you'll probably want to avoid this one.
Above all, Manhunt: The Night Stalker is an extremely well-made, sensitively-handled crime dramatisation. Writer Ed Whitmore has masterfully adapted the series to give it a good pace and more than enough tension without resorting to sensationalism.
Of adapting the series, Whitmore said, "There's a lot of crime drama on TV, but when you speak to real police officers they tell you there's little resemblance to the reality of police work." He added, "We tried to make Manhunt the most authentic police drama we could."
As you watch, it's easy to imagine young men and women tuning in and deciding they want to dedicate themselves to the kind of work DCI Sutton did. The series acknowledges some of the shortcomings of the larger police organisation, but it also (rightfully) extols the efforts of the hard-working men and women who genuinely want to make Greater London a better, safer place for its people.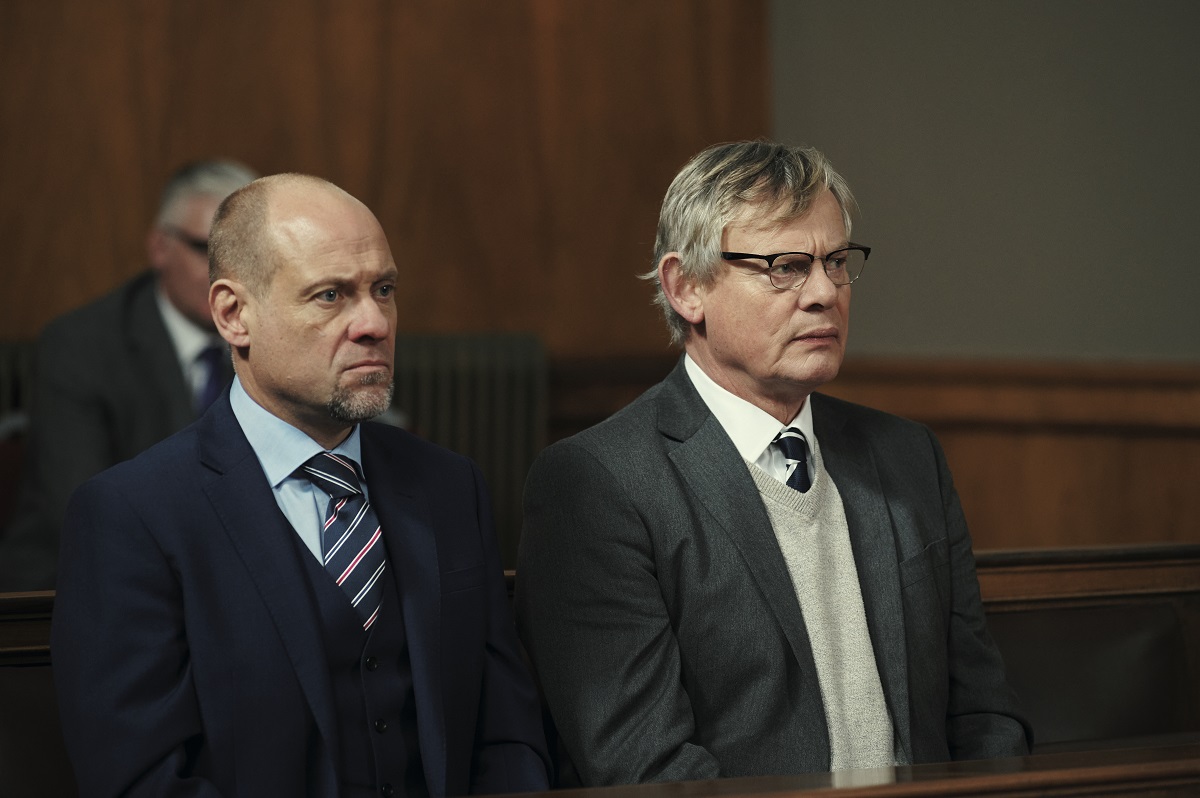 If you enjoy true crime TV, films, books, and podcasts, we strongly recommend checking this one out.
If you enjoy mysteries but you shy away from true crime shows because they so often glorify killers or wallow too much in other people's real trauma, I would urge you to give Manhunt: The Night Stalker a try. It's utterly gripping, but also sensitive to the real people behind the story.
On the subject of adapting real crimes for TV, Martin Clunes was quick to jump in:
We're not representing the crimes. We're representing the solution of the crimes, which is possibly a reaction to the bulk of television crime drama which focuses on how grisly can you make the crimes, or how outrageous or outlandish. Maybe it's time, we felt, to see how the people who fix these problems and get these people off the streets really operate, and from the feedback we've had, the one thing that people have said is that it's amazing to see these things portrayed accurately on television and how grateful they are to the people who do that for a real job and not a fictitious job – so that would be the good reason behind revisiting these horrible crimes and their solutions.
Writer Ed Whitmore also spoke about the efforts to engage with relatives and ensure that the series was sensitive and not at all exploitative, saying:
There was an effort from the beginning to engage with relatives on both seasons, and I think it's worth saying that for the most part, you know, those relatives were very supportive of both seasons being made, because for them, Colin's a hero. Colin's the person who did what needed to be done.
In the end, both seasons have gotten Sutton's seal of approval. He was quick to say, "Both of them exceeded all my expectations in terms of the quality, and in terms of the impact they've had."
That should give you some idea of how much care went into the series – and it shows when you watch it.
Learn More About the Real DCI Colin Sutton
Throughout the production of both season of Manhunt, Martin Clunes had the opportunity to interact with the real DCI Colin Sutton. When we asked about what it was like playing a real person he's met (as opposed to a fictional character or historical figure), Clunes said:
I've gotta say, it's really helpful. It was helpful hanging out with Colin on so many levels – initially just to sort of ask him lots of questions about what it is like to be a policeman and how to operate within the ranks, but also helpful just to sort of get eyes on him and hear him talk and sort of get a sense of the man behind the actions, if you know what I mean. So it's great to have somebody there to sort of have in the back of my mind as a target. Sorry Colin.
Still, no matter how great the portrayal, there's something to be said for hearing it straight from the horse's mouth – and if you want to learn more about Colin Sutton, you have a number of options.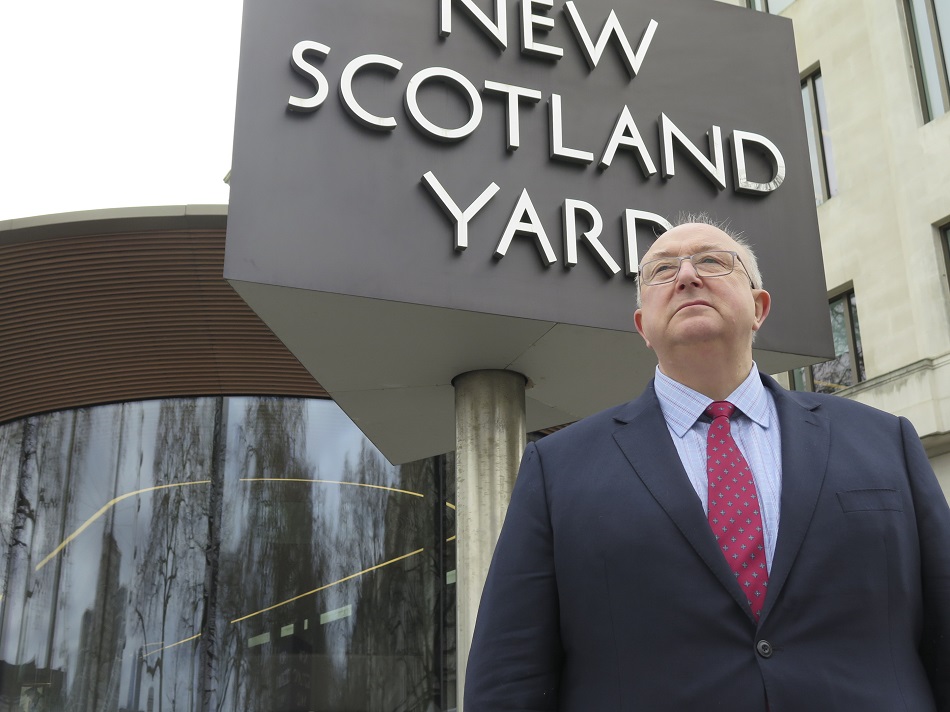 The Real Manhunter is an eight-part docuseries that talks with the real man behind Manhunt, DCI Colin Sutton. In each episode, he discusses a different case from his lengthy career. Watch it HERE on Acorn TV.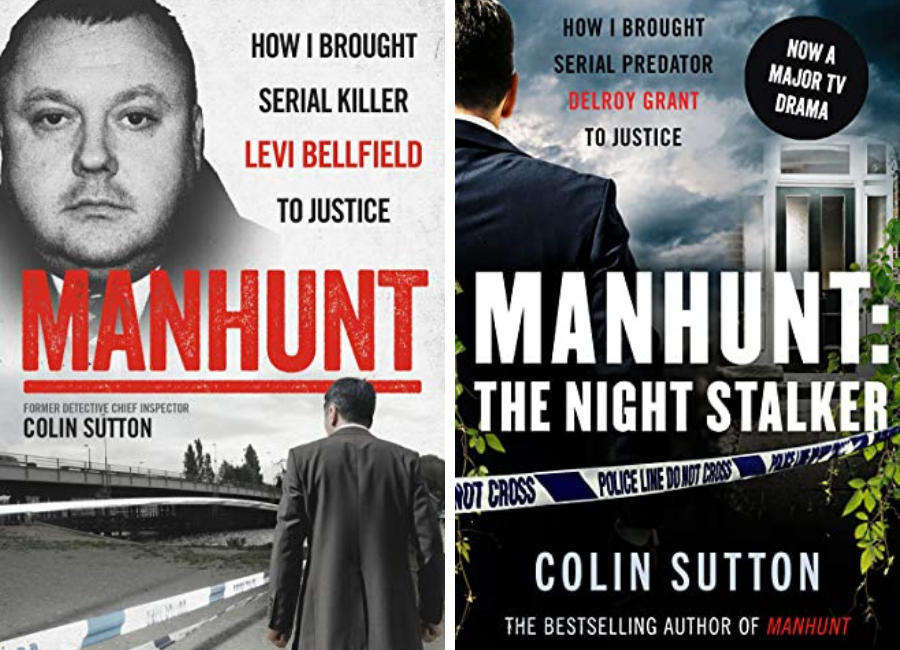 Since retiring, Colin Sutton has written two books about cases he's worked – both of which correspond with a season of the TV series. If you enjoyed the shows and want to find out more of the details that didn't make it into the TV adaptation, this is a great place to hear it straight from Sutton himself.
Manhunt – This book follows the Levi Bellfield case that was dramatised in the first series.
Manhunt: The Night Stalker – This book takes a look at the "Night Stalker" case from the second season.
And what about that t-shirt in the show (we won't spoil it)? Did Colin Sutton really have that t-shirt? He said:
"I didn't, but I have one now."
Apparently, he had a real t-shirt that was also a bit cheeky, but there were some hangups in licensing and it wasn't going to be approved for use in time, so they had to come up with a different one.
Will There be a Season 3 of Manhunt?
On the inevitable topic of whether or not there will be a third season, writer Ed Whitmore said:
There's definitely a chance. It's something that we're exploring at the moment and I think we just want to take our time and make sure that if we do a third one that we live up to the standards we hope we've set with the first two – but obviously the response to the second season in the UK has been extraordinary and we're very grateful for that and grateful for the interest in a third season.
Will You be Tuning in for Manhunt: The Night Stalker?
Is Manhunt: The Night Stalker your kind of show? Will you be tuning in? Feel free to chime in with your thoughts in the comments!