Hate the New Acorn TV Interface? There's a Simple Fix.
In some cases, we earn commissions from affiliate links in our posts.
Last Updated on April 8, 2018 by Stefanie Hutson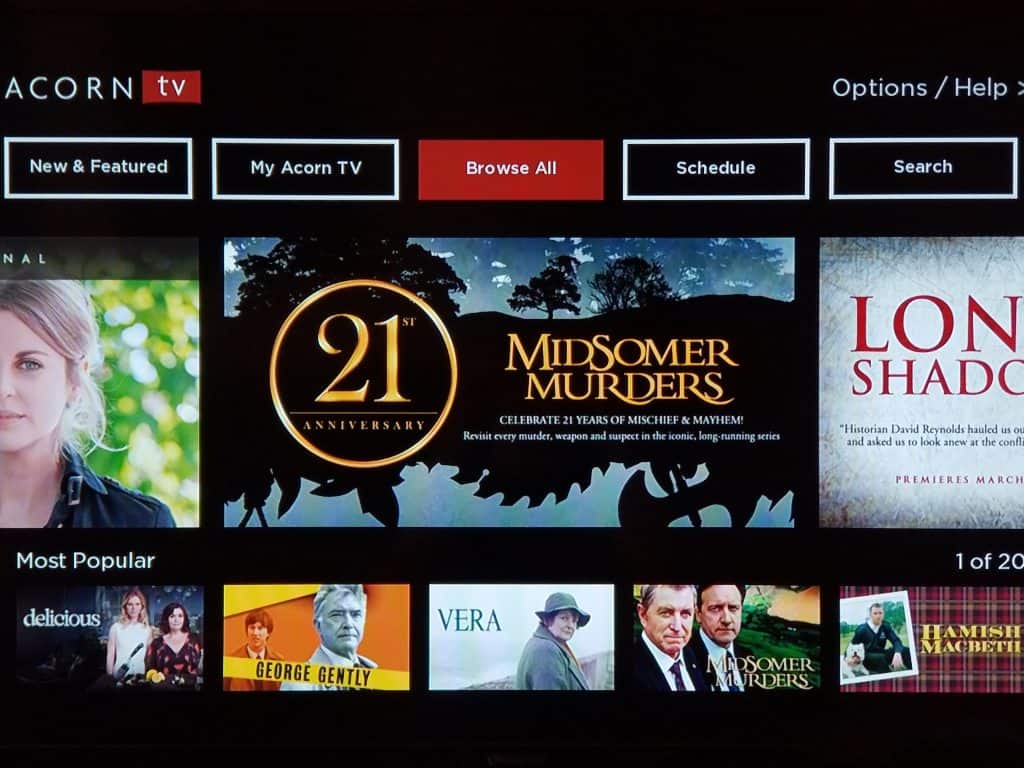 In our opinion, Acorn TV has traditionally had the very best app for streaming British TV content. Netflix has the annoying auto-play when you're browsing, BritBox hasn't yet worked out all the bugs, and Hulu…let's not even talk about that monstrosity of a redesign they put out last fall. Acorn TV, however, had a delightfully simple, functional app that did a great job of showcasing the 200-300 titles they tend to have at any one time. It was fast and effective and all-around great.
The new app, however, is a huge step down. Unfortunately, the new experience is buggy, hard for many to read, and less functional. We've been seeing complaints non-stop since the update started rolling out, with positive comments few and far between – and mostly along the lines of, "It's alright, I guess I'll get used to it."
What's different with the New Acorn TV App?
Not everyone has seen the new Acorn TV experience yet. Some devices have rolled it out automatically, while other people had to reset their devices to get the new version. If you subscribe to Acorn TV through Amazon, you won't see a change.
The biggest and most noticeable change is that everything has gotten really small, even on relatively large screens. Now, anyone who's been in a British TV Facebook group (like ours, which you can join here) will know the audience for British TV tends to skew a bit older (there are younger viewers, but fewer of them). The overwhelming majority of our Facebook page likes and website visitors are over 45, with a substantial portion over 65. Most people over 40-45 have some level of diminished reading vision, so why not take that into account?
Note: We don't collect your personally identifiable information unless you give it to us, but our site traffic tools give us aggregate data about our audience.
The new app has also removed the bar under shows that showed your progress, and there's a new auto-play feature that means you can fall asleep watching and wake up 8 hours later having slept through half a dozen episodes. Most apps with auto-play have a way to shut it off, but I've looked around the Acorn TV app and I don't see that option anywhere at time of writing.
The thing I dislike most about the new app is that you don't see episode descriptions as you scroll from side to side. Instead, you have to click on the episode to read it, then go back, etc. It's just less efficient. Here's a comparison: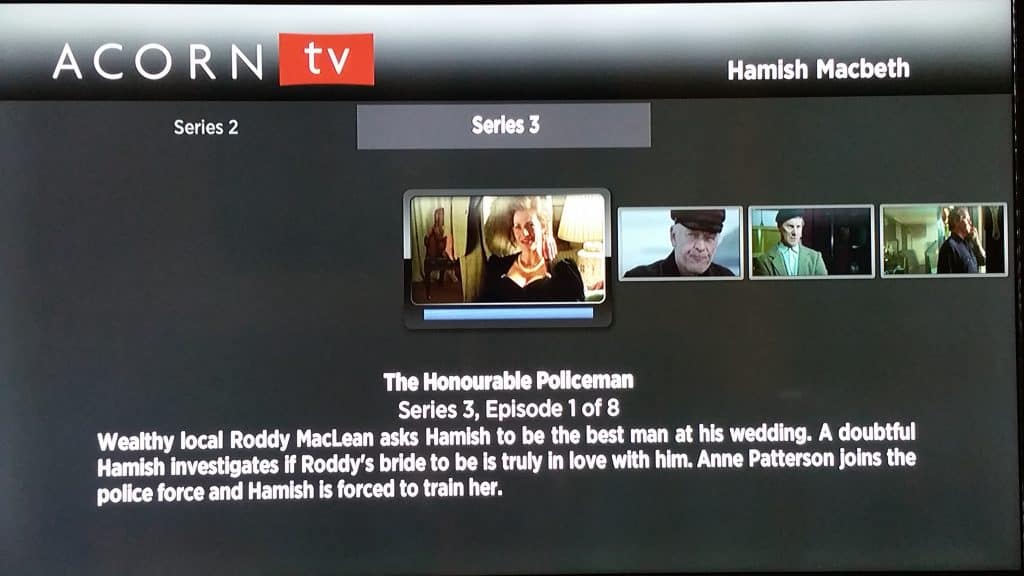 And the new app…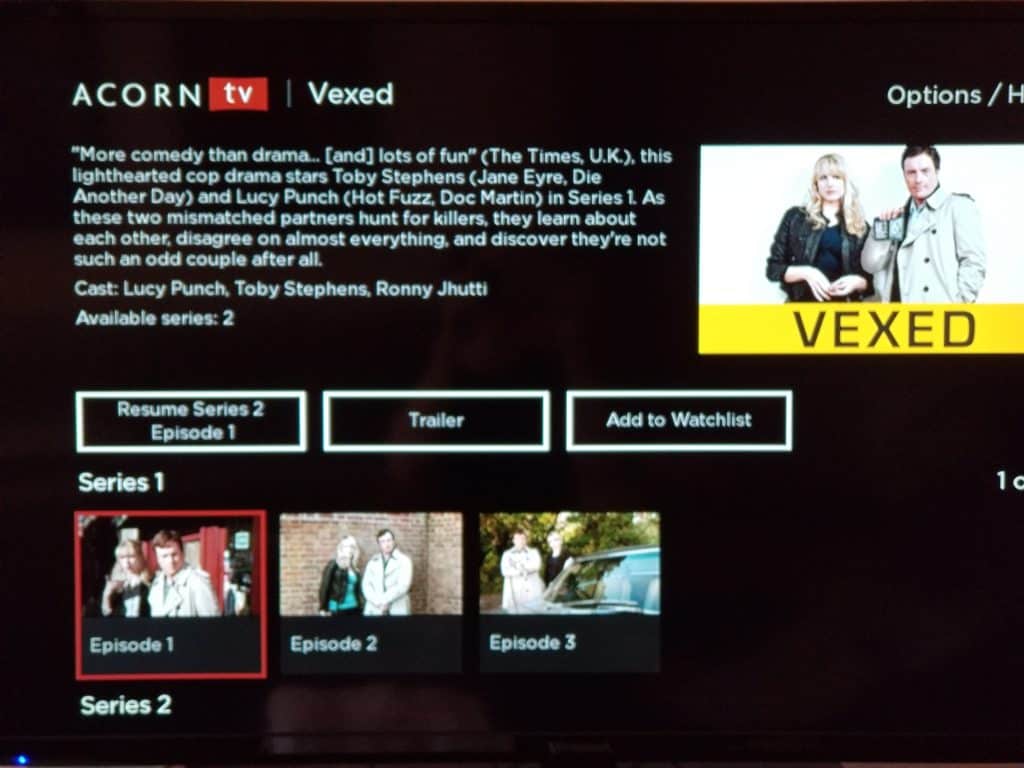 The new app also makes it harder to find your way back to where you were in a series, since it doesn't automatically take you to the episode you were ready to start. There's a "resume from –" button, but that doesn't give you the same visual feedback about how far you are in the series (by seeing shows before and after as you scroll right to left).
Some people have been even less fortunate, in that they can't open or use Acorn TV at all now. We've seen a number of complaints from users with Apple devices who say the app just flashes on and disappears. What a disaster for people who were looking forward to watching a favorite British show this weekend!
We Still Love Acorn TV, Though…
Now, if it were any other app, we'd be tempted to just unsubscribe and move on (that's what we did with Hulu). However, we – like a lot of people – really love Acorn TV's content. If you love your Acorn TV but hate the new app, there are two things you can do to fix it.
Give Your Feedback
Acorn TV set up a survey here to let people give their feedback about the new app. This is a great opportunity to give them better feedback than "I HATE THIS" so they can fix this situation. Be specific with your complaints for maximum benefit. If you like anything about the new version, include that, too.
Use Amazon Until the App Improves
If you don't like the Acorn TV app anymore, you can always subscribe to Acorn TV through Amazon. They offer a free trial to see if you like it, and it's extremely easy to cancel if you later want to go back to Acorn directly.
We hope all the issues and problems will be fixed very soon, but in the meantime, this may help some people to watch their favorite shows in a more user-friendly way. Amazon's app isn't perfect, and the experience varies by device, but you may find you like it better while Acorn is fixing their app.
What Do You Think of the New App?
Whether you love it or just need to vent, feel free to share your thoughts in the comments (but if you work for any of the companies involved or their competitors, please disclose that with your comments).