Happy Valley Series 3 Premiere Date: What's the Holdup?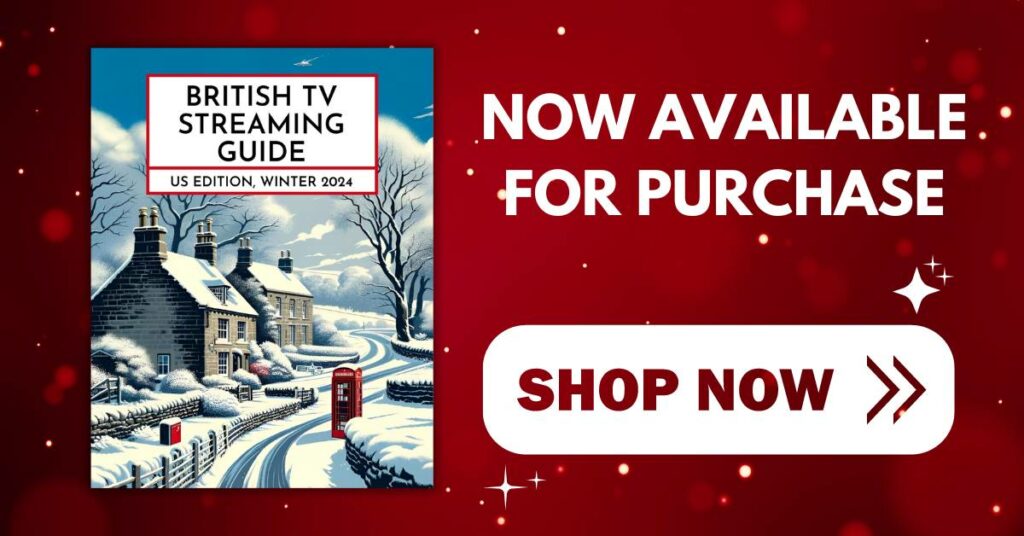 The British TV Streaming Guide: US Edition, Winter 2024 is now available. Get yours HERE.
In some cases, we earn commissions from affiliate links in our posts.
Last Updated on October 14, 2017 by Stefanie Hutson
When it comes to Series 3 of Happy Valley (that's Season 3 for those of us in the United States), there's good news and bad news. The good news is that a Series 3 is definitely in the works. The bad news is that it's not going to happen until late 2018/early 2019.
Why the delay on Happy Valley Series 3?
As any devoted fan of British television will tell you, the wait between new seasons can be long and unpredictable. What they don't always know is why that happens. In most cases, it boils down to some very key differences about how British television shows are made.
First off, British TV shows nearly always have much shorter seasons than American shows. Most have somewhere between 4-10 episodes, with mysteries and dramas like Happy Valley often having episode counts toward the lower end of that range. American shows have traditionally had 20-24 episodes per season, though we're seeing more exceptions to that in recent years (especially with HBO, Amazon, Netflix, etc).
When you're making a 24 episode season, it's virtually impossible for one person to do all the writing and keep the quality high. Most American shows are written by a team of writers in a room, all working together (even when just one name is listed on an episode as "writer"). Writers in the UK often work solo or in much smaller teams, with soaps being the major exception to that rule. I tend to think that's a big part of why British TV is so good. Having worked in creative fields, I've seen the way "creation by committee" can sand off the rough edges and eliminate a lot of the little quirks you find in something that was created by just one person.
But anyway, we're getting off track. Because British television seasons are shorter, very few people can earn a comfortable living by working on just one show. British writers and actors and crew members also tend to get paid quite a bit less than their American counterparts. I once read that John Nettles was earning 700 or 750k (GBP) per season near the end of his tenure on Midsomer Murders, and that's an extremely successful show with worldwide distribution. That's quite a lot less than the $500k-2 million per episode that popular television actors in the US can earn.
So once you factor in lower pay and shorter seasons, it's clear that most British TV industry folks are going to have a lot of irons in the fire at any given time. Unlike American shows, it's also rarer for shows to have contracts that require the person to stay free and ready to go for filming of the next series. It can be hard to get everyone together for filming, and some shows are further complicated by the fact that the unpredictable UK weather can require longer filming times than what might be required for similar outdoor productions in say, Southern California.
So what about Series 3 of Happy Valley?
Happy Valley star Sarah Lancashire has mentioned that a Series 3 is definitely in planning stages, but that they have to wait on writer Sally Wainwright to finish off some other projects first. You may recognize Ms. Wainwright as the writer of several other British television shows – Scott & Bailey, Last Tango in Halifax, and At Home With the Braithwaites. She also holds executive producer and director credits for some of the shows (including Happy Valley).
Although we hate waiting so long for a new season, I'm glad they're holding out for Ms. Wainwright and I hope she's able to fit a much-deserved break in there somewhere. In the meantime, check out this great piece from The Guardian about Sally Wainwright and the "Happy Valley" territory she loves so much – plus a phenomenal photo of her with her truly enormous ginger cat, Merlin.
Catch Up on Series 1 & 2 of Happy Valley
Not familiar with this West Yorkshire-based drama? Happy Valley features Sarah Lancashire as a strong-willed police sergeant who's working on moving forward after the suicide of her daughter. The series won a BAFTA for best drama in May 2015, and Radio Times readers voted it the best TV program of 2014. You can catch up at any of the following places: