Grantchester, Season 8: What We Know So Far
In some cases, we earn commissions from affiliate links in our posts.
Last Updated on March 27, 2023 by Stefanie Hutson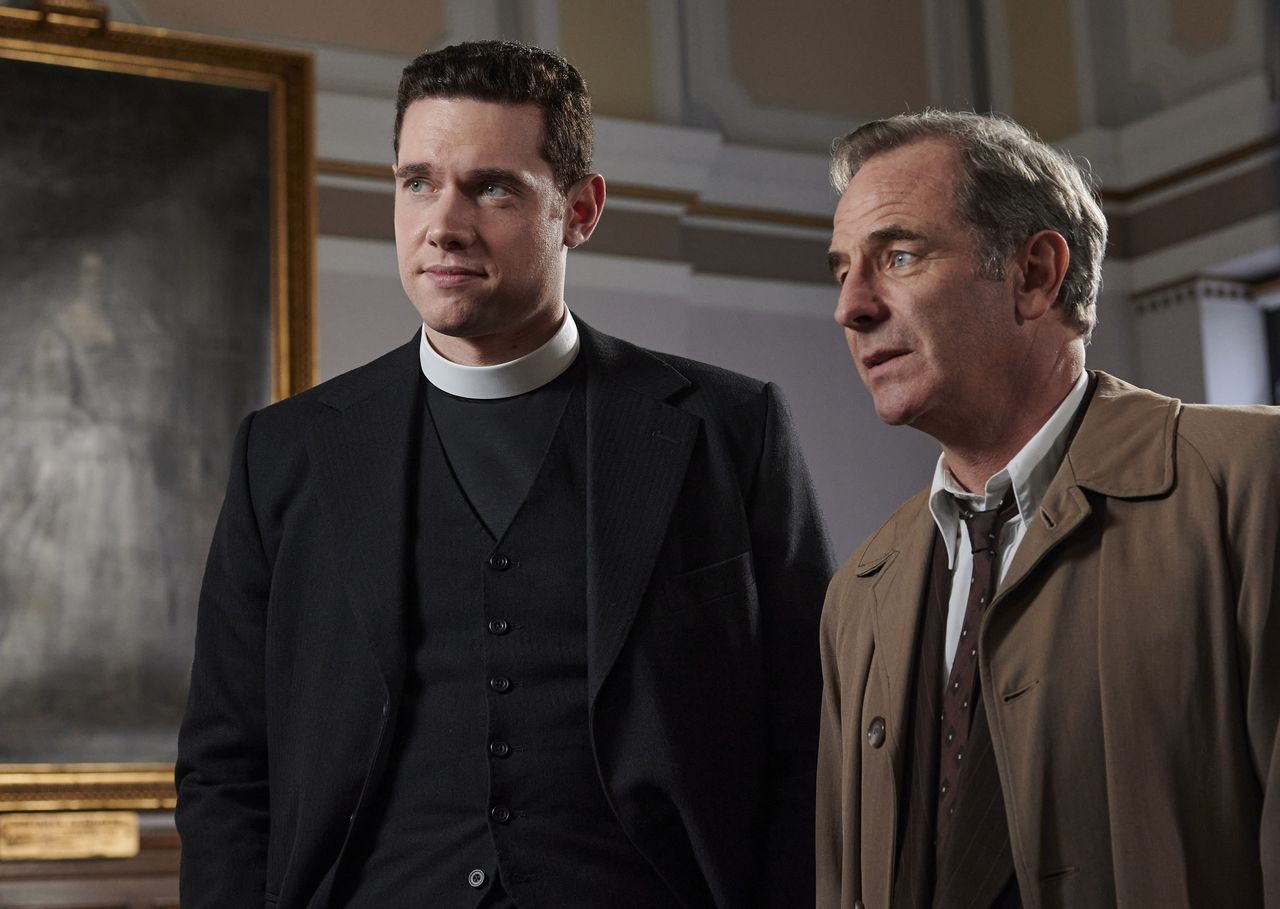 Good news – season 8 of Grantchester is coming, and it won't be TOO much longer. The even better news? Season 9 of Grantchester will begin filming in summer 2023.
While it was initially unclear whether it would survive after the loss of one of its main characters, Grantchester has continued to draw big viewing numbers and rave reviews. After wrapping up his run in series 4, James Norton bowed out of his role as vicar Sidney Chambers, allowing Tom Brittney to step in as new vicar Will Davenport.
Of the renewal, actor Robson Green (who plays Geordie) said:
It's so good to be back on Grantchester. A series that just gets better with age. Everyone involved is at the top of their game and this incredibly charming, likeable, dark and edgy show is an absolute privilege to be part of.
What's Grantchester About?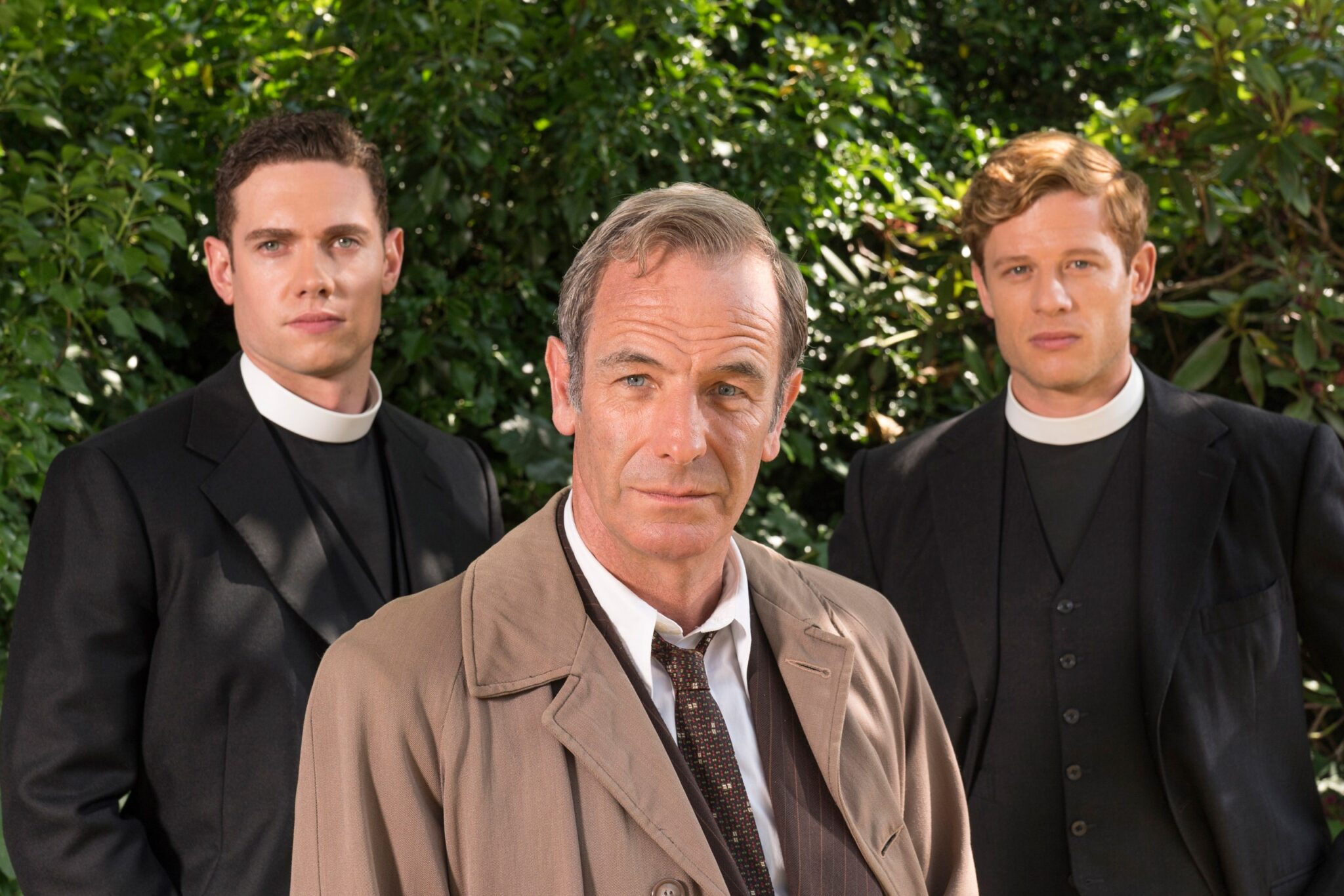 If you've been passing this one over since its premiere back in 2014, here's what you should know. Set in the Cambridgeshire village of Grantchester, the series is based on The Grantchester Mysteries collection of short stories by James Runcie.
At its heart, Grantchester is a cosy mystery that skews darker than its category. It has the quaint, scenic village and the crime-solving vicar who works with a local detective – but it combines that with serious crimes, bouts of lust (nothing too graphic, but more than you might expect), and serious social issues. Though the earliest seasons have a certain innocence about them, more recent seasons have turned a bit darker.
Many people appreciate the way the series shows the very real moral and emotional challenges facing a young vicar during a socially conservative time, but others are somewhat put off by the very same thing. Either way, it's an easy series to fall into. The mysteries are compelling, the characters are complex, and the way the story is set against the backdrop of social change gives it a fresh feel.
What's Happening in Season 8 of Grantchester?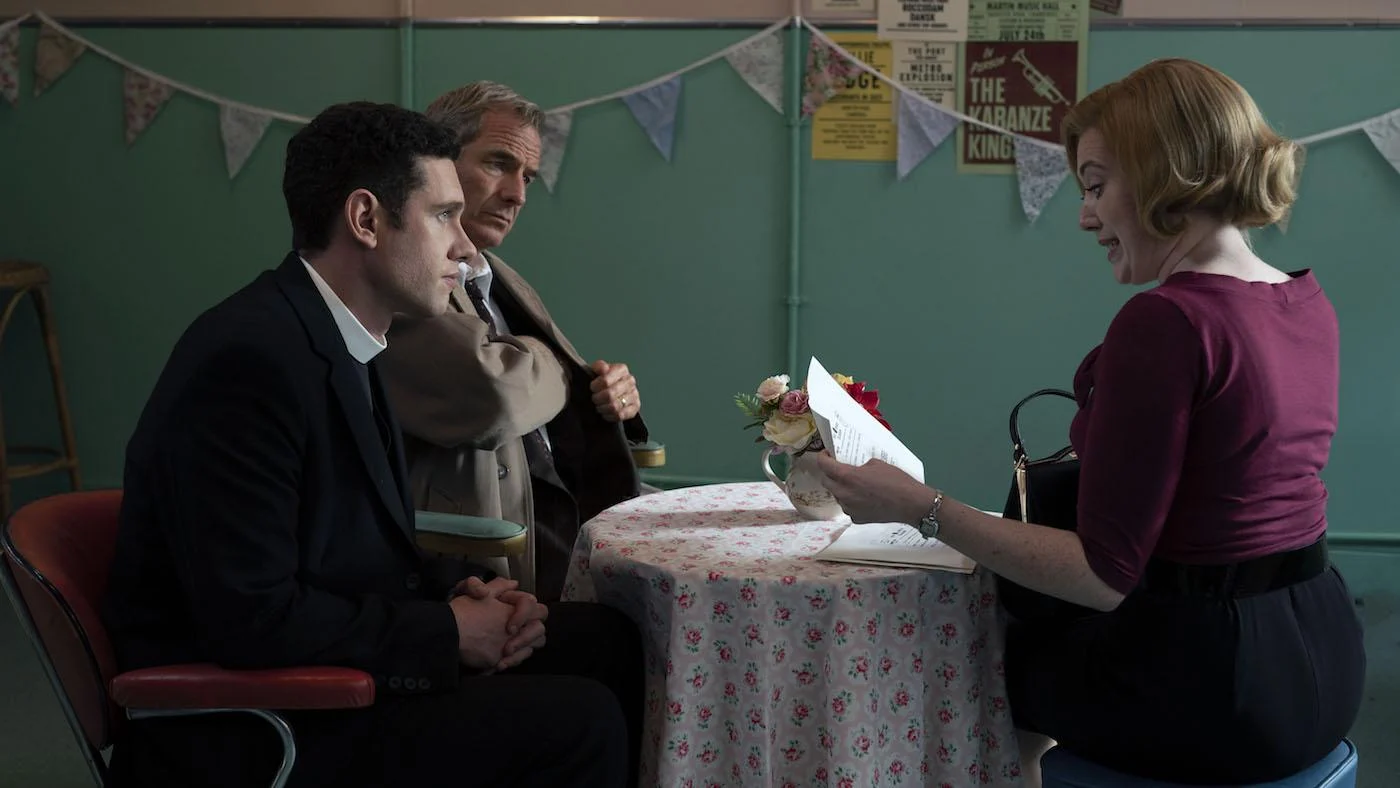 We don't know a lot about what's in store for season 8 of Grantchester, but we do know the season will see Will's happiness shaken up by a horrific accident. As he deals with tragedy and despair, how can he continue to believe in – and preach about – the idea of a compassionate God who rewards and looks after his followers?
At the same time, things are looking up for Geordie and Cathy…but of course, not for too long. Announcements at work throw their new balance out of alignment. This time around, it's up to Mrs. C, Leonard, Jack, and Daniel to provide support for their friends.
In terms of the murders themselves, PBS has promised the episodes will "range from Speedway to spies".
Who's in the Cast for Grantchester, Season 8?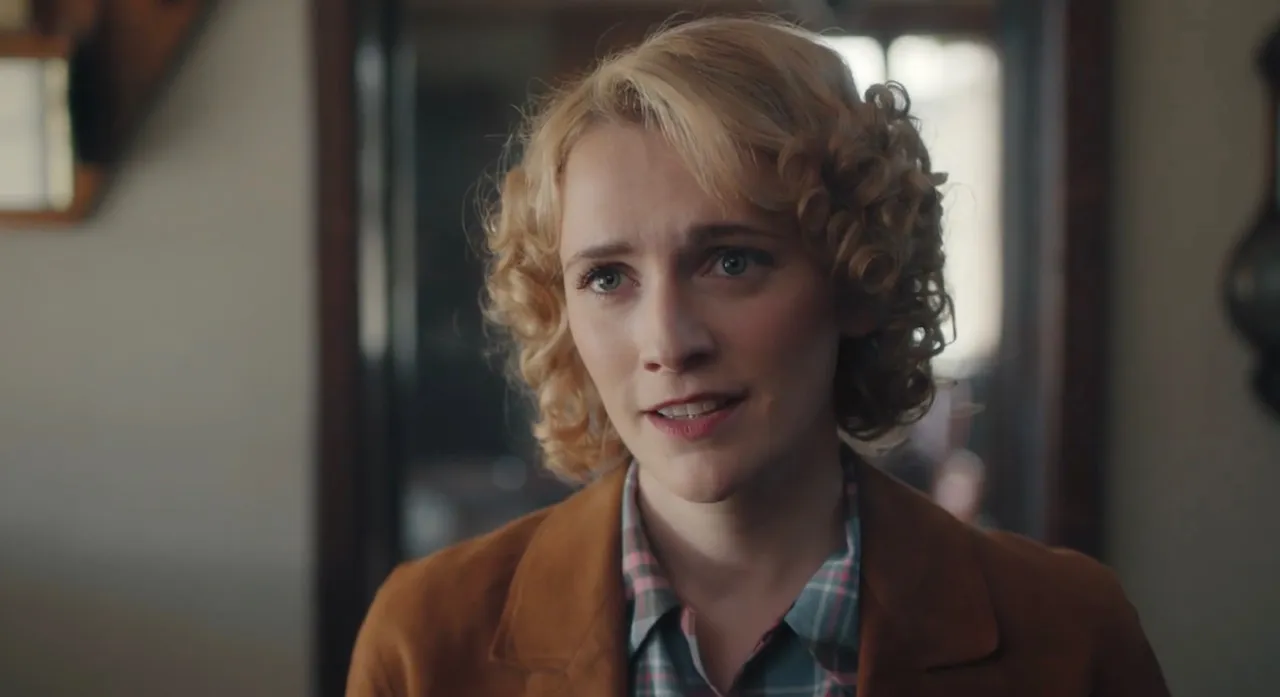 Season 8 will see Robson Green and Tom Brittney returning in their lead roles, along with Charlotte Ritchie (Ghosts) as Bonnie. Tessa Peake-Jones returns as Mrs. C, Al Weaver will be back as Leonard Finch, Kacey Ainsworth returns as Cathy Keating, Oliver Dimsdale plays Daniel Marlowe, and Nick Brimble will reprise his role as Jack Chapman.
Guest stars for season 8 will include Shaun Dingwall (Top Boy), Jeff Rawle ( Doc Martin) and Jemima Rooper (The Girlfriend Experience).
When Will Season 8 of Grantchester Air (& Where)?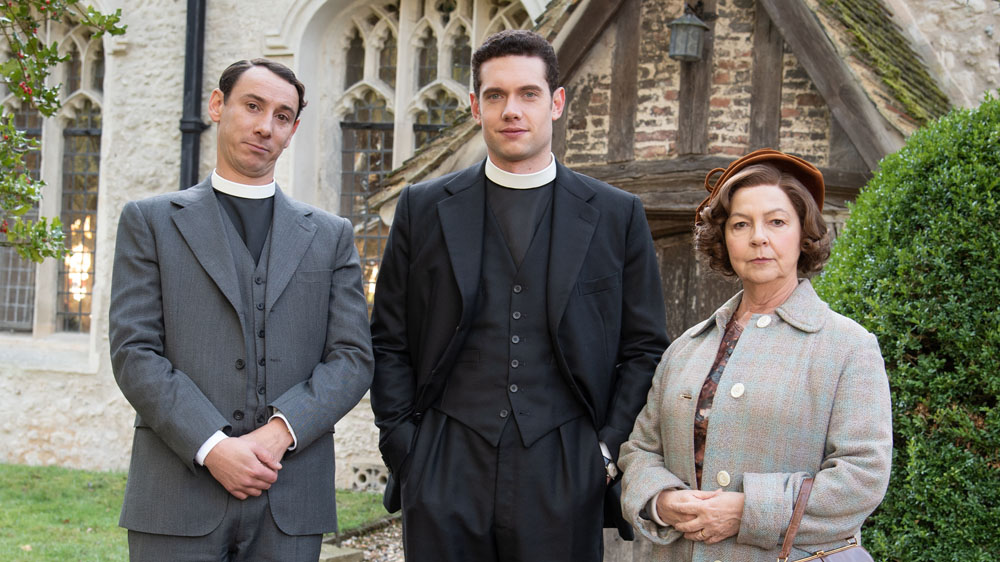 In the UK, Grantchester is an ITV series, so that's where it will ultimately premiere. Though some outlets have put forth a March 2023 premiere date for season 8, we've yet to see any official confirmation or release – so there's a good chance those sites were either wrong or the date was pushed back. We don't expect it to be too much longer, though!
In the US, look for it on PBS Masterpiece, as they co-produce the series. Masterpiece Executive Producer Susanne Simpson said of the new series:
We are thrilled to bring MASTERPIECE viewers back to Grantchester for an eighth season. The talented ensemble cast and captivating storylines have made Grantchester one of our most beloved series. We can't wait for fans to see it!
When we know more about exact dates, we'll update this post with details (and of course, we'll update our newsletter subscribers when that happens).
While You Wait for Season 8 of Grantchester…
If you're dying for a Grantchester fix and you've rewatched the series more times than you can count, try these…
Read James Runcie's Grantchester Books
The Grantchester television series is adapted from the Grantchester books of James Runcie. Like the show, the books tell the story of a vicar who solves crimes in Cambridgeshire, England – inspired by Runcie's own father, the former Archbishop of Canterbury, Robert Runcie.
Below, we've listed the Grantchester books in order (for those who prefer to read in sequence):
Explore the Real Village of Grantchester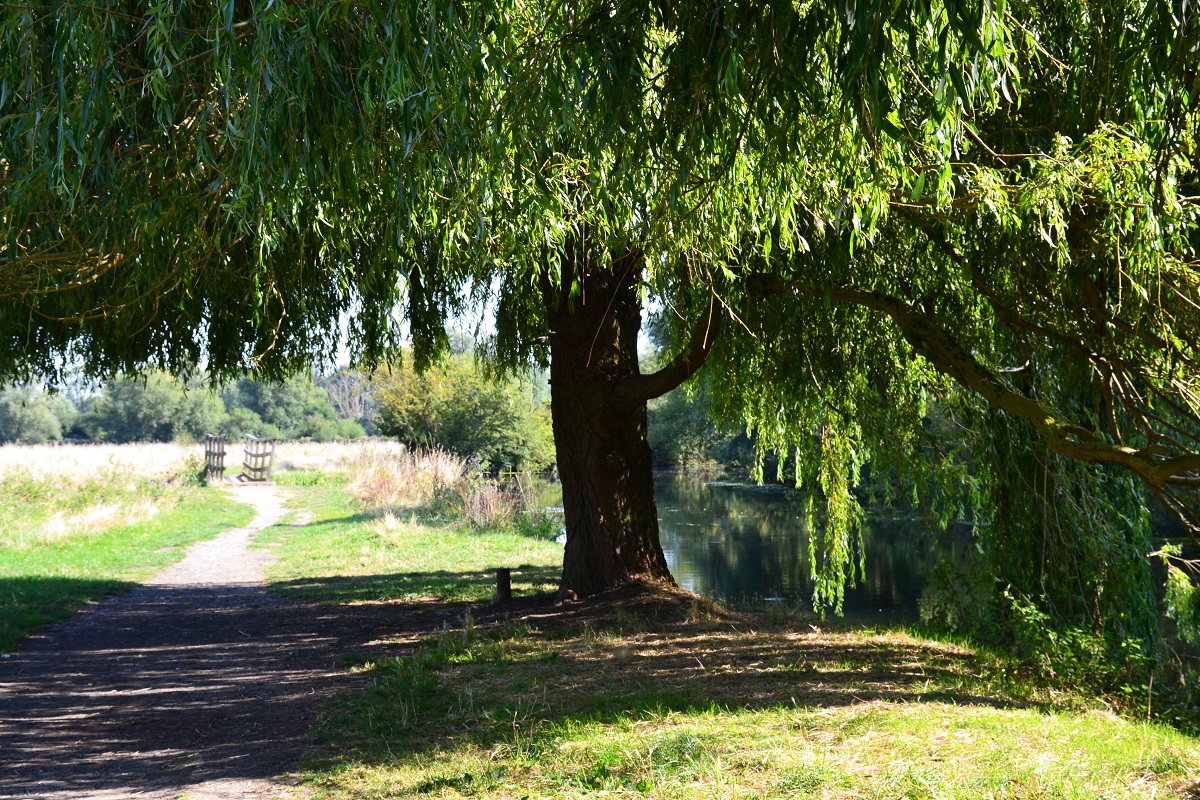 Given the number of British TV shows set in fictional villages, many people thing Grantchester is just another made-up place. But no – it's actually a real village. Just a bit southwest of Cambridge, it's a small village with a scattered set of houses, a couple pubs, a church, and a famous tea garden.
The Orchard Tea Garden is popular among tourists, locals, and students from nearby Cambridge University. You can get there either by road or punt (along the River Cam), and it's open throughout most of the year (aside from a few days around Christmas).
Years ago, it attracted visitors like Virginia Woolf, John Maynard Keynes, EM Forster, Bertrand Russell, Rupert Brooke, and Ludwig Wittgenstein. Other famous guests have included Sir David Attenborough, Sylvia Plath, the now King Charles, Sir John Betjeman, Emma Thompson, AA Milne, Hugh Laurie, Stephen Fry, Stephen Hawking, Salman Rushdie, and John Cleese.
If you'd like to have a virtual stroll around the village of Grantchester, you can do so in the window below:
Try Shows Like Grantchester While You Wait for Season 8…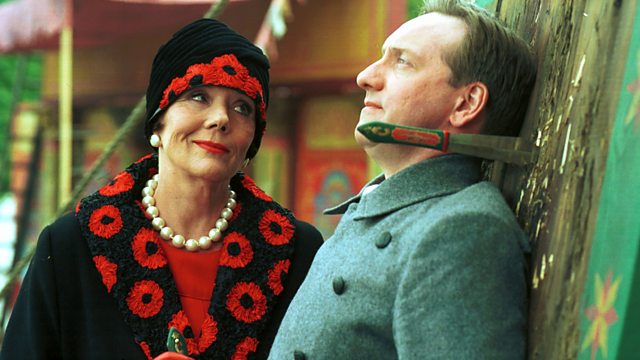 A while back, we put together a feature on 53 Shows Like Grantchester. Some are similar in tone, while others are similar in genre or setting or time period – and a few are just shows or films that feature some of Grantchester's main cast members. They're no substitute for more Grantchester, but many are quite good.