Grantchester Season 4 News
In some cases, we earn commissions from affiliate links in our posts.
Last Updated on June 15, 2018 by Stefanie Hutson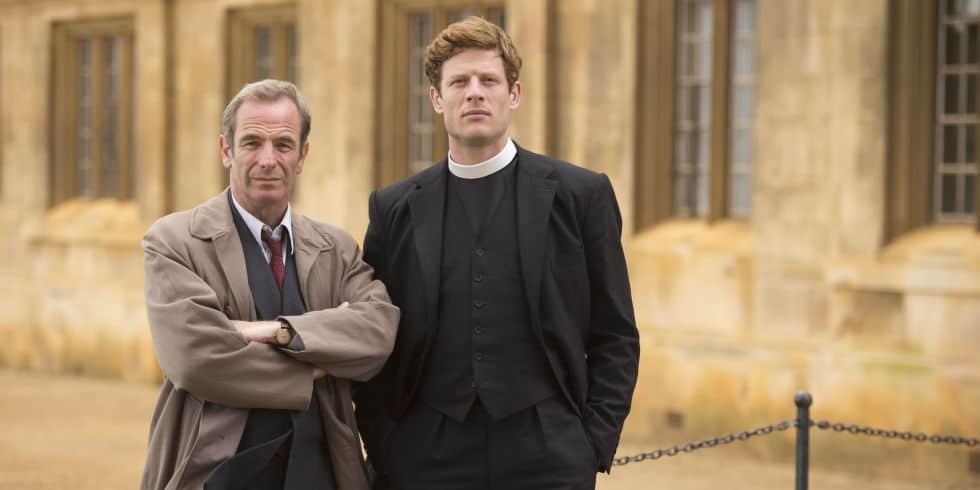 Spring is in full force, and there are certain expectations that go along with that. The weather turns warm, the animals start acting a bit randy, and a new series of Grantchester premieres…except that this year, there was no new series of Grantchester (and the snow took a good while to clear out, too).
For those who aren't familiar with Grantchester, it's a detective drama set in the 1950s in a small Cambridgeshire village of the same name. Anglican vicar Sidney Chambers (James Norton) helps overworked DI Geordie Keating (Robson Green) solve crimes. The combination of gruff DI Keating and patient, intuitive Chambers makes an excellent crime-solving team.
The Uncertain Future Grantchester Series 4
In the autumn of 2017, Grantchester creator and writer James Runcie mentioned that it had been difficult to find time for a fourth series due to the incredible demand on star James Norton's time. In addition to movies and a number of smaller roles in various shows, he also occupies a lead role in hit show Happy Valley and the new show McMafia.
Runcie indicated that there were no concrete plans for a fourth series at that time, and speculated that the show might have to "do a Death in Paradise" and replace a leading actor.
Some have speculated that Norton may be under consideration to be the next James Bond, so that certainly wouldn't help his schedule. We're pleased for him, but we can't help but wish he could have stayed under the radar just a bit longer before flashier shows ran away with him.
Grantchester Series 4 News
The good news is that as of April 12th, Grantchester is officially coming back. The bad news is that Series 4 will be James Norton's last. After that, the series will have to continue on with a new vicar. Executive Producer Rebecca Eaton has been quoted as saying, "We want to assure them that the series they love will continue with brilliant new episodes and a captivating new vicar."
All signs point to Robson Green continuing on as Detective Geordie Keating.
Grantchester Series 4 will begin production in June of 2018, and no official premiere date has been set.
Where to Watch Grantchester
Just in case you haven't yet seen the first three seasons of Grantchester, we've included links below:
If you've already watched and re-watched all the episodes more times than any sane person should, you can also check out the books. The show was based on a series of short story collections, also written by James Runcie (the creator and screenwriter for the TV series). Runcie is currently working on a prequel to the Grantchester mystery books, and it will be available in May 2018.
Are You Excited for Series 4 of Grantchester?
Unfortunately, it seems we'll have a bit of a wait for Series 4 of Grantchester – but it's great to know we'll get it eventually. What are you watching in the meantime?