Father Brown Series 7 Premiere Details
In some cases, we earn commissions from affiliate links in our posts.
Last Updated on June 17, 2018 by Stefanie Hutson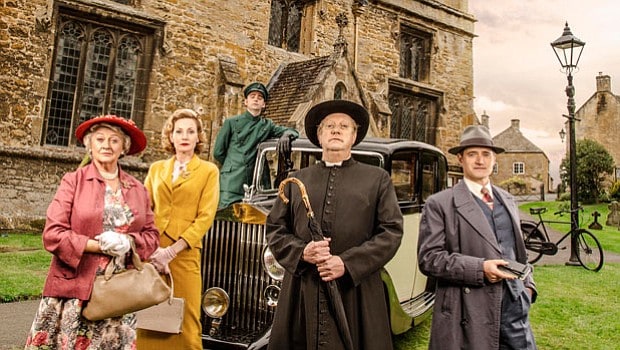 Fans of Father Brown got some great news this week. As of June 14th, we have official confirmation that there will be a Series 7 of the popular Cotswold mystery. There's also nothing in the announcement to suggest it will be the last series, so that's encouraging for the future of the show.
Where to Catch Up on Father Brown, Series 1-6
If you're not familiar with Father Brown, it's a lovely cozy mystery about a Catholic priest (Mark Williams) who solves crimes. The series is set in the early 1950s in the fictional village of Kembleford, and it's based on the short stories of GK Chesterton. In real life, the bulk of the filming takes place in Blockley, Gloucestershire, a village in the northern part of The Cotswolds. Moreton-in-Marsh is about 3 miles away and has train access, so it's a great place to stay if you wish to visit the area.
Given Father Brown's position in the community, solving mysteries creates some interesting moral dilemmas – the least of which is whether he should spend his time solving murders or doing the more mundane bits of his parish duties. He wants to see justice done,  but he also opposes capital punishment (which was legal until 1965). He values the confessional, but he understands the weight and importance of some of what he hears. He does his best to practice what he preaches, though, and he's never afraid to get help from the people around him.
If you haven't yet watched this delightful mystery series, you can catch up in either of the following places:
Old Father Brown
Hard-core British TV fans will already know about this, but many fans of the modern version don't realize there was another Father Brown TV series back in the 1970s. In that series, Kenneth More played the clever priest for 13 episodes. It's a bit dated, but still an pleasure to watch. You can watch the old Father Brown at the link below.
When Will Series 7 of Father Brown Premiere?
Series 7 of Father Brown will begin airing in the UK in January 2019. While there's no official North American release date yet, we saw Series 6 arrive on Netflix on March 31st of 2018. It wouldn't be too crazy to imagine it becoming available around that time in 2019.
While we don't know too much about the upcoming series, we do know that Mrs McCarthy (Sorcha Cusack), Inspector Mallory (Jack Deam), and Bunty Windermere (Emer Kenny) will all return in Series 7. Nancy Carroll will again appear as Lady Felicia, back from Northern Rhodesia in need of assistance.
Father Brown in Book Form
If you've never read the original Father Brown stories by GK Chesterton, I highly recommend doing so. With 70 episodes in the modern TV series, the modern Father Brown TV series has outgrown the original 53 short stories in both number and depth. However, the stories have a slightly different flavor, given that they were written between 1910 and 1936 (while the show is set in the 50s).
Who's Going to Watch Father Brown Series 7?
Are you as excited about this news as we are? Let us know in the comments if you'll be watching – and feel free to share your best recommendations for other shows to help pass the time until we all return to Kembleford.