Death in Paradise Series 7 Premiere Date Announced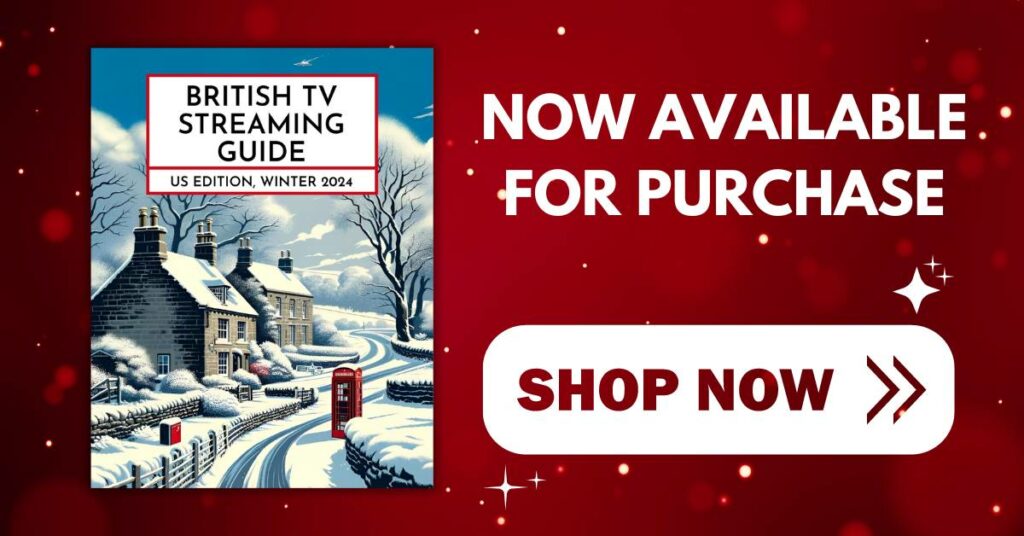 The British TV Streaming Guide: US Edition, Winter 2024 is now available. Get yours HERE.
In some cases, we earn commissions from affiliate links in our posts.
Last Updated on June 18, 2018 by Stefanie Hutson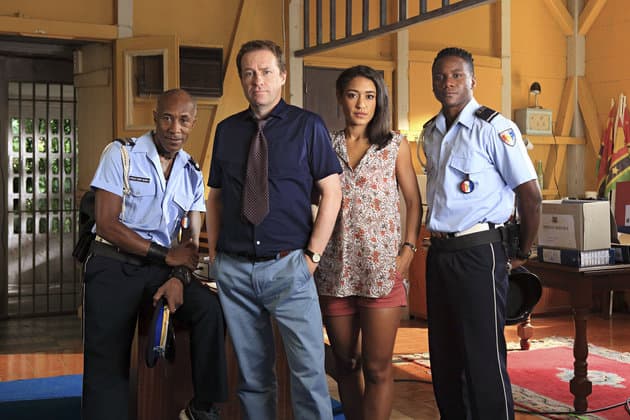 Die-hard Death in Paradise fans have been anxiously awaiting news of the next series, especially after reports that Brexit might mean the end of the series. Although there's still no guarantee that Brexit won't kill off the series (due to the logistics of filming in Guadaloupe without an EU deal), there's good news for Series 7.
When Will Series 7 of Death in Paradise Air?
BBC One will begin airing episodes of Series 7 of Death in Paradise on January 4, 2018 at 9pm. Ardal O'Hanlon continues his role as DI Jack Mooney, and we'll see Josephine Jobert, Danny John-Jules, Tobi Bakare, Elizabeth Bourgine, and Don Warrington returning as regulars. Up-to-date fans will recall that the most recent lead, Kris Marshall, left the island at the end of Series 6. Marshall has a young family back home in England, and his tenure was always intended to be somewhat limited.
Guest stars for the upcoming Series 7 include Simon Callow (Outlander, Chance in a Million), Sian Gibson (Car Share, Hollyoaks), and Denis Lawson (New Tricks). We're particularly excited to see Simon Callow in action, as he's been a long-time favorite here.
When Will Series 7 of Death in Paradise Air in the US?
Many US Death in Paradise fans are still waiting for Series 6 to become available, since Netflix currently has just 1-5 (at time of writing). Those who wish to catch up on Series 6 can do so at the following Amazon links – DVD | Streaming.
Unfortunately, there's no official word on when Series 6 will hit Netflix, or when Series 7 will make it to the US. In general, we can expect to get paid streaming and DVD options at Amazon within a few months of the air dates.
Netflix typically lags quite a bit further behind (as evidenced by the fact that Series 6 is still not available on their platform). Impatient viewers can use a service like UKTVEverywhere to watch live British TV and get the episodes on their original air dates.
Will Brexit Prevent a Series 8 of Death in Paradise?
Given the chaos surrounding Brexit, I don't think anyone can be sure. It doesn't look good, but you never know what sort of deal they'll work out. However, if it becomes impossible to film in Guadaloupe, we'd personally love to see them move the series to the Isles of Scilly (off the coast of Cornwall). It's no Guadaloupe, but it looks vaguely tropical and we'd certainly be willing to suspend disbelief if it meant we could continues to get new episodes of Death in Paradise!
Stay Up-to-Date on British TV News
Want more news on British TV premieres, actors, and streaming services? Follow our Facebook page here.