Call the Midwife Season 7 Premiere Dates
In some cases, we earn commissions from affiliate links in our posts.
Last Updated on September 9, 2018 by Stefanie Hutson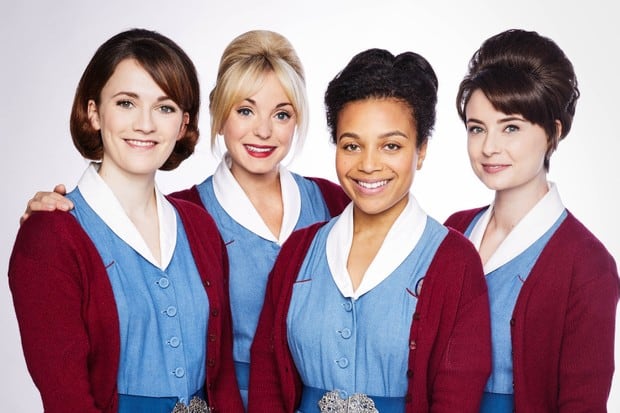 If you've been keeping up with Call the Midwife on Netflix, there's no doubt you're eagerly awaiting the premiere of Season 7. After all, Season 6 had a pretty explosive finale (though we'll avoid going into that in case you're not caught up). If you're anxious to see the new season and you're here in the United States, you have two solid options depending on how patient you are.
As a side note, you'll want to be very careful about running into spoilers until you're able to watch this season. That's true of any season of Call the Midwife, but particularly with Series 7.
It's hard to say much about this new season without revealing anything too important, but rest assured there's a whole new set of interesting birth issues ranging from leprosy to tokophobia (pathological fear of pregnancy/childbirth) to more unmarried young mothers in challenging situations. We'll also see a new midwife getting settled in at Nonnatus House, along with more adventures in aging with dear old Sister Monica Joan.
As the women move into the 1960s, we'll also see a number of social issues woven throughout the episodes. It was a time of increasing independence for women, along with rapidly changing attitudes about race. With the first black midwife at Nonnatus House, race will definitely be in the spotlight.
Where to Watch Season 7 of Call the Midwife RIGHT NOW
If you absolutely can't wait for your Season 7 Call the Midwife fix, you can purchase the episodes here for immediate viewing online. If you're not concerned about HD viewing, you can save a little money by clicking the "More purchase options" button and buying it in standard definition. We usually do.
Where to Watch Season 7 of Call the Midwife After September 10th, 2018
On September 10th, Series 7 of Call the Midwife will become available on Netflix. All episodes will be released at once, so you'll have the option to binge or ration them as you see fit. We'll definitely have tea at the ready and a well-stocked cake tin.
About Call the Midwife
Call the Midwife premiered on BBC One in 2012, and since then it's gone on to receive numerous honors and awards, including a number of BAFTAS. The show features a largely-female cast overflowing with top female acting talent like Pam Ferriss, Jenny Agutter, Miranda Hart, Judy Parfitt, and Vanessa Redgrave. A number of central characters have come and gone, being gradually replaced in a similar fashion to popular British shows like Death in Paradise, Midsomer Murders, and Doctor Who.
In late 2016, BBC One ordered 3 more seasons and 3 more Christmas specials for Call the Midwife, so you can expect many more hours to come as the hardworking ladies of Nonnatus House move into the 1960s. There's no word yet on a Series 10 (!), but given the show's continued popularity, we have high hopes for 10 and beyond.
If you're getting to the party a bit late, you can catch up on Series 1 through 6 of Call the Midwife over at Netflix. All episodes for Series 1-7 are also available for purchase here. All 7 seasons are also available on DVD now.